There are few activities that provide as many thrills and chills as snowmobiling. Whether you're a beginner or an experienced adventurer, North Lake Tahoe offers a variety of tours and self-guided locations overlooking the beautiful Lake Tahoe from a breathtaking 9,000-foot elevation. So, strap on your seatbelt, get the adrenaline pumping and go for the ride of your life!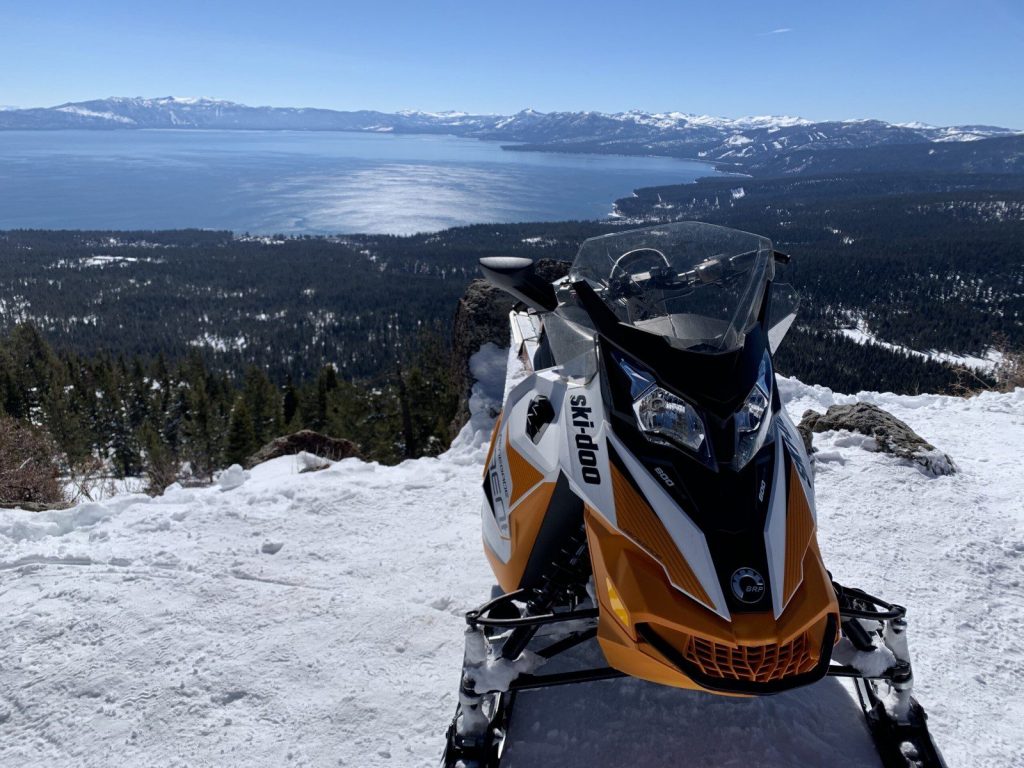 RIDE FOR MILES
Riders of all abilities will enjoy Lake Tahoe Snowmobile Tours' 100 miles of adventures along trails through the Tahoe National Forest. Featuring a large fleet of newer snowmobiles, the company, which has been hosting guided tours for more than 35 years, offers the expertise of professional, friendly guides to take you on an unforgettable ride, as well as the opportunity to view the entire lake from the top of Mt. Watson. They also have suits, gloves and more to rent to keep you warm while you tour the backcountry.
There's more to explore, too. Located just 3 miles south of Tahoe City is the Blackwood Canyon SNO-PARK, the only state-managed snow park on Lake Tahoe's north shore. Within the canyon is Barker Pass Road, which serves as a trail for snowmobiling and cross-country skiers and provides startling views of the canyon below.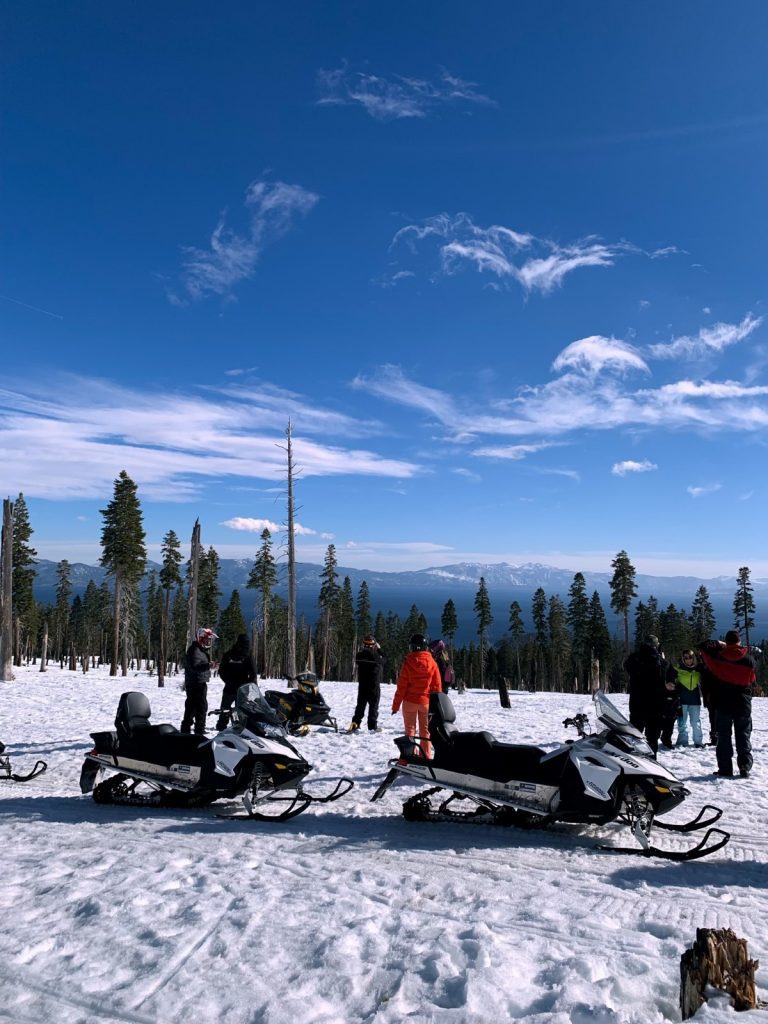 WINTER RECREATION AT ITS MOST THRILLING
The North Tahoe Regional Park in Tahoe Vista is the site for a little bit of this and a little bit of that, and a whole lot of fun when it comes to snowmobiling. The variety of wintertime options include a snowmobile course, along with cross-country skiing and snowshoeing, and there are playgrounds, disc golf courses and spectacular views.
Full Throttle in Kings Beach is the only company to offer self-guided North Lake Tahoe snowmobile tours. Adventurists of all abilities will be set up with snowmobile rentals and protective gear, and then given the opportunity to explore the network of trails off Highway 267 at their own pace.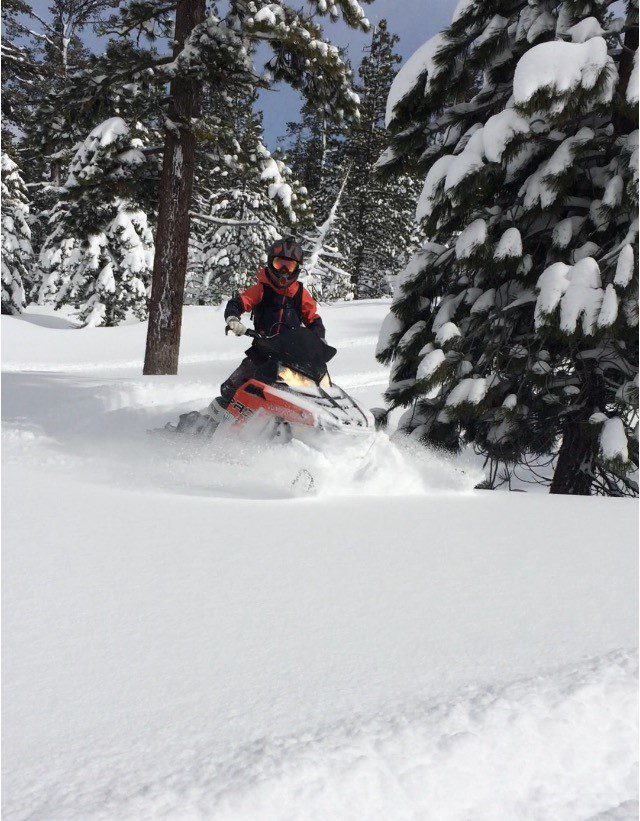 GET THE LAY OF THE LAND AT THE VISITORS CENTERS
If you own your own snowmobile but aren't familiar with where you can ride it, visit the North Lake Tahoe Visitors Information Centers in Tahoe City or Incline Village for a topography map which details forest land that is open to snowmobile use.
BACKCOUNTRY SAFETY
As with any winter activity in North Lake Tahoe, it's important to be responsible when adventuring in the backcountry. Here are a few tips for staying safe:
Be well-versed in avalanche safety and search and rescue techniques before venturing out of area boundaries.

It can take hours or days for rescue personnel to assist when there's trouble in the backcountry. You need to be responsible for your own actions.

Take an avalanche course. You should have AIARE Level 1 training or hire a guide to be in the backcountry.
All members of your group must have basic avalanche rescue gear – transceiver, shovel and probe. Regularly practice using all safety equipment before taking it into the backcountry.
Make sure safety gear is attached to your body, not your sled.
Check with the Sierra Avalanche Center for up-to-date conditions and snowpack stability.
Never travel in the backcountry on the day after a big storm. Allow snowpack to settle for at least 24 hours.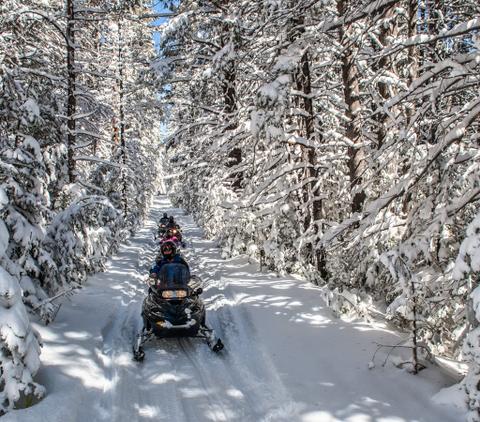 WINTER WOW IN NORTH LAKE TAHOE
Snowmobiling is one of the most exciting activities to take part in during the winter. And as Lake Tahoe spans two states – California and Nevada – with the sky reflecting in the largest alpine lake in North America and surrounded by the beautiful granite peaks of the Sierra Nevada, the region is designed for fun times and memories that will last a lifetime.