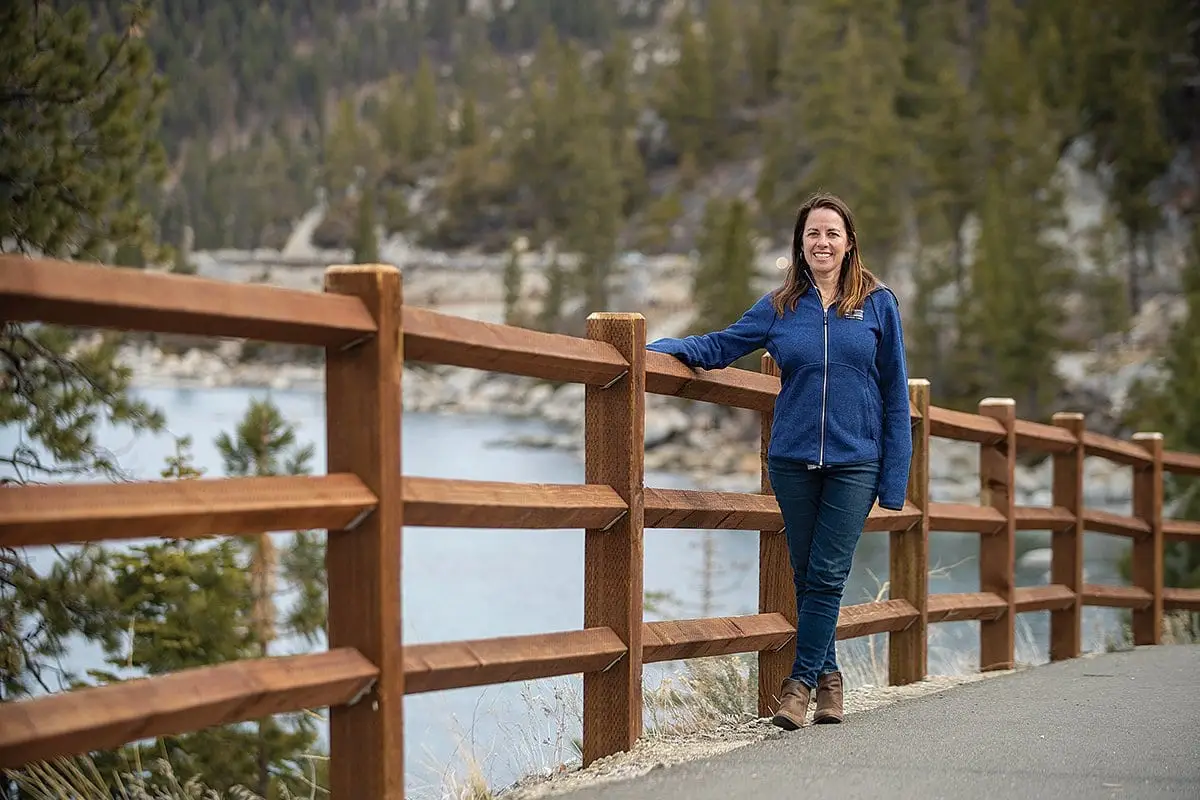 Continuing our series on North Lake Tahoe Sustainability Superstars, we'd like to introduce you to Amy Berry, CEO of the Tahoe Fund. Below is her interview with Liz Bowling which was originally featured in Moonshine Ink.
The other interviews in the series can be found here:
Amy Berry, CEO of the Tahoe Fund
At the helm of a growing number of Lake Tahoe's preservation projects and environmental stewardship campaigns is Amy Berry, CEO of Tahoe Fund. Her regional project approach and innovative fundraising tactics have resulted in trail development across the Lake Tahoe basin, educational campaigns to promote stewardship and regularly imparting a simple yet powerful message: Take Care.
You lead two organizations: Tahoe Fund and Take Care Tahoe. Tell us about the evolution of both and where we've seen your work:
Almost eleven years ago, Tahoe Fund was organized by a diverse group of local leaders who wanted to see projects that improve Lake Tahoe's natural environments come to life. Soon after I was hired as CEO and together, we have built the organization from scratch with an action-oriented approach. From the start we leveraged private funding to secure public dollars, while raising awareness about issues that were/are hugely impactful to the Basin. Our strategy was simple: identify the problems and help to fix them with our partners. Our work ranges from infrastructure projects like the East Shore Trail in Incline Village to regional signage that educates – in a cheeky way – the simple, everyday practices of stewardship. Take Care was born out of frustration for how people were treating Tahoe. We quickly learned that we can't expect people to take care properly if we don't educate them on expectations. It has been our pleasure to be the fiscal sponsor of Take Care and work with more than 50 partners on it.
Throughout the past year, we've seen an increase in people wanting to access the outdoors without always knowing how to do so responsibly. What are some of the positive steps forward you've seen?
As painful as it is to see litter, overcrowding and parking issues, it is so good to see people getting outside for their mental wellbeing. Crowds in Tahoe aren't new, but the pandemic certainly amplified the need to have a shared vision for tourism and recreation. We all have to work collaboratively to solve our regional problems. It's a collective effort. I believe we are going to see some great progress as we work together.
What's your advice for someone who wants to get involved / volunteer, but hasn't made time to take that first step?
There are so many opportunities to get involved — in whatever way that works best for you. Volunteer with the the Rim Trail to build a trail or participate in a clean-up day. Make a donation and contribute financially to a nonprofit organization that focuses on local stewardship (www.tahoefund.org). Give back by sharing something you love. A whole new world will open up!
What's your shared message to Moonshine readers this Earth Day:
Take Care of the things you love the most. That's a personal commitment to leave a place better than you found it. And while simple and broad, it's committing to finding out what taking care means to you; defining what that looks like and then taking action.
Impact
Dollars Raised: leveraged $3 million of private funding to secure over $50 million in public funding for local projects
Projects Funded: there are over 50 projects in the Tahoe Fund portfolio
Get Involved