This summer, as multiple expansion projects throughout Lake Tahoe create a more eco-friendly, pedestrian-centered culture, we'd like to share a transportation guide for traveler efficiency, safety and convenience.
The new infrastructure will add new roundabouts and pathways to the region, creating improved routes for pedestrians and human-powered sports like hiking and cycling. Included in these projects are nine plans to protect North Lake Tahoe's natural ecology, to improve long-term traffic flow and maximize commuter safety.
While these developments are exciting for North Lake Tahoe's visitors and locals alike, we understand that it may not always be easy for Tahoe explorers to find their way around as we make a few improvements. For that reason, we've put together a quick guide of insider tips to help you get around North Lake Tahoe—so you can swim, hike, paddle, and play to your heart's content.
Getting to North Lake Tahoe
Planning to visit North Lake Tahoe? That's great! We can't wait to have you. Below, find instructions for how to get here.
From Reno
If you're coming from the Reno-Tahoe International Airport, one of the easiest ways to get to North Lake Tahoe is to board the North Lake Tahoe Express.
Operating on a regular daily schedule, this shuttle will ferry you from the airport to various points of interest and communities throughout the Tahoe region. Note that schedules vary between peak and off-peak seasons, and that to guarantee that you're getting to where you want to be on time, we recommend making a reservation in advance.
To learn more, check out the North Lake Tahoe Express routes, schedule and fares.
From Sacramento
Visitors coming to North Lake Tahoe have a very convenient option. Simply board the AMTRAK California Zephyr, which runs daily between Sacramento, Truckee, Reno and Emeryville/San Francisco. Relax and let the conductor do the driving as he conveys you directly to the Tahoe region; you'll be able to get around from Truckee via private car services like Tahoe Sierra Transportation, ride-sharing services, or via TART bus routes.
For more information, see the California Zephyr's schedule and consider booking your ticket.
From The Bay Area
Visitors coming to North Lake Tahoe from California's Bay Area have a number of convenient options to choose from. Whether you prefer to fly, or take the bus, it is a simple matter to get from the Bay to the lake.
For the airborne—San Jose, San Francisco and Oakland travelers can take a direct flight to the Reno-Tahoe International Airport, from which they can then take the North Lake Tahoe Express shuttle. For a more luxe experience, travelers can also enjoy direct flights to the Truckee Tahoe Airport in a custom-designed executive aircraft as provided by Surf Air. Charter flights are also available, such as those offered by Mountain Lion Air and Blackbird, the latter of which will let you land on the surface of Lake Tahoe in Tahoe City.
For road travelers—North Lake Tahoe has two convenient options to get to the region. The Tahoe Convoy travels eastbound from the Bay Area every Friday night and returns westbound each Sunday, making for a perfectly punctuated Tahoe weekend. Greyhound buses are another option—with flexible booking options that mean you can enjoy a midweek stay, a weekend trip or something in between.
Getting Around North Lake Tahoe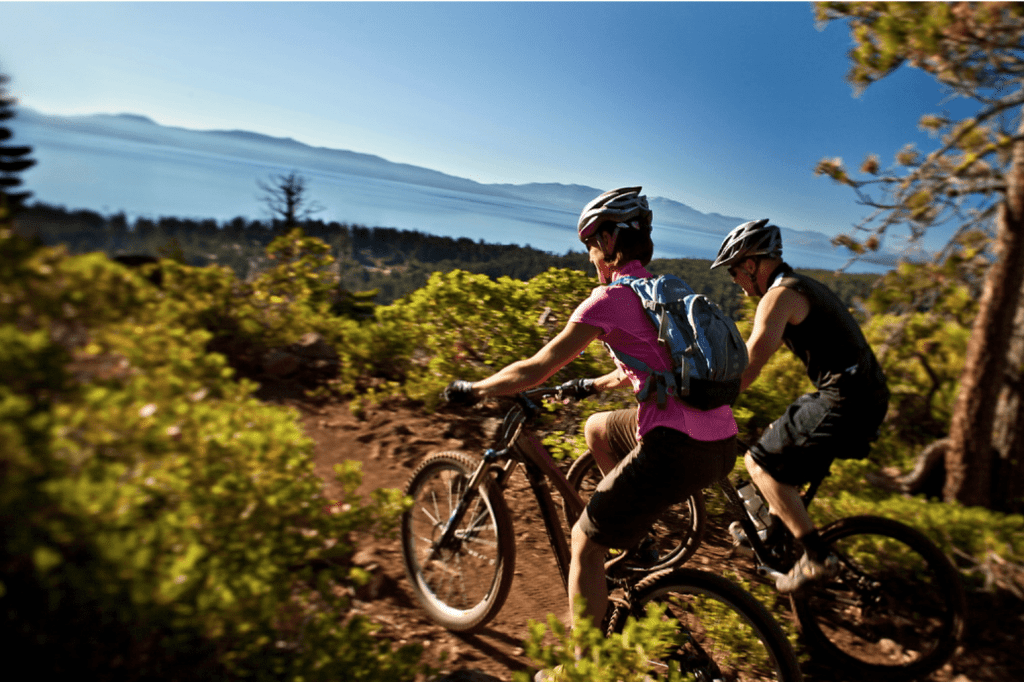 Cycling, shuttles, buses and more make getting around Tahoe simple! Photo courtesy of the Resort at Squaw Creek.
Once you've reached North Lake Tahoe, there are plenty of ways to get around, see the sights, and try the bites. Best of all, many of your modes of transportation are eco-friendly, meaning that your Tahoe visit can have a minimal carbon footprint while you have maximum fun!
Tahoe by Bike
Honor your inner cyclist and keep the roads smog-free by hopping on a bicycle! It's easy to do here, especially because Tahoe is home to plenty of bike rental vendors to choose from, as well as plenty of scenic cycling paths.
Before you put foot-to-pedal, plot out your pathway with this interactive map—detailing the best bike paths around the lake—from the Lake Tahoe Bike Coalition. Make sure to wear a helmet and, as always, remember to practice bike safety, to obey all traffic laws specific to the region, and to share the road.
Rideshare in Tahoe
While renting a car can mean convenience and an elevated sense of independence, it can also mean spending much of your Tahoe time focused on parking, burning gas and standing in line at rental facilities. Rideshare services like Uber and Lyft eliminate the expense of time and money for rentals by allowing you to digitally hail professional drivers who—likely to be locals—know their way around the region and can get you where you want to go, quickly and conveniently.
To access these services, use your smartphone's application store to download a ridesharing app for free. Fees are associated with the use of these services, so be mindful of your fares and travel responsibly!
Tahoe by Shuttle and Trolley
Getting around Tahoe is easy, eco-friendly and fun when you take public transportation! For example, the Nifty 50 Trolley—also known as the Emerald Bay Shuttle—will convey you along the West Shore and beyond. The Express/Sand Harbor Shuttle also offers a convenient option for those looking to travel between Incline Village and Sand Harbor's glittering beaches.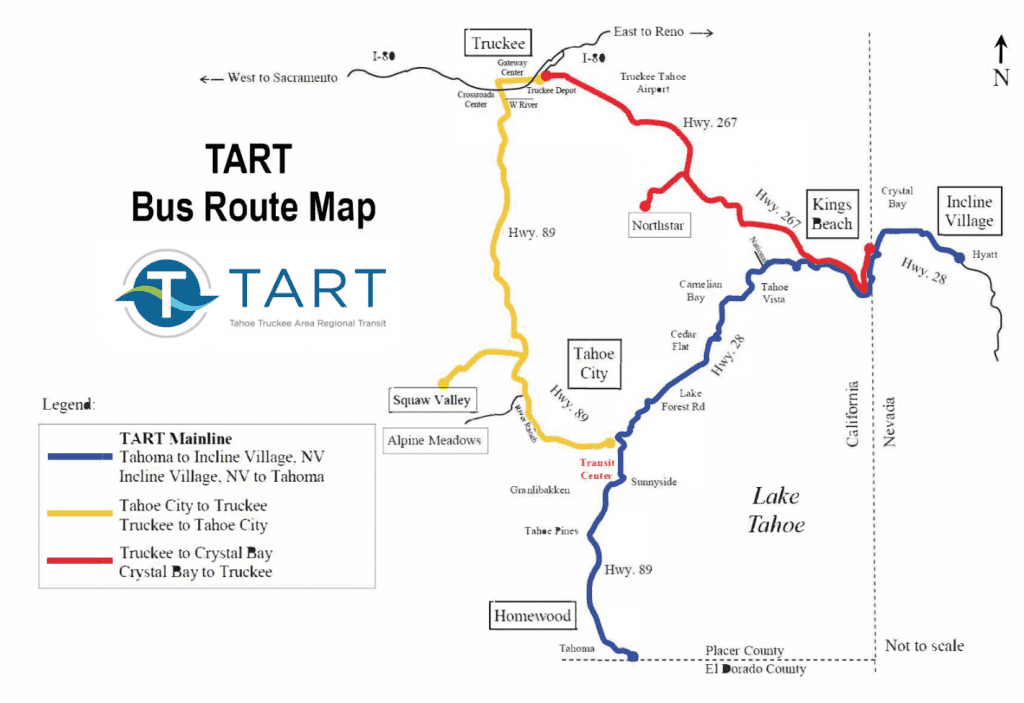 For more information on catching an easy, convenient ride on public transit, check TART's (Tahoe Area Regional Transport) new, easy-to-use website.
While You're At It, Hit the Ale Trail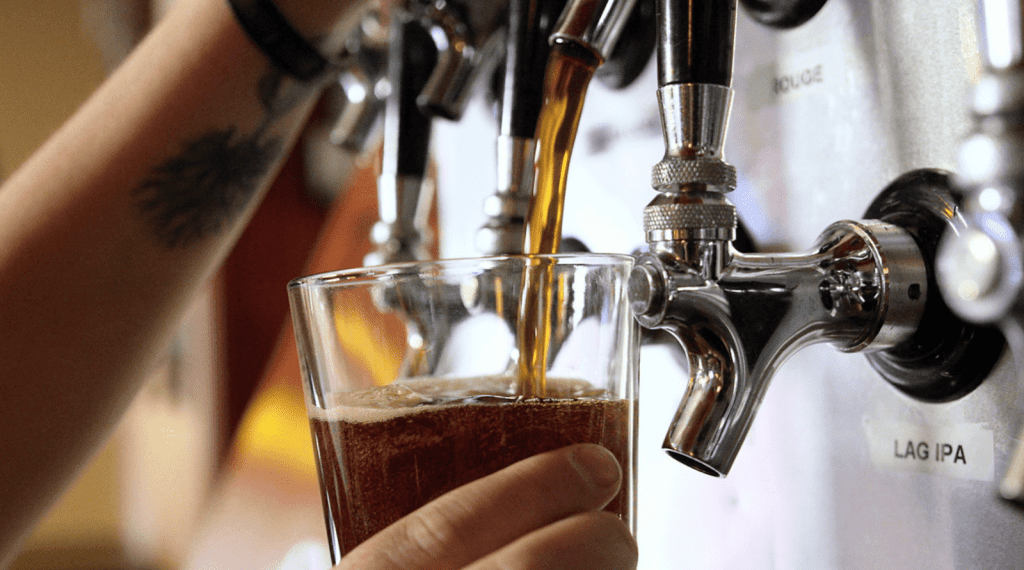 Enjoy delicious Tahoe bites, sips and breathtaking adventure on the Ale Trail! Photo courtesy of Tyler Bourns.
While you're visiting North Lake Tahoe, there's no better way to get a lay of the land than to explore it via hiking, cycling, paddling or other forms of human powered sports. Add delicious North Lake Tahoe bites and sips to the mix, and you've got the perfect combination for a trip to treasure for a lifetime.
North Lake Tahoe's Ale Trail, an interactive map that connects North Lake Tahoe's hiking and water trails with some of the best bars and restaurants on the north shore, takes the guesswork out of getting around Tahoe to experience so much of what makes the region special. But don't take our word for it—book your trip today.