Adventure Van Expo
10:00 am - 5:00 pm
Sep 16 - Sep 17, 2023
Palisades Tahoe
$10 per person at the door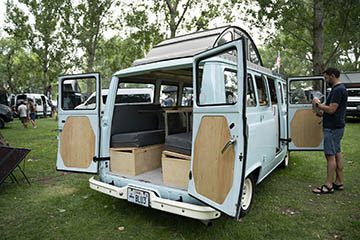 Staturday: 10am-5pm, Sunday: 10am-3pm
Join us for a family friendly weekend open to all ages celebrating the van life community and the opportunity to view an array of van vendors and overland products.
In addition to all of the great van builds the event will feature live music, food and local brews all weekend long. And those looking to show off their custom builds are encouraged to sign up for the DYI Contest where they will have their rigs viewed by hundreds of event goers and rated by van build experts.
Looking to buy or sell? Expect to find roof racks, bumpers, solar panels, interior storage, water filters, window coverings, beds, bedding, and 4×4 recovery items….and of course coffee cups, t-shirts and more!
LIVE MUSIC
Friday: Reggae
Saturday: Tahoe Soul Collective and Brotherhood of the Freaks
DIY CONTEST
Show us what you built! Display your work during our van buildout DIY Contest on Saturday, which will be viewed by hundreds of event goers and rated by van build experts. The builds will be judged on three different categories, Fit-n-Finish, Most Creative/Unique and Best Layout.
Find out more about the DIY Contest here!
LODGING PARTNERS
We are excited to partner with the following hotels in North Lake Tahoe just 10 minutes from the show. See below for more information and how to book.
Basecamp – Tahoe City: Basecamp is a Boutique Hotel in the heart of Tahoe City, centered on the modern day explorer! Basecamp promotes adventure and exploration when traveling to the basin, and everything is close by. Whether it be hiking, mountain biking, kayaking or paddle boarding, outdoor activities are limitless and Basecamp knows where to send guests to get them started. Their lobby and outdoor communal spaces include games, firepits, seating areas and even space for your furry friends.  Booking Code: AVExpo
Peppertree – Tahoe City: Located across the street from the great blue lake, Pepper Tree Inn is conveniently located in central Tahoe City, just a hop, skip, and a jump from restaurants, shops, trails, museum, the beach, the slopes, and splendid view points. Peppertree's multi-story building offers exquisite lakefront views and a glimmer of Tahoe's endless wonders and outdoor adventures. Booking Code: AVExpo
CAMPING
Keep the good times rolling all weekend long, continue the fun into the night with like-minded individuals and camp with us throughout the weekend.
Camping tickets include both Friday and Saturday nights, a space for one vehicle, can host up to four people and comes with one expo ticket. (Additional expo tickets will need to be purchased for anyone over 18.) Campers can start rolling in at 4pm on Friday evening. Storyteller Overland and Revels have the option to purchase a specific ticket and camp together throughout the weekend.
Camping is on pavement with access to fixed restrooms. No showers are available at the venue. Reminder, there is no alcohol allowed outside of your camping spot. We are in a high fire danger – charcoal and gas BBQs, stoves and firepits of any kind are not allowed. This is a no-smoking venue.
Heads up! Camping tickets are only available prior to the show and will not be sold onsite. We expect that camping tickets will sell out. Purchase in advance to guarantee you're hanging out all weekend!
SELL YOUR VAN
Place your rig in a high traffic area all weekend long.
_____
This is an opportunity to meet the builders, plan a build, line-up your van, network with DIYers, check out all kinds of cool workmanship and things maybe you've never seen, and learn something new. Join us in North Lake Tahoe September 17-18.
Event Address:
1960 Olympic Vly Rd, Olympic Valley, CA 96146