Alpenglow Sports Winter Speaker Series
7:00 pm - 9:00 pm
Jan 19 - Mar 02, 2022
Olympic Village Events Center at Palisades Tahoe
Free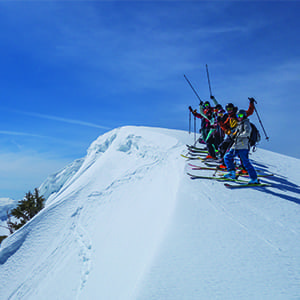 Speaker Dates: January 19, February 09, March 2
All shows are free.
The Alpenglow Sports Winter Speaker Series is an eagerly anticipated winter tradition for North Tahoe's adventure community. With over 3,000 in-person attendees and 33,000+ online annually, the 17-year-old event has become one of the premier North American forums for adventure storytelling. For the 2022-23 season, each show will be presented in-person AND online in a virtual capacity.
The Alpenglow Winter Speaker Series blends two goals: 1) to inspire and motivate mountain athletes to pursue their own outdoor dreams and 2) to educate about, and raise funds for, nonprofit organizations making a tangible difference in the North Lake Tahoe and Truckee community. The Winter Speaker Series is the largest free community speaker series in the country that hosts the biggest names in the outdoor industry. Past speakers include Alex Honnold, Lynn Hill, Jeremy Jones, Glen Plake, Hilaree Nelson, Adrian Ballinger and more.
This five-show series runs from December through March at Olympic Village Events Center at Palisades Tahoe and is entirely FREE. Each speaker is paired with a local nonprofit that has been selected through a rigorous application process.
For those who cannot make the shows at Palisades Tahoe, we will continue to present each show in a virtual capacity via our YouTube channel. Giveaway and bar proceeds, in conjunction with anonymous donations, raise more than $75,000 per show for local North Lake Tahoe non-profit organizations. To date, the event has raised over $1,000,000 for local nonprofit organizations.
If you are planning to attend the events in person at Olympic Village Events Center, you do not need to register, merely show up and join the fun. Each show will also be live streamed on Alpenglow's YouTube channel. No registration is required to watch online. For the 2022-23 season, there will be two giveaways per show. The much loved and anticipated in-person giveaway will return after a Covid-safety hiatus and will be for all in-person attendees who purchase physical giveaway tickets at the show. The second giveaway will happen on our YouTube channel the morning after the event, and will include all giveaway tickets that were purchased online by viewers tuning in from afar. Prizes for each giveaway are DIFFERENT and you are allowed to purchase tickets at both. Tickets for the online giveaway are available until midnight PST on the night of each show.
Alpenglow Sports Winter Speaker Series Lineup
Jeremy Jones
12.8.2022 at 7:00 pm
Snowboarding icon Jeremy Jones kicks off the 17th annual Winter Speaker Series with a unique and never-before-seen show "The Art of Shralpinism." Based on his new book by the same title.
Event Address:
1901 Chamonix Pl, Olympic Valley, CA 96146