Bass Camp Festival Finds Higher Ground on the Truckee River at Wingfield Park
Jul 28 - Jul 30, 2023
Wingfield Park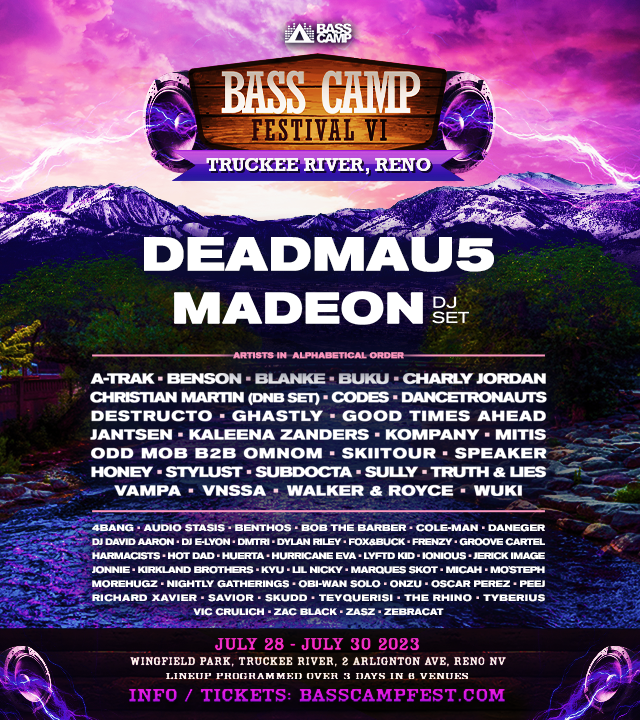 The sixth chapter of this fan-favorite, citywide electronic dance music event will be transforming the 'Biggest Little City in the World' through a series of pre-parties curated at some of the city's best concert halls, nightclubs, and lounges and to close out the weekend- a day party at the J Resort Pool and final party at Virginia Street Brewhouse. Each venue will feature national talent across varying genres, starting late afternoon and going into the wee hours of the morning, taking full advantage of Nevada's no curfew benefits.
Bass Camp VI's 'home base' opens Saturday, July 29, with an immersive experience featuring world-class DJs performing on three unique stages, the before mentioned "Bass Station" Sound Ship, silent disco, all grass park, beautiful shade structures, and sails, a vendor village, interactive artist paint wall, art installations, and art cars. Fans can enter Wingfield Park at 2 Arlington Avenue, Reno, NV, beginning at 2.00 p.m. The main festival event is all-ages.
Main Festival Event tickets are on sale now for $89 before fees. General Admission three-day 'All In Party Hopper' passes are on sale now, starting at $275, before fees. VIP Experience 'All In Party Hopper' three-day passes, which include a separate VIP entrance, early entry, a private viewing area next to the main stage, VIP restrooms, private bars and food offerings, and access to a VIP lounge next to the river, are on sale now, starting at $400, before fees. For details on hotel packages, payment plans and all ticket options, including venue-specific pre-parties, after-parties, the pool party, and the closing event, visit BassCampFest.com. Specially priced 12 and under kid's tickets will be available for the main festival event at $10.00 at the gate with proof of purchase of an adult ticket. Age restrictions are based on the venue; please check for any restrictions before purchasing. The main festival event is all-ages.
Bass Camp VI is produced by Bass Camp Festival, Inc. Visit https://BassCampFest.com for the most up-to-date information. Fans can stay connected on Instagram @BassCampFest, Facebook https://www.facebook.com/BassCampFest/, and TikTok @BassCampFestival.
Event Address:
2 Arlington Avenue, Reno, NV 89501