Boarding for Breast Cancer's Skate the Lake
Aug 05 - Aug 06, 2023
Tahoe City, CA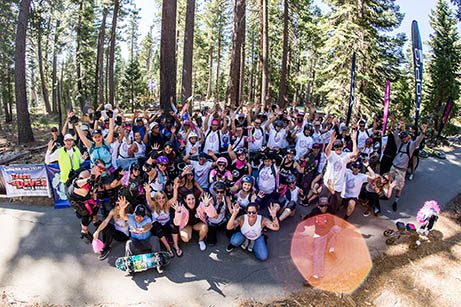 Our Summer Skate Series began back in 2004 with the inaugural Skate the Lake in Lake Tahoe, CA. Supporters of B4BC gathered to skateboard, bike, and roller-skate along the Truckee River. A few years later, B4BC brought the event closer to home and introduced Skate the Coast in Los Angeles, CA. These two events have become staples in B4BC's fundraising and wellness-promotion programs. The series was briefly brought up to Oregon in 2013 with a one-off event called Skate the River. Most recently, with the move of Summer Dew Tour to Des Moines, Iowa, B4BC introduced Skate the Lake to the midwest, and we look forward to making it tradition!
Boarding for Breast Cancer (B4BC) is a 501(c) 3 non-profit foundation founded in 1996. Our mission is triple focused to prepare young people with education on early detection, promote the importance of maintaining a healthy, active lifestyle as the best means of breast cancer prevention, and provide survivor support for those affected by breast cancer.
We achieve this through our participation in year round grass roots, youth focused lifestyle events with our Educational Outreach Experience, Prevention + Awareness Fundraising Events, and Survivorship Programs.
Event Address:
Tahoe City, CA 96145