Concours d'Elegance
9:00 am - 9:00 pm
Aug 11 - Aug 12, 2023
Obexer's Boat Company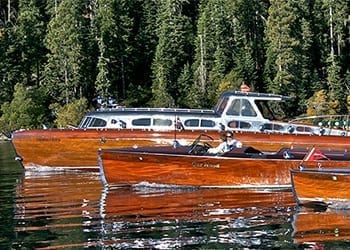 The Lake Tahoe Concours d'Elegance began as a few wooden boat owners coming together to share their passion. Since then, Concours has consistently raised the bar year after year to earn the title of North America's premier wooden boat show.
The show has spanned across four marinas and nearly five decades. It was 1972 when that handful of Tahoe Yacht Club Members and their friends gathered at Chamber's Landing for the first ever Concours. The show moved to Tahoe City's Tahoe Boat Company in 1976 and then to the Sierra Boat Company in Carnelian Bay in 1993. In 2014, Concours came full circle and returned to the West Shore and the birthplace of wooden pleasure boating on Lake Tahoe. It now calls Obexer's Boat Company – the first wooden boat dealership in Tahoe and as classic as the Concours boats themselves – home.
In 1994, Concours was given a cause with the founding of the Tahoe Yacht Club Foundation. TYCF's mission is to raise money to help preserve the environment and history of the Lake Tahoe Basin. The Lake Tahoe Concours d'Elegance is the Foundation's largest event. Since it's induction, and thanks to the Concourscommunity, the Foundation has been able to award over $410,000 in grants to various maritime-related, charitable, and cultural organizations.
In the beginning, the purpose of the Lake Tahoe Concours d'Elegance was simple – enjoy the past-time of wooden boat tradition. The show quickly became a must-see display and a way to educate the public about classic watercraft from the past and present. It evolved into a way to give back to Lake Tahoe. The Lake Tahoe Concours d'Elegance is now a benchmark of the wooden boat community, renowned all over the world for its quality of boat exhibits and high judging standards and practices. Through the prestige, Concours remains true to its roots. Its main purpose was, is, and always will be to share the passion of wooden boats with the world.
Event Address:
5300 W Lake Blvd Homewood, CA 96141