Dummy Downhill at Diamond Peak
Apr 01 - Apr 01, 2023
Diamond Peak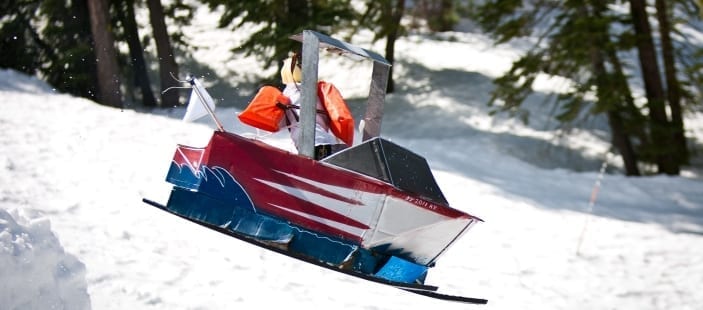 Join us for the 21st annual Dummy Downhill on Saturday, April 1, 2023. Participants build a dummy on skis or snowboards that gets launched off of a big jump, while spectators get to watch as unique characters fly down the hill or crash hard. This is Diamond Peak's signature spring event, the biggest party of the year, and the perfect way to celebrate April Fool's Day. Even non-skiers will want to come watch the madness! A panel of celebrity judges (and the public) will evaluate all Dummies on the snow by the Base Lodge, followed by the dummy launch and an awards ceremony. Prizes and certificates are awarded for creativity, best crash, furthest distance, and more.
Dummy Details & Registration
Dummies must be at the Base Lodge by 10:00 a.m. to check in and then be judged on creativity. Dummies cannot be live, have pyrotechnics and must weigh less than 75 pounds. Dummies and songs must be family-friendly. Team captains should be present to help load the dummies after they have been judged and unload at the top of the jump. The jumping will be followed by an award ceremony on the Base Lodge Deck.
Event Address:
1210 Ski Way, Incline Village, NV 89451