Full Snowshoe Tour
4:30 pm - 7:30 am
Oct 27 - Apr 23, 2023
Tahoe Vista Recreation Area
$90/person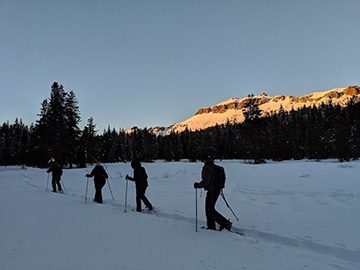 10/27, 10/28, 11/26, 11/27, 12/26, 12/27, 12/28, 1/25, 1/26, 2/23, 2/24, 3/24, 3/25, 4/22, 4/23
Join Tahoe Adventure Company for one of our very special Full Moon Snowshoe Treks. Take in the brisk mountain air as you snowshoe under the moon and learn about the High Sierra. You will trek on our easy to use snowshoes through Tahoe's peaceful, wintry forest and stop along the way to take in the beautiful views, enjoy snacks and hot drinks at the end.
There is a 4 person minimum to run the tour. Single travelers are welcome, call or email us to see if there is a group you can join.
All snowshoe tours are dependent on snow conditions. If the snow level is too low, the tour will proceed as a Full Moon Hike.
Event Address:
7010 N. Lake Blvd., Tahoe Vista, Ca