Lake Tahoe Shakespeare Festival
Jun 30 - Aug 20, 2023
Warren Edward Trepp Stage, Sand Harbor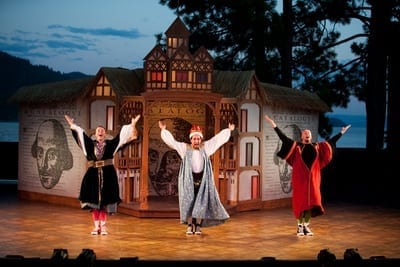 Little Shop of Horrors, Music/Entertainment, D.G. Menchetti Young Shakespeare
Little Shop of Horrors

The Delectable Musical Comedy

Book and Lyrics by Howard Ashman
Music by Alan Menken
Based on a film by Roger Corman
Screenplay by Charles Griffith
Directed by Victoria Bussert
Could fame, fortune, and love be on the menu for a hapless flower shop assistant after he crosses paths with a new and unusual plant? Or will this strange, sentient seedling have other things in mind? This campy, cheerful romp has devoured the hearts of audiences throughout the world for over 30 years. The legendary team of Howard Ashman and Alan Menken (Disney's Aladdin, Beauty and the Beast, and The Little Mermaid) are behind this delicious sci-fi smash musical that features popular favorites such as "Suddenly, Seymour," "Skid Row," and "Somewhere That's Green."
2023 Showcase Series Line-up!
We are delighted to present this year's Showcase Series performances. Reserved seating tickets for some events will sell out within minutes, so please consider general admission seating when purchasing tickets. There are no bad seats in the house. And remember, we have a variety of wonderful performances this season; so if your first choice is not available, please consider exploring something new. We have something for everyone!
Don't miss this diverse lineup of fantastic live entertainment on the Warren Edward Trepp Stage at scenic Sand Harbor, Lake Tahoe Nevada State Park.
---
 

Reno Philharmonic Orchestra
Dancing in the Streets: The Music of Motown

July 10, 2023 @ 7:30 p.m.
Single Tickets: $69-$185 / Tables: $375-$750 (Tables seat 2 or 4.)

From 1961 to 1971, Motown Records produced more than 100 top ten hits. That success was not by accident. Founder Berry Gordy Jr. had a knack for recognizing artists with mainstream pop appeal who could turn the music world on its head and rocket to stardom. Revel in an extraordinary homage to this iconic era's music as the Reno Phil, conducted by Laura Jackson, performs classics by Marvin Gaye, The Temptations, Diana Ross, and more under the stars at Sand Harbor!

Pablo Cruise

July 17, 2023 @ 7:30 p.m.
Single Tickets: $37-$110 / Tables: $220-$440 (Tables seat 2 or 4.)

Get ready to dance in the aisles on Lake Tahoe's shore during an exhilarating concert by the exceptional band that created a string of chart-topping hits which include "Whatcha Gonna Do?," "Love Will Find a Way," "Cool Love," "I Want You Tonight," and more! Building on the momentum of multiple national tours and the release of seven studio albums, this extraordinary, multi-platinum-selling group will make a special stop at Sand Harbor this summer to perform the familiar tunes that rocked the radio airwaves and made them famous.

Foreverland
The Electrifying Tribute to Michael Jackson

July 18, 2023 @ 7:30 p.m.
Single Tickets: $37-$110 / Tables: $220-$440 (Tables seat 2 or 4.)

Since 2009, Foreverland has been mesmerizing audiences around the country with their larger-than-life tribute to the one and only Michael Jackson. Featuring three dynamic vocalists, a powerhouse rhythm section, and the hardest working horn section in the biz, Foreverland recreates hits from the Jackson 5 era through the end of Michael's incredible career in a way that honors the King of Pop's musical genius and legendary showmanship like no other tribute band has ever done.

Sierra Nevada Ballet
The Last Unicorn

July 24, 2023 @ 7:30 p.m.
Single Tickets: $30-$89 / Tables: $178-$356 (Tables seat 2 or 4.)

Based on the novel by Peter S. Beagle, The Last Unicorn is a spectacular story ballet created by Rosine Bena and set to music by Franz Liszt. Hailed as "brilliant" by San Francisco critics after its 1989 debut, the iconic ballet tells the story of the last unicorn left on earth who is on a quest to save her kind. Turned into woman by a comical magician, she is threatened by an evil King and his fierce Red Bull – and falls in love with the King's brave son. Performed by a cast of 30 dancers, this exciting performance brims with romance, humor, and drama!

Pink Martini
The 9th Annual Prim Music Night

July 25, 2023 @ 7:30 p.m.
Single Tickets: $40-$150 / Tables: $300-$600 (Tables seat 2 or 4.)

Pink Martini's acclaimed and genre-crossing fusion of musical styles is just the thing to stir your soul (and your drink!) under the stars this summer. Featuring more than a dozen musicians, with songs that draw international inspiration and range in style from classical to jazz to old-fashioned pop and more, this self-described "little orchestra" has performed its extraordinary multilingual repertoire on stages worldwide – including with more than 50 of the globe's greatest orchestras. Pink Martini has sold over three million albums and its songs have been streamed over 450,000,000 times on Spotify and Apple Music. As band founder Thomas Lauderdale describes, "Pink Martini is a rollicking around-the-world musical adventure." Join us at Sand Harbor and experience the wildly popular, award-winning sound that has made this extraordinary ensemble an international phenomenon.

Reno Jazz Orchestra
Hot House: One Night at the Savoy Ballroom

July 31, 2023 @ 7:30 p.m.
Single Tickets: $32-$100 / Tables: $200-$400 (Tables seat 2 or 4.)

Enjoy a swinging, jump-jiving concert that features the world's best big band music and captures the 1930s nightclubbing vibe of the world-famous Savoy Ballroom. Enjoy the scintillating sounds that spurred the original "dirty dancing" of the Lindy Hop and the Jitterbug – inspired by Basie, Goodman, Webb, and other jazz greats. Relive the tunes of big band music masters as the Reno Jazz Orchestra revives swing under the stars at Sand Harbor – Savoy Ballroom-style.

Reno Philharmonic Orchestra
A Tribute to Rodgers & Hammerstein

August 7, 2023 @ 7:30 p.m.
Single Tickets: $69-$185 / Tables: $375-$750 (Tables seat 2 or 4.)

Join the Reno Phil and conductor Jason Altieri for a tribute to one of the most revered and prolific song writing teams in Broadway history. Collectively, the musicals of Rodgers & Hammerstein have earned 42 Tony Awards, 15 Academy Awards, two Pulitzer Prizes, two Grammy Awards, and two Emmy Awards. In 1998, the duo was recognized on Time Magazine's list of the 20 most influential artists of the 20th century. Guest vocalists Ben Davis and Scarlett Strallen join the orchestra to perform Rodgers & Hammerstein's most beloved songs in a sublime concert that will have you singing all the way home.

PettyBreakers
A Tribute to Tom Petty & the Heartbreakers

August 14, 2023 @ 7:30 p.m.
Single Tickets: $37-$110 / Tables: $220-$440 (Tables seat 2 or 4.)

Hailed as the "world's greatest tribute to Tom Petty" by Ryan Seacrest and Mark Cuban of AXS-TV, the PettyBreakers have thrilled audiences and headlined venues in 22 states since the band's founding in 2010 – including at Major League Baseball's 2018 All-Star Pre-game Celebration. Join us this summer as this extraordinary ensemble performs the iconic hit songs that earned Tom Petty and the Heartbreakers' induction into the Rock & Roll Hall of Fame!

The Linda Ronstadt Experience

August 15, 2023 @ 7:30 p.m.
Single Tickets: $37-$110 / Tables: $220-$440 (Tables seat 2 or 4.)

American Idol Star Tristan McIntosh creates a stunning portrayal of Linda Ronstadt in the prime of her career. Supported by a superb backing band, Tristan's formidable vocal talent and stage presence will transport Sand Harbor audiences to a time when Linda Ronstadt ruled the airwaves as one of the most popular female vocalists in music history. The Linda Ronstadt Experience features chart-topping hits that include "You're No Good," "When Will I Be Loved," "That Will Be The Day," "Blue Bayou," and many more!

Reno Jazz Orchestra
Featuring Tom Scott

August 21, 2023 @ 7:30 p.m.
Single Tickets: $32-$100 / Tables: $200-$400 (Tables seat 2 or 4.)

A multi-Grammy Award-winning artist with dozens of hit albums and more than 2,000 recordings as a legendary saxophonist, Tom Scott has played a prolific part in creating some of the greatest music ever recorded over the past 50 years. In addition to performing with the finest rhythm sections and bands on the planet, Tom is also a renowned producer, arranger, director, and educator. This summer he joins the Reno Jazz Orchestra for an exhilarating concert that features his extraordinary compositions of jazz, blues, fusion, instrumental pop, and big band music.
Young Shakespeare
A D. G. Menchetti Education Program
A FREE Show for Kids! Interactive Family Fun!
Young Shakespeare, a D.G. Menchetti Education Program, features an interactive, hour-long adaptation of our mainstage production created with the young audience member in mind. Performances are presented at Sand Harbor at Lake Tahoe Nevada State Park and at other partner venues throughout the region. Young Shakespeare has connected over 80,000 children and their families to the classics since its inception.
This FREE program (suggested donation $5 per adult; $1 per child) affords an amazing live theater experience for young audience members and their families while simultaneously providing opportunities for young and aspiring actors from local schools to participate in the production as performers!
Join us for Young Shakespeare 2023 as a cast of local professional actors teams up with area students to present an adaptation of William Shakespeare.
Young Shakespeare: 2023 Performance Schedule: To Be Announced!
Although the performances are free, reservations are required due to capacity limits at Sand Harbor at Lake Tahoe Nevada State Park and some of our partner venues. Click below on your desired date to reserve your tickets where required.
| | | | | |
| --- | --- | --- | --- | --- |
| Date | Venue | Time | Capacity | Request Tickets |
| | Sparks Library, Sparks NV | 10:30 AM | | Reservations are not required for this venue. |
| | Fallon Library, Fallon, NV | 10:00 AM |   | Reservations are not required for this venue. |
| | Warren Edward Trepp Stage, Lake Tahoe Nevada State Park, NV | 9:00 AM | 500 | |
| | Warren Edward Trepp Stage, Lake Tahoe Nevada State Park, NV | 9:00 AM | 500 | |
| | Valhalla Tahoe, South Lake Tahoe, CA | 10:00 AM | 400 | |
| | CVIC Hall Minden, NV | 10:00 AM | 290 | |
| | Good Luck Macbeth Theatre, Reno, NV | 7:30 PM | | |
| | Good Luck Macbeth Theatre, Reno, NV | 10:00 AM | | |
| | Warren Edward Trepp Stage, Lake Tahoe Nevada State Park, NV | 9:00 AM | 500 | |
| | Warren Edward Trepp Stage, Lake Tahoe Nevada State Park, NV | 9:00 AM | 500 | |
Event Address:
Sand Harbor State Park, Incline Village, NV 89451