Music on the Beach, Kings Beach
6:00 pm - 8:30 pm
Jun 16 - Sep 01, 2023
Kings Beach State Recreation Area
Free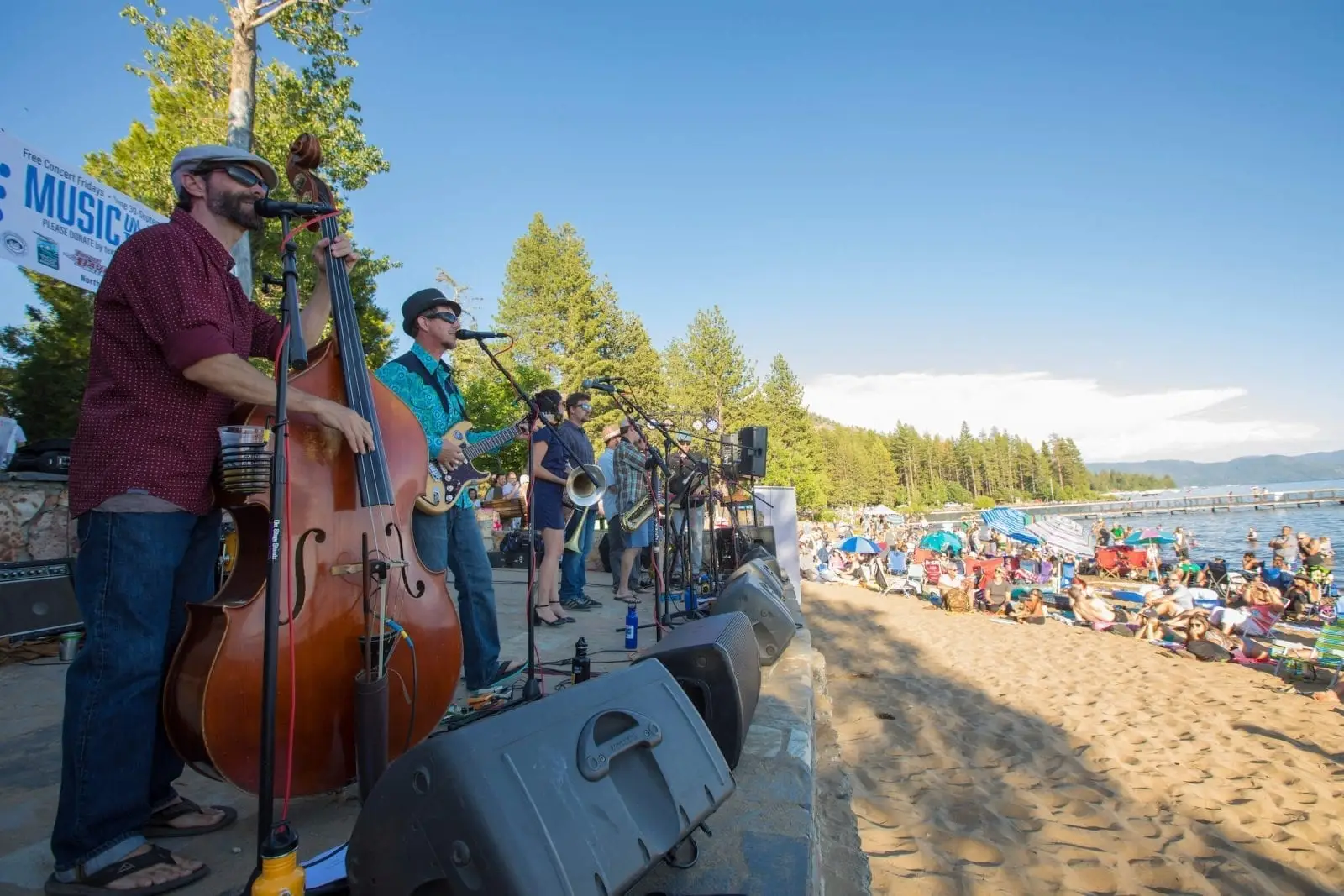 Friday Nights. Excluding August 11, 2023.
It's time to break out our happy dances! NTBA is beyond excited to announce that we are back with a FULL LINEUP OF LIVE MUSIC at our 17th Annual Music on the Beach concert series! Start your 2023 summer weekends off right by listening and dancing to FREE live music performances featuring a variety of genres on the beautiful North Shore of Lake Tahoe. Concerts take place every Friday night at the Kings Beach State Recreation Area; music starts at 6:30pm. See below for all band info:
Coburn Station
June 16
Hailing from North Lake Tahoe, Coburn Station is dedicated to filling the mountains with cosmic vibrations via a soulful blend of rock n' roll, groove, and psychedelia. With a knack for live improvisation, Coburn Station comes alive with the energy and spirit of the Sierras. The music pays tribute to the rockers of days past, but incorporates elements that are new and powerful.
Concert Sponsor: TBA
Peter Joseph Burtt & The King Tide
June 23
Peter Joseph Burtt is a lifelong drummer and singer/songwriter. His music draws from many sources to inform his music and chronicle the years he spent living and studying with master musicians of Africa. Much of his music is played on traditional instruments, notably the lute like Kora and the Mbira or thumb piano. Songs are also transposed for the guitar.
Concert Sponsors: TBA
Pipe Down
June 30
Bringing a chill, groove-based California reggae vibe created from the culmination of global talents, experiences and passion, Pipe Down was founded in the throes of the global pandemic in the Spring of '21 on the north shore of Lake Tahoe. With a distinct sound drawing together reggae, indie rock and hip hop, the group has since dominated the local live music scene with their energy and memorable live performances.
Concert Sponsors: TBA
Broken Compass Bluegrass
July 7
Recognized for their tight arrangements, tasteful musicianship, and distinguished songwriting skills, Broken Compass Bluegrass is one of California's most prominent up-and-coming artists. They perform a mix of jamgrass, bluegrass and country, among numerous originals. All 4 members are seasoned performers, multi-instrumentalists, & singer/songwriters; they have established themselves as a fresh force in the scene today.
Concert Sponsor: TBA
Buddy Emmer Blues Band
July 14
Buddy Emmer has been a long time favorite Blues Act in the Northern Nevada music scene, and has shared the stage with a wide variety of artists including Greg Allman, Jimmie Vaughan, and many more. Buddy has hosted a Blues Show at Harrah's South Lake Tahoe for the last eleven years backing up some of the finest Blues acts in the country.
Concert Sponsor: TBA
Pacific Vibration
July 21
Pacific Vibration is a soulful reggae band based in the San Francisco Bay Area. The band plays a mix of original, rootsy, California/Island style reggae with touches of world, soul, funk, and rock. Their music is upbeat yet conscious with lyrics that are aimed to make a change in the world, and always gets the crowd moving.
Concert Sponsor: TBA
Blü Egyptian
July 28
West Coast indie groove sensations Blü Egyptian are a youthful quartet based out of Chico, CA. They have gained a reputation for their high energy shows with extended multi-genre jams, meaningful songwriting, and entertaining stage antics. Creating a unique fusion of funk, bluegrass, reggae, world music, rock n' roll, EDM, and more, they continue to push the musical spectrum everyday.
Concert Sponsor: TBA
Sang Matiz
August 4
Sang Matiz has been performing a collection of original and cover songs for 8 years, fusing energetic World and Afro-Brazilian/Peruvian beats with contemporary rhythms such as Pop, Jazz, and Funk. They've perfected a unique combination of styles that is best described as catchy, syncopated melodies with flamenco-style fingerpicking. "It sounds like the Gypsy Kings and Jamiroquai had a baby in South America"
Concert Sponsor: TBA
The Sam Chase & the Untraditional
August 18
The Sam Chase & The Untraditional hails from San Francisco, California. This juggernaut of a band blends rock-n-roll with folk music while maintaining the sensibilities and attitudes that come from growing up on a healthy diet of punk rock. The leader of the band is Sam Chase himself, a natural storyteller with a voice that sounds as if it has weathered many an epic tale. With boot stomping orchestration and lyrics that have been immortalized on the tattooed skin of their fans, this band doesn't mess around.
Concert Sponsor: TBA
Jelly Bread
August 25
Jelly Bread has risen from Reno/Lake Tahoe area favorites into a powerhouse quintet that delivers a high-energy, chameleonic setlist from coast to coast.  Their distinct style is identified by a blend of desert twang and the urban tones of funk and rock. Exceptional songwriting interlaced with four part harmonies, intricate drum and bass grooves, swampy lap steel guitar, and "take-'em-to-church" organ come together into a sound that is downright appetizing.
Concert Sponsor: TBA
GrooveSession
September 1
GrooveSession is always a good time. This So-Cal band brings a high energy rock show with flavors of jam rock, funk, jazz fusion, and reggae. Brothers Manny and Ronnie Sanchez have connected with true talents and creative energies in Kyle Merrill on guitar and vocals and Alex Mello on keyboards. The four of them now cosmically have come together as one band joining forces on stage as songwriters, jammers, rockers and space funkers united.
Concert Sponsor: TBA 
Event Address:
8318 North Lake Blvd., Kings Beach 96143