Sierra Speaker Series: Live! Capt. George Whittell, Jr. – Thunderbird Lodge's Lake Tahoe Millionaire & Foremost Inadvertent Conservationist
5:00 pm - 6:30 pm
Jul 15 - Jul 15, 2023
Donner Memorial State Park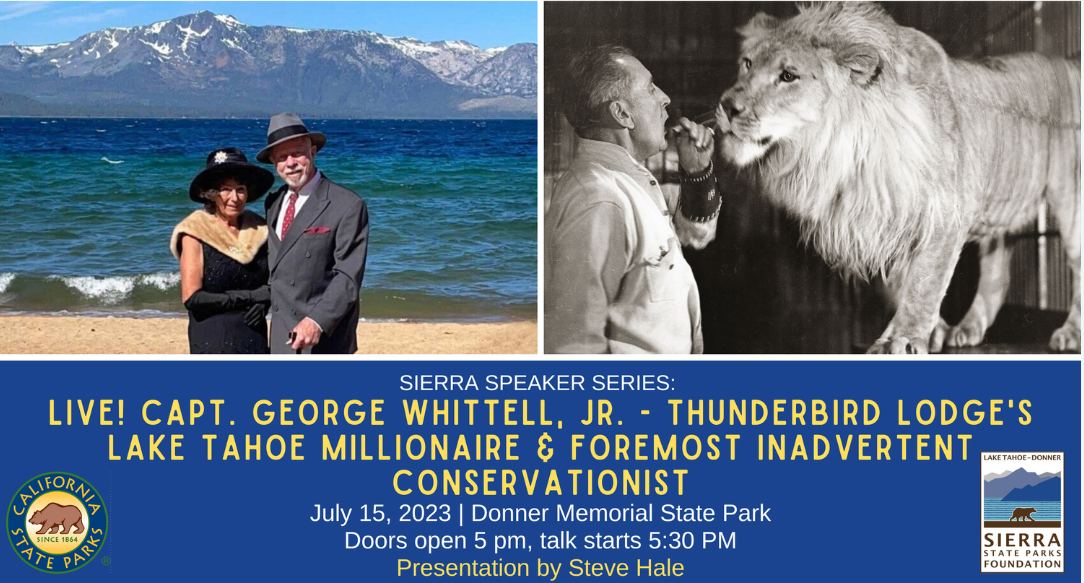 The monthly Sierra Speaker Series connects folks to the rich cultural and natural history of the area. Join us at Donner Memorial State Park Visitor Center to learn and engage! Doors open at 5 pm, and the presentation is to follow at 5:30 pm. Admission is a suggested $5 donation. Light refreshments will be available. Parking is free after 5 pm. No registration required.
LIVE Historical Character Reenactment:
Captain George Whittell, Jr. at one time was the richest man in America but never worked a day in his life. He owned 27 miles of the east shore of Lake Tahoe where he built his fabulous Thunderbird Lodge, captained his custom fifty-six foot mahogany Thunderbird yacht, and piloted his DC-2 Thunderbird.
He grew up on Knob Hill in San Francisco among the privileged Victorian millionaire families, inherited his father's Woodside Estate following the 1906 Fire, and retreated to his private "Castle In The Sky" overlooking Lake Tahoe's Sand Harbor.
Bill, Whittell's African Lion accompanied Whittell in his Duesenberg, his mane flowing in the wind with the convertible top down.
Whatever the Captain's latest intrigue his private life was under constant scrutiny and interruption causing him to increasingly seek refuge at his lakeside Lodge.
Unwittingly when he died in 1969, the thousands of acres that made up his estate along the east shore were still fortuitously intact. They are now what we know of as Lake Tahoe Nevada State Park, Sand Harbor Beach, UNR research forest, and Lake Tahoe Basin national forest public lands.
Our Presenter: Historic character reenactor Steve Hale appears live "dressed to the nines" to bring to life the eccentric lifestyle that's made Captain Whittell a folk legend and Lake Tahoe's most enduring inadvertent conservationist.
Event Address:
12593 Donner Pass Road