SkiiTour DJs
9:00 pm - 12:00 am
Jan 28 - Jan 28, 2023
Crystal Bay Club
$25 adv. $30 d.o.s. + tax and ticket fees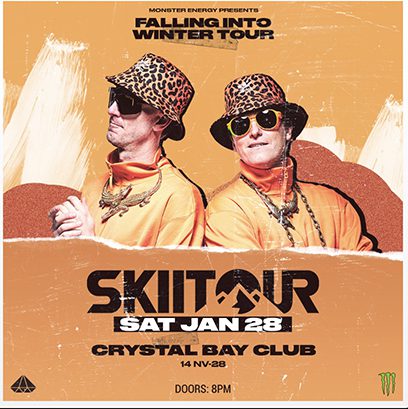 Tickets 21+
SkiiTour are a dj/production/party-rockin duo hailing from the ski-bum capital of the world, Whistler, BC.
As men they couldn't be more different. Tim is a proud ginger Canadian and a strict vegetarian when he's sober. Then there is Canosis – an afro sporting New Zealander who once devoured 96 chicken wings in one sitting.
Musically, they're totally on the same page. Originally collaborating in 2010, they have continued to develop their sound, gaining support from artists around the globe and writing funky bass heavy breaks, with releases on Riddim Fruit Records (UK), Booty Fruit Records (UK) and ReSoul records (Canada).
Event Address:
14 NV-28, Crystal Bay, NV 89402