Washoe Cultural Talks at Palisades Tahoe
Jul 07 - Aug 25, 2023
Aerial Tram and High Camp
See details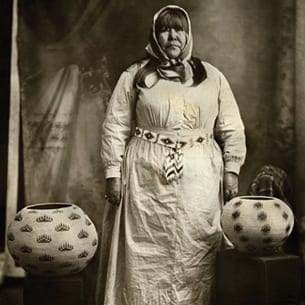 Experience the mountains through the eyes of the Washoe people.
Join members of the Washoe Tribe at High Camp where they will share stories of Washoe history and culture from the Valley and surrounding mountains.
After taking the Aerial Tram to High Camp as a group, your guide will share stories about the Washoe Tribe, from its creation to present day. The Washoe Tribe has deep roots in Olympic Valley, Lake Tahoe and the Sierra Nevada mountains that will be discussed in-depth. Your guide will also talk about the surrounding natural landmarks, the local animals and plants and how they used them, and why changing the name of the resort that sits on their ancestral land is important to the Washoe Tribe. Guests can view artifacts that show the Washoe way of life that Tribe members seek to preserve today.
Attendees should meet outside of the Aerial Tram entrance by 9:15 a.m. The event is free, but registration is strongly recommended. 2022/23 Ikon Pass holders will have free access to the Aerial Tram as well. If you are not an Ikon Pass holder, you will need to purchase an Aerial Tram ticket to join. Tour attendees can purchase an Aerial Tram ticket at a special discounted rate. All ticket sales collected from the event will be donated to the Washoe Cultural Fund. Walk-ups will only be permitted to join the group if there is room.
EVENT DETAILS
Time: 10 am (meet outside the Aerial Tram building by 9:15am)
Date: Friday, June 30th
Location: Aerial Tram & High Camp
Cost: Free, but you will need an Aerial Tram ticket. All ticket sales from event attendees will be donated to the Washoe Cultural Fund. If you register for the event and then realize you cannot attend, please call us to cancel at 1-800-403-0206.
Dogs are generally permitted on the Aerial Tram and High Camp, but dogs are not permitted at this event.

Please note: This is an outdoor event except in the case of inclement weather. We recommend that you be prepared with sunscreen, sunglasses, a hat, and other proper sun protection.
Wa She Shu: "The Washoe People" Past and Present
The Washoe Tribe has created this booklet that summarizes historical and current information about the tribe. They feel that this knowledge will help residents and visitors form a more respectful and complete understanding of Lake Tahoe and the area surrounding it. The Washoe request that you assist in preserving this environment to benefit future generations.

The Washoe Tribe of Nevada and California

For more information on the Washoe Tribe, visit their website.
Event Address:
1960 Olympic Valley Road Olympic Valley, CA 96146