Lake Tahoe Photo Gallery
530-553-1458
8338 North Lake Blvd., Kings Beach, CA 96143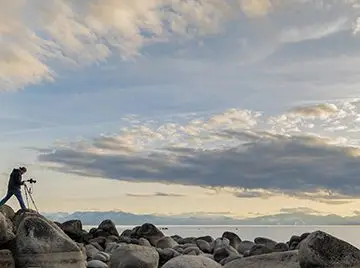 LAKE TAHOE PHOTO GALLERY
North Lake Tahoe's Premier Art gallery
Featuring Fine Art Photography by Sky and Leah Emerson
Colorful and bright, our images shine on metal, canvas and paper prints that appeal to locals as well as visitors. Ranging from affordable, easy to transport small prints to 9-foot, wall-filling panoramas, our gallery has a variety of options to fill your Lake Tahoe Photography needs. All of our work is produced using the highest quality archival materials and is available in a wide range of sizes. If the walls of our gallery don't have the perfect piece for your home or business, we can create custom sizes as well as reproduce any of our images in different mediums. We also can ship your artwork anywhere in the US. We look forward to helping you find the perfect piece to complement your home!
Situated in beautiful Kings Beach, CA we are located next to Jason's Restaurant and Adrift Paddle Shop. Our gorgeous backyard is the Kings Beach State Recreational Area, featuring one of the finest beaches in Lake Tahoe. When you visit our gallery, we hope you can take the time to enjoy our surroundings and great neighboring businesses!
Open 5 days a week, year round.
Check google listing, or call for up-to-date hours.