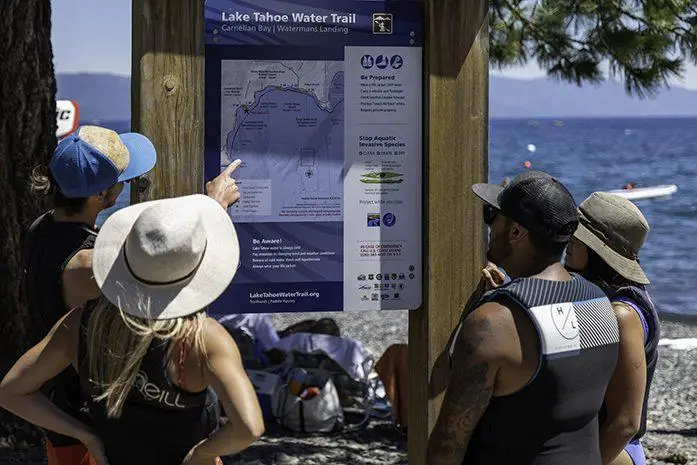 LAKE TAHOE WATER TRAIL
72 miles of pure liquid fun!
Paddlers can explore miles of North Lake Tahoe sandy beaches and lakefront attractions using the public launch and landing sites along the Lake Tahoe Water Trail. The 72-mile shoreline water route connects designated launch and landing sites that include restrooms and wayfinding signage with mapped paddle routes, water safety, and conservation tips.
Paddlers can plan eco-adventures using the Water Trail website and obtain the Lake Tahoe Water Trail Map & Access Guide. The mobile-friendly website includes an interactive route-finding map to locate launch and landing sites, real-time weather conditions, downloadable mapped paddle routes to match your ability and interests, and an easy-to-use File a Float plan email tool to inform others where you are going and when you plan to return.
Water Trail Map & Access Guides can be purchased at the Tahoe City or Incline Village Visitor Centers, and North Lake Tahoe locations listed on our website here.
Know Before You Go Paddling: How to Play it Safe
1. Always wear your life jacket – and a SUP leash.
2. Know your skill level; know how to swim and self-rescue.
3. Check the wind and marine forecast at laketahoewatertrail.org/weather.
4. Plan your paddle route using LT Water Trail launch/landing sites at laketahoewatertrail.org/maps.
5. File a float plan – Tell someone where you plan to paddle and when you plan to return. File a float plan at laketahoewatertrail.org/safety.
6. Obey Tahoe's boating regulations; download the Tahoe Boating App at laketahoewatertrail.org/boating-regulations/.
7. Be a Tahoe Keeper. Check your gear is clean, drained, and dry before launching. Visit laketahoewatertrail.org/tahoe-keepers/ to learn more.