One of Lake Tahoe's most scenic and historic shoreline trails
Welcome to the Tahoe East Shore Trail, a three-mile paved portion of the Tahoe Trail which will eventually go around all of Lake Tahoe. This family-friendly trail navigates steep terrain and hugs the rugged Tahoe shoreline. There are six bridges, including one that is 810 feet long. The Trail improves the visitors' experience and safety, while reducing congestion throughout Lake Tahoe's beautiful National Scenic Byway.
On the Lake Tahoe's east shore, you might see a mighty osprey along with many different species of birds and animals. This trail showcases expansive Lake Tahoe views with large granite boulders and other geological wonders. There are interpretive panels along the trail to get you aquainted with historical information on the Washoe People, steamships, railroads, flumes and logging.  The panels also highlight geology, Lake Tahoe facts, and all types of plants and animals from the area.
Along with observing the trail's history and natural flora and fauna, there are many family-friendly and fun activities along East Shore Trail. With over 10 miles of paved paths, you can walk or bike along the trail and stop at Sand Harbor to spend a few hours kayaking or paddleboarding.
Did you know? In the late 1800s, the hillside along the this part of Lake Tahoe's east shore was cut into and the material was pushed toward the shore of Lake Tahoe to build a railroad bed during the logging era. The logs were used to build the square-set timber mines of the Comstock Lode silver rush in Virginia City and the surrounding areas. By the end of the 1800s, most of Lake Tahoe's trees were gone. The forests of Lake Tahoe today are young, new growth trees from the late 1800s!
A major portion of this beautiful trail is built on the historic construction spoils along the shoreline due to the massive historic logging era in Lake Tahoe during the Comstock Lode.
Furry friends on leash only. Remember-your dogs paws will burn if you can not hold your hand on the pavement for five seconds!
For more information on the building of the trail and sponsorship of the Tahoe Trail projects, visit TahoeFund.org
Tahoe East Shore Trail map
This Tahoe Trail map highlights directions, parking, restrooms, trail etiquette, areas of interest including beach access, and information on where you can bring your dog. Please Leave No Trace and stay on trails to help keep our wild habitat protected!
See the Trail Map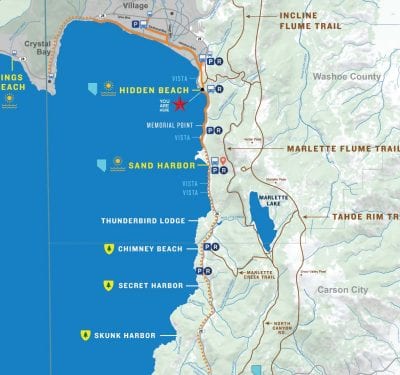 Get Out There!