Connections happen naturally in Lake Tahoe. From autumn awe to winter wow and spring and summer adventure, it practically begs to be enjoyed with the one you want to hold close. Give your relationship a breath of fresh air with a Lake Tahoe couples retreat.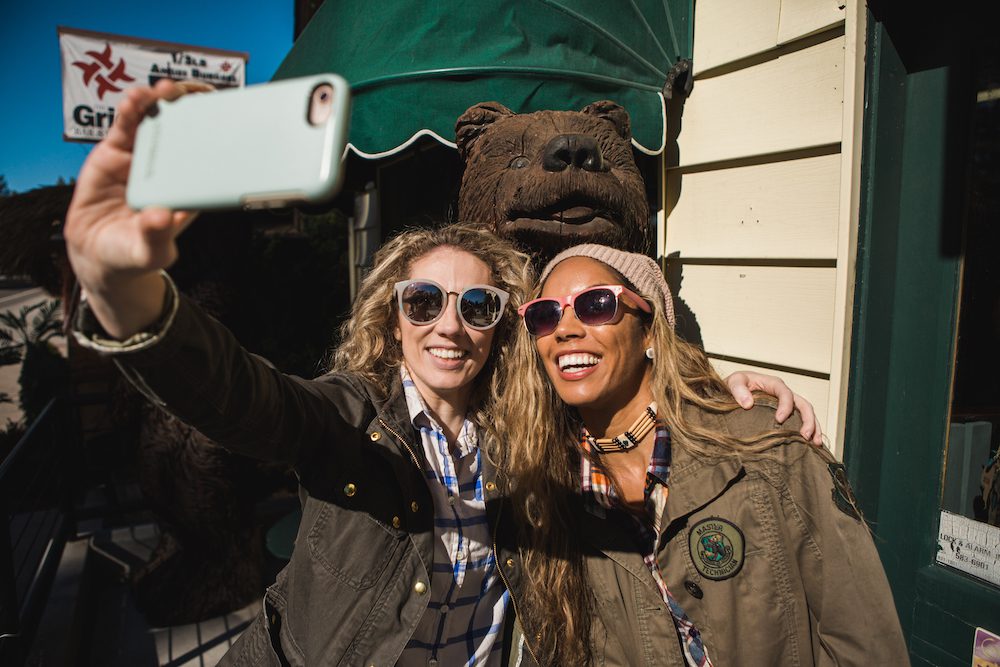 Extend your weekend getaway and plan for an extended vacation to recharge or take advantage of mid-week lodging specials to enjoy more open space. You could meet up with the mountains of the Sierra Nevada or play along the peaceful shores of Lake Tahoe, the largest alpine lake in North America. Trails, beaches, incredible spas and excellent restaurants are all perfect for that Hallmark moment you've been dreaming of.
A sunset and Lake Tahoe's crystal blue waters make for a very romantic sail on Lake Tahoe. Hop on board the Tahoe Gal with North Tahoe Cruises for a sunset dinner cruise where you'll cruise along the West Shore, see the famous Kaiser Estate, home of The Godfather II, and dine on California cuisine with an excellent wine list. A shoreline brunch is another relaxing option where you'll cruise by lavish homes, including the Kaiser Estate, and learn about Tahoe history from the first cruise line on the North Shore.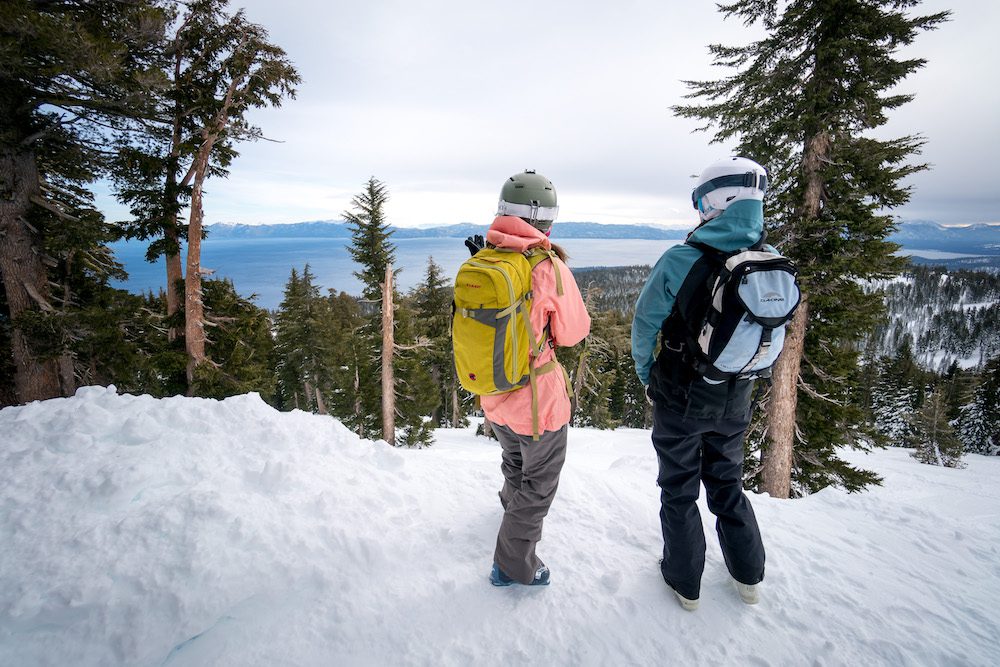 HIKE TO SOME OF THE BEST VIEWS OF LAKE TAHOE
A panoramic view over crystal blue waters might offer the perspective you both need for a deeper connection. Monkey Rock is home to arguably the best panoramic view of Lake Tahoe. It gets its name from a quirky, nature-carved rock that looks like a gorilla head. You'll take the Tunnel Creek Trail, a 4.7-mile out-and-back hike located near Incline Village. Hand holding and intimate chats are certainly welcome.
And there's much more to explore too. See a full list of trails here.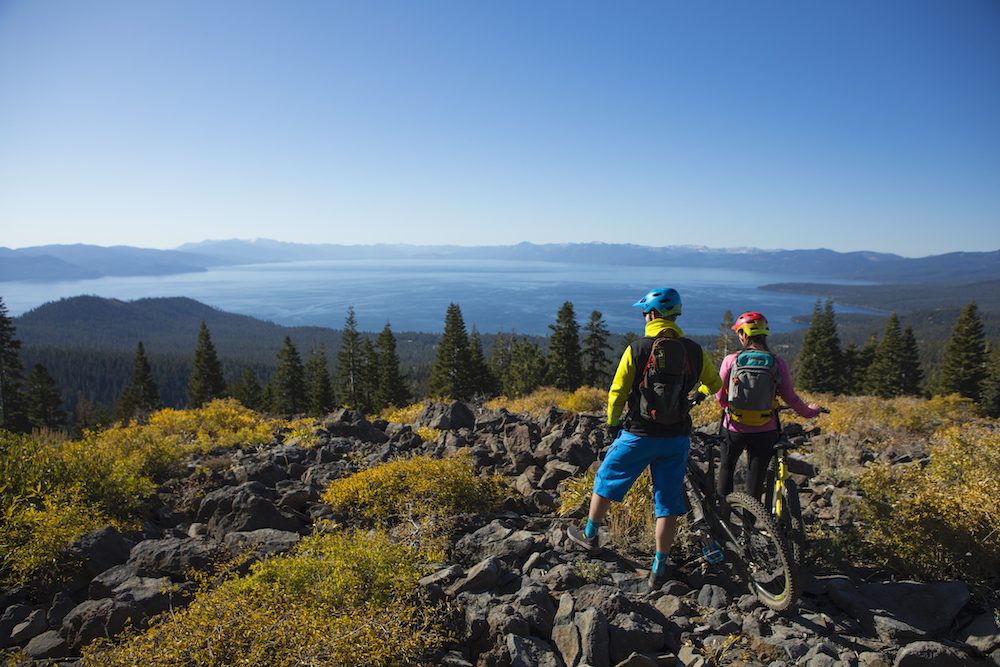 Conquering a challenge together can make for a great bonding experience. If it's as fun as mountain biking, then that's even better. Biking is a year-round sport with hundreds of back country trails, parks, and paved paths, and snow biking in the winter. In Lake Tahoe,every season brings a uniquely rewarding experience.  
Incline Village is a biking-bucket-list kind of place. Not only is it the Mountain Biking Capital of Nevada, it's also among the top U.S. biking destinations. There are dozens of rental options and trails for all skill levels from biking newbies to trail masters, all with incredible views nearly any time of year. These are the experts, so rest assured, they'll always make sure you're safely geared up.
If you didn't bring a bike, no worries. Check out our Lake Tahoe Biking Guide for several great shops that can gear you up or fix a bike as needed.  
One of our favorite rides is anything along the Tahoe Rim Trail. The full trail goes all the way around Lake Tahoe. We recommend choosing a portion of it like the west shore Tahoe City to Brockway Summit portion at 21.1 miles. You'll take in the peaceful Watson Lake, see rough, lava-hewn cliffs and pass some stunning views of Truckee River Canyon.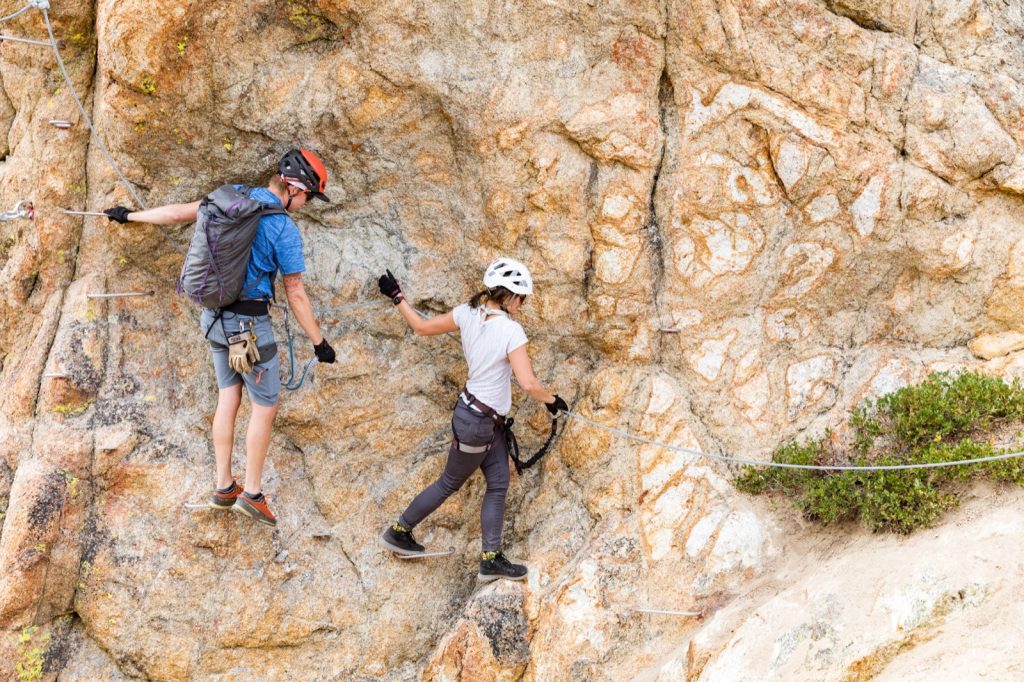 CLIMB AS A COUPLE
Ready to take your relationship to new heights? Then try Palisades Tahoe's outdoor challenge, the Tahoe Via Ferrata. It combines climbing and hiking over the previously inaccessible Tram Face for an incredible view of Olympic Valley. It's a pretty unique adventure, one that's totally worth a #humblebrag for both of you.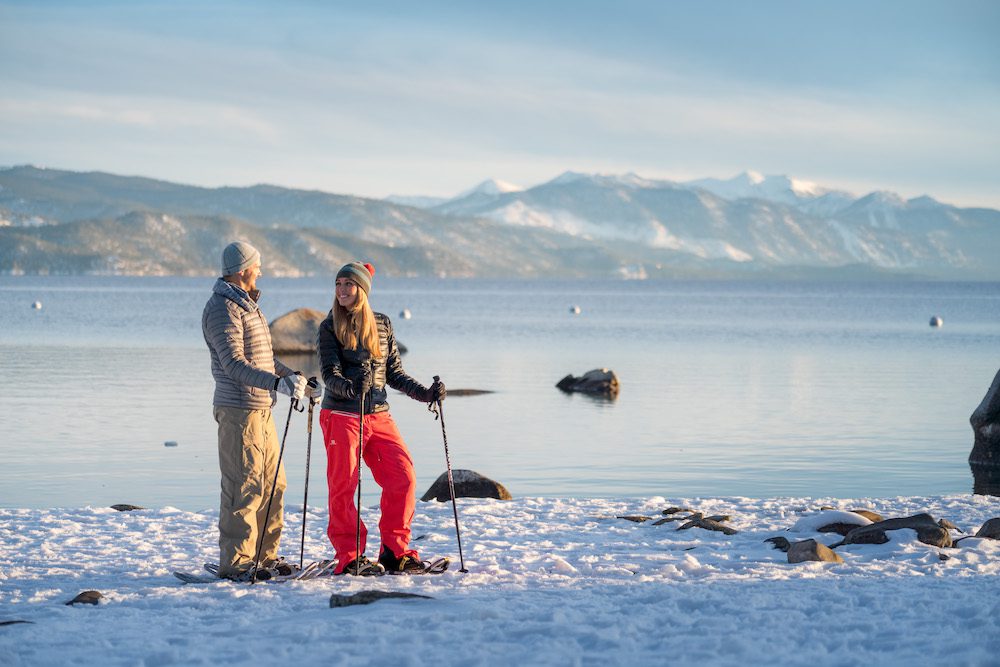 SNOWSHOE ALONG THE SHORE
Snowshoeing in Lake Tahoe can be done just about anywhere in the winter, and it's beautiful along the shore. There's something about the sky-blue lake, crisp white snow and towering mountains that really connects you. If it gets cold, you can always huddle for warmth or gather around a fire pit with a hot toddy for a fireside chat. Here's our guide on getting cozy in NLT.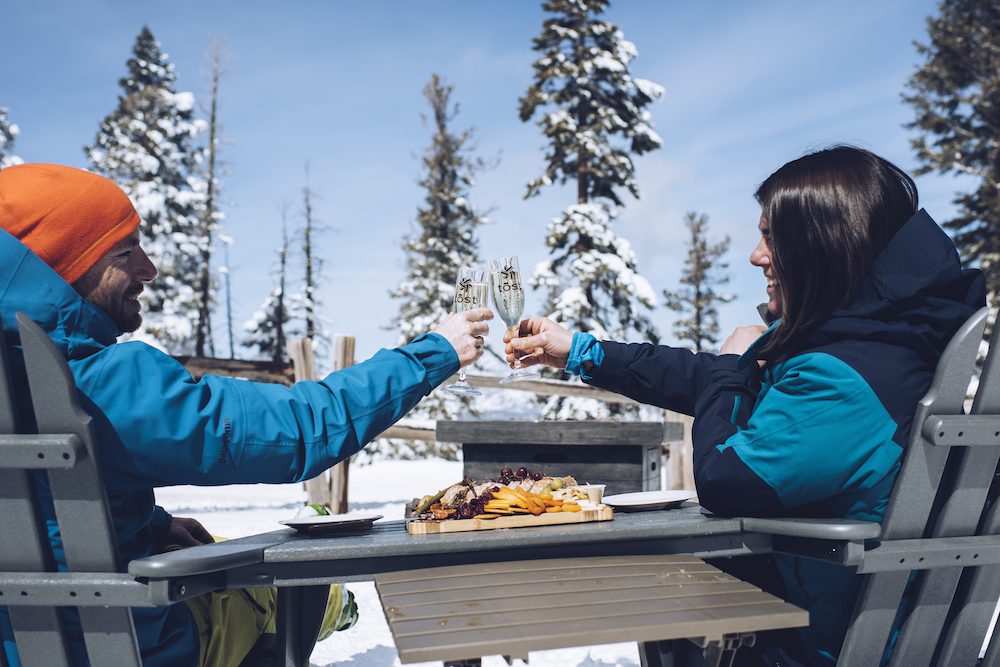 APRÈS FOR TWO
Toast to the two of you in style at Northstar California Resort with Tōst, the resort's exclusive (as in private and very posh) mountaintop service. All ski guests can enjoy their complementary s'mores and Champagne or you can upgrade to their Platinum Tōst, which includes an additional charcuterie board and a fire pit in a VIP area.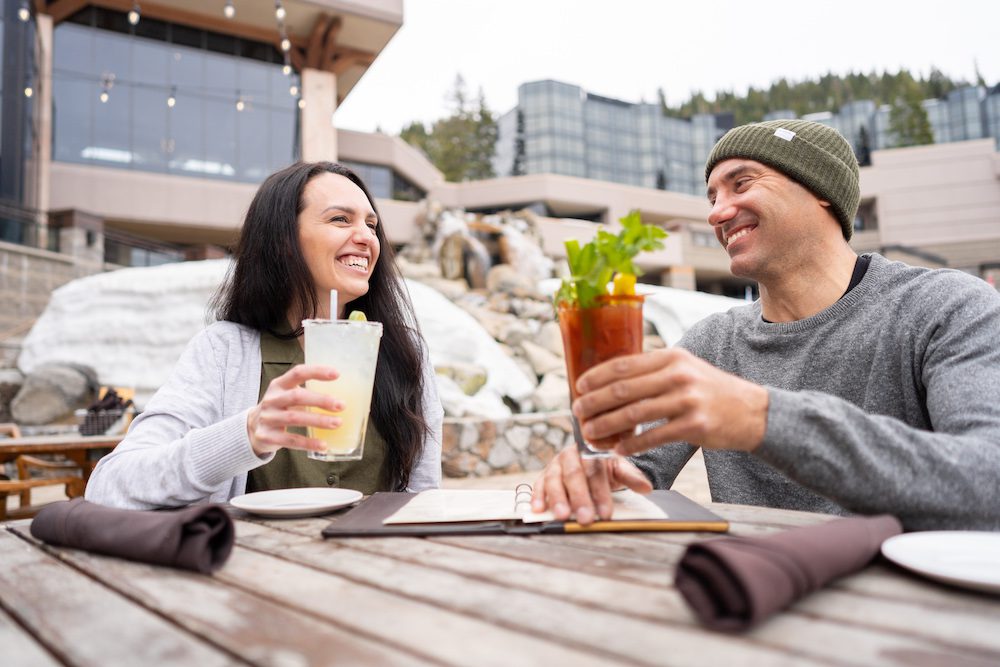 ROMANTIC DINNER
Amazing food and cozy conversation are a pillar of any couple's retreat. A staff favorite is La Fondue Restaurant and Bar for its authentic Swiss food that's meant to be shared. A view also does wonders for romance, which Christy Hill Lakeside Bistro has in spades, along with luxurious, modern American cuisine. Visit near sunset to get the best of their breathtaking view.
Really the food here is excellent and there are tons of tempting places to try. Check out our dining guide for more of our favorites.