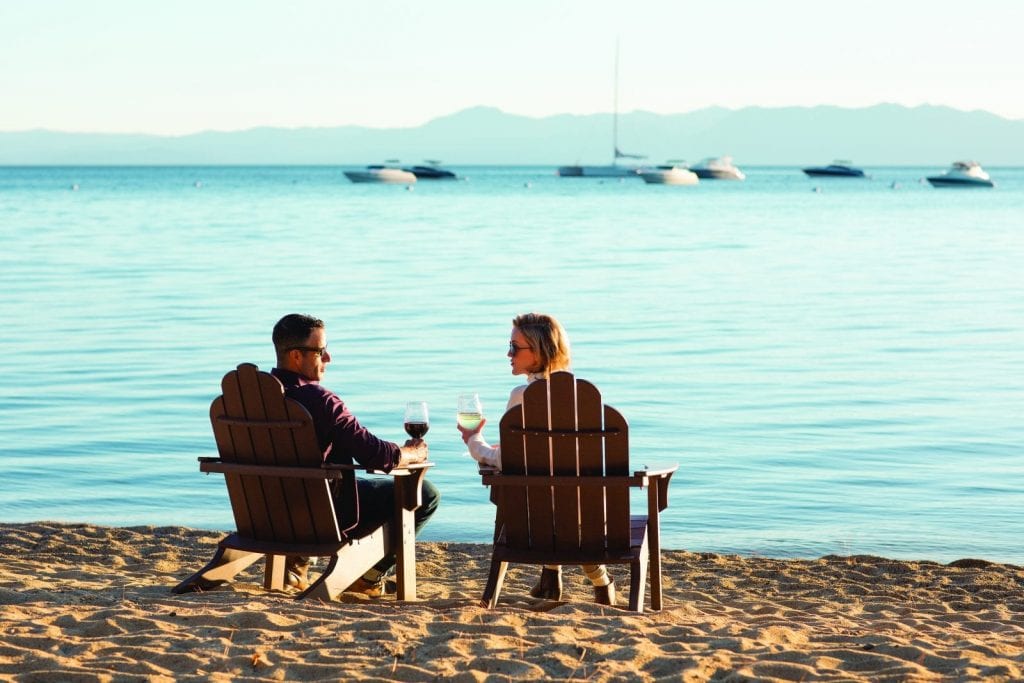 The splendor of North Lake Tahoe makes for the perfect backdrop to your next date night. Photo credit: 2018 Mimi and Coy Hyatt Regency Lake Tahoe Resort Spa Casino
Late spring is the perfect time to spend time with your sweetheart by the lake. Longer days, warmer weather, and beautiful sunsets are the ideal setting for spending quality time on a cool evening with your special someone, and the beauty of North Lake Tahoe's scenery only amplifies the experience.
Why Chose North Tahoe for Your Date Night?
Date nights in North Lake Tahoe are extra special, and one of the best ways to impress and dazzle your date. After all, what's more romantic than having the shimmering beauty of Lake Tahoe serve as a scenic backdrop to some quality alone time?
As afternoon cocktails turn to night time conversation, Lake Tahoe's signature sunsets turn the sky into a lovely pink and purple mosaic, sure to draw "oohs" and "aahs" from you and your sweetheart. Not to mention, there are endless photo opportunities throughout the region, ensuring that you and your sweetheart can grab at least one selfie together. If you really want to wow your date, North Lake Tahoe has no shortage of eateries where you can dine in style, even arriving by boat,.
Thirsty? Why not start by doing the Tahoe Rum Trail? With seven stops along the Trail—from Gar Woods where you can get the iconic Wet Woody, to Mai Tais at Jake's on the Lake—you and your plus-one can make the rounds at every stop while enjoying a wide variety of rum cocktails, the unofficial drink of Lake Tahoe.
Find out more about the Tahoe Rum Trail by exploring our Tahoe Treasures guide to this delicious activity.
Falling in Love on the Lake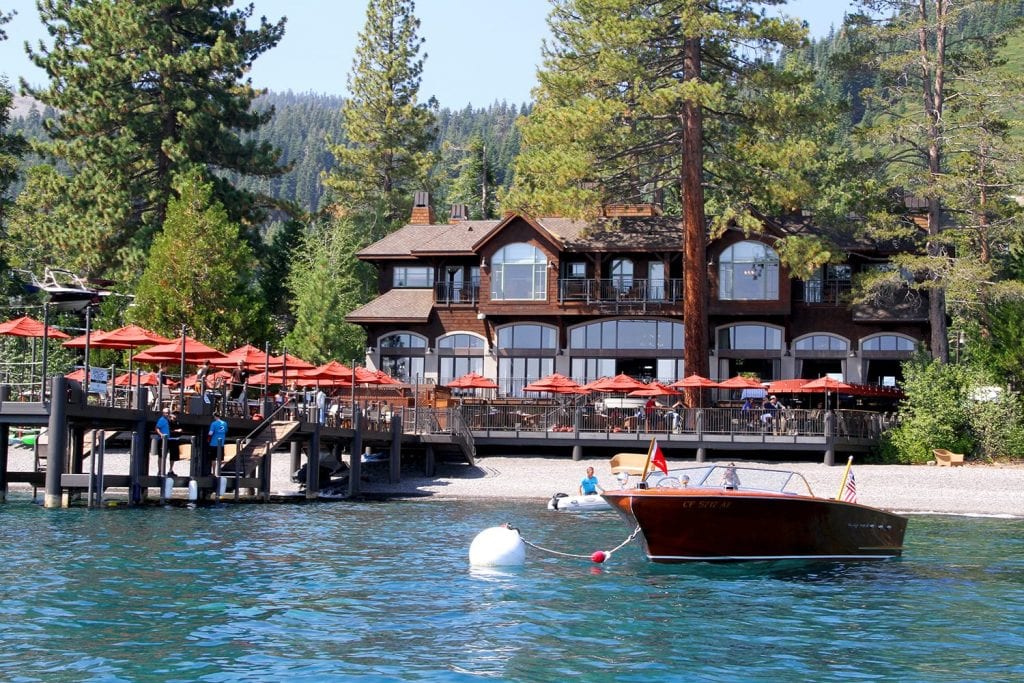 West Shore Cafe is one of the best places for lakeside dining this summer. Photo courtesy of West Shore Cafe
West Shore Cafe in Homewood features a large outdoor deck area, complete with comfortable lounging areas and toasty fire places for late evenings spent enjoying cocktails. Due to its unique location right on the lake, the views are unbeatable at West Shore Cafe when the sun sets over the mountains and shimmers over the water. West Shore Cafe also features an award-winning wine list, as well as an extensive list of signature craft cocktails, so you can raise a glass with whatever libations suit your fancy.
Over in Kings Beach, Jason's Beachside Grille features a full bar, where you and your date can enjoy creative cocktails, craft beers, and fine wine to light up your evening conversation. After you enjoy your drink and an appetizer to split, you can take a lakefront walk on the beach, hand-in-hand savoring the majesty of Lake Tahoe. Jason's Beachside Grille also features live music every Friday, Saturday, and Sunday this summer, adding some ambiance to your date night.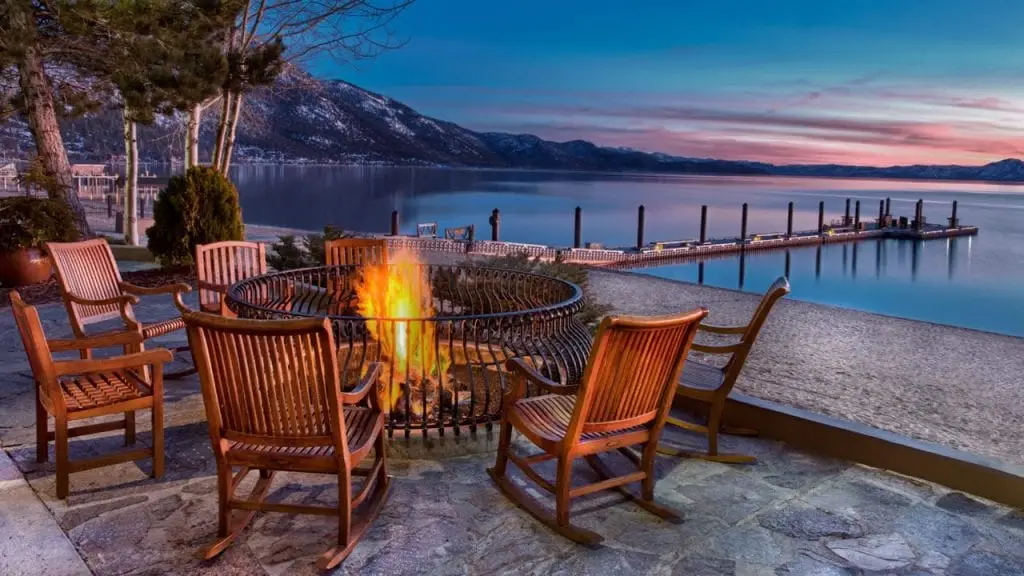 Lakeside views at Lone Eagle Grille are the best seats in the house! Photo courtesy of Hyatt Regency Lake Tahoe
In Incline Village, Lone Eagle Grille, located just behind the Hyatt Regency Lake Tahoe, features its own private beach available to diners, with beach chairs for lounging and a dock to take long walks out onto the lake. The interior of Lone Eagle Grille also features floor-to-ceiling windows, so you can observe the beauty of a Lake Tahoe sunset at the comfort of your table! Lone Eagle Grille's drink menu is one worth exploring, from signature cocktails and craft beers, to a luxe wine list and fireside drinks for breezy spring nights.
Take Your Date Night Riverside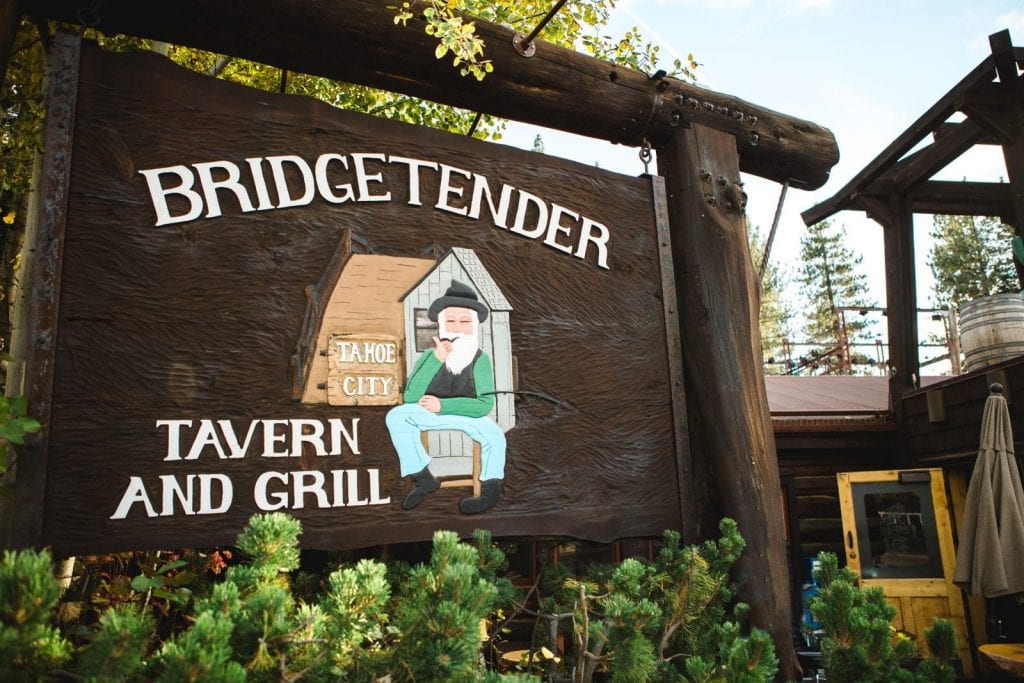 Take your date to the river with a stop at Bridgetender Tavern and Grill. Photo courtesy of CJ Mendez
With so many lakeside options, why not opt for something different with riverside dining? Alpine Meadows is home to the River Ranch Restaurant and Lodge, which is located right on the Truckee River! River Ranch's front patio dining area lights up as the sun goes down, with twinkling lights and lush greenery accompanying the sound of roaring waters. The indoor dining area looks directly over the river itself, adding a distinctive backdrop to your next date night. Select your drink from the River Ranch's wine list and toast to the most unique of date nights.
Another opportunity for riverfront outdoor festivities for your next date night lies at Bridgetender Tavern and Grill in Tahoe City. Right along the Truckee River and located at the historic Fanny Bridge,  the riverfront patio area is a favorite for those who will opt for an afternoon date outing with the shining sun and flowing river set as the perfect backdrop to cocktails. Bridgetender Tavern also boasts 15 beers on draught and "the best bloody marys" in Lake Tahoe. Schedule your date night on a Tuesday to enjoy some bonus live music for added excitement!
Right across the street on the banks of the Truckee River is the aptly named River Grill. Spring and summer nights at River Grill are some of the most fun, thanks to their spacious two-level patio overlooking the river with live music from local musicians playing every single night. River Grill was also voted "Best Happy Hour in North Lake Tahoe", and it's clear to see why with delicious happy hour dishes and drinks with a buzzing and lively atmosphere.