In between the hot summer days of jet skis on the lake and cozy runs on the freshly powdered slopes, there exists a special period of time that is a favorite amongst the locals in North Lake Tahoe. Fall is a special time of year that captures the beautiful essence of changing seasons in many places, but to experience it while in the beautiful landscape of America's largest alpine lake is an opportunity that should not be missed.
Recently, I spent a weekend getaway with one of my best friends in the beautiful area of North Lake Tahoe and created some magical memories. While our visit was short, we were able to enjoy many local favorites that included incredible food, beautiful scenery, and fun activities. Here are some of those highlights.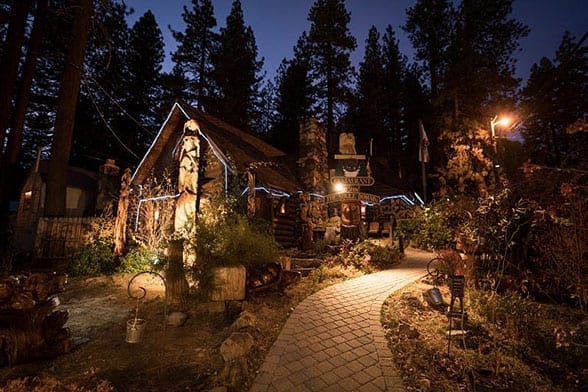 Day 1:
After arriving to the area, we were just in time to catch golden hour and sunset at Kings Beach. This was a beautiful vista right along the lake with multiple spots to enjoy the view. Evidence of the fall season joined us as brilliant gold leaves sprinkled the area and framed a gorgeous sunset for our warm welcome for the weekend.
After we basked in the changing colors of the fiery sky, we made our way to dinner at Soule Domain. This charming mid-century cabin featured a delicious menu of French-based cuisine, fused with Asian and Mediterranean influences. We started with the sea scallops for our appetizer, then had the rack of lamb and the filet mignon for our main courses. Each bite was mouth-watering and better than the last. Our dinner ended with the Queen of Sheba, which is their flourless chocolate double torte cake with fresh whipped cream filling. Needless to say, I was satisfied and very full by the time we left.
Finally, we decided to decompress for the night back at our hotel, the Granlibakken, which is a resort nestled in 74 acres of a forested meadow. We decided to relax in the hot tub underneath the stars for a little while before eventually heading to bed.

Day 2:
Our next day started with a relaxing yoga session at The Yoga Room. We enjoyed a 90-minute session focused on the foundations of yoga, which handily prepared us for the next activity of the day.
Heading towards Squaw Valley, we got ready to head on a guided tour with Alpenglow Expeditions on their newest route — the Via Ferrata. This is a mountain climbing route that allows people with or without previous rock climbing experience to enjoy the epic views of the surrounding area. It's been modified with steel cables and ladders, and is the first of its kind in the region. This is truly an experience for anyone that that enjoys being outside, hiking, and good views. By the time we got back down to the office, we were pumped and feeling completely worked out.
After getting back to Tahoe City, we got ready for dinner at the Sunnyside Restaurant and Lodge. We arrived earlier than our reservation to catch the alpenglow as it cast a gorgeous pink light onto the mountains surrounding the lake. It was fortunately a sight that we were able to continue watching as we were seated at our table in their dining room, which had floor to ceiling glass windows looking out onto the lake. This perfect view was matched with a delicious meal that consisted of their specialties: fried zucchini, mixed seafood hot pot, and their NY steak special of the night. We of course topped it off with an incredible dessert — their Kimo's Original Hula Pie, which consists of chocolate cookie crust, macadamia nut ice cream, hot fudge, toasted mac nuts, and whipped cream.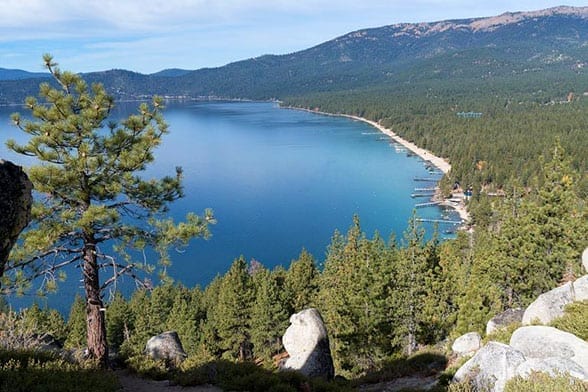 Day 3:
On our final morning, we opted to wake up early and catch the morning light at nearby Commons Beach. As we were already heading east for our final hike of the weekend, it was the perfect start to the day as we sat and enjoyed the calm waters of the lake, surrounded by an idyllic scene of fresh fall foliage around the pier. Next, we headed to Log Cabin Caffe for some breakfast to energize us for our hike.
Our final activity of the weekend was hiking to Monkey Rock on the Tunnel Creek Trail. This was a fairly moderate hike starting behind the Tunnel Creek Cafe and leads you to Monkey Rock, a rock formation in the shape of a gorilla's head that overlooks the lake. It was the perfect ending to our weekend as we got to sit along this higher vantage to really take in the beautiful blues of Lake Tahoe.
Being able to visit North Lake Tahoe during this time of year was an incredibly special treat for me. Fall is one of my favorite times of the year and experiencing it in this beautiful place has me already planning for my next visit back.
This blog was contributed by travel and landscape photographer Lisa Bao. All photos are attributed to Lisa Bao. You can find out more about Lisa and her photography on Instagram at @lisabao or on her website at http://bit.ly/LisaBaoPhoto