Love is in the air for Valentine's Day and North Lake Tahoe is one of the most romantic spots on Earth. Gazing out onto a shimmering lake as the sunset casts a blush pink alpenglow on the mountains, it's hard not to get that heart-swelling, lovey-dovey feeling. Allow us to set the mood with some of the most romantic experiences around North Lake Tahoe!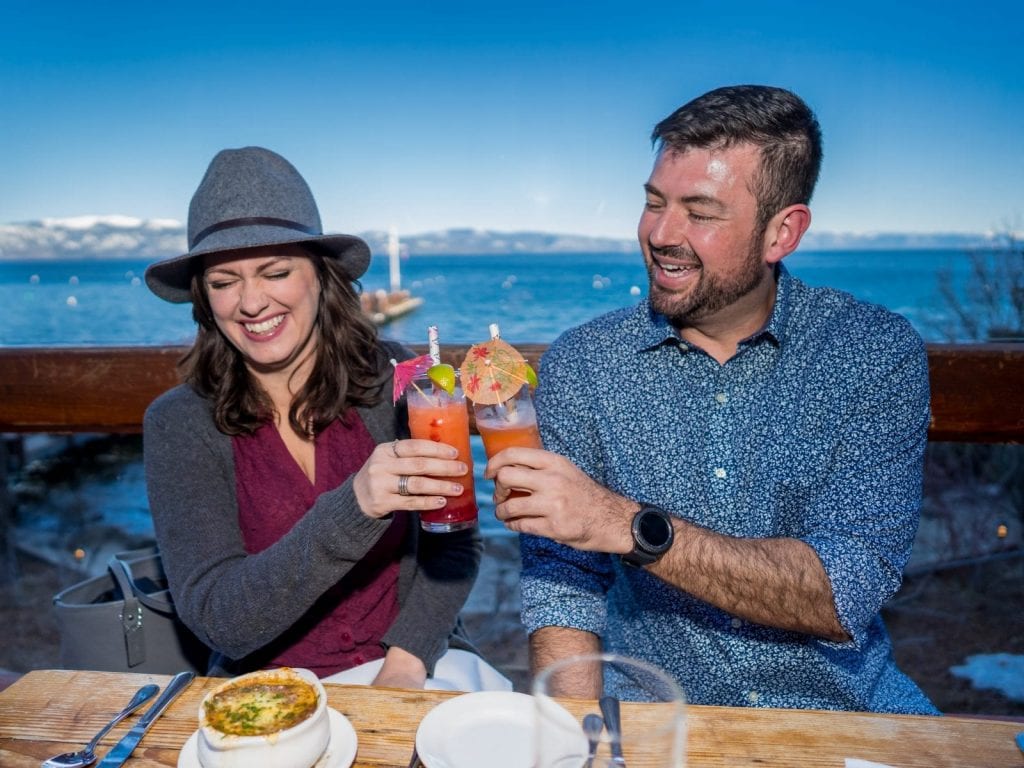 A date on the lake, like at Gar Woods Grill & Pier, can make for a memorable and delicious way to celebrate Valentine's Day. Photo credit: Augustine Agency
For the Hungry Lovers: Dinner for Two
They always said that the way to someone's heart is through their stomach, and that couldn't be more true when in North Lake Tahoe! Not only is North Lake Tahoe home to some of the most delicious delights you'll ever have the pleasure of savoring, but a whole host of Tahoe's premier dining spots also feature some of the most romantic sights you could hope for. Catch a lakeside sunset at Jake's on the Lake or Gar Woods Grill & Pier to go with your dinner, and you're sure to fall in love with the view while you fall in love with each other. Lakeside lovers can also enjoy the alpenglow at West Shore Cafe on their private pier after a romantic dinner, giving lovebirds the perfect end to a Lake Tahoe Valentine's Day.
For couples with a little bit of a sweet tooth, enjoy a s'more as you cuddle around the fire pits at The Hyatt Regency Lake Tahoe! The Hyatt has its own private beach, complete with toasty fire pits and delicious s'mores to keep you nice and cozy. Making these sticky, ooey-gooey treats together is a fun way for a couple to spend their Valentine's Day together. Topping it off with a rosy-pink sunset on a private beach makes the scene all the more romantic.
If you're in the mood for a classy dinner for a classy date, check out Christy Hill in Tahoe City. Just 100 feet above the shoreline of Lake Tahoe and featuring panoramic views, savor the splendor of the lake while you savor dishes prepared with the finest seasonal ingredients. Christy Hill offers modern American cuisine with refined Mediterranean influences, making for the perfect way to treat yourself and your date.
For more ideas on where to dine for two this Valentine's Day, check out our dining page for more options.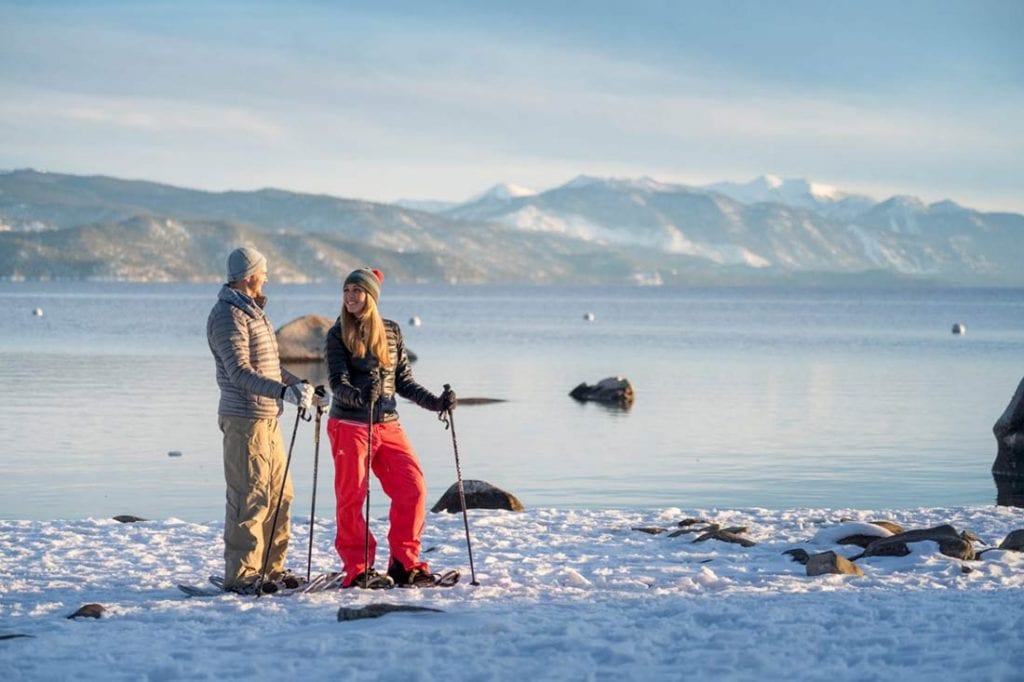 A snowshoeing date has the potential to be one of the most unique, and most romantic, dates either of you have ever been on. Photo credit: Chris Bartkowski
For the Outdoorsy Lovers: Playing in the Snow
The advantage of spending your Valentine's Day in North Lake Tahoe is that you're surrounded by beautiful snow, so you might as well take advantage of it! 
Explore the winter splendor of North Lake Tahoe with a cross country ski date at Tahoe XC. Whether you're nordic pros, or you decide to try something new together, you can't beat a day spent marveling at the beauty of North Lake Tahoe in winter. And for couples who  simply cannot do without their furry friends, Tahoe XC is also dog-friendly, so you can celebrate as a family!
For an outdoor activity that's a little more playful and requires much less skill, head to the sledding hill at Granlibakken! You'll both feel like a kid again as you race each other down the hill. And when you've both had your fill of sledding, enjoy a s'more to really unleash your inner child. After all, a date doesn't have to be super fancy to be memorable, it can just be two lovebirds having fun and being silly together.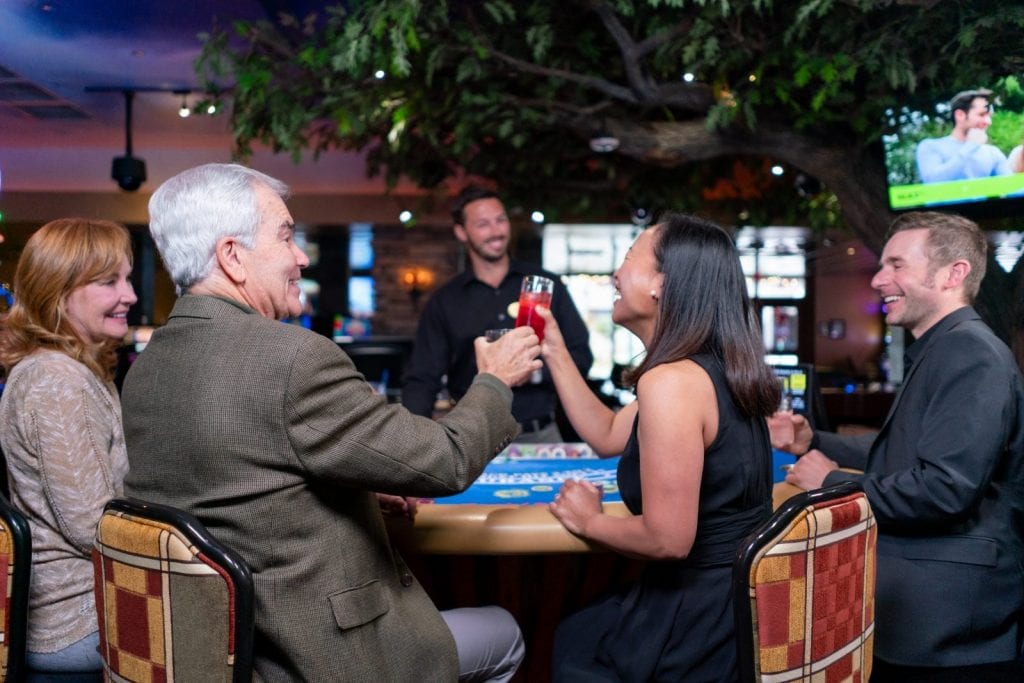 From live music to table games, date night at the Crystal Bay Casino is an electrifying one. Photo credit: Augustine Agency
For the Music Lovers: Concerts at the Crystal Bay Club
More lowkey couples might not be in the mood to scale a mountain or trek through the snow for their Valentine's Day. Which is why a night full of live entertainment and gaming at the Crystal Bay Casino can be the perfect fit.
Catch a show together at the Crystal Bay Club, featuring great live acts ranging from rock to folk to techno. Or try your luck on the casino floor, having your significant other by your side might just be what you need to win big. And when you're done, check out Crystal Bay Casino's Steak & Lobster House for a delicious dinner in an intimate setting. There's no wrong way to treat your sweetheart at Crystal Bay, making this date idea a total gem.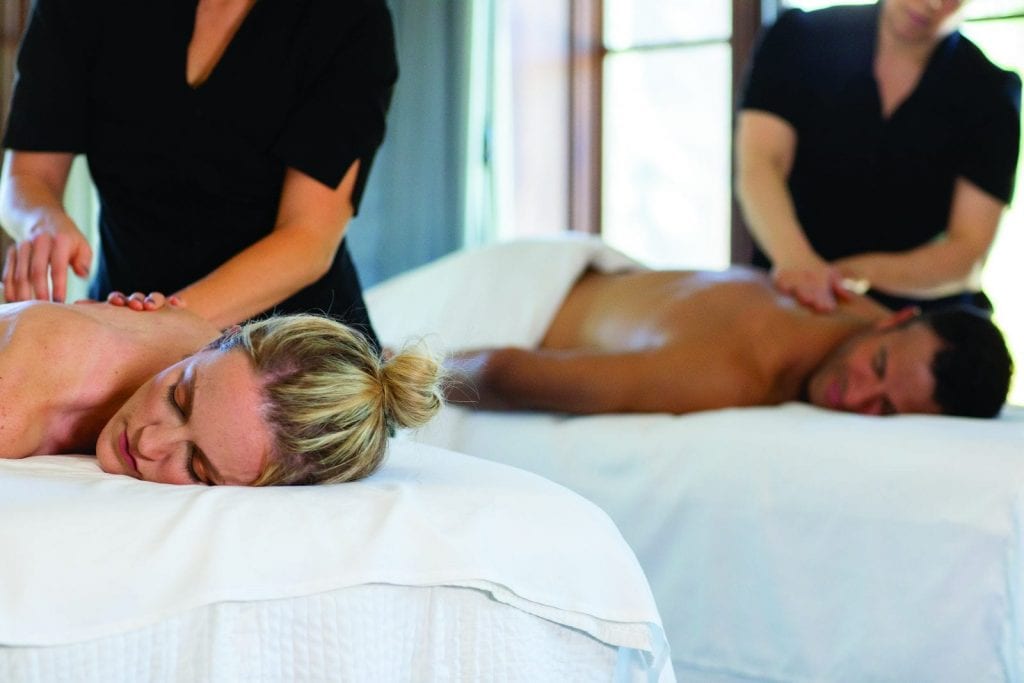 Get a couples massage at the Hyatt Regency and unwind while spending time together. Photo credit: Hyatt Regency Lake Tahoe Resort Spa Casino
For the Luxurious Lovers: Couples Massages to Relax and Fall in Love
If you and your significant other decide that the best way to celebrate Valentine's Day is by pampering each other, treat yourself with a spa day in North Lake Tahoe! Several of the north shore's most luxurious spas feature options for couples, so you both can relax and unwind in one of the most beautiful places in the world.
Resting at the base of the Squaw Valley ski area, the Resort at Squaw Creek is one of the ultimate places to treat yourselves, featuring a stunning view of Olympic Valley right outside. Offering a list of different treatments, packages, and massages, the Spa at Squaw Creek also includes a special Couples Massage package; $250 per person for 50 minutes, and $200 per person for 75 minutes.
Total serenity can be found at Stillwater Spa, located among towering pines and a private beach at the Hyatt Regency Lake Tahoe. Stillwater Spa offers a variety of different couples packages, meaning that you can have your choice on how you and your sweetheart can unwind. After all, the couple that relaxes together, stays together.
Couples can also head to the spa at The Ritz-Carlton Lake Tahoe for their signature Tranquility for Two package. Enjoy the experience of shared relaxation and well-being with your loved one, complete with a side-by-side massage of your choosing. Feel your cares melt away, while still spending quality time with your valentine.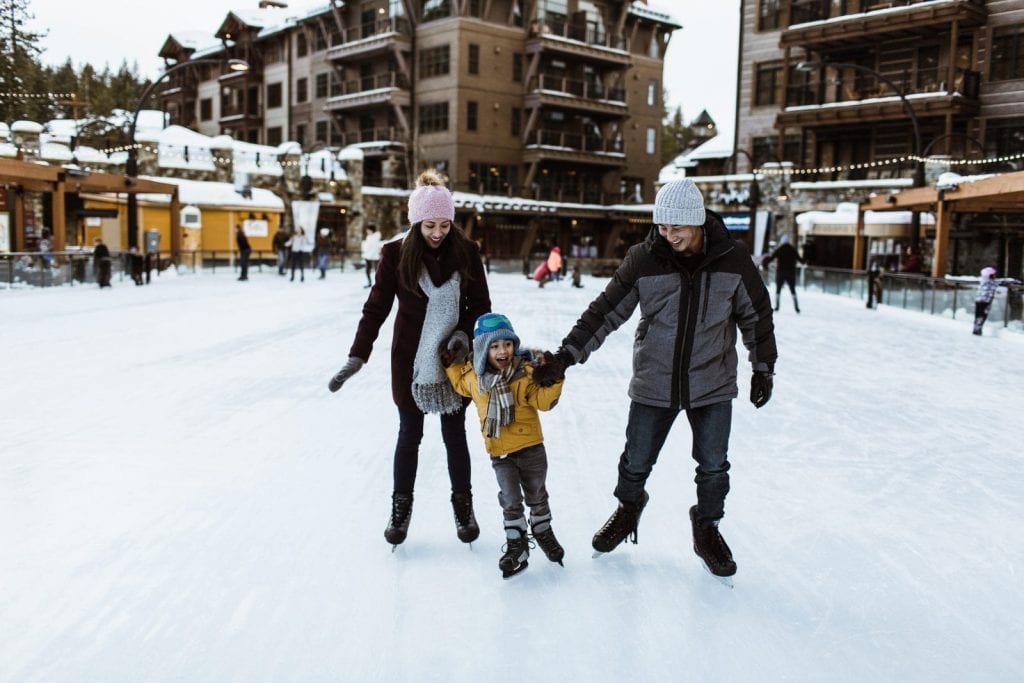 Ice skating is a classic Valentine's date, enhanced by the magical, mountain scenery around Northstar. Photo credit: Northstar California
For the Cutesy Lovers: Ice-Skating in the Mountains
When it comes to date ideas, sometimes you can't beat the old favorites. Ice skating together is one of the most popular date ideas, yet you haven't really experienced how romantic this simple activity can be until you've laced up together in North Lake Tahoe.
Among the mountains and the fresh alpine air, the Northstar Village Ice Skating Rink is the perfect setting for your Valentine's Day date, especially at the end of the night when the lights of the rink shimmer and shine. Enjoy a refreshing cocktail or two by the outdoor fire pits surrounding the rink or take a few laps to burn off any left-over energy. Or just to spend more quality time with each other. And if neither of you are pro skaters, it's the fun of slipping and catching each other that makes this classic date so essential.
For more date ideas, check out our full list of things to do this winter and plan a date of your own creation. And don't forget to check out our lodging page as well, in case you want to turn your romantic day into a longer stay.