There's no denying that Lake Tahoe winters are the stuff of legends. Whether it's your first Tahoe snow or your hundredth, you are sure to be awestruck by the serene, snow-covered beauty that surrounds the region during this time of year. Enjoy a hot drink, priceless lakeside views and tons of activities in the snow. Maybe you're an expert on skis or maybe you've never touched a snowboard in your life. Either way, why not spend a few days exploring all the snow adventures available to you, such as tubing, sledding, ice skating and more? No matter what kind of wintertime fun you're looking for, you'll find unforgettable experiences in Lake Tahoe.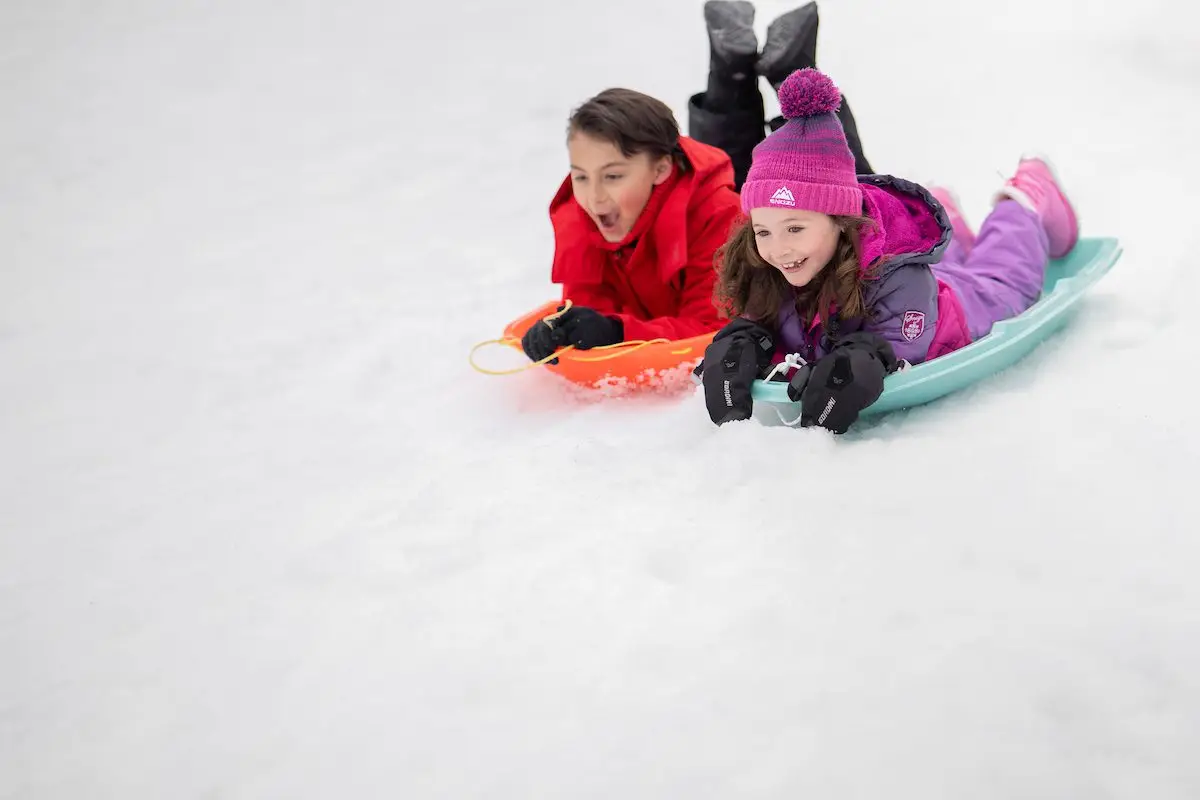 Planning Your Stay
Depending on where you stay, you might not even need to leave your resort to find some fun in the snow. Ahead of your winter getaway, check out one of North Lake Tahoe's many resorts where you can sled, tube or ice skate the day away. Check out North Lake Tahoe's official "Let It Snow" playlist to get you in the right mood ahead of a day playing in the snow!
Safe Snow Tubing and Sledding
No matter what kind of Lake Tahoe adventure you are planning, make sure you plan ahead in order to be the most responsible traveler you can. Before you set out to Lake Tahoe, ensure that you are aware of any transportation guidelines — if you are driving, adhere to chain-use guidelines to ensure a safe trip. Or, avoid the hassle of driving altogether, and look into public transportation options, such as TART. Additionally, make sure to keep an eye on the weather. You can also utilize the Lake Tahoe Webcams to check in on current conditions in real-time. This far into the mountains, the forecast can change quickly, so it is important to have a plan in place. Download county and state alert apps to make sure you are up to date with temperatures and weather conditions. Finally, practice good "slediquette:" take all your belongings with you and properly dispose of any broken equipment. Let's keep the region looking beautiful and preserved for next season, everyone!
Snow Tubing Vs. Sledding
Although these activities are quite similar, there is a difference between snow tubing and sledding. Snow tubing, as the name implies, is done using vinyl inner tubes, similar to what you would use to go down a waterslide. Sleds, on the other hand, can vary in shape and design and are usually made of hard plastic or metal. Metal sleds are sturdier than plastic sleds, so if you are planning to get long-lasting use out of your sled, you might opt for metal over plastic. Or, plan to rent a metal sled upon arrival, rather than bringing plastic sleds from home. Which is better depends on your personal preference and needs — sleds tend to be slower than tubes, but offer more control on your way down. Tubes might be better for older kids or adults for this reason. With either option, helmets are not required, but they are encouraged as an extra safety precaution. Ahead of your Lake Tahoe snow day, decide which activity is better for your purposes, or try them both to see the difference!
Best Places to Go Snow Tubing and Sledding in Lake Tahoe
You don't need to be an expert at navigating the slopes to enjoy some fast-paced fun atop the snow. Sledding, tubing, ice skating and more are all great activities that almost anyone can participate in. Many snow parks and hills in the Lake Tahoe area offer hassle-free sledding and tubing opportunities.
A great stop for families traveling with children is Granlibakken, a popular resort featuring a sprawling area to play in the snow. The sled hill at Granlibakken is one of the only fully managed sled hills in the Lake Tahoe area, meaning there are staff at both the top and the bottom of the hill to ensure every rider's safety. If your family is a little more adventurous, you can also sign up for private snowboarding or skiing lessons and give Granlibakken's beginner-friendly ski hill a try. Need some more inspiration for a family-focused itinerary? Check out our blog on family fun in Lake Tahoe.
No need to leave your four-legged friends behind this winter! Many Lake Tahoe sledding and snowplay venues, such as Tahoe City's Winter Sports Park, are dog-friendly, so every member of the family is sure to have a tail-wagging good time. Just remember, if you do bring a furry companion, be sure to clean up after them and be respectful of trail rules regarding leashes.
Head to North Tahoe Regional Park in Tahoe Vista for an action-packed afternoon of winter adventures. Here, you'll find two separate snow hills, each with its own winter play area. Zip down the hill, toss some snowballs around or check out some cross-country skiing and snowshoeing. Beyond the designated snow hills, there is plenty of wide-open space to explore and play on your own. Or, traverse the Treetop Adventure section of the park and experience the thrill of climbing high above the snowy terrain.
Palisades Tahoe in Olympic Valley offers a wide range of snow-themed activities, perfect for all ages and skill levels. Head to the SnoVentures Activity Zone for an afternoon spent rushing down a mountain of snow, perfectly packed for the best tubing experience. On some nights, they also offer disco tubing — a dance party, a light show and a night of tubing all in one!
Nearby Palisades, Everline Resort features the opportunity to sled, ski, snowshoe and ice skate, all in the same luxury resort setting. And, if you can brave the cold weather for a few minutes, you can also take advantage of the resort's blissful Oasis pool complex, which is open year-round and heated to perfection. Wrap up the snowy activities with a steaming mug of hot chocolate, or something a little stronger, and head to one of the resort's onsite dining options.
For a more organic experience, dive into your own afternoon of snowplay and head to Spooner Summit, right on the junction of Highway 50 and Highway 28. This hill is informal, but don't let that fool you: this spot has been a longtime favorite of locals and visitors alike. You'll get quite a workout in climbing up to the top of the hill, but the thrilling ride down to the bottom is worth it. And, if the height of the hill is a little intimidating, no worries. There are plenty of places to jump on and slide down along the trek up, making this sledding spot perfect for younger kids or anyone looking for a more mellow experience. Since this is more of a DIY-type sledding experience, you'll have to bring your own sleds, which you can find in nearby Incline Village — and remember, no sled left behind!
There are several areas around Mt. Rose Summit to take the family for a snow play adventure that is free and open to all. Bring your own snow toys to Tahoe Meadows, an open field along the Mt. Rose Highway (Hwy. 431). Just park off the side of the road and explore one of Lake Tahoe's best sledding areas. Or, travel further up to the top of the highway for snow play on the summit. Mt. Rose is also a popular destination for cross-country skiing, snowmobiling, and snowshoeing.
An array of winter activities await on and off the slopes in Northstar California Resort. Enjoy the thrill of tubing this season between fireside s'mores, glide around the picturesque ice skating rink, or treat yourself to the pinnacle of mountain shopping and dining all in the heart of the Village at Northstar.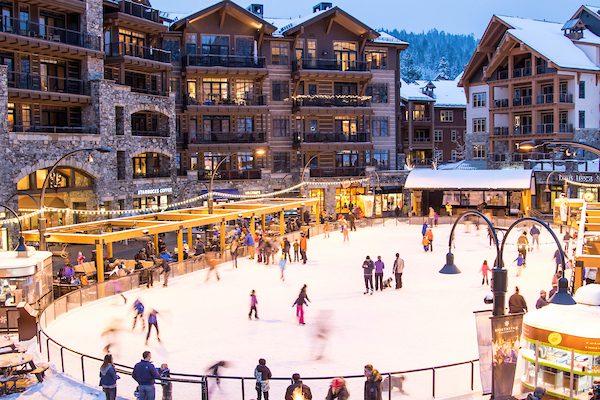 There's Snow Place like Lake Tahoe for Wintertime Fun
If you're looking for some activities with more high-intensity thrills, Lake Tahoe has plenty. After all, Lake Tahoe has the largest concentration of ski resorts in North America — choose from 11 different resorts, each with their own unique slopes and amenities to make your vacation truly special. Still a beginner? No problem. Many resorts offer downhill ski lessons to prepare any hopeful skier for navigating the slopes with ease. If you're looking for some inspiration, learn more about winter activities to make planning your itinerary a breeze. Book your Lake Tahoe stay today and experience winter adventures like nowhere else.