Spending New Year's Eve in North Lake Tahoe is just as awesome as it sounds. From live music to slopeside fireworks, champagne toasts, snowshoeing and festive dinners, we've put together a list of the must-dos to ring in 2019.
Remember—they say what happens on New Year's Eve sets the tone for your year. That's precisely why North Lake Tahoe is the perfect place to ring in 2019.
Catch the Fireworks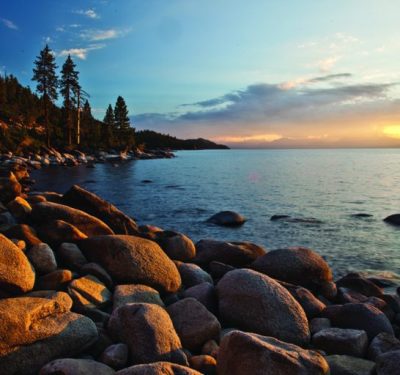 Throughout the evening on New Year's Eve, various establishments in the region will hold fireworks shows for your viewing pleasure. Photo courtesy of Matt Palmer.
Fireworks are integral to pretty much any New Year's Eve celebration, and in North Lake Tahoe there are several ways to enjoy them. For example, you can gather around the ice skating rink at The Village at Northstar to witness a spectacular jubilee—with fireworks taking to the sky at 9PM. Squaw Valley | Alpine Meadows is also joining the fun, putting on a firework show and family celebration of their own earlier in the evening at 7PM. Various other resorts, including Mt. Rose and Tahoe Donner Downhill Ski Resort, will also hold firework shows as part of their celebrations.
Play in the Snow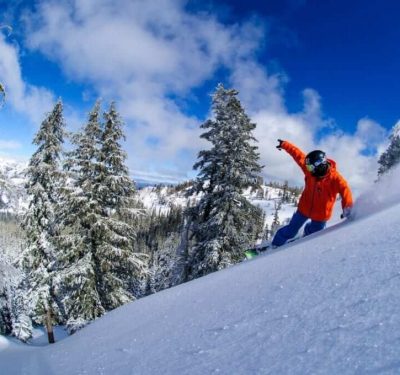 While the year may be coming to an end, fun in the snow isn't. Visitors can enjoy skiing, riding, sledding, snowshoeing and more—even on New Year's Eve. Photo courtesy of Elevated Image Photography.
Daytime events will be taking place at nearly every resort on Dec. 31, inviting skiers and riders to carve their way through the mountain one last time before the arrival of 2019. Tahoe Donner Downhill Resort, for example, will hold a New Year's Eve snowshoe tour that culminates in a firework show and libations for adults.
Elsewhere, in Squaw Valley, the team at Merry Days & Holly Nights will assemble swathes of revelers to embark on the World's Largest Torchlight Parade. Here, New Years Eve skiers and riders age five and above will light up the night sky as they zip down the slopes with a beautiful and bright LED torch fastened to their person—and hopefully, they'll break the world record by gathering over 3,000 patrons for the event. You won't want to miss it!
Celebrate in Style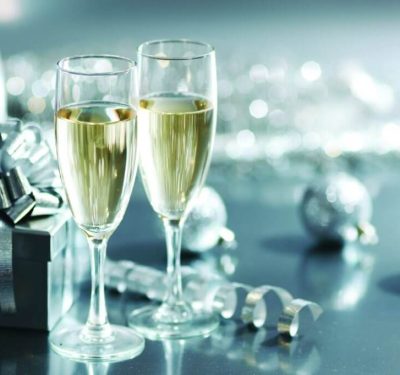 New Year's Eve represents the perfect time to enjoy a footloose, fancy-free and indulgent evening before the work of a new year starts. In Tahoe, that's easy to do.
For the 21+ folks looking to get fancy for a good cause, Squaw Valley | Alpine Meadows will ring in the New Year at High Five the New Year. The event, which will involve a champagne toast, DJs and a whole lot of excitement, will see its proceeds go toward the High Fives Foundation, which seeks to raise injury prevention awareness while providing resources and inspiration for those who have suffered life-altering injuries.
Elsewhere, at Granlibakken, guests with reservations can enjoy a buffet dinner, champagne toast, and all-night activities for adults and youths alike to ring in the new year. At the Ritz-Carlton, Lake Tahoe, revelers can enjoy an indulgent evening to energizing tunes and the pop of Dom Perignon bottles.
The Crystal Bay Club Casino is one of our favorite music venues on the North Shore, between the Crown Room and Red Room, a wide range of artists have performed at this lively casino hotspot. Their "NYE In Tahoe" celebration includes headliner, The California Honeydrops and an after party is with Jelly Bread. Music starts at 9 p.m., tickets are $50 (plus fees).
Wine and Dine Your Way Into the New year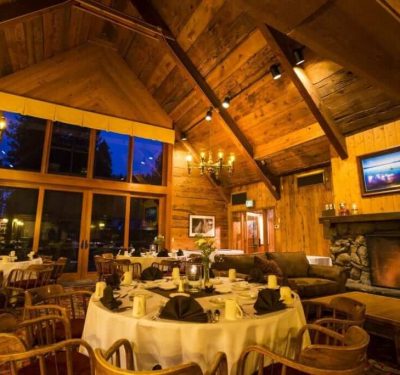 There's no need to celebrate New Year's Eve on an empty stomach! Many of North Lake Tahoe's various restaurants will be open for the holiday—and some are even hosting New Year's specials.
Dinner, dessert, and drinks are a given on the last night of the year, and Tahoe is the perfect place to enjoy a feast before committing to a wellness routine in the New Year. Stella will host an intimate New Year's Eve dinner where patrons will enjoy personal access to the chefs who prepare their meals.
Many of North Lake Tahoe's dining establishments will be open for business throughout the day, and you'll need your energy for a night of revelry—so don't hestitate to view our dining directory to find the perfect NYE meal for you.
Most Importantly, Stay Safe!
For worry-free transportation on this indulgent night, take advantage of ridesharing services or use one of the shuttles provided by Tahoe Truckee Area Regional Transit (TART). Shuttle service will be available to both North Tahoe and Truckee through 2AM. Plan your route and, while you're at it, book your stay for maximum convenience.