As the year flies by, it's time to start planning your annual winter vacation to Lake Tahoe. A favorite time of year for kids and adults alike, the winter season means snow play, enjoying s'mores by the fire pit and family adventures. And if you've never experienced the beauty of a Lake Tahoe winter, now is the time to plan a trip to make wonderful memories.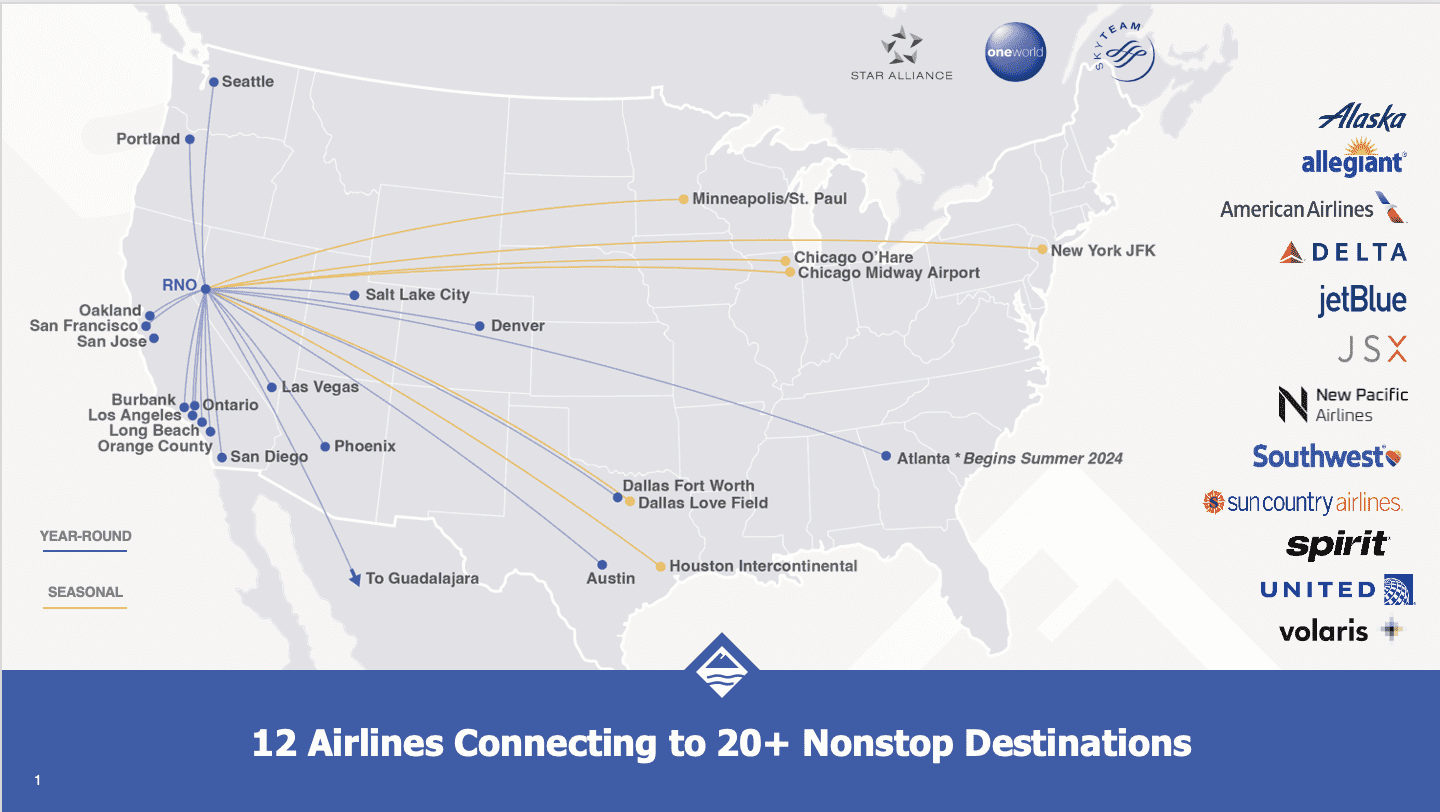 Getting to Lake Tahoe
You'll want to start the planning phase by deciding when you want to arrive and how you want to get here. Fortunately, there are 12 airlines – from American Airlines to Southwest – that serve the Reno-Tahoe International Airport (RNO) with more than 130+ daily arrivals and departures, 20+ nonstop flights.
Although RNO is the closest airport to Lake Tahoe – about a 45-minute drive – Sacramento International Airport, Oakland International Airport and San Francisco International Airport are 2-3 hours away. Private pilots and charter services can fly into Truckee Tahoe Airport, located just 10 miles from the beaches of Lake Tahoe.
If you want a closer look at the grandeur of North America, the Amtrak California Zephyr is considered one of this country's most beautiful train trips. The Nevada-California portion will have you traveling through the snow-capped Sierra Nevada, with a stop in Truckee, California, so you can begin your Lake Tahoe adventure.
There are also a number of bus companies that offer service to Lake Tahoe, or you can drive your own car and enjoy scenic views paired with your favorite tunes.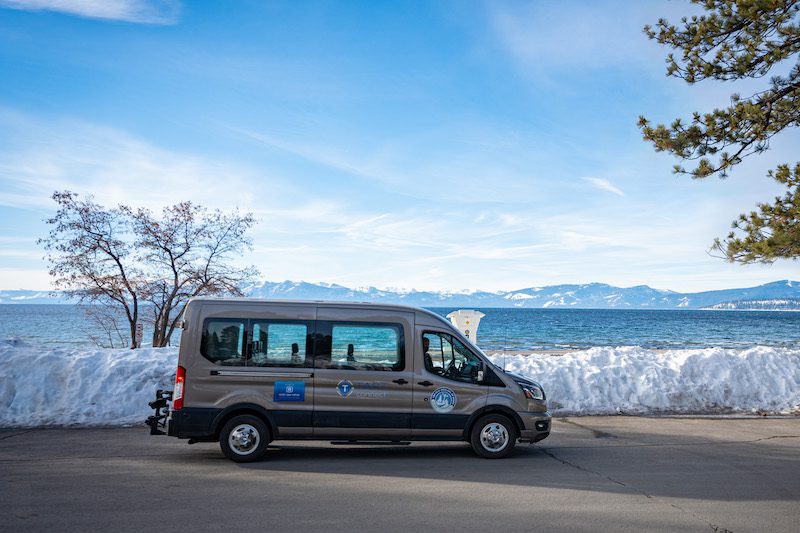 Getting Around Lake Tahoe
Once you arrive, you'll want a reliable way to explore the region. Fortunately, there are plenty of options.
If you're landing at RNO, your best bet is to hop aboard the North Lake Tahoe Express, a daily airport shuttle that will take you from the airport to any of the 12 unique towns that make up the Lake Tahoe region, and vice versa when you're ready to head home. It's easy to book, and it's a great way to see the natural beauty of the area. Shuttle service is provided year-round.
Once you've arrived at your hotel (more about that below) – even if you drove your own car – try out one of the numerous ways to get around, many of which are both economical to you and sustainable to Lake Tahoe. Many of the hotels and resorts in Lake Tahoe offer free shuttles.
But you can't beat Tahoe Truckee Area Regional Transportation, also known as TART. A safe and direct means of transportation, TART Connect offers curb-to-curb service, connections to TART's Truckee night service and Dial-a-Ride door-to-door service for persons with disabilities. It's easy to reserve a trip via the TART app or by making a call, and better yet, it's free. We recommend using TART's website for the most up-to-date schedules.
Not only does traveling on TART Connect help reduce carbon dioxide emissions, but it also saves gas and allows you to sit back and enjoy the scenic views. With fewer cars on the road, the natural beauty of Lake Tahoe can be sustained for current and future generations. Everyone who comes to Lake Tahoe is asked to take a Traveler Responsibility Pledge, a reminder to travel with awareness and to observe the impact of your actions. Once you take the pledge, put it use.
Also providing visitors more flexibility in getting around is Mountaineer, a service that offers free, on-demand winter transportation in between Olympic Valley and Alpine Meadows. With Mountaineer, you can expect door-to-door transportation with typical 15-minute wait times. Request a ride and leave the driving to Mountaineer – it's free, convenient, and good for the environment! Check out the Mountaineer schedule and download the free Mountaineer app in the Apple App Store or Google Play Store to plan your ride. This winter, Mountaineer will operate its 9-passenger, dog-friendly vans equipped with ski/snowboard racks between December 8, 2023 and April 7, 2024.
If you prefer to use your own car throughout your stay, make sure to be prepared for any circumstance as winter weather can cause travel delays or road closures. Four-wheel or all-wheel drive models are preferred for getting around snowy roads, but if you have a two-wheel drive car, bring chains along.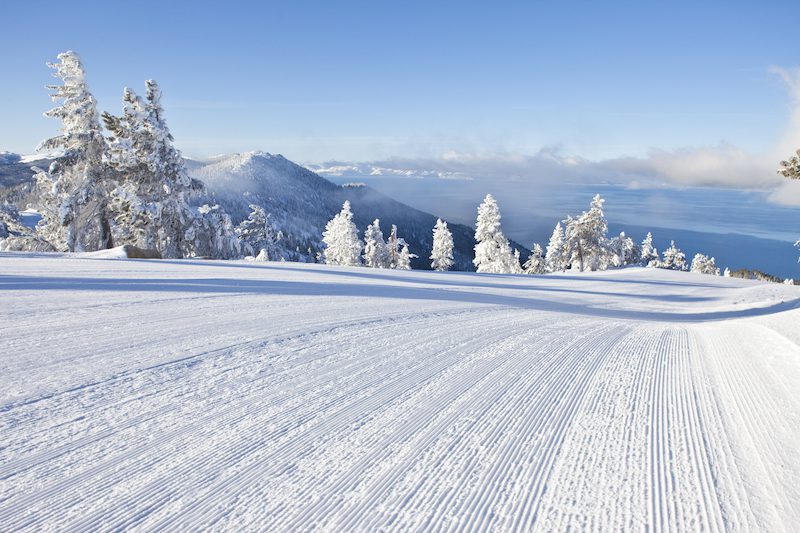 Winter Driving Tips
Preparation is key to staying safe on the road during winter, so before you leave, make sure that you are prepared for any occasion.
Check the weather report for winter storm alerts that could delay travel or close major roads. Other resources available are pages on road conditions and live webcams from all over Lake Tahoe to help you plan getting around.
Make sure your brakes, windshield wipers and fluid, defroster, heater and exhaust system are in top shape.
Check your antifreeze and be ready for colder temperatures.
Check that your tires are properly inflated, and the tread is in good condition. 4-wheel drive is preferred for getting around snowy roads. If your vehicle is 2-wheel drive, always carry chains, even if you don't think that you'll need them. Make sure you know if your vehicle is front or rear-wheel drive as chains must be installed on the drive wheels.
Create a checklist of items you might need, including an ice scraper, a broom for brushing snow off your car and a shovel to free your car if it's snowed in. Water, food, warm blankets and extra clothing are a good idea in the case of lengthy delays.
Road conditions can be unpredictable, so when traveling, use the timely resources provided by the Nevada Department of Transportation and CalTrans which has a QuickMap app available for iPhone and Android.
Resort Parking Policies
We also recommend checking parking policies ahead of time. Resorts and businesses may charge for parking or having limited parking available due to weather conditions. Above all, parking policies help ensure a better time for all visitors.
Note that this winter season, Palisades Tahoe has introduced a new parking program to better support residents and visitors in mitigating traffic on weekends and holidays. For more information on free and paid reservations and informative videos, visit the Palisades Tahoe parking program page.
This parking program will take place only on weekends and the specified holiday periods listed below:
· December: 2, 3, 9, 10, 16, 17, 23, 24, 25, 26, 27, 28, 29, 30, 31
· January: 6, 7, 13, 14, 15, 20, 21, 27, 28
· February: 3, 4, 10, 11, 17, 18, 19, 20, 21, 22, 23, 24, 25
· March: 2, 3, 9, 10, 16, 17, 23, 24, 30, 31
· April: TBD based on demand
Be sure to plan ahead and make your reservation.
Northstar California Resort has also implemented a new program to alleviate parking challenges. Both the Village View lot and Lower Village Preferred Paid parking lot will be paid, reservations-based lots on weekends and peak periods. Peak periods are defined as the below:
December 16, 17, 23, 24, 26, 27, 28, 29, 30, 31 (please note, NOT on the 25th)
January 1, 2, 3, 4, 5, 6, 7, 13, 14, 15, 20, 21, 27, 28
February 3, 4, 10, 11, 17, 18, 19, 20, 21, 22, 23, 24, 25
March 2, 3, 9, 10, 16, 17, 23, 24, 30, 31
April 6, 7, 13, 14
Visitors can still park for free, without reservation, at the Village View lot Monday – Friday during the winter season outside of peak periods. The Village View lot will also be free (without reservations) later than 1pm on weekends and peak periods. For more details on when fees are applicable, check out the FAQs on the Northstar California transportation page.
Reservations are now live, though will not be required until 12/16/23. Make your parking reservation now for your trip to Northstar California.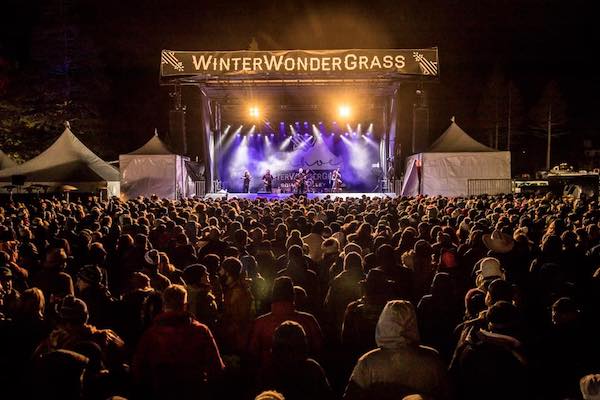 Winter Weekend & Event Tips
Especially after a large amount of snowfall, people will head to the mountains on weekends to experience great snow conditions. When planning a weekend trip, we encourage you to check with a resort's social media channel and website. Many resorts and experiences also have apps that provide communication on travel, lodging and more:
There are also a few important winter dates and popular events that may impact transit into and around Lake Tahoe. These include:
For these popular weekends, we encourage you to be aware of potential travel delays and be courteous of others traveling in the region.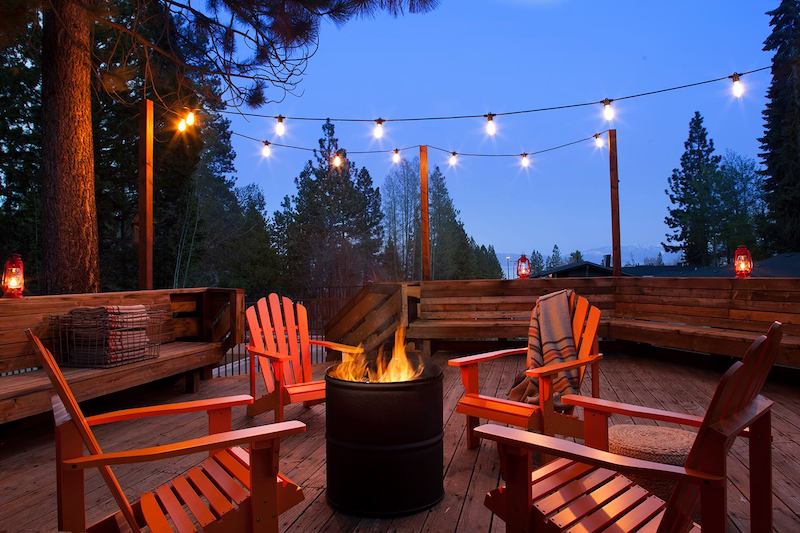 Winter Planning
Twelve towns. Two states. A 193-square-mile alpine lake. Temperatures from the teens to the 40s. All adds up to an exciting winter trip. Plus with 11 spectacular ski resorts, the highest concentration in North America, you're sure to find the right one for you. Some resorts offer free shuttles so check before you book. This can save you time and money.
There are plenty of lodging options available, from luxury hotels to quaint bed-and-breakfasts. The area is known for its wonderful resorts, many of which provide plenty of skiing- and snow-related activities. For a different change of pace, you might try The Inn at Boatworks in downtown Tahoe City, California. This charming boutique inn, situated alongside Lake Tahoe, offers romantic getaways as well as suites for the whole family.
Enjoy a retreat overlooking Lake Tahoe's West Shore at Cedar Crest Cottages in Homewood, California. The recently renovated cottages include a full kitchen, luxury bedrooms and access to all the activities the area has to offer. Another cozy spot is the Parkside Inn at Incline, a 38-room mountain lodge located on the north shore of Lake Tahoe. The inn is ideal for a family vacation, a honeymoon or just to rest and relax. The incredible views of Lake Tahoe and the majestic peaks of the Sierra Nevada are just two of the many sights to see, and skiing, snowboarding, hiking, shopping, eating, gambling and relaxing are just a fraction of the activities you can enjoy while exploring the wonderland that is Lake Tahoe.