With a number of resorts and lodges, North Lake Tahoe is a premiere destination for a winter vacation for the whole family. With an array of activities perfect for parents and kids alike, there's no shortage of family-friendly adventures to be had in North Lake Tahoe.
During your stay at North Lake Tahoe's winter downhill resorts, don't miss the chance to experience Lake Tahoe up close. With only a 15-minute drive from the major North Shore resorts and easy public-transit options, winter is the perfect time to play, eat and shop at the water's edge of America's largest alpine lake.
Check out some of our favorite stops in the region to plan your perfect family day in Lake Tahoe's winter wonderland, or plan your own day with our interactive map.
First, Fuel Up
Before you and your family start your trip, you're going to want to fuel up to make sure you have plenty of energy to get through an action-packed day. Consider starting with a light breakfast, or, if you're on the go, stop by West Shore Market & Deli for coffee, groceries, as well as pastries and breakfast sandwiches.
Check Out
Next, Jump in the Snow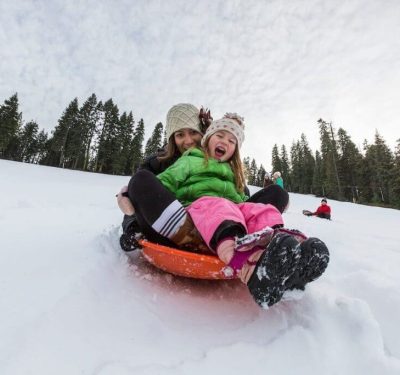 North Lake Tahoe is the perfect place for adventures your little ones will treasure for a lifetime. Photo courtesy of Granlibakken.
Once your family is stocked up and full-bellied, it's time to play in the snow! This winter wonderland has no shortage of opportunities for romps in the snow throughout the region. In North Tahoe Regional Park, you and your kids will be able to enjoy classic snow activities like sledding and snowmobiling. If you're in Kings Beach, check out the playground at the Kings Beach State Recreation Area, and take some time to build a snowman. If you're feeling playful, an iconic snowball fight may be in order!
If you're looking for a more involved day of snow sports, check out the Tahoe City Winter Sports Park, where you can ice skate and sled. If your family is feeling more adventurous, try snowshoeing, nordic skiing, or just walking around down by the beautiful North Lake Tahoe. When you're done, slip away and warm up at Granlibakken.
Immerse Yourself in the Culture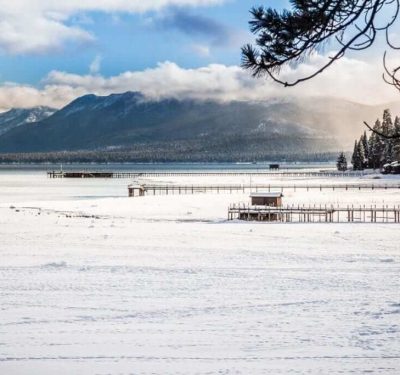 You and the family might want to relax a bit, but rather than heading back home to crash for the day, consider some "active relaxation" by checking out Tahoe City's various cultural offerings. Parents might be particularly drawn to Tahoe Art Haus & Cinema.
Enjoy Lunch on the Water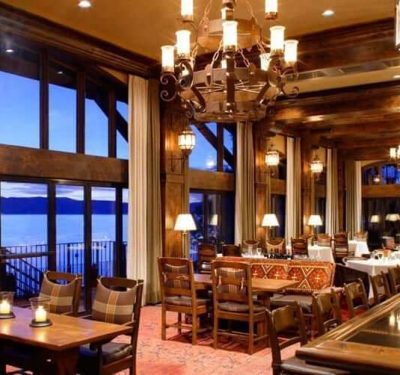 North Lake Tahoe has no shortage of food and beverage options for hungry, thirsty adventures. Photo courtesy of West Shore Cafe.
By this point in the day, you and the family will probably be hungry—and snacks might not do the trick. Fortunately, North Lake Tahoe's local eateries will fill you up and leave a good impression on your taste buds.
If you're in King's Beach, enjoy lakeside dining at Jason's Beachside Grille. If you're in Carnelian Bay, bite down into big, delicious pies and more at CB's Pizza & Grill. Throughout Tahoe City, indulge in Jake's on the Lake or the Fire Sign Cafe—all of which offer great lakeside dining, barbeque options and American cuisine.
Check Out:
Pick Up a Memento That'll Last
The memories you and your family make at North Lake Tahoe will last for a lifetime—but you can commemorate the experience with a one-of-a-kind memento from the region. As you head out, consider swinging by Village Toys in Incline Village to supply your little ones with trinkets to bring them joy.
For more mature gifts, consider swinging by Sugar Pine Gifts in Kings Beach. There, you can find unique items including beautiful jewelry, or special ornaments you'll be able to use for many holiday seasons to come.
Check Out:
Catch a Magical Sunset Over the Water
North Lake Tahoe boasts plenty of opportunities to make memories, and one of the best? Our sunsets. Don't leave the North Shore without catching a stunning Tahoe sunset, and consider capturing a picture-perfect family moment, framed by Tahoe's cerulean waters and endless sky.
Check Out:
Kings Beach

Carnelian Bay

Tahoe City: Commons Beach
Incline Village: Sand Harbor
Homewood: Sugar Pine Point Beach