According to author C. JoyBell C., "Never waste any amount of time doing anything important when there is a sunset outside that you should be sitting under."
Sunsets are indeed among nature's most beautiful displays and no two sunsets are ever the same. There are few spots more extraordinary to view a sunset than North Lake Tahoe. Spanning two states – California and Nevada – the largest alpine lake in North America features surrounding mountainsides and beautiful beaches, providing opportunities for memories that will stay with you for a lifetime.
If you're planning a summer vacation to the North Lake Tahoe area, make sure to book a stay at one (or more) of the numerous lodging options – from budget-friendly inns to luxury resorts – available in the charming towns that surround the lake. Then get ready to do some sightseeing, relaxing and enjoying a variety of activities, while saving the best for last.
Following are just a few of our favorite spots to marvel at some of the best sunsets in this part of the world. More choices are available here.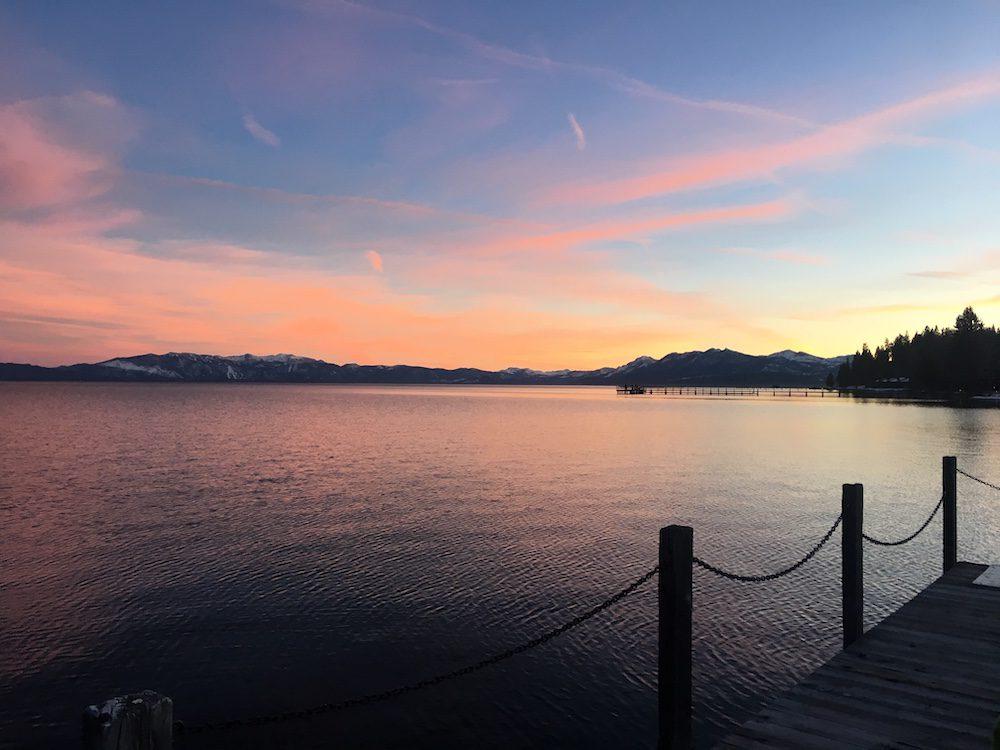 VIEWS FROM THE BEACH
Kings Beach: You could easily spend a day in Kings Beach and still not do or see all this California town has to offer. Located on the north side of Lake Tahoe – just west of the Nevada state line – Kings Beach has it all. From golfing and water sports to shopping and just plain lounging on the beach, the area is an ideal escape for both adventure seekers and families. Top off your day of fun with breathtaking sunset views while you relax on the beach, and then grab some dinner or a late-night snack at one of Kings Beach's many restaurants and bars.
Incline Village: Located east of the California/Nevada state line, Incline Village is known for its mountain retreats, adventurous hiking and biking trails, casinos and pristine beaches, as well as the popular Lake Tahoe Shakespeare Festival. Make sure to take time to hike on Tunnel Creek Trail, which leads to perhaps the best panoramic view in the state, as well as to Monkey Rock. The short-but-steep hike is just enough to get your heart rate going with an excellent view as a reward. Fishing, kayaking and water skiing are also some of the activities you can enjoy at Sand Harbor, which offers numerous beaches for all your summer fun needs and a sunset view you'll need to see to believe.
Tahoe City: Pack up your picnic goodies and some blankets and head to Commons Beach, located in downtown Tahoe City, California. Spend the day kayaking, paddleboarding, swimming or sunbathing, but don't leave early. Commons Beach hosts free concerts (donations are accepted) every Sunday from 4 to 7 p.m. through Sept. 4. After the concert, enjoy food and drinks from local vendors, then sit back and enjoy the red, pink, yellow, orange and blue colors of a Commons Beach sunset.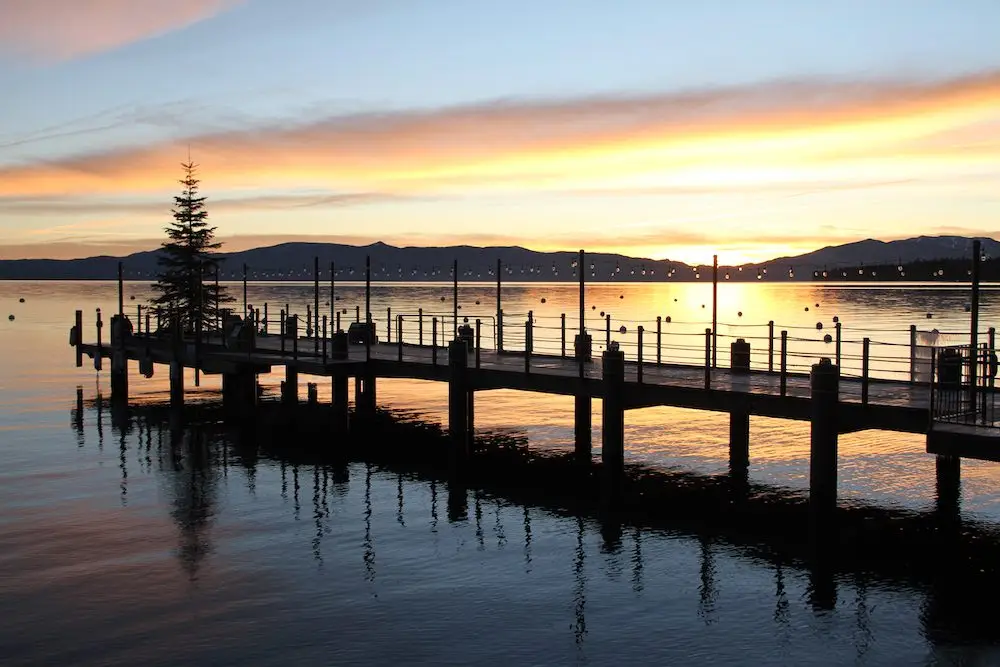 VIEWS FROM THE WATER
Tahoe Gal: Combine an amazing sunset with a cruise ship and you have the makings for a truly memorable – and romantic – evening. The 38-ton Tahoe Gal, run by North Tahoe Cruises in Tahoe City, can accommodate 120 guests. Or, take advantage of the private Commodore Salon atop the Tahoe Gal, invite two dozen of your favorite friends and family members (including your hopefully future spouse) under the pretext of throwing a party, then surprise everyone by popping the question as a glorious sunset and the beauty of the mountains surrounds you.
Wild Society: Imagine exploring Lake Tahoe in a kayak while viewing the water directly below. Wild Society in Kings Beach can make that dream true as they are offering a guided 1½-hour Lit Up After Dark Tour along the shores of North Lake Tahoe, through Oct. 22. The crystal kayaks glow in a variety of up to 16 colors and allow you to see up to 20 feet below the surface at nighttime. Enjoy the beautiful sunset with food from one of the area's many restaurants, and then head to the water for a truly unique kayaking adventure.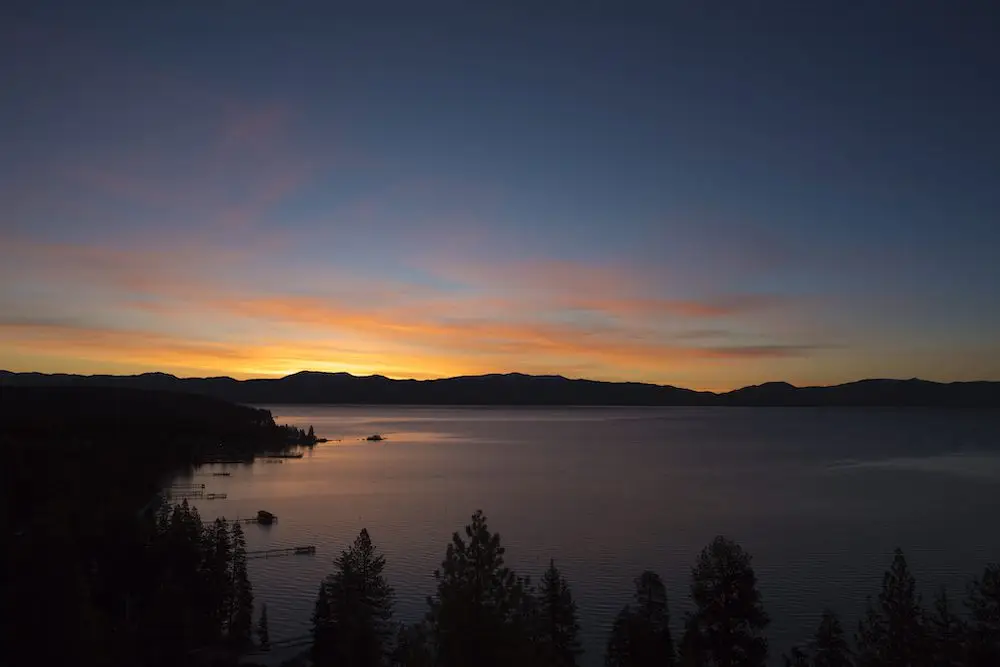 A FEW MORE SUNSET VIEWS
Eagle Rock Trail: Perfect for family outings, Eagle Rock Trail is considered an easy route and the reward is one of the best views of the sunset over Lake Tahoe, not to mention the majestic Sierra Nevada mountain range. The trail, on an eroded, dormant volcano, is about 5 miles south of Tahoe City and dogs are welcome to take in the view as well.
Donner Summit: Located just a few minutes from downtown Truckee, California, Donner Summit offers public docks, trails and beaches to see the pretty-in-pink skies reflecting on Donner Lake.
Palisades Tahoe: Located in Olympic Valley, California, Palisades Tahoe is a do-it-all vacation spot. Take in the grandeur of the Tram Face, an imposing rock cliff located below the aerial tram. Then marvel in the surrounding mountainscape, forests and creeks during a 10-minute aerial tram ride to High Camp, where you'll discover inspiring 360-degree scenery that will leave you speechless. In fact, the view was described in Mark Twain's 1872 book, Roughing It, as "the fairest picture the whole earth affords."
STAY BEYOND THE SUNSET
North Lake Tahoe is known for more than just beautiful sunsets, so plan your next trip to this vacation wonderland and enjoy the memories.
And we didn't forget about winter! You can see beautiful snowy sunsets during this season as well. Check out our blog on this topic here.