This post will serve as your guide to all things water in North Lake Tahoe, including companies to rent equipment from, activity tour operators, watercraft inspection stations, boat ramps and launch points, and important safety tips for your outdoor fun. 
Summer has (finally) arrived in North Lake Tahoe! After a record-breaking winter that continues to add billions of fresh water to the lake, this summer is all about playing on the water and doing so safely.

There are many ways to spend the day on Lake Tahoe, no matter if you're looking for adventure, exploration or a peaceful afternoon connecting with nature. Choose a kayak or stand up paddleboard to power yourself around the crystal clear shoreline, stopping at beaches along the way and taking in the panoramic views. For simple luxury and a guided experience, hop on a chartered catamaran or world-famous wooden speedboat and leave all thoughts back at the dock. If speed is your thing, try a jet ski or boat and practice your skills while carving through the wake.

However you choose to get on the water this summer, there are many companies and resources to get you outfitted, safe, and ready for fun.
Watercraft Rentals & Tours on Lake Tahoe
Pick up a daily kayak or stand up paddleboard (SUP) rental and launch right from the beach or dock.
Tahoe Adventure Company  | Sand Harbor State Park & Tahoe Vista Recreation Area
Rentals: Kayak and stand up paddleboards –

by reservation only.

Tours: Kayak, stand up paddleboards, sailing, multi-day kayaking and multi-sport days.
Adrift Tahoe | Kings Beach State Recreation Area
Rentals: Stand up paddleboards, kayaks, and canoes –

they even have their own SUP brand!

Amenities: Clothing, beach accessories, snacks, sunscreen and water are available for purchase in the shop.
Action Water Sports | The Hyatt Lake Tahoe Resort Casino & Spa, Incline Village
Rentals: Boats, jet skis, kayaks and stand up paddleboards.
Activities: Parasailing, formula yacht charters, and guided fishing charters.
Meeks Bay Resort | Tahoma
Rentals: Stand up paddleboards, paddleboats, and kayaks.
Amenities: Resort includes a snack bar, patio, and beach.
West Shore Cafe | Homewood
Rentals: Stand up paddleboards, and kayaks.
Activities: Boat Rentals, Pontoon Boat Rentals, Jet Ski Rentals, Watersports and Lessons, Tours and Private Charters and Fishing Charters.
See here for a full list of all watercraft rental companies in North Lake Tahoe.
Whitewater Rafting on the Truckee River
After a record snowpack this winter and an increasingly high lake level from runoff, more water is being released into the Truckee River than is safe for recreation. Early summer whitewater rafting and tubing on the Truckee River is closed until further notice with an anticipated opening date of July or August.
Truckee River Rafting | Tahoe City
Call (530) 583-1111 to check availability.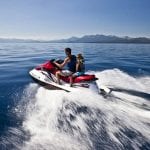 Watercraft Inspection Stations
If you're visiting Lake Tahoe with your own boat, we encourage you to help protect the lake's ecosystem and prevent the introduction of aquatic invasive species.
During the summer season, visitors of North Lake Tahoe may choose from any of the following inspection stations between the hours of 8:30 AM and 5:30 PM to ensure that their watercrafts are cleaned, drained, dry and suitable for launch:
Alpine Meadows Inspection Station, CA –

255 Alpine Meadows Rd, Alpine Meadows, CA 96146
Lake Forest Launch Ramp and Inspection Station, NV –

2500 Lake Forest Road, Tahoe City, CA, 96145
Compliance with watercraft inspection protocol keeps North Lake Tahoe's delicate ecosystem vibrant, positively impacts the local economy and preserves the biodiversity of the area. Compliant watercrafts will be granted the Tahoe Wire Inspection Seal, which is required for launch. For more information, please consult http://tahoeboatinspections.com/
Launch Ramps & Buoy Options
When your watercraft is ready for launch, there is no shortage of public and private launch ramps for use.
Coon Street Beach & Launch Ramp | North Lake Blvd at Coon Street, Kings Beach, CA 96143
Launch fee $10; Daily parking fee $10
Operating Hours: 7 AM – 7 PM
Phone: (530) 546-7248
Lake Forest Boat Ramp | 2500 Lake Forest Rd. Tahoe City, CA 96145
Launch fee $20 (California residents are eligible for $5 discount)
All vessels must receive an on-site inspection prior to launching
Operating Hours: 6 AM – 7 PM
Phone: (530) 583-5544
Sunnyside Marina | 1835 West Lake Blvd. Sunnyside, CA
Launch fee $5
Amenities include mooring buoys, docks, water taxi, and fuel.
Operating Hours: 8 AM – 5 PM
Phone: (530) 583-7201
Tahoe Vista Boat Recreation Area & Boat Launch | 7010 North Lake Blvd. Tahoe Vista, CA
Launch fee $25
Operating Hours: 8 AM – 6 PM, Friday – Sunday (until June 30)
Wednesday – Sunday (after July 1)
Obexer's Boat Co. | 5300 W. Lake Blvd. Homewood, CA
Launch fee $20
Operating Hours: 8 AM – 5 PM, 7 Days a Week
Other amenities include Obexer's General Store, fuel, detailing, parts & accessories, sailboat rigging, towing & storage.
Phone: (530) 525-7962
For the most up-to-date list and prices, visit TahoeBoating.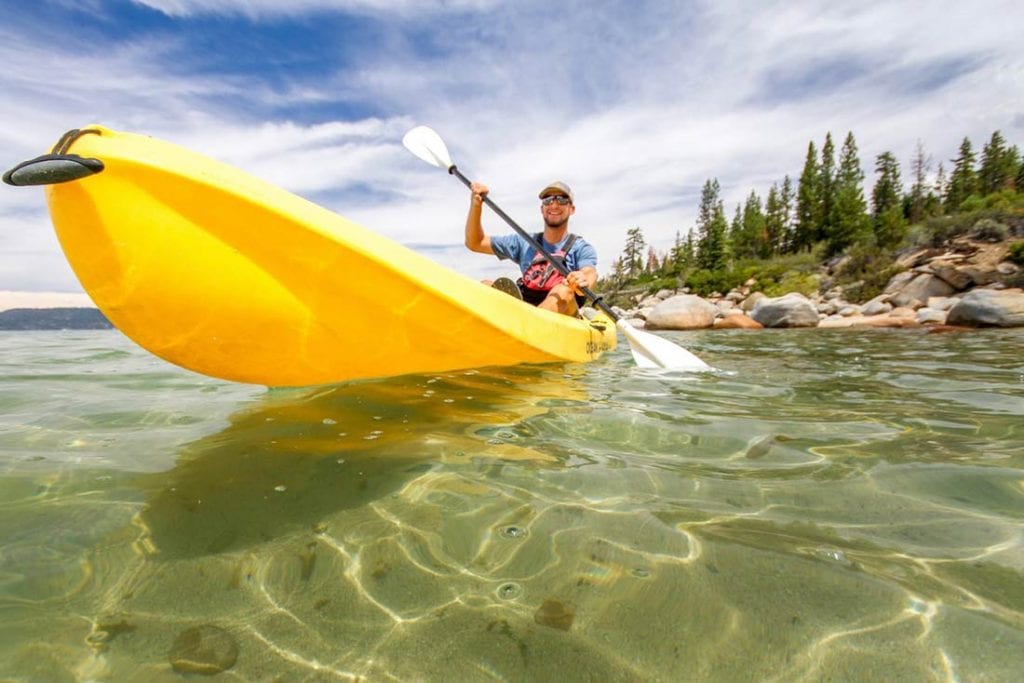 Stay Safe on the Water
Every individual has the opportunity to minimize risk for themselves and others by making good personal choices about their safety. Please read the following advisories to ensure maximum safety and enjoyment of North Lake Tahoe.
Wear all safety equipment
Lake Tahoe visitors using motorized watercrafts and boats, in particular, should wear all safety equipment in order to minimize risk for injury or death. This includes correctly sized life vests for all members of the watercraft's party as well as emergency vehicle cut-off devices, which disengage watercraft motors in the event that water motorists are thrust from their vehicles, thereby preventing rotor-related injuries.
Watercraft users should also retain other basic safety equipment, including a radio, a compass, flares, emergency sounding devices, lights, paddles, and bailers.
Be aware of the weather
Visitors should be advised that sudden, powerful winds can capsize small watercrafts at any time, without warning. Lake Tahoe visitors should always consult the National Weather Service radio broadcast before heading out on the lake by calling 775-673-8130 and should be aware of small craft weather advisories.
Even during the summer season, watercraft users should keep aware of water temperature and conditions by consulting with the local weather broadcast. Cold water shock can be fatal.
Practice safe boating skills
Drug use and alcohol consumption while operating watercrafts is not only illegal, it's also dangerous. Lake Tahoe visitors are asked to preserve the safety of themselves and others by refraining from the consumption of alcohol or illicit substances while operating watercrafts.
For more information about best practices in boating safety, see http://www.trpa.org/
At North Lake Tahoe, there is no shortage of adventure waiting around the corner. Visitors interested in planning their lakeside journey should visit North Lake Tahoe's website for the latest in watercraft-related information by accessing: https://www.gotahoenorth.com/things/on-the-water/
See you on the water!