While you may be visiting North Lake Tahoe this winter to get your adrenaline pumping at one of the region's 12 downhill resorts, you can't miss out on the magic of experiencing the lake close up. With only a 15-minute drive from the major North Shore resorts and easy public-transit options, winter is the perfect time to play, eat and shop at the water's edge of America's largest alpine lake.
Your rest day from downhill sports offers the ideal time to experience North Lake Tahoe's lakeside in the wintertime. We've put together a one-day itinerary with everything you'll need to make the most of your recovery day so you can relax, rejuvenate and adventure at the shore of America's largest alpine lake.
First Thing's First: Wake Up and Fuel Up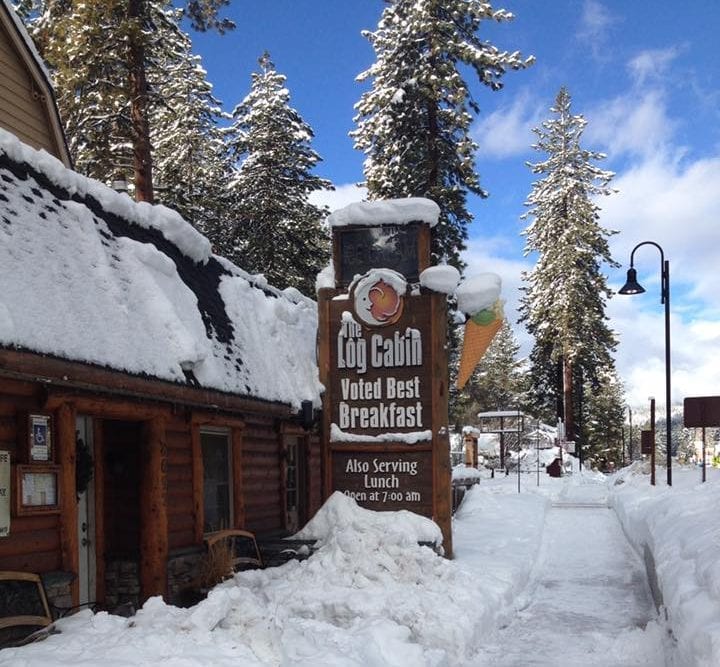 Photo courtesy of The log Cabin Cafe.
It's a truth universally acknowledged that working out means working up quite an appetite, and there's no time that's more apparent than when you wake up after a long day of high-intensity exercise. Luckily, your hunger doesn't need to last.
Throw on your Tahoe best and, if you're in Carnelian Bay, head to The Old Post Office Cafe. We recommend getting there bright and early, as it's a popular spot. Once you're seated, order a big cup of coffee and a hearty portion of eggs, potatoes and meat called the Hangover Helper (not just for party animals, it turns out) to get you all the protein and carbohydrates you'll need for a long but eventful day of relaxation.
Another beloved breakfast standout: The Log Cabin Cafe in King's Beach. Call ahead to secure your table and ensure speedy service upon arrival. Then, when you get there, order the Cajun Eggs Benedict. It'll perk you right up.
Check Out:
Shop and Gather Supplies
Take that post-breakfast energy to get some shopping done at some of the best outdoor adventure shops around.
A quick drive out to Tahoe City will take you to Alpenglow Sports, another robust option when it comes to getting both sporting goods and apparel. With a large selection, a deep connection to the locals and an adventurous atmosphere, this store serves as a hub for all things athletic in the area.
Check Out:
Enjoy some "Active Rest" or Do Some Sightseeing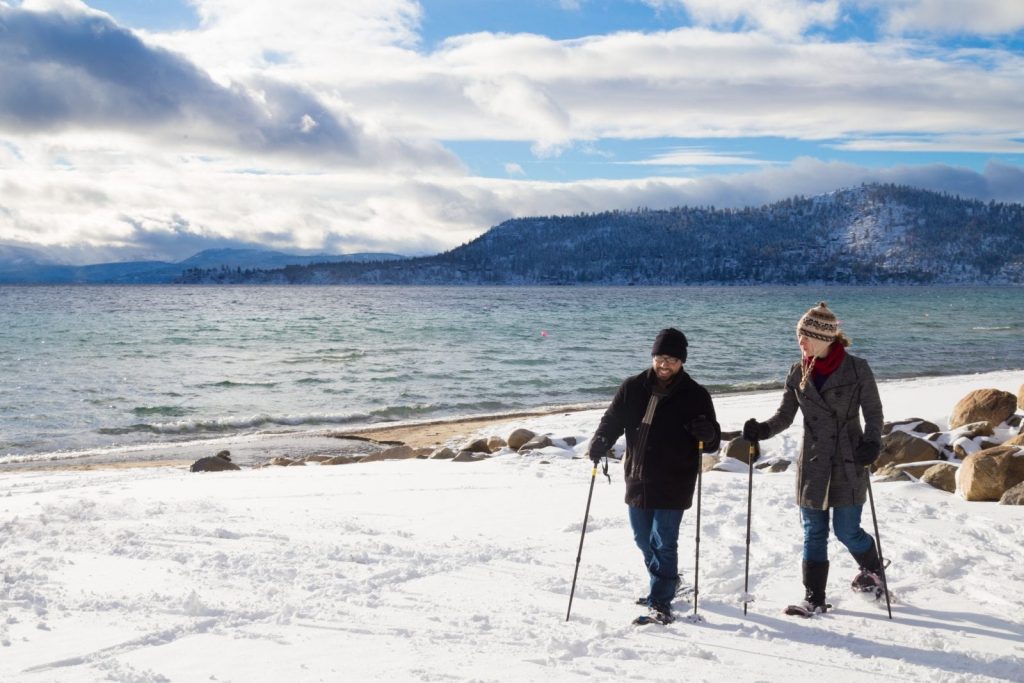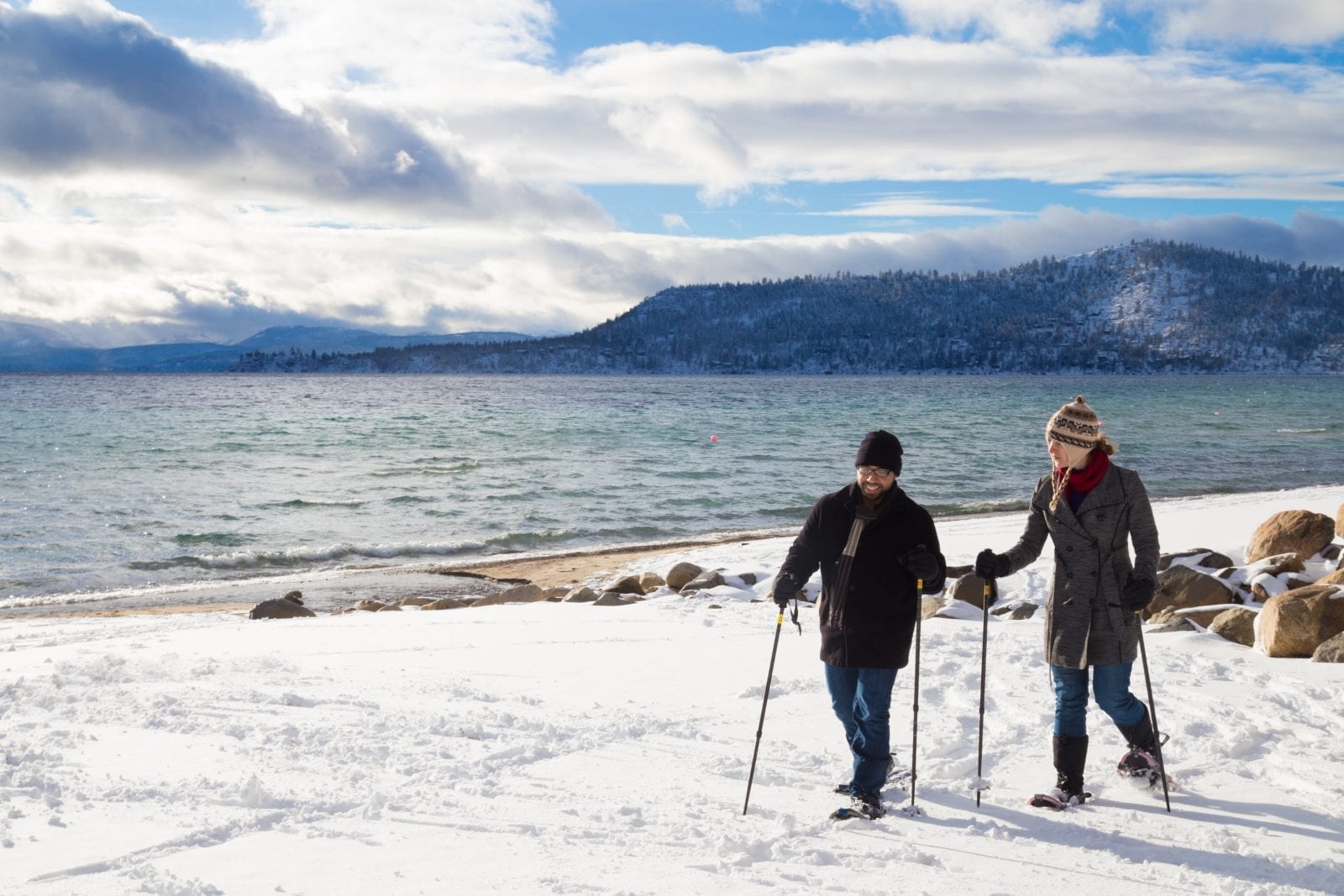 Incline Village provides ample opportunity for a range of low-impact sports.
Once you've gathered your supplies, take advantage of the day's momentum by engaging in a bit sightseeing and light exercise. This will help you to burn calories and avoid that activity slump that will cause you to spend the rest of the day doing nothing. Keep it fairly light so you're staying active without overdoing it.
If you're in Kings Beach, you can easily walk out of Lakeshore Sports Shop with a pair of snowshoes thanks to their convenient rental process. West Shore Sports also has great rental options. A beachside stroll will be beautiful thanks to the rolling Tahoe waters and stunning mountainscape. And, of course, you can always make the trip up to Tahoe City's Winter Sports Park, where formal snowshoeing trails and fat tire biking make for ideal early afternoon activity.
If hands-on sportage is definitely off the table for the day, consider checking out Tahoe City's Museum of Sierra Ski History and 1960 Winter Olympics. This display of one of Tahoe's most iconic moments is sure to inspire your next day of sport. An added bonus? This museum is located in North Lake Tahoe's Boatworks Mall, where you'll be able to pick both gifts and essentials at your leisure.
Check Out:
Relax and Massage Out those Sore Muscles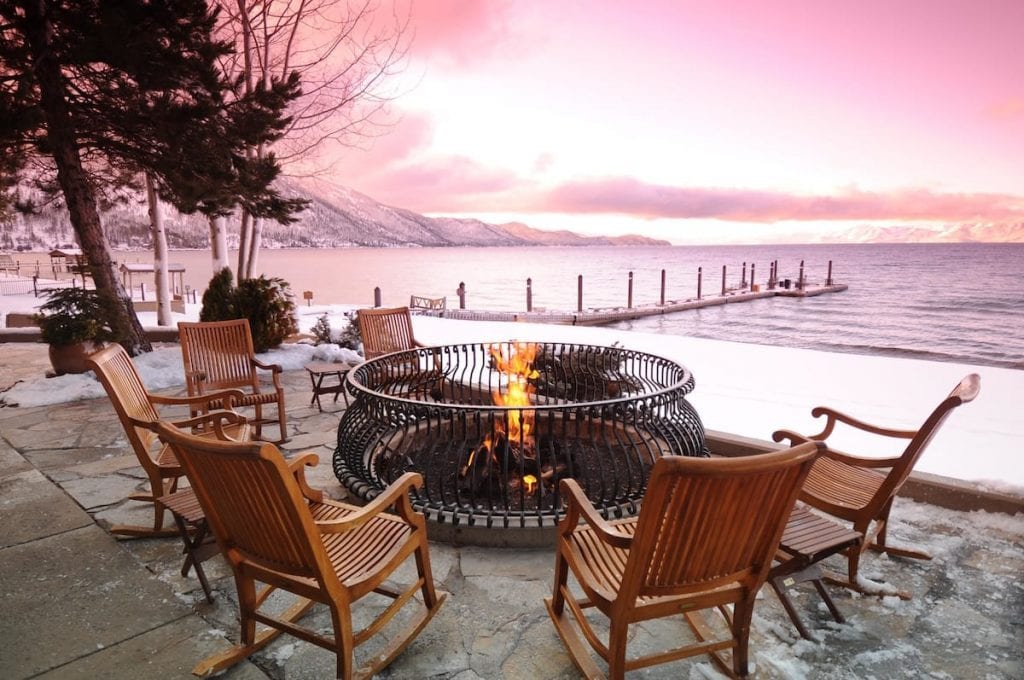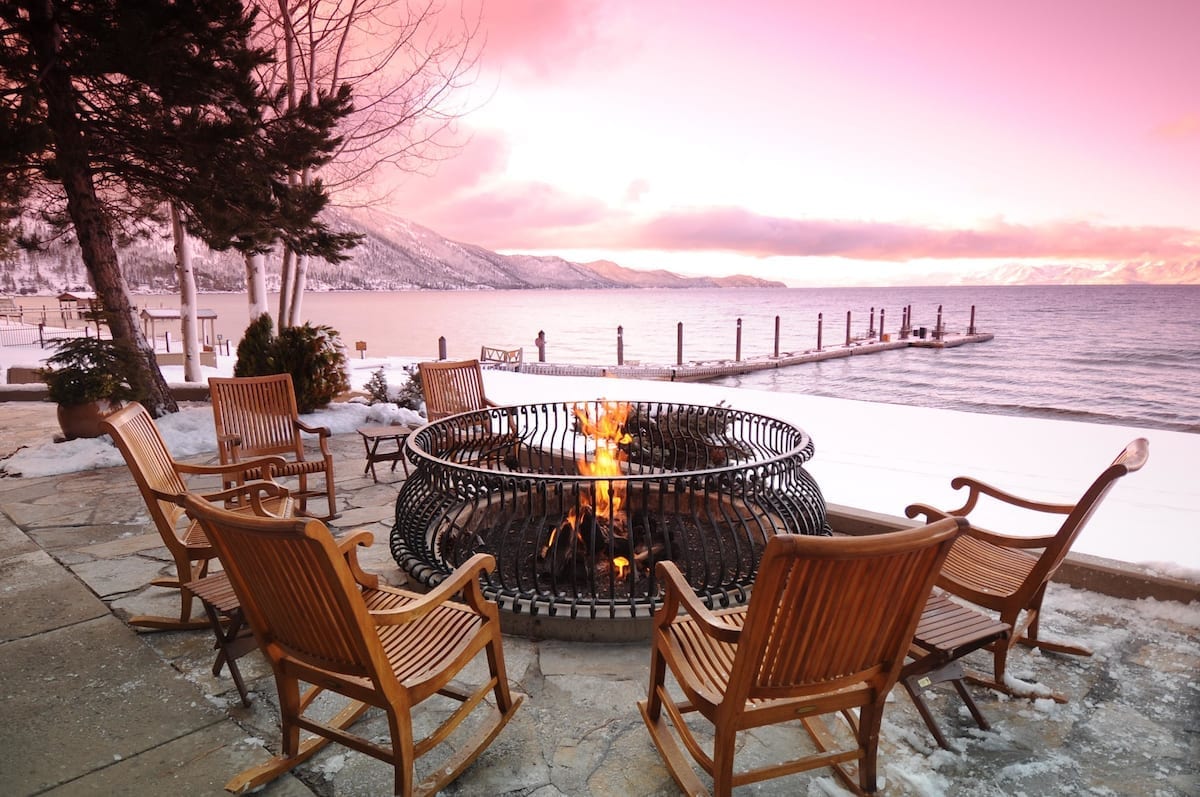 After your time at the Hyatt Regency's Stillwater Spa, get cozy at their picturesque waterfront fire pit. Photo courtesy of the Hyatt Regency, North Lake Tahoe.
As the afternoon winds on and you've completed your "active rest", it's time to really relax. One of the best ways to recover is to enjoy a deep-tissue, full-body massage at Kings Beach's Well Being massage and skincare parlor. If a full spa day is more your speed, the Stillwater Spa & Salon offers a range of packages that will leave you feeling brand new by the day's end.
For those who want to continue indulging in wellness, The Sanctuary at Crystal Bay, as well as Tahoe Flow Arts Studio offer yoga classes that will leave you feeling limber and zen. This is the perfect refresher before you continue your day.
Check Out:
Incline Village: Get a relaxing treatment at the

Stillwater Spa

at Hyatt Regency Lake Tahoe Resort

Crystal Bay:

The Sanctuary

Kings Beach:

Well Being

Tahoe Vista:

Tahoe Flow

Arts Studio
Indulge in a Late-Day Beverage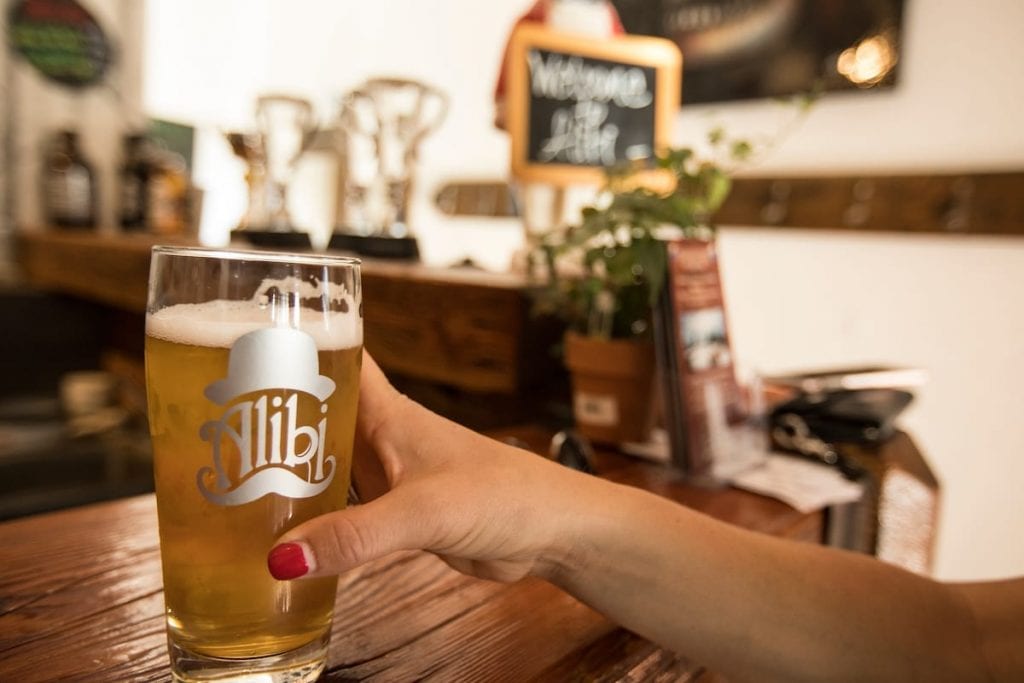 Slip into something a little more comfortable late in the day – namely a drink – at North lake Tahoe's Alibi Ale Works. Photo courtesy of Ryan Salm.
After a productive morning and afternoon, you've earned an adult beverage—which you can find at locations all throughout North Lake Tahoe.
If you're in Incline Village, consider stopping by Alibi Ale Works. This local craft brewery is responsible for the production of Alibi's suite of ales, which are beloved for their bold, full flavor. Should your thirst be matched only by your hunger, take heart, T's Mesquite, a hugely popular Mexican grill, is just steps away, and the guys at Alibi will be happy to accommodate you and your delicious burrito.
If your historical itch wasn't quite scratched by visiting the museum in Tahoe City, we recommend making a jaunt to Crystal Bay, where you can grab any cocktail you can imagine at the Crystal Bay Casino, much like the famed Rat Pack used to do.
Check Out:
Catch a Magical Sunset
North Lake Tahoe boasts plenty of things, but you must not leave the North Shore without catching a stunning Tahoe sunset. Don't take our word for it – the visuals speak for themselves: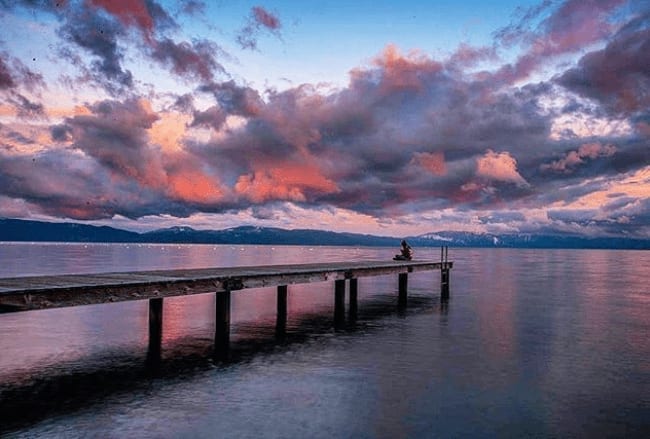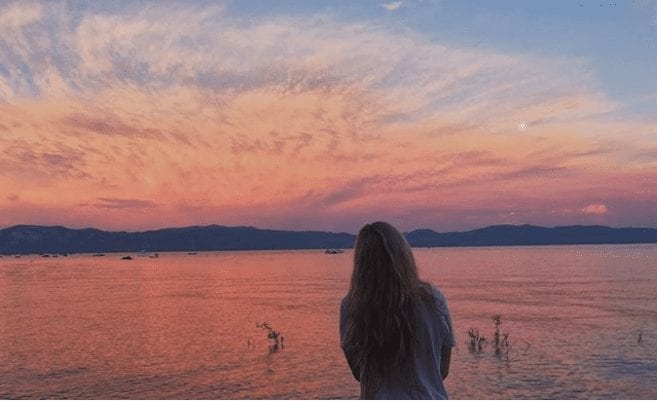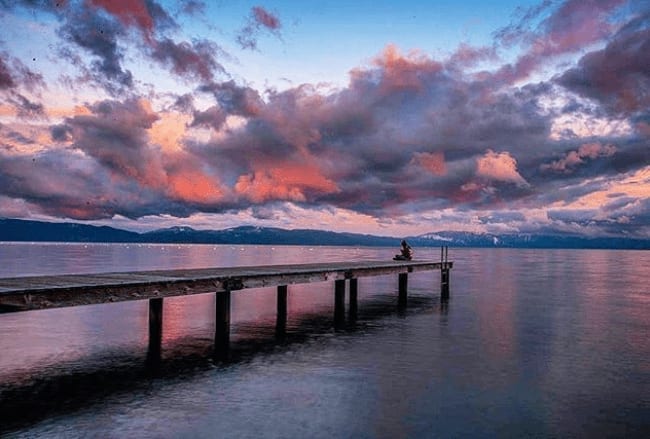 Check Out:
Kings Beach

Carnelian Bay

Tahoe City: Commons Beach
Incline Village: Sand Harbor
Homewood: Sugar Pine Point Beach
Treat Yourself to an Upscale Dinner on the Water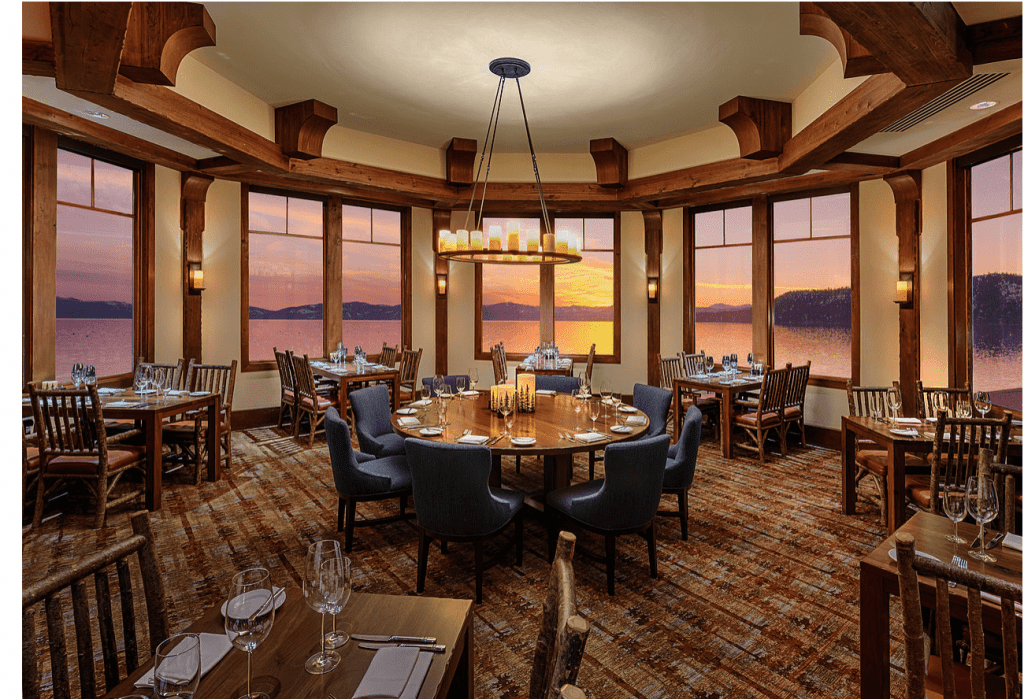 Dine in the sky at Lone Eagle Grill in Incline Village.
By this point in the day, you've likely worked up quite an appetite. Fortunately, North Lake Tahoe has a plethora of mouthwatering options—and you'll want to eat something substantial ahead of your next day of sport.
If you're in Incline Village, stop by the Lone Eagle Grille where you'll enjoy a changing, seasonal menu alongside panoramic windows that display North Lake Tahoe's epic views in all their splendor. The Alaska halibut is a must-try, and their "Baked Tahoe" dessert is famed in the region.
Other local legendary spots for dinner include Lanza's Italian Cuisine at Tahoe Vista, where you can dig into some of the best pasta in the region. Carnelian Bay's Gar Woods will treat you to live music and great drinks, while Homewood's West Shore Cafe and the Sunnyside Lakeside Dining Room will make for a memorable meal that will leave you in good spirits for the rest of the night.
Check Out: