Spring is just around the corner, and we're already looking forward to the sunny skies and spring snow that make the season in North Lake Tahoe so unique. The spring months at the lake are jam-packed with events to get the most out of the snow-and-sun dynamic, so consider this your season-long agenda to get the most out of spring in the Sierra.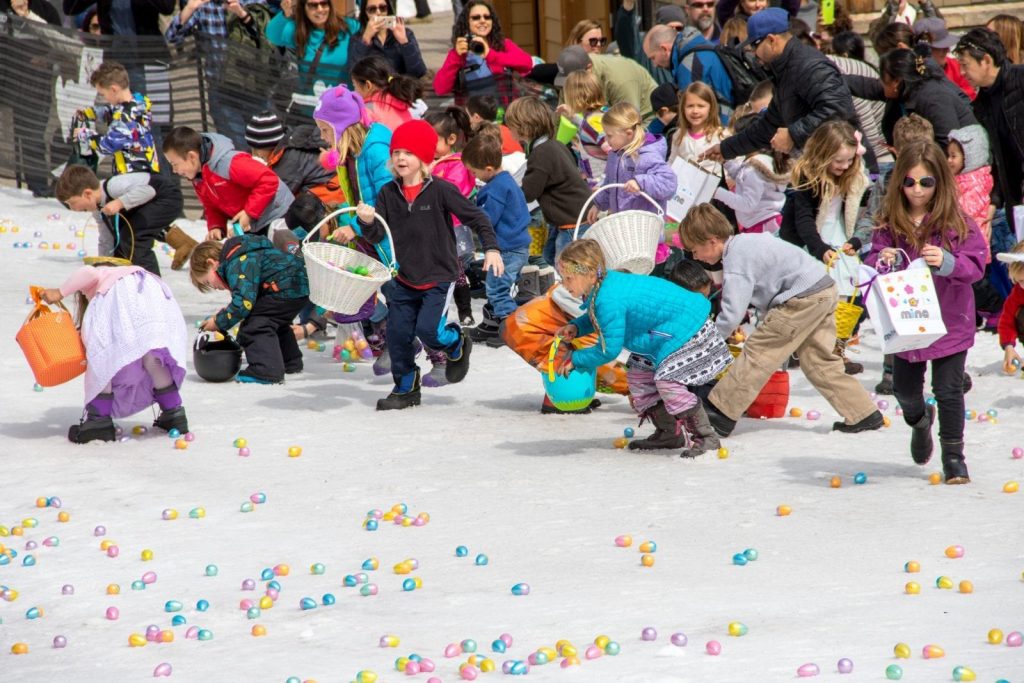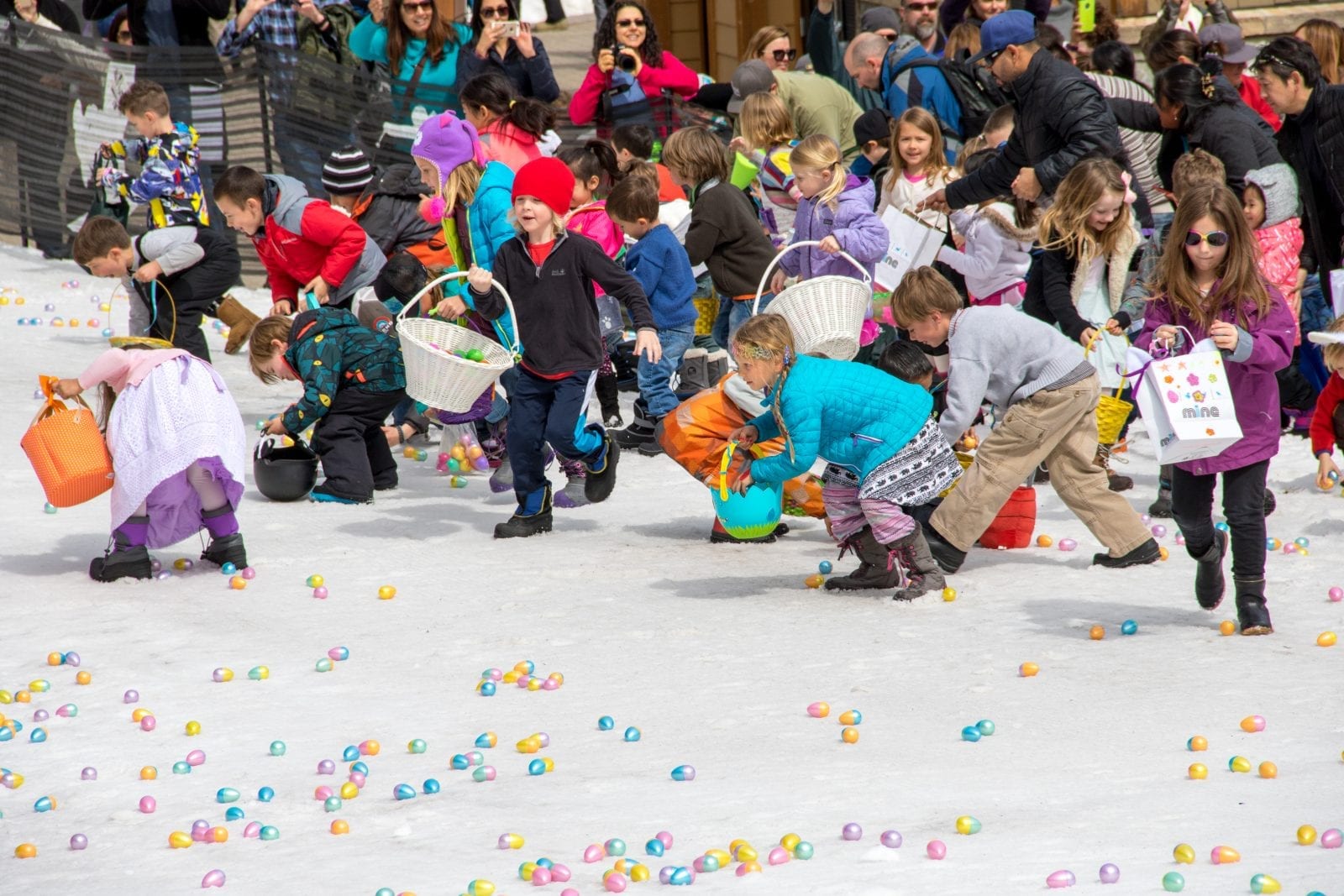 Spring into the season with Easter at Northstar California Resort! Photo courtesy of Northstar California
Spring it On!: March 17 – April 1
For three weekends in March, Northstar California Resort becomes the place to be with Spring it On!, which includes events for everyone from kids to the young-at-heart. The first is Epic Weekend, March 17 and 18, which tells you right away what you're in store for! Indulge in delicious s'mores at S'moresapalooza, and connect with passionate skiers for Epic Day! Detox the following weekend with Wellness Weekend, March 24 and 25, including activities to keep your mind, body, and soul activated and refreshed. Finally, get in the Spring spirit with Epic Flower Day on March 31st and an Easter Eggstravaganza on April 1st.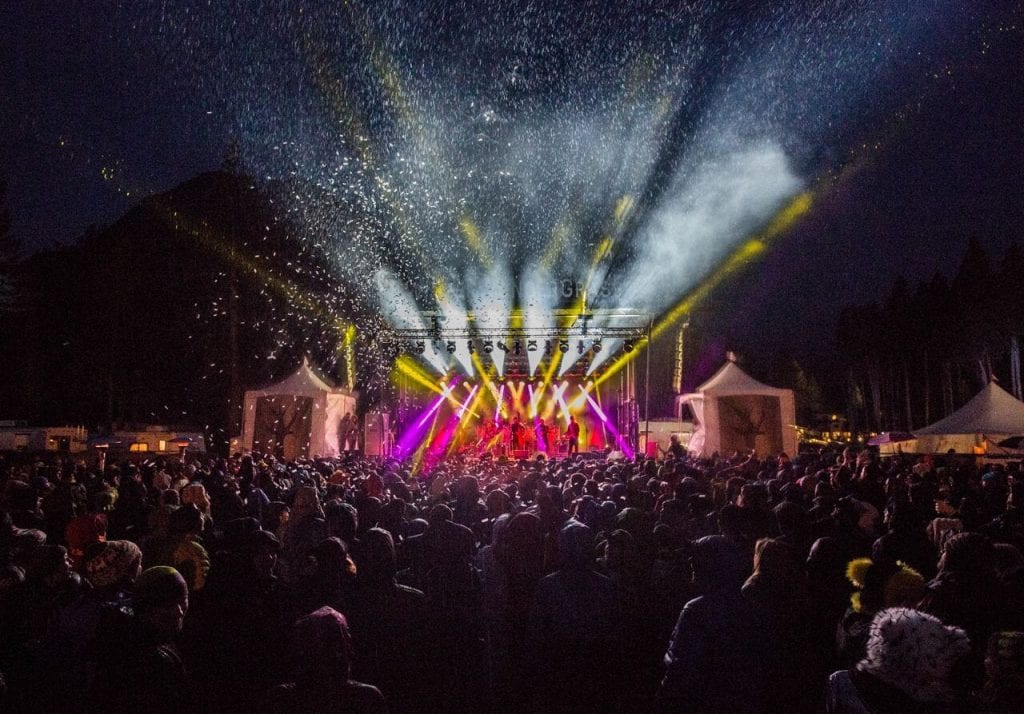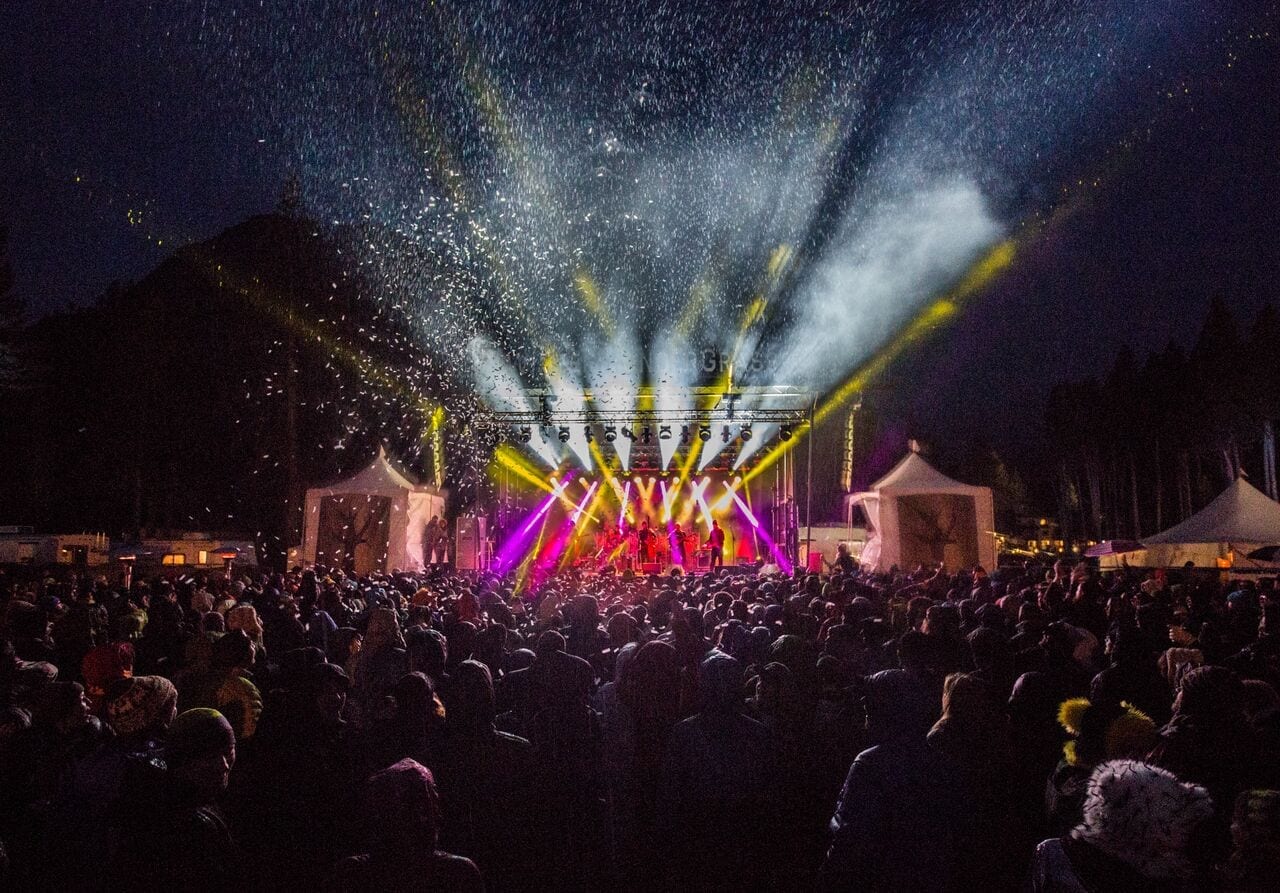 Rock out in the mountains at WinterWonderGrass. Photo courtesy of Dylan Langille
WinterWonderGrass Festival: March 29 – 31
Celebrating its fifth year at Squaw Valley, WinterWonderGrass returns to North Lake Tahoe March 29 through 31. A bluegrass music festival with incredible live performances, great craft beer, a family-friendly atmosphere, and an alpine view that has to be seen to be believed, WinterWonderGrass is the springtime music festival you won't want to miss. For more on WinterWonderGrass, check out or Treasures of Tahoe on how to get the most out of the event!
Winter Wildlife Survival Snowshoe Trek: April 5
The Tahoe Rim Trail Association teams up with the Tahoe Institute for Natural Science for an educational snowshoe trek to teach the hidden wonders of the forest. Snowshoers will begin their journey at the Mt. Rose Trailhead and be treated to impressive scenery, offering expansive views of Lake Tahoe and the open meadow below. For adventurous spirits that are game for steady ascents and high altitudes, and be rewarded with unforgettable views, this event is a must!
Tahoe Truckee Earth Day: April 20
North Lake Tahoe's splendid natural beauty will be celebrated on this day at Tahoe Truckee Earth Day, a volunteer-run event in which locals and visitors alike show their appreciation for all things Tahoe. Join in on the fun at The Village at Squaw Valley from 11 am to 5 PM for live music, family-friendly fun, and important education on how to preserve and protect our local and global natural resources.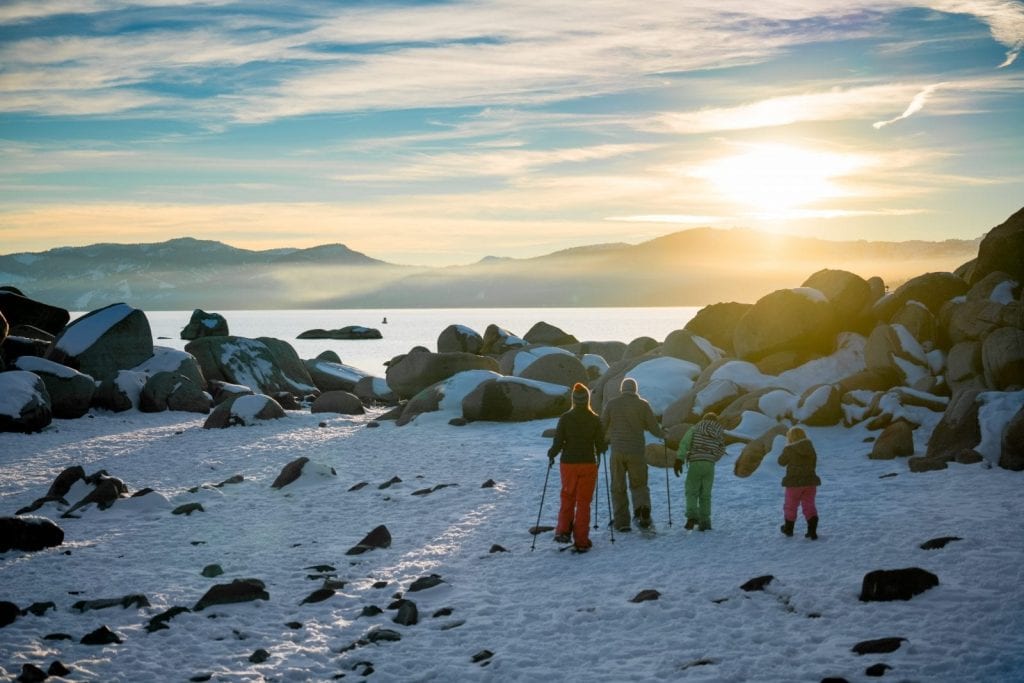 Catch a gorgeous north shore sunset on a snowshoe adventure! Photo courtesy of Chris Bartkowski, Generikal.com
Sunset Snowshoe Adventure: Daily through April 26
Explore Lake Tahoe like you never knew you could as you traverse North Lake Tahoe's wilderness, framed by the area's signature purple alpenglow. You can experience the natural beauty during one of Tahoe Adventure Company's Sunset Snowshoe Adventures.

Equally great for groups and single travelers, Sunset Snowshoe Adventures is a unique outdoor experience with views that can't be beat.
Take a piece of Tahoe home with you at the Made in Tahoe Festival. Photo courtesy of Court Leve
Made in Tahoe Festival: May 25 – 26
The Made in Tahoe Festival shines a spotlight on all things local, with a celebration of local Tahoe artisans, businesses, chefs, entertainers, and more! Join in on the fun at The Village at Squaw Valley to help support local Lake Tahoe creators and organizations, and maybe even take home a part of Tahoe with you!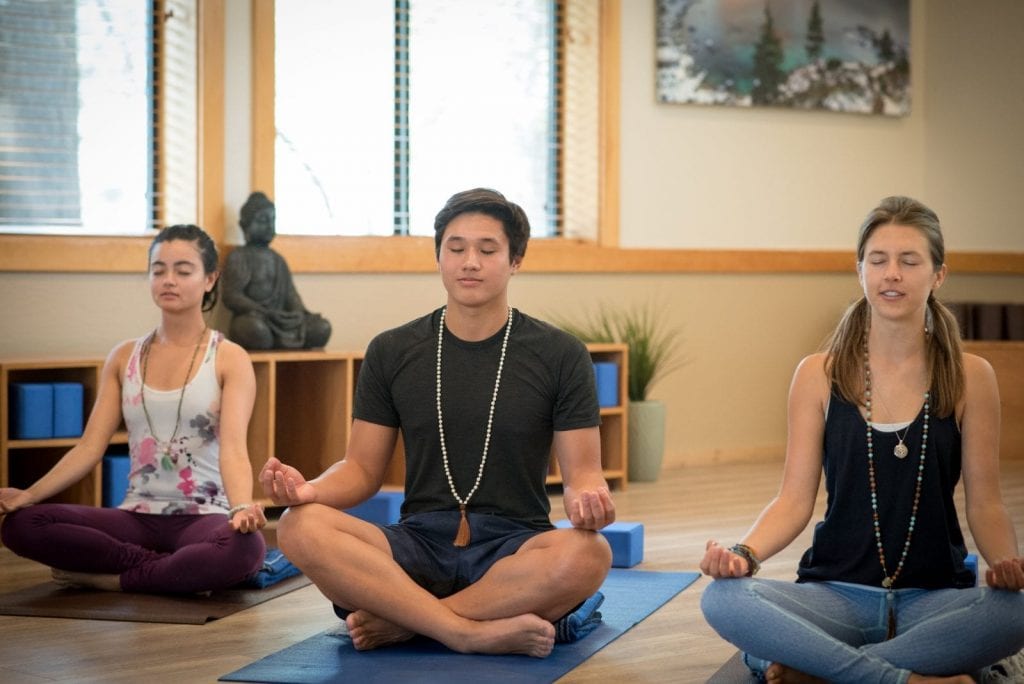 Practice mindfulness with the Restorative Arts and Yoga Festival. Photo courtesy of Granlibakken
Lake Tahoe Restorative Arts and Yoga Festival: May 31 – June 2
The Lake Tahoe Restorative Arts and Yoga Festival, held at Granlibakken Tahoe, is a one-of-a-kind event featuring Tahoe-based yoga instructors, healers, and energy workers to bring you a weekend of learning and self-discovery. Enjoy daily yoga, meditation, and nature hikes meant to restore, rejuvenate, and relax. Stay the whole weekend or drop in on a workshop to best heal your mind, body, and soul.
Hot August Nights Show-n-Shine Squaw Valley: June 8
The iconic celebration of classic cars and rock and roll returns for the second year to Squaw Valley, with Hot August Nights rolling into town on June 8th! Attendees can marvel at colorful classic cars, enjoy live entertainment, and even observe the best view in the world with a scenic Aerial Tram Ride to High Camp at 8,200 feet, with panoramic views of Lake Tahoe and the Sierra Nevada and access to hiking and beautiful wildflowers.
Get inspired at the No Barriers Summit. Photo courtesy of No Barriers
No Barriers Summit Tahoe: June 13 – 15
The No Barriers Summit is the place where leaders, change-makers and aspiring visionaries from all walks of life unite. Happening June 13 through 15 at the Resort at Squaw Creek, this inspiring and engaging event will allow participants to embark on new and adaptive activities and experiences, live musical performances, inspirational speakers and storytelling, innovation and more! Part challenging, part festival this event will leave you embracing struggle as opportunity and leaving different than you came.
Tahoe City Food & Wine Classic: June 15
Explore Tahoe City and its scenic, lakeside sidewalks as you sample delicious food and enjoy wine tastings as part of the Tahoe City Food & Wine Classic on June 15! Check out some of Tahoe City's most acclaimed eateries and caterers and cherish a beautiful spring day in North Lake Tahoe.
For more events in North Lake Tahoe this spring, stay up to date by visiting our events page!