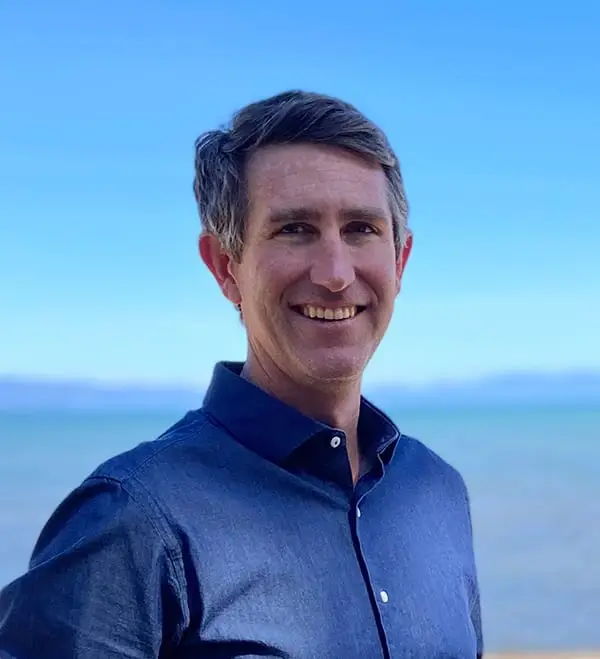 The next North Lake Tahoe Sustainability Superstar in our series is Jesse Patterson, the Chief Strategy Officer at the League to Save Lake Tahoe, a crucial non-profit in the region doing great things to Keep Tahoe Blue.
And make sure to check out the other superstars:
All of these interviews were originally featured in Moonshine Ink and were written by Liz Bowling.
The League to Save Lake Tahoe's mission is to Keep Tahoe Blue. Through pollution mitigation initiatives, tackling aquatic invasive species and advancing ecosystem restoration projects, your team is on the front lines of preservation and stewardship. What are some of our biggest problems?
The perception that everything is fine – that Lake Tahoe IS blue. By the time we actually see a problem, it might be too late. There are a number of pressing threats to our environment, especially from climate change, traffic, litter and aquatic invasive species. Part of the League's mission is to make sure everyone knows they can and must play an active role in Tahoe's preservation.
What are some of the tactics you're using to engage Tahoe's diverse community of visitors and residents to address these problems?
We lead by example and offer a range of programs and experiences to reduce the barrier of entry for people who want to get involved. Whether it's 15 minutes or four hours, there are many ways to make a difference.
Keep Tahoe Blue clean-up days can require a bigger time commitment, but we have people who travel specifically to Lake Tahoe to participate because those events are such a great experience. We worked with TERC on the Citizen Science Tahoe App so that people without a lot of time can protect while they play by identifying problems in real-time through an app-based tracking system, which puts data directly into the hands of researchers. 
90 percent of people are doing good things. We share their stories, thank them and honor their work. We have an inclusive and clear mission that's easy to get behind: Keep Tahoe Blue.
In your nine-year tenure with the League, what are some of the biggest policy changes you've seen?
Most noticeable is more coordinated region-wide education and engagement. Collectively, we've moved away from agency silos to address stewardship with a more holistic approach, which takes collaboration. It's not only encouraging to see and feel that change, it has benefitted the Lake and our community.
While there are a number of large-scale regional plans and visions, we see small successes and improvements year to year through our efforts, and that progress is exciting. The League has spearheaded several pilot programs, such as bringing microtransit and electric bike share services to the south shore, and implementing innovative technologies in the Tahoe Keys to keep aquatic weeds in check. Those pilot projects are the first-step to broader implementation. Small successes breed larger successes.
How do you inspire stewardship?
It's one thing to learn about stewardship, it's another to participate in change. Personal action feels good and shared stewardship, no matter how small, is fun. In a place as special as Tahoe, it's really gratifying knowing that your hour of volunteering has helped preserve the Lake – so it's just as beautiful the next time you visit. We reiterate that in everything we do.
Impact (since 2013)
The League has engaged more than 7,000 volunteers in hands-on cleanup efforts to Keep Tahoe Blue.
The League and its volunteers have removed nearly 48,000 pounds of litter from Tahoe's environment.
The League has created three citizen science programs and trained more than 1,100 volunteer participants who have conducted surveys and gathered data that have been used to combat threats to Tahoe.
Seven new infestations of aquatic invasive species were detected and quickly addressed as a result of the League's Eyes on the Lake aquatic invasive species monitoring program.
Get Involved