Just tap and go. It doesn't get much easier to enjoy all the natural beauty of North Lake Tahoe this summer (and all seasons) than with TART Connect. It's a free, on-demand, curb-to-curb shuttle service that takes you right where you want to go throughout North Lake Tahoe's lakeside communities. TART Connect opens all kinds of possibilities, so you can relax, soak in the views on your way to adventures and benefit the environment all at the same time.
Here are a few quick and important resources so you can start your ride:
Get the app here! It's available for both Apple and Android devices.
See the interactive map here. You can see the routes for the service.
Call TART Connect at (530) 553-0653. If you prefer not to download the app, you can still call the service for pick-up.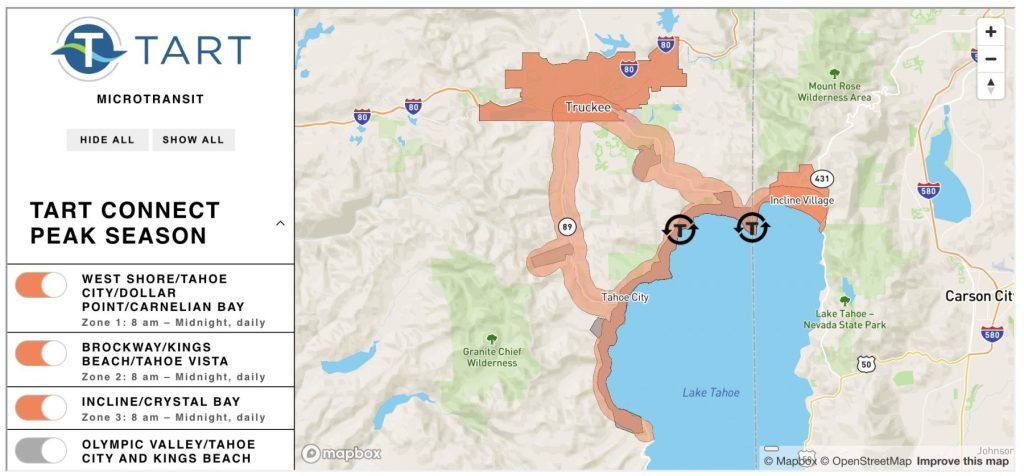 Few things that are good to know: 
Check the updated TART Connect page for seasonal dates, times, and current zones.
TART Connect covers North Lake Tahoe and Truckee 7 days a week.
You can catch a curb-to-curb ride throughout the North Shore and Truckee or use the free "park and ride" areas that allow you to leave your parked car behind and shuttle around for easy access to attractions, dining and shopping.
Note that the TART Connect service is designed for shorter trips, which is why TART Connect only operates within each designated "zone." If you'd like to travel between zones, you'll have to end a ride in one zone and start in another.
All you need to do is download the TART Connect app to reserve your rides and then you'll be good to go. Read on for tips on how to get the most out of TART Connect.

A GREENER WAY TO GET AROUND TAHOE
With natural beauty like ours, it's no wonder North Lake Tahoe holds sustainable and eco-friendly practices close to our hearts. Preserving Tahoe's blue waters is far from easy, which is why it's so important that locals and visitors alike join in the effort. Using TART Connect reduces emissions and your environmental impact in a big way, helping you feel good about getting around Tahoe while also saving on gas, reducing the stress of driving and parking and limiting traffic for others in the area.
Check out our blogs on voluntourism and keeping Tahoe beautiful to see how you can do even more to keep Tahoe beautiful while you're having fun.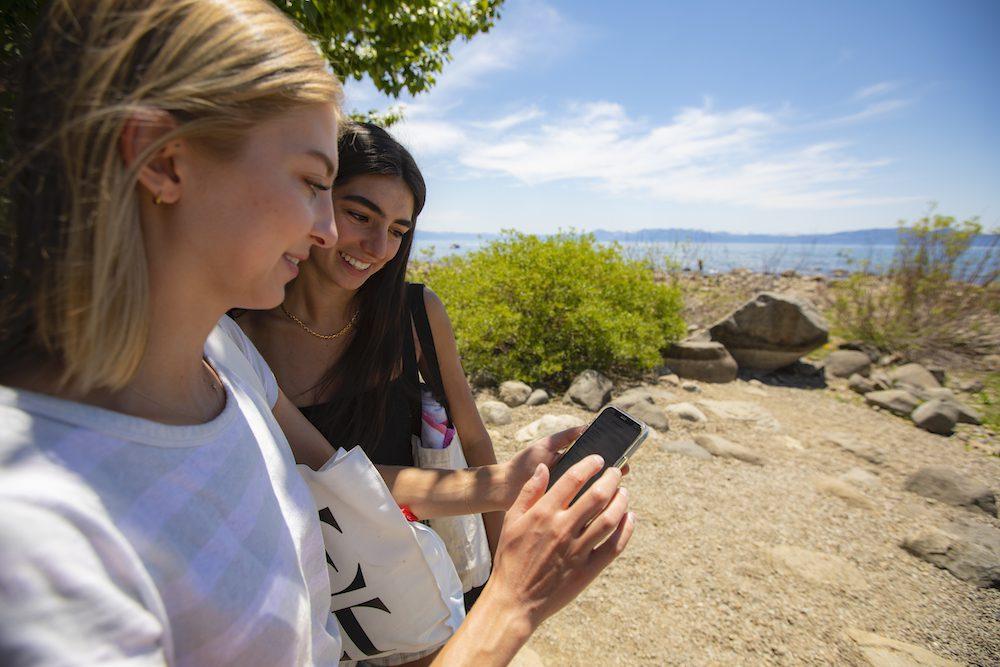 MAXIMUM CONVENIENCE FOR ADVENTUROUS TRIPS
No stress. No worries. With TART Connect, you don't have to worry about parking, finding a gas station or having to choose between a scenic walk and an easy drive. If you want to wander and explore, TART Connect is perfect because adventures are what TART Connect does best. Here are some of our summer favorites:
Ziplining at Tahoe Treetop Adventure Park
Fly through the sky at one of three locations including Tahoe City Treetop, Tahoe Vista Treetop and Olympic Valley Ropes Course which offer a variety of courses for every athletic level, ages 6+. The experience lasts 2+ hours and has you ziplining between different rope bridges and the like. Head here for lots of fresh air and incredible views.
Mountain Biking in North Lake Tahoe
With views and terrain like this, you have literally hundreds of options for mountain biking including backcountry trails, parks and paved paths. There are several tour companies that can take you to the best spots too. The best part? TART Connect's shuttles have bike racks, so transportation is easy on you.
Named for a carved granite rock that looks like the familiar animal, Monkey Rock offers an awe-inspiring view of Lake Tahoe. This out-and-back hike is a popular choice and is considered moderately challenging at 2.6 miles, usually lasting about an hour and a half. The trail starts near Incline Village in Crystal Bay, Nevada. Of course, there are many, many other trails to explore in North Lake Tahoe. Sky's the limit with this list.
Indulge in Shopping, Dining & Events
North Lake Tahoe is also home to some excellent shopping, dining and events. When it comes to shopping, you can explore the five charming areas of Olympic Valley, Tahoe City, Northstar, Kings Beach and Incline Village. Each offer a different kind of flair and celebrate the unique and local businesses of North Lake Tahoe.
Dining in the region offers mesmerizing views with menus worthy of the scenery. It's easy to experience sweeping meadows and breathtaking views with a winning variety of food choices ranging from barbecue platters and pizza slices to craft beers and wine. Stroll across the cobbled walkways in resort villages, soak in that alpine air and nosh on tasty bites from cafés along the way or visit a pub to sample a local brew.
If you're looking for an event that will move you, North Lake Tahoe has many to choose from. See your Shakespearean favorites, tap to the blues at Palisade Tahoe's Bluesdays Tuesdays or simply kick back at Kings Beach for their Music on the Beach series.