There are at least two very important things that every Tahoe adventurer should take the time to explore during their visit to the region. The first, naturally, is our vast and exceptionally beautiful outdoor environment, whose breathtaking views, sweeping waterscapes and humbling mountain ranges have made this place the envy of much of the world.
The second might surprise you—in a deeply satisfying way. We're of course referring to our local gastronomy… that is, the thriving culture of excellent cooking and dining that has made Tahoe such a treasured gem for foodies in-the-know.
With restaurateurs kicking up their curbside service game to adapt to our ever-changing world, there's no better time than now to see, touch and taste the excitement of North Lake Tahoe. To help you get started, we've put together a quick guide on key points of interest throughout the region, where you can enjoy dinner with a view unlike anywhere else in the world.
NOTE – The Perfect Pairing: Before you read this blog, we recommend downloading a copy of our Takeout Tahoe Guide. In it, you'll find in-depth information about North Lake Tahoe's various towns and resorts, plus a listing of the 150+ restaurants offering to-go options. It'll be helpful as you plan your Tahoe hike-and-dine or when you need a break from whipping up meals from your Tahoe home away from home.
Dine at the Docks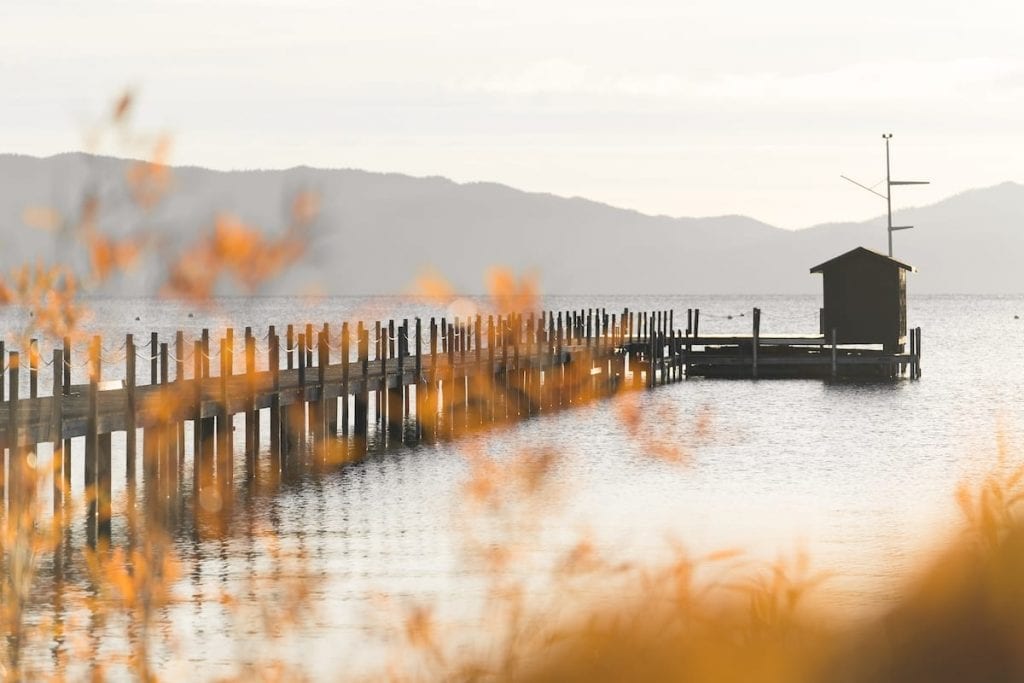 Snow or shine, North Lake Tahoe's spectacular view of the lake is a magical experience. On the Tahoe shoreline, adventurers can find public docks, benches, picnic tables and more to take in the sights and sounds of the tranquil, sapphire lake. During the cooler seasons, you're going to want to bundle up as temps tend to be a bit nippier near large bodies of water; in the warm, high season, we encourage you to be mindful and selective about the timing of your visit to avoid crowding.
While it's cold, you can't go wrong with hale and hearty soups from establishments like Tahoe City's Spoon, or the absolutely divine chowder from Jason's Beachside Grille.
Explore Incline Village, and Feast Your Eyes on True Beauty at the Crystal Bay Fire Lookout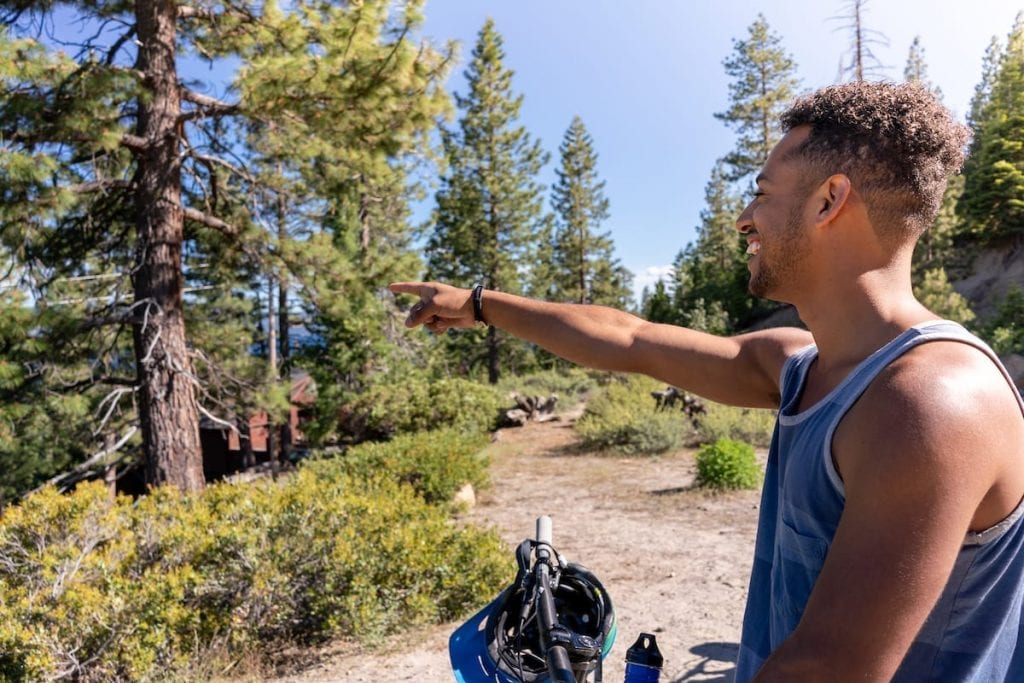 When you're ready to take a break from enriching yourself with the historical beauty of Nevada's storied past in Crystal Bay, there are fewer diversions more perfect than a jaunt up to the Crystal Bay Fire Lookout.
A brief, relatively easy hike up will take you well above North Lake Tahoe's shoreline, providing you with the perfect 360-degree view of the region. With plenty of footholds and geological formations, you shouldn't have any trouble at all finding a spot to plant yourself as you chow down on satisfying bites from nearby Fumo and gulp down a hot cup o' Joe from Incline Village's Drink Coffee Do Stuff.
Chow Like a Champ in Olympic Valley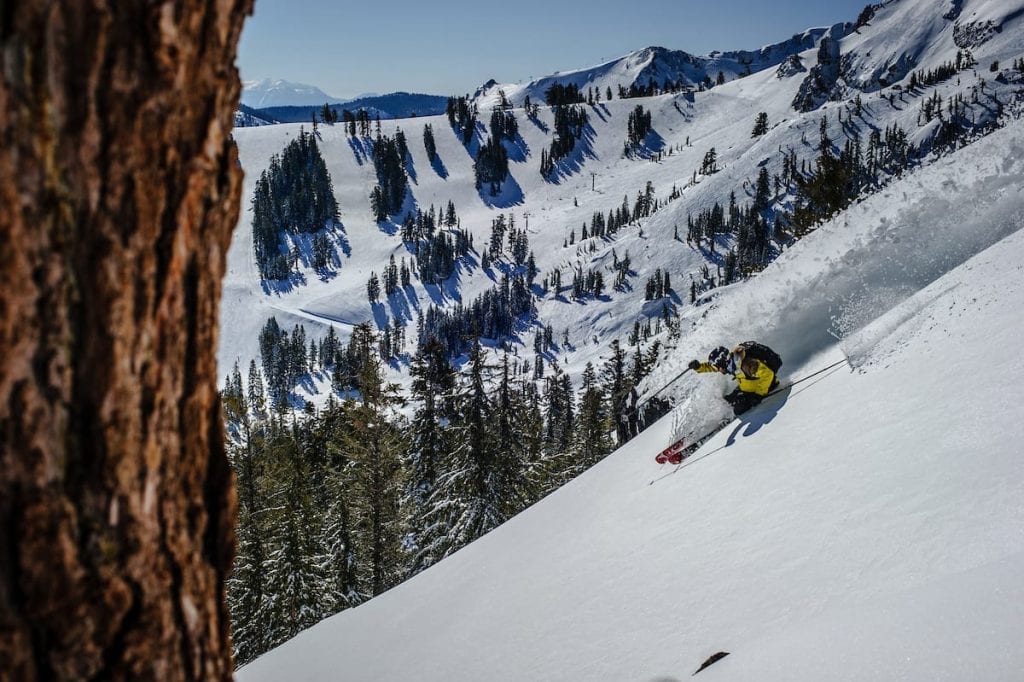 History abounds in the breathtaking hills of Squaw Valley | Alpine Meadows. That's why it's called the "Olympic Valley"—because, in 1960, the region served as home to the Winter Olympic games, bringing athletes from all around the world to compete for the world-renowned gold medal of sporting achievement.
Like the Olympians of old (and many up-and-coming faces today), you can get your fill of nourishing food and celebratory drink throughout the valley as you enjoy sweeping meadows and breathtaking peaks of this North Tahoe community—like the Shirley Lake Trail which leads in to the sweeping Shirley Lake Canyon. There are plenty of notable locales worth checking out as you explore this historical enclave, but we'd be remiss if we didn't encourage you to chow down on a hot slice from the Fireside Pizza Company, a barbecue platter from the River Ranch Lodge & Restaurant at the entrance of Alpine Meadows and a nightcap (or two) from Uncorked.
Explore Another Way of Life in the Village at Northstar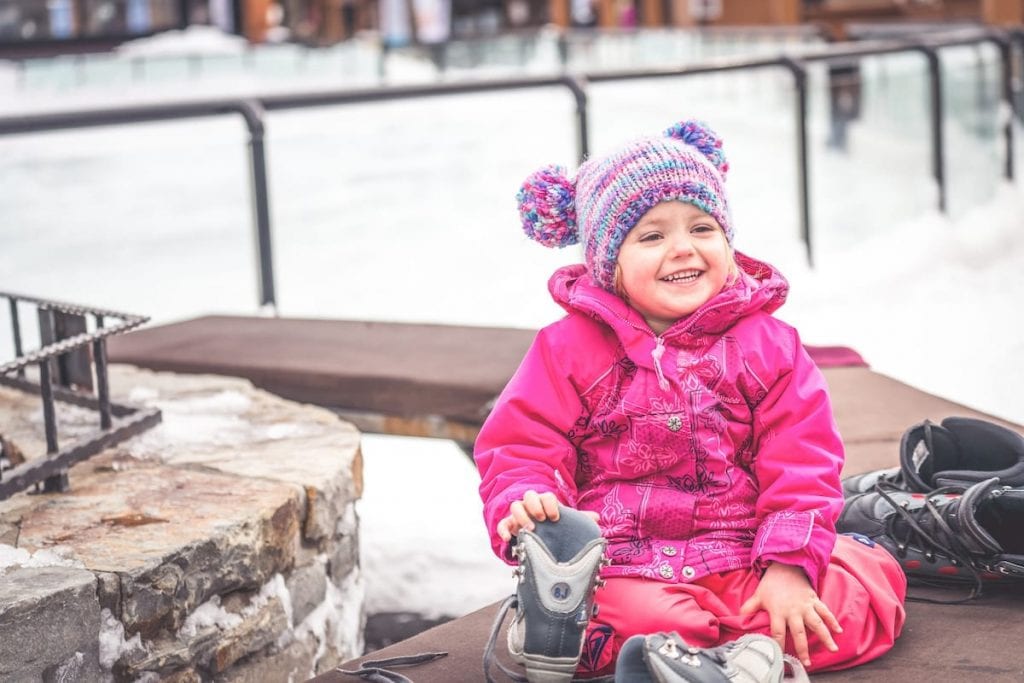 If you're looking for a major change of scenery and a significant shift in your routine, we can't recommend a visit to the Village at Northstar highly enough.
This mountainside enclave brings the cozy feeling of a village together with all the indulgent amenities one should expect of a resort town, transplanting visitors from their daily routine into the warm embrace of a tightly-knit community where every rustic detail and establishment evokes a sense of warmth and satisfaction that's hard to beat.
As you explore the Village at Northstar, you'll find no shortage of dining options. We urge you to take a stroll across the cobbled walkways as you nosh on bites from the Copper Lane Café. Or grab some reinvented pub fare like nachos topped with a sunny side up egg from Bourbon Pub and bring the spoils of your culinary adventures back to home base for a night of indulgent dining in comfort.
Plot Your Own Tour De Taste in Tahoe's Beachside Communities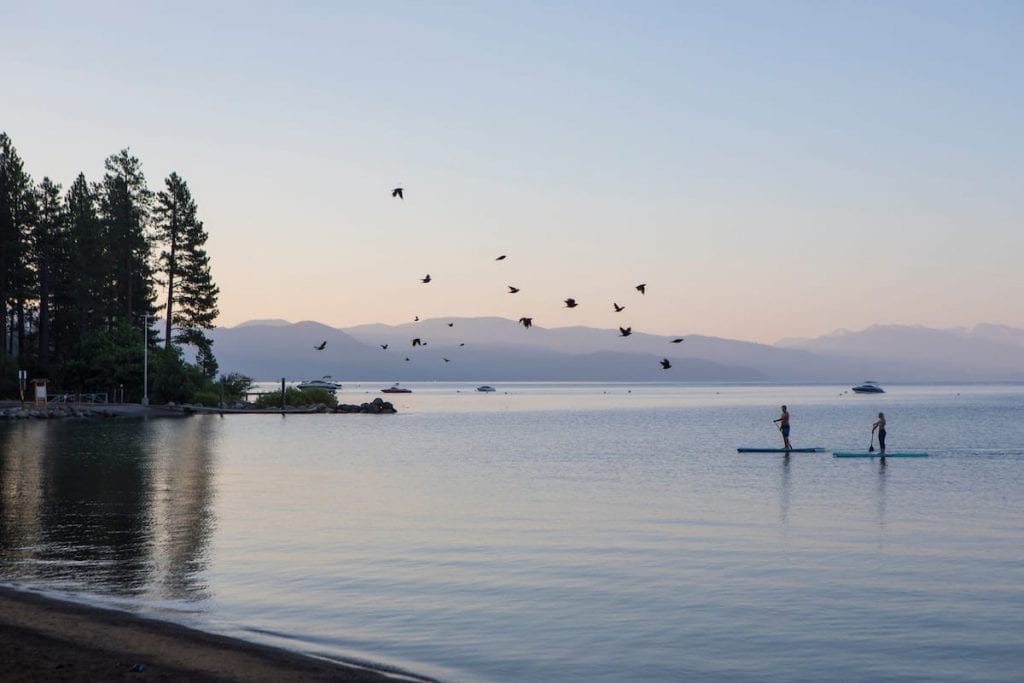 If you're the sort of person who likes to burn calories in between meals, a good way to do that is to make tracks from one establishment to the next along Tahoe's shoreline. One particularly easy place to do this in the region is along Tahoe's lakeside, where towns like Carnelian Bay, Kings Beach and Tahoe Vista stand—beautifully appointed and awaiting Tahoe explorers with a warm welcome.
As you explore, pop-in to enjoy the novelty of D'Lish's Burrito Window, where you'll find shrimp, chicken and vegetarian options for burritos, tacos tostadas and more. Later, you'll want to cap off your exploration of the region with a tasty scoop of ice cream from Sweet Tahoe Time.
For dinner, we recommend checking out lakeside options where an up-close and personal view of the "Crown Jewel of the Sierra Nevada" is just footsteps away, like Steamer's Beachside Bar & Oven, in Kings Beach. There are benches and other places for outside seating throughout these communities—take advantage of them!
Get an Eagle's Eye View of Tahoe from The Top of Eagle Rock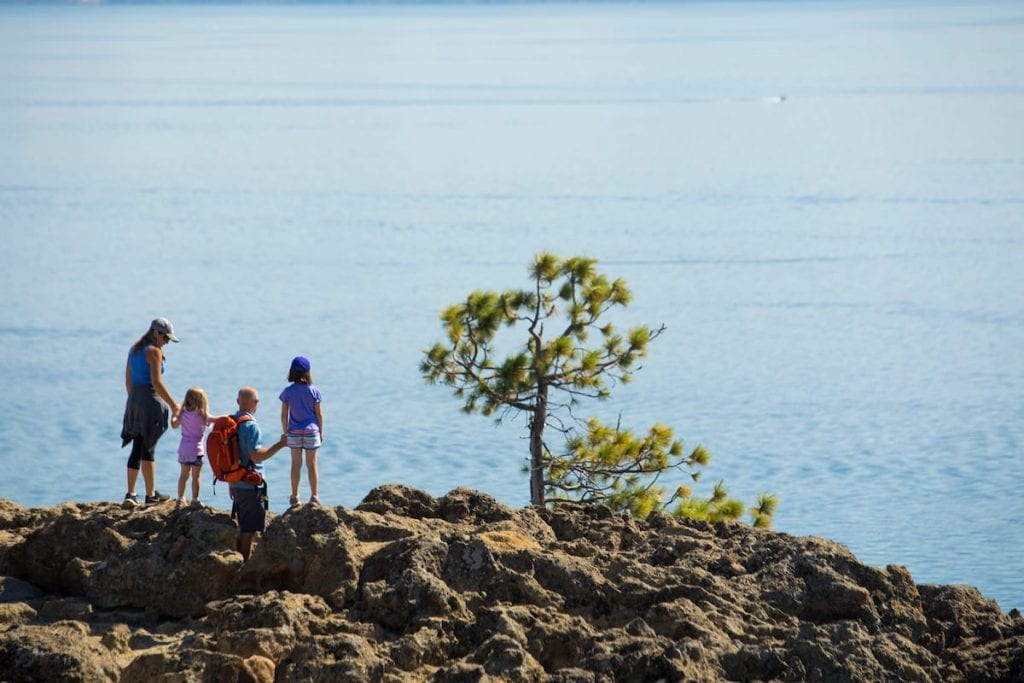 The Eagle Rock Hiking Trail, located less than a mile from the central point of North Lake Tahoe's west shore communities (which include Homewood, Tahoma and Granlibakken), perfectly exemplifies quintessential Tahoe. As you make the .07-mile trek, you'll be treated to no shortage of interesting geological formations, swathes of the region's famed alpine trees, and you'll be rewarded with a panoramic view of the lake,
Before you start the hike, we recommend popping by spots like Fire Sign Cafe to grab a breakfast sandwich that you can easily pack up. On your way back down, your options for lunch are plentiful—including the many restaurants on the remarkably peaceful grounds of Granlibakken Resort.
North Lake Tahoe is perfect for adventurers of every kind—but it's particularly special for foodies. Support our local businesses by taking advantage of their takeout service as you explore the region. But please be mindful about keeping Tahoe beautiful by remembering to leave no trace behind. Properly dispose of recyclable and waste materials in appropriate receptacles. If a trash can is full, find another one, or take your leftover materials to your home base to be thrown away.
Thanks for planning to visit to North Lake Tahoe. We can't wait to welcome you!