For years now, we've been battling the "You're on mute," "My camera won't work" and every other challenge imaginable that comes with technology. Isn't it time to think outside the Zoom, Teams, Skype, Slack—whatever you use—box? Step away from the screen and onto the North Lake Tahoe scene. Its alpine air, panoramic views, sunny skies and endless outdoor adventures create the ideal climate for team building.
Whether your agenda calls for friendly competition, mindful communication or just time to reset and refresh as a group, North Lake Tahoe is your year-round team building playground.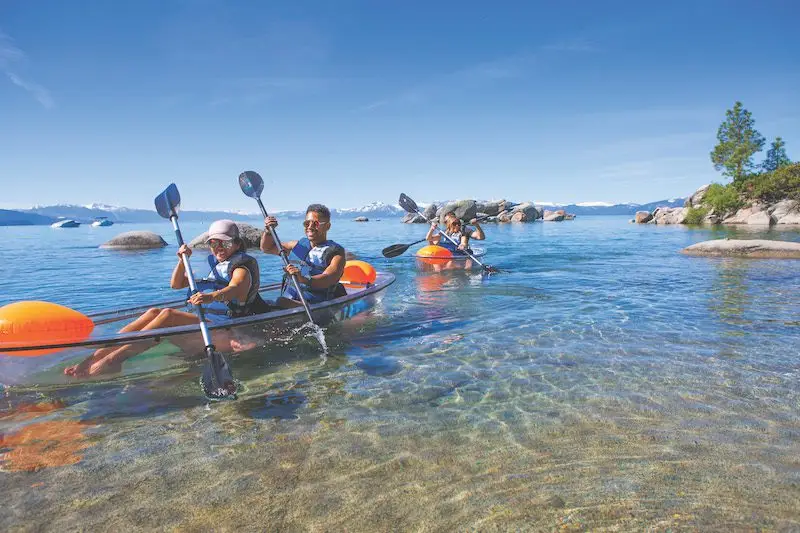 TEAM SPRING
Few places in the U.S. allow for a morning ski and afternoon kayak—all in the same day. Lovingly referred to as the "Dual Days" of spring, team building is twice the fun during North Lake Tahoe's spring season. From mountain slopes to lakeside, adventure time to downtime, our perfectly-paired spring activities help boost morale and inspire the whole team.
Tahoe City Kayak: There's truly no better lesson in teamwork than a tandem kayak. Paddle in the largest alpine lake in North America with your colleagues in front of you, behind you, at your side—essentially in every direction. The team will strengthen its communication skills while learning to work together in the most pristine setting imaginable. At Tahoe City Kayak, both single and tandem kayaks are available to you, as well as stand up paddleboards. Get away from it all with any of their tours, including the Sunset Kayak Tour, Historic West Shore Tour, or Full Moon Tour.
High Ropes Courses: The quintessential team building activity that comes to mind for most, a high ropes course fosters unity and leadership. There are several to choose from in the North Lake Tahoe area, depending on where you're staying and your group's appetite for adventure. You'll have freedom to roam in the shadow of Palisades Tahoe at the Olympic Valley Treetop Adventure Park, with its stunning backdrop and easy escape for mountain lovers. For groups with varying levels of athleticism, climb the Tahoe Treetop Adventure Park. Each course has multiple tree platforms connected by a variety of bridges or zip lines. This is great for team camaraderie, as the experience is not a ride but an interaction for 2+ hours. Place your team's hopes on the ropes!
Tahoe Adventure Company: Not sure where to start with your team building planning? Tahoe Adventure Company offers custom activities based on your team's needs and abilities. They've worked with over 100 high profile international corporations, sports teams, youth groups and beyond. You can contact them for a customized proposal based exactly on your group's goals, whether that be improved communication, building trust or just bonding. They have connections to the best scavenger hunts, Olympic games, ropes courses, kayaking, paddle boarding and more.
Spring for more team building activities! Our full list of the season's ideas lives here.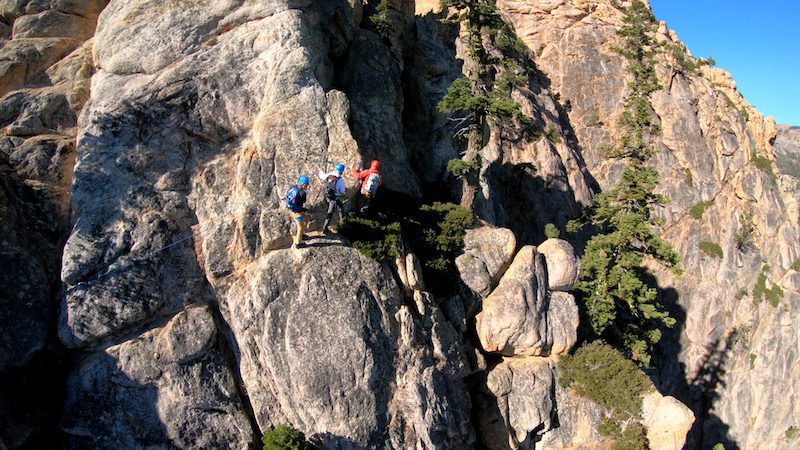 TEAM SUMMER
Welcome to Summer's Official Playground. Instead of WFH, why not WFN (Work from Nature)?! Most of America is sweltering this time of year, but summers here like to stay a brisk 70 to 80 degrees—AKA, the perfect time for outdoor adventures with the team.
Move Mountains: You, too, can move mountains! Overcome physical and mental blocks with workshops from one of Tahoe's best confidence coaches. Move Mountains' Charlie White brings a love for the outdoors with his background in education and psychology. His guided excursions help teams empower themselves, overcome limiting mindsets and truly live as the mountains do: assured, bold and steady. This is a team building experience like no other, featuring outdoor adventures, interactive challenges and portable escape rooms.
North Lake Tahoe Ale Trail: Work hard, play hard, brew hard. The watering hole at the end of a long day exploring North Lake Tahoe is quite the team incentive. Nothing pushes them that extra mile than the image of a frosty brew. This award-winning, interactive map and video series is the ultimate resource for finding two things: adventure and beer. No matter which North Lake Tahoe towns you explore, there's a world-class brewery, bar or restaurant nearby. Start your day of team building working up a sweat, then top it off with regionally crafted refreshments.
Tahoe Via Ferrata: Which team building activity combines all the best parts of climbing, hiking and scrambling? Palisades Tahoe's newest outdoor activity, Tahoe Via Ferrata, lets your team explore the previously inaccessible terrain of the Tram Face—the Olympic Valley's most iconic rock face. Local guide service Alpenglow Expeditions will lead your hiking and climbing experience. Their group tours range from two to four hours.
Summer's playground has so much more in store. Check it out.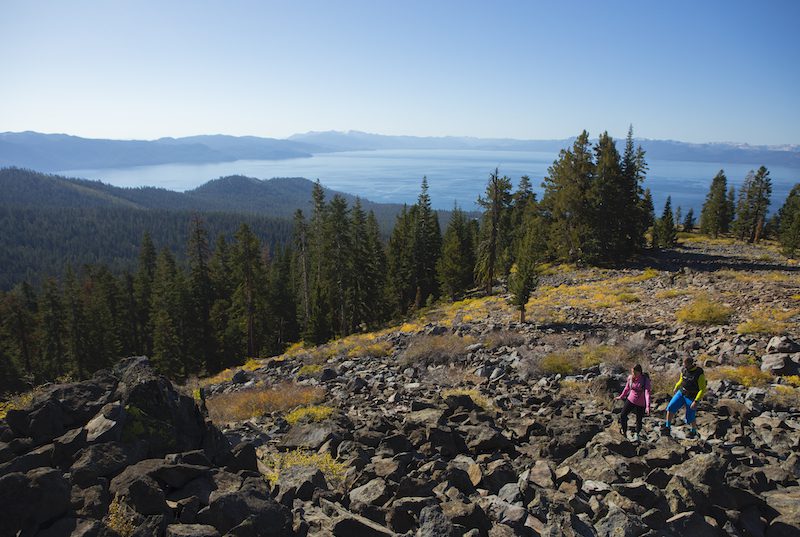 TEAM FALL
North Lake Tahoe's Secret Season! As the vivid autumn colors line the sky and summer crowds begin to lighten, this unique time takes over. Your team's weekend getaway or mid-week escape lives right here, and there are plenty of activities to enjoy it all.
Take a (Team) Hike: Palisades Tahoe is a great basecamp for all the hiking and walking trails within the Sierra Nevada. Spanning all experience levels, towns and views, you'll have access to a variety of hiking trails that lead to waterfalls, alpine lakes, meadows, peaks and lookouts. The North Face®, in partnership with Palisades Tahoe, offers free, twice daily guided hikes from High Camp. How often do you get to walk and talk business in such a spectacular location?
Horseback Riding: We couldn't think of a better team building buddy than the ultimate herd animal. Horses teach us leadership, communication, bravery and body language—all important elements in the workforce. As the weather cools down a bit, consider a team ride with the Alpine Meadows Stables crew. They'll guide your scenic tour on gentle horses through the Tahoe National Forest. Discover more group rides, here.
Let's Roam Scavenger Hunt: Need a creative DIY team building exercise? The hunt is over! With the Let's Roam scavenger hunt app, your crew will experience North Lake Tahoe like never before. Race against the clock and put your teamwork to the test as you find hidden gems and take in all the beauty along the way.
More fall team building, right this way.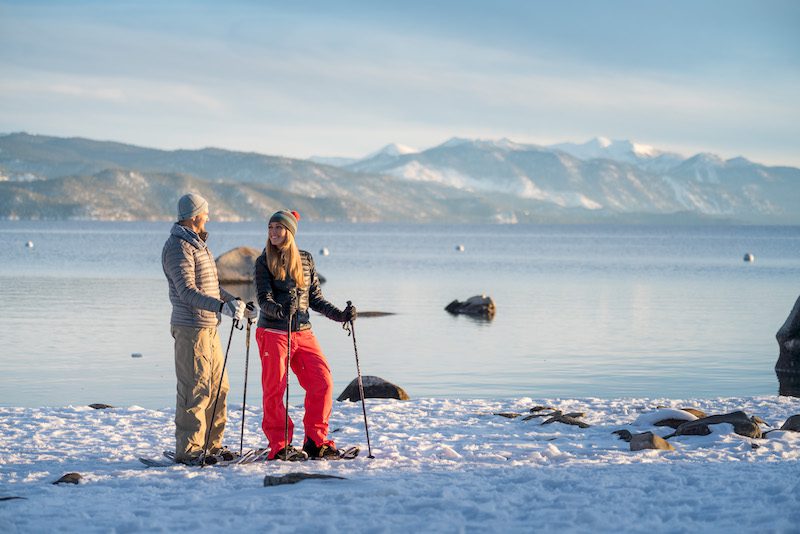 TEAM WINTER
From the top of snow-capped peaks down to the shore of the lake, only one word describes winter in North Lake Tahoe: Wow! Home to North America's highest concentration of ski resorts, the Sierra Nevada mountains offer ample opportunities for team building.
Snowshoe Tours: Experience the vast winter wilderness of North Lake Tahoe with the team. You'll take the trail less traveled and get a great workout in. A number of companies offer guided tours, some of which are even at night. We recommend starting with Tahoe Snowshoe Tours' Full Moon Tour, where you'll enjoy mountaintop moonlight views hosted by knowledgeable guides. The group trail is perfect for first timers: 1 to 2 miles at a slow pace.
Alpenglow Expeditions: Is your group adventurous? Any aspiring Himalaya climbers? This is the resource for you. Alpenglow Expeditions leads tours across the Sierra Nevada Mountains, including mountaineering, skiing, ski mountaineering and rock climbing. Head over to Olympic Valley for team bonding memories like no other. Their full list of activities, including difficulty levels, lives here. Plus, they even offer customizable trips.
Après Ski: After a long day of great ski runs, cozy up with a lively team dinner. From high end to laid back, there are plenty of group-friendly dining options nearby. Wanting to keep the alpine theme going? Lone Eagle Grille is beautifully nestled between the mountains and Lake Tahoe's north shore. The restaurant features rustic alpine décor, a wine wall with over 600 bottles to choose from and gorgeous lake views. It's a perfect team après location after a day productive meetings or snowy play. To venture out lakeside, try Jake's on the Lake for the "mountain aloha" spirit or the Fireplace Room at River Ranch Lodge and Restaurant—the perfect spot for large parties of 40 or more.
Year-round, North Lake Tahoe offers dozens of unique spaces for your next board meeting, breakout session or small group chat. Find the one best suited for your company, then submit an RFP.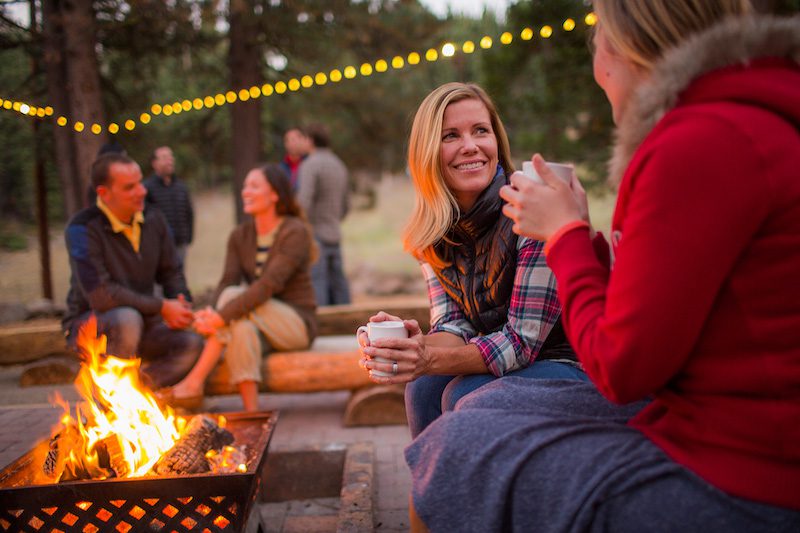 (TEAM) BUILD A BETTER ENVIRONMENT
Lastly, preserving the natural wonders of the Sierra is a team effort. Before the fun is well underway, we recommend your group takes our Traveler Responsibility Pledge, which includes:
Become a Steward of Lake Tahoe
Respect the Environment
Stay Educated
Keep Wildlife Wild
Be Fire Safe
Demonstrate Mindful Travel
By the end of your visit, we hope your team members feel refreshed, renewed and reassured in their abilities.