August 2022
Teslas, Bolts, Mach-Es, e-trons, oh my! The number of electric vehicles in our area isn't slowing down anytime soon. With so much to do, so much to see during vacation, here's who has the juice around North Lake Tahoe. Plus, we've got year-round ideas for you and the crew while your EV's loading up. Vroom, vroom!
EV STATIONS IN INCLINE VILLAGE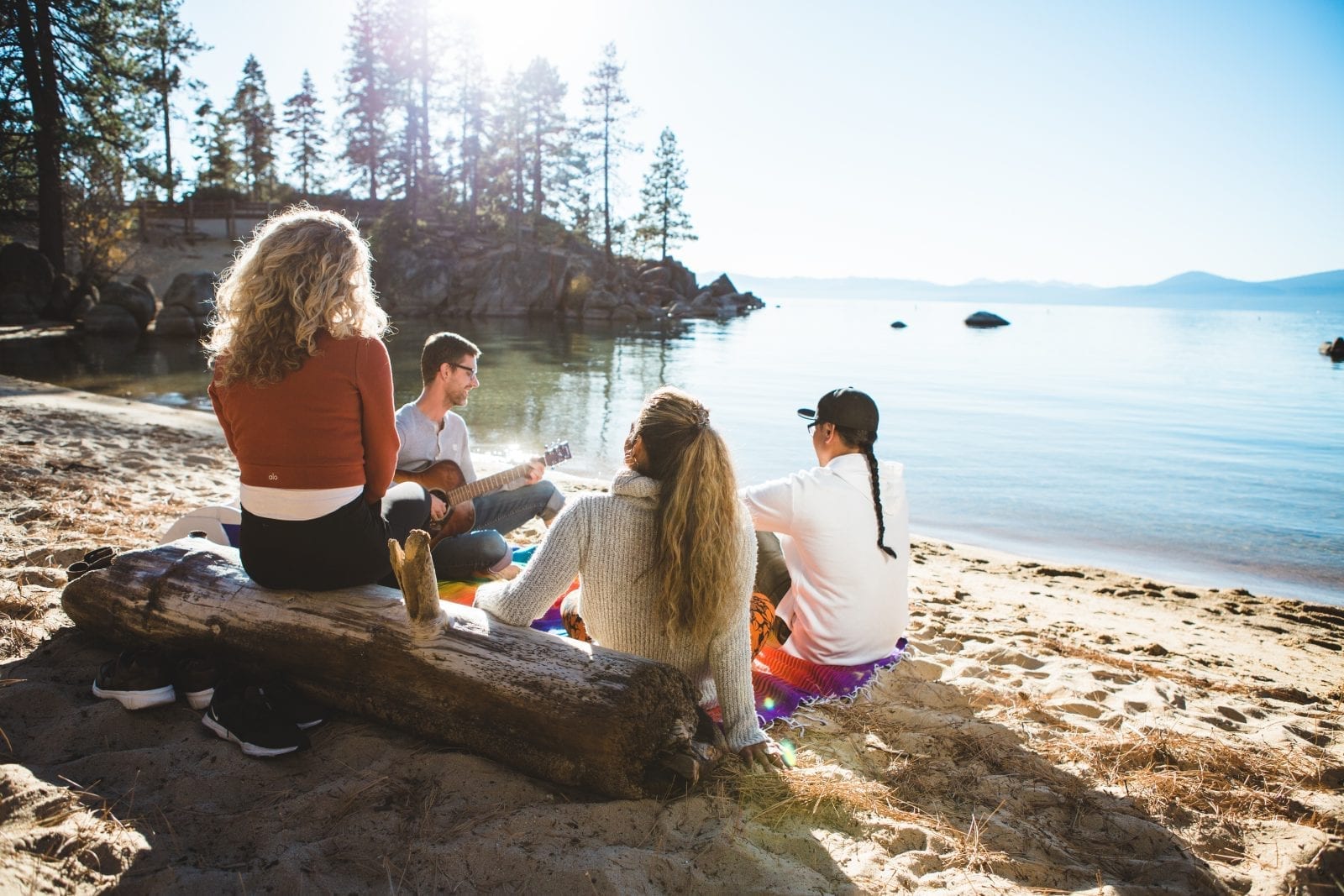 Incline Village Supercharger: 930 Tahoe Boulevard
Teslas only
Supercharger, 150 kW
10 plugs
Free parking
Right across from a 50kW EVgo station
Activities to do: Plenty of restaurants nearby, as well as shopping, restrooms, a grocery store and Wi-Fi
Incline Village Championship Golf Course: 955 Fairway Boulevard
ChargePoint station
J-1772, 2 plugs (IVGID Champ Course 1, IVGID Champ Course 2), 6.6 kW
Free to use, free to park
Activities to do: Get your charge on, get your golf on
Hyatt Regency Lake Tahoe Resort, Spa and Casino: 111 Country Club Drive
3 Tesla stations (13 kW), 2 universal stations
Free for guests staying at the resort or using resort services; otherwise it is a $50 charge
Managed through valet team
Activities to do: Enjoy the hotel, spa, resort and casino with out-of-this-world amenities and private beach
Diamond Peak Ski Resort: 1210 Ski Way
J-1772 port, ChargePoint
Free parking
2 Eaton 70-amp Level 2 stations
Activities to do: Hit the slopes or just enjoy the views
Raley's Shopping Plaza: 930 Tahoe Boulevard
11 plugs available: 10 Tesla plugs, 1 CHAdeMO-J1772 Combo plug
Open 24/7
Free, pull-in parking
Located on right/east side of building
Pay by Network App, Network RFID
Currently under repair, check before visiting
While your EV's plugged in, unplug yourself at any of the pristine outdoor attractions in Incline Village. It boasts mountain retreats, hiking and biking trails, casinos, private beaches and arguably the best 360-view in Nevada. If you're visiting in summer, stop by Sand Harbor for a great swim, fish, kayak or water ski—or the ever-so-popular Lake Tahoe Shakespeare Festival. Here in February, by chance? Incline Village hosts Ullr Fest to honor the Norse God of Snow. Safe to say, the area will show you a great time.
EV STATIONS IN TRUCKEE AND NORTHSTAR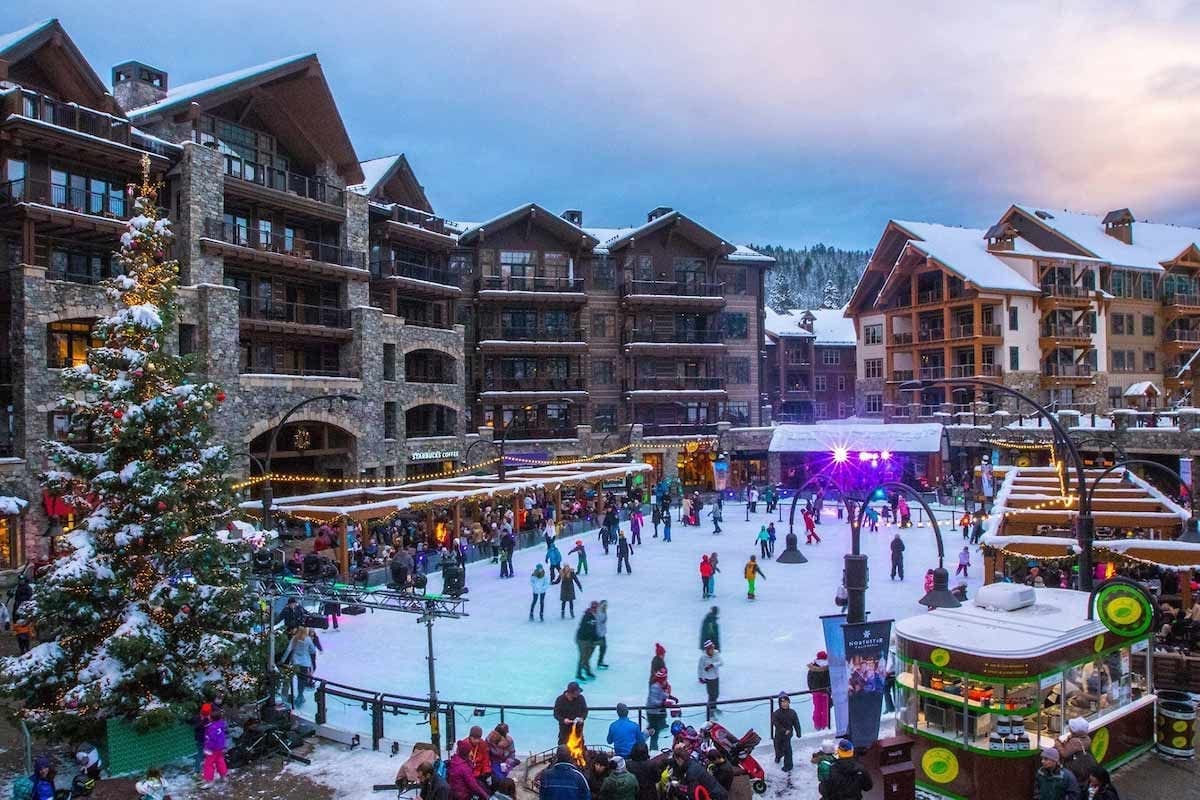 Truckee City Hall: 10181 Truckee Airport Road
J-1772
ChargePoint, 6.6 kW (3 plugs)
First 4 hours free, then $3/hour
Free, pull-in parking
Open 24/7
Activities to do: Lodging and dining nearby like at Red Truck with a patio for outdoor dining
Northstar Lodge: 970 Northstar Drive
J-1772 (2 plugs)
Free to use; lodge guests only
Located in Northstar Lodge's garage
Wall outlets throughout garage, NEMA 14-50 (32A)
Free parking
2 40A L2s
Northstar Premium Parking: 1905 North Village Drive
J-1772, EV range (6 plugs)
Payment required: $1.38 cents/kW + overstay fee
Free, pull-in parking
Open 24/7
Restrooms
Wi-Fi
Activities to Do: Lodging, dining, shopping, and skiing
Recharge your own batteries while your ride does the same. The Truckee area of North Lake Tahoe is undoubtedly a magical mountain town. Operating as the central gateway to the North Shore, check out Donner Summit for rock climbing, any one of its many ski resorts or, for the adventurous, the Pacific Crest Trail. No matter the season you visit, you can't go wrong with its plentiful shopping, dining and entertainment venues.
Northstar is located in Truckee and truly an environment like no other. Refuel your own juices with some fine dining, soak in a breathtaking sunset or some classic skiing. Northstar California also has a village with 35 unique shops and restaurants, a conference center, 9,000 square-foot skating rink and much, much more.
The Ritz-Carlton Lake Tahoe is the only AAA five-diamond mountain resort in Northern California and features legendary skiing, hiking, golfing, fine dining and an indulgent spa. Safe to say there's plenty to do while your car's plugged in.
EV STATIONS IN KINGS BEACH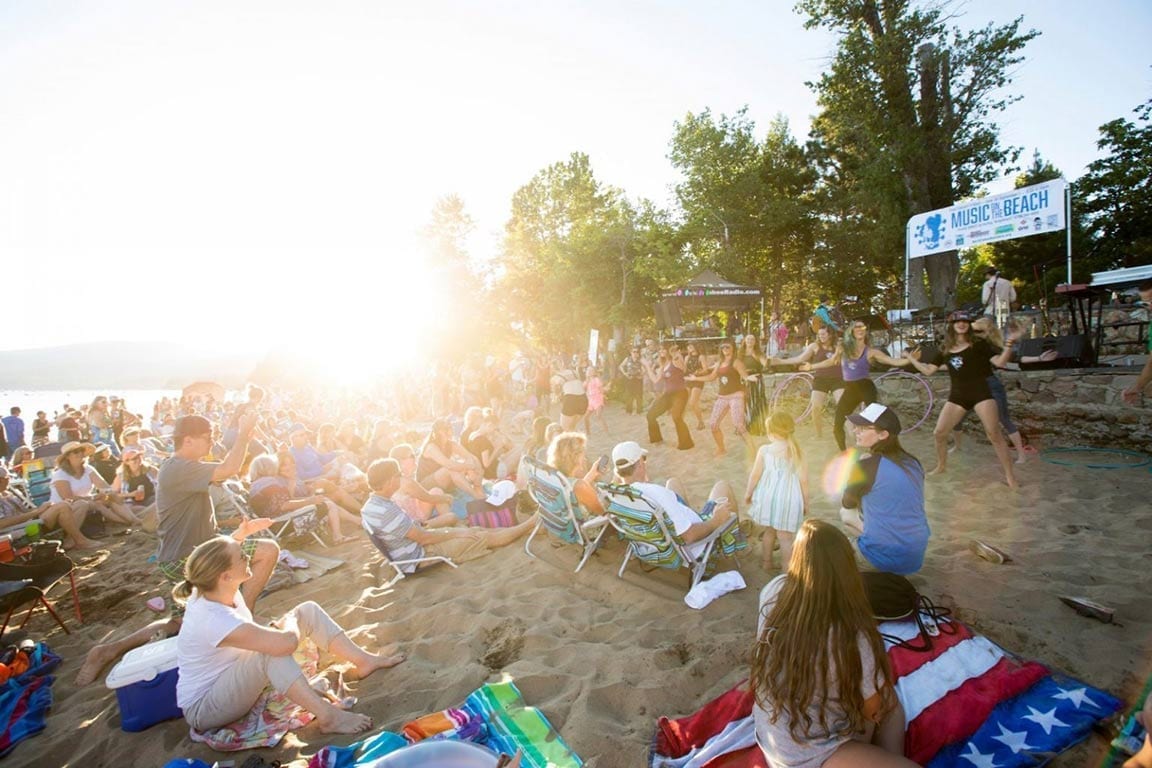 Kings Beach State Recreation Area: 8446 North Lake Boulevard
Wall charger, 1 plug
Shore power 50A 125/250V on flagpole
Bring charge cord and correct adapter
Payment required
$10 to park
Restrooms and park nearby
Located across the street from the King Building, next to Plumas Bank
This is the perfect charging spot for your beach stop. When you think of laid-back, mellow beach towns, think of Kings Beach. Packed with old hotels, boutiques and plenty of restaurants, Kings Beach is perfect for your stay. Rent kayaks, paddleboards or check out any of the fun events going on, like live music on the beach during the summer.
EV STATIONS IN TAHOE VISTA
Tahoe Vistana Inn: 6549 North Lake Boulevard
Open and free for inn guests only
NEMA 14-50 (1 plug)
Free parking
Open 24/7
Plenty nearby: restrooms, dining, shopping, park
Cedar Glen Lodge: 6589 North Lake Boulevard
Open and free for lodge guests only
1 Tesla station, 1 universal charging station
Open 24/7
Liberty Utilities: 701 National Avenue
J-1772
ChargePoint, 6.6 kW (2 ports total)
Free to use
Free, pull-in parking
Currently offline due to construction, check before visiting
Tahoe Vista is the epitome of lodging. Snuggled right against the lakeshore, you'll find the best spot to lay your head while your car rests up, too — whether it's a cozy cabin for two or a high-end spot for your crew. Visiting in the spring or summer? Kayak to one of its many hidden beaches, take mountain biking for a spin or revisit the good 'ole days on a sweet swing set. Also perfect for winter trips, Tahoe Vista offers snowshoeing and cross-country skiing.
EV STATIONS IN OLYMPIC VALLEY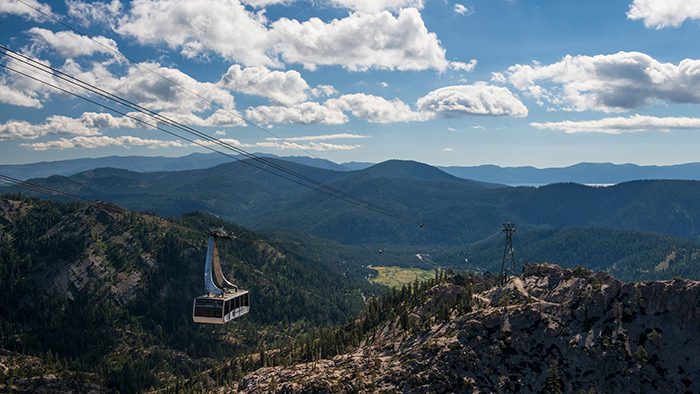 Olympic Valley Far East Center: 1960 Olympic Valley Road
J-1772
4 L2s (30A, J-1772)
Free to use, free to park
Open 24/7
Plenty nearby: Lodging, dining, restrooms (on opposite side of building), shopping, Wi-Fi
Palisades Tahoe: 1960 Olympic Valley Road
J-1772, Tesla (5 plugs up to 16kW)
J-1772
Available for guests and patrons only
$80 for valet parking
Open 24/7
Designated a California Historical Landmark and named a Pioneer Ski Area of America, Palisades Tahoe is an ideal winter season destination. There's also plenty of beautiful spots to catch a summer sunset from one of the region's 4-star hotels, lofty condos or cabins. For those charging their wheels during the colder months, we recommend you explore the majestic 3,600 acres of skiing across the six peaks.
EV STATIONS IN TAHOE CITY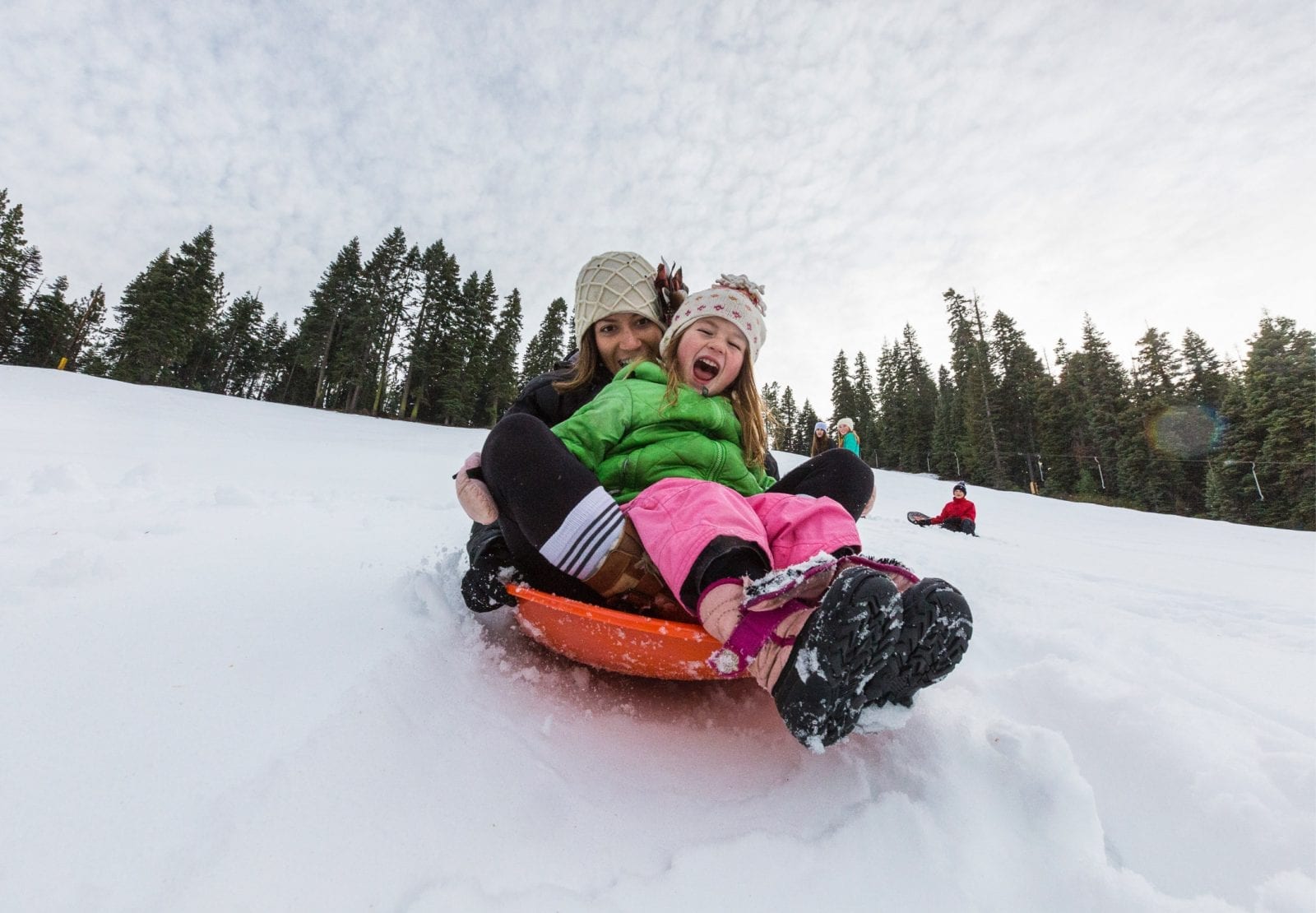 Granlibakken Tahoe – Executive Lodge / Treetop Adventure Park: 725 Granlibakken Road
J-1772, Enel X (2 plugs)
Payment required
Free, pull-in parking
Handicap parking and wheelchair accessible
Parking level on the ground
Open 24/7
Plenty nearby: Dining, restrooms, Wi-Fi, ziplining and hiking
Cocoran Global Living: 319 West Lake Boulevard
Teslas only (2 80A stations)
13 kW
Free parking
Open 24/7
Tahoe City Public Utility District: 221 Fairway Drive
J-1772 (1 plug)
Free parking
Open 24/7
Tahoe City Supercharger: 100 North Lake Boulevard
Teslas only
Supercharger, 150 kW (6 plugs)
Payment required
Free parking
Open 24/7
Dining, restrooms (at North Lake Tahoe Visitor Center), shopping, grocery all nearby
SaveMart: 100 River Road
CHAdeMO, CCS/SAE
EVgo, 50 kW
Payment required – variable pricing
Free, pull-in parking
Open 24/7
Year-round play awaits each and every Tahoe City visitor. While the car's enjoying some juice, you can also enjoy an evening stroll with your sweetheart through town on the lakeview boardwalk. Don't miss out on the town's historic sites and museums, plus Commons Beach for a lovely summer movie night.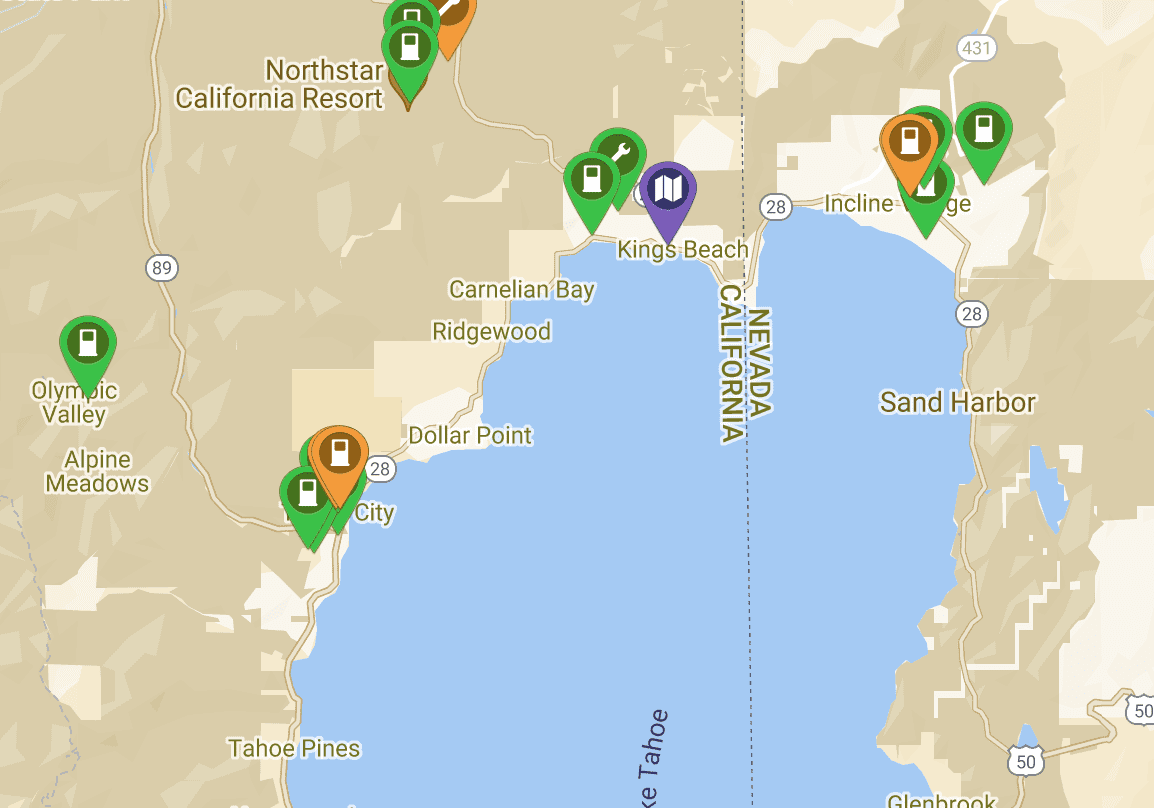 To find an EV charging station wherever you are, check out PlugShare.
Visiting North Lake Tahoe without your own ride? TART Connect is a wonderful way to get around the area, too. The service runs year-round, but operating hours depend on the season.
Of course, there's plenty more to the region than EV charging stations. Since you're already helping out the environment by lowering emissions, take our Traveler Responsibility Pledge—it's up to us to preserve these beautiful waters, mountains and roads we call home. Check out your next home-away-from-home and find better rates and more open space when visiting during the week.
Happy charging!
(function(u, w, d, a, q, e) {
if (w.amptravel) return;
q = [];
a = w.amptravel = function(a, p) {
w.amptravel.q.push({ a:a, p:p });
};
a.q = q;
a.v = "2";
e = d.createElement("script");
e.setAttribute("src", u + "/v" + a.v + "/js");
d.head.appendChild(e);
})(
"https://g.amp.travel",
window,
document
);