West Lake Tahoe Bike Path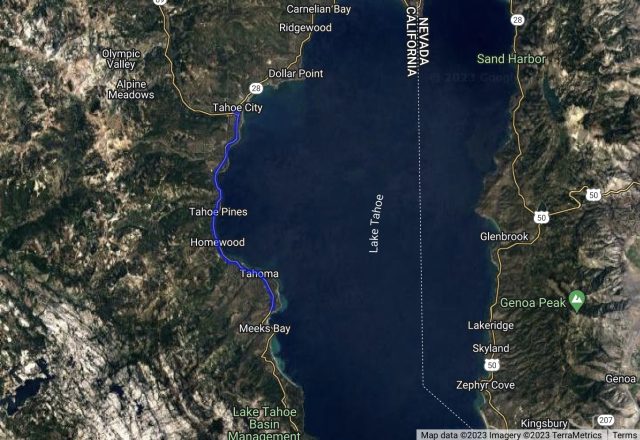 A narrow undulating bike path with many users and cross streets – caution is needed. There are many places to connect to the ride of various lengths.
Trailhead:
There are many locations to access this ride.
GPS: 39.164629, -120.147293 (Transit Center, Tahoe City)
GPS: GPS: 39.049628, -120.118148 (Sugar Pine State Park)
The Bike Ride:
West Lake Tahoe Bike Path: You can cruise nearly half the distance from North to South Tahoe on this ride – beginning in Tahoe City and ending at Sugar Pine State Park. Plans are in the works to continue the path to Meeks Bay. The ride uses a combination of bike paths and neighborhood streets passing through the communities of: Tahoe City, Tahoe Tavern, Sunnyside, Pineland, Timberland, Tahoe Pines, Homewood, Chambers Lodge, Tahoma, and Sugar Pine Point State Park. Along the way, there are many places to eat, rent watercraft and bicycles, camp, and just relax by the water's edge.
Caution is needed for oncoming vehicular traffic when crossing Hwy 89. Along the ride there are five locations in which you must cross Hwy 89. Please walk your bike when crossing Hwy 89 due to often high speed traffic.
Historical:
Hellman Ehrman Manson, Sugar Pine Point State Park. This is one of grandest Old Tahoe mansions in existence today. The 11,700 square foot summer home, called Pine Lodge, was built by San Francisco banker Isaias W. Hellmen and designed by Walker D. Bliss. It's located on a bluff overlooking the Lake. It was completed in 1903 and is one of the finest examples of Tahoe elegance at the turn of the century.