Kings Beach is a favorite amongst those looking for lakeside fun this summer! Image credit: Augustine Agency
North Lake Tahoe has over a dozen sandy beaches. From dog beaches to family beaches, hike-in beaches and secret beaches, the only question is: "Where to go?!" Take a spin on a standup paddleboard, or cruise the crystalline waters on a clear-bottom kayak. Whether you're by yourself or with a crew, there's a beach for everyone.
Let's take a trip around the lake to find your new favorite spot. Who's ready for a beachin' summer?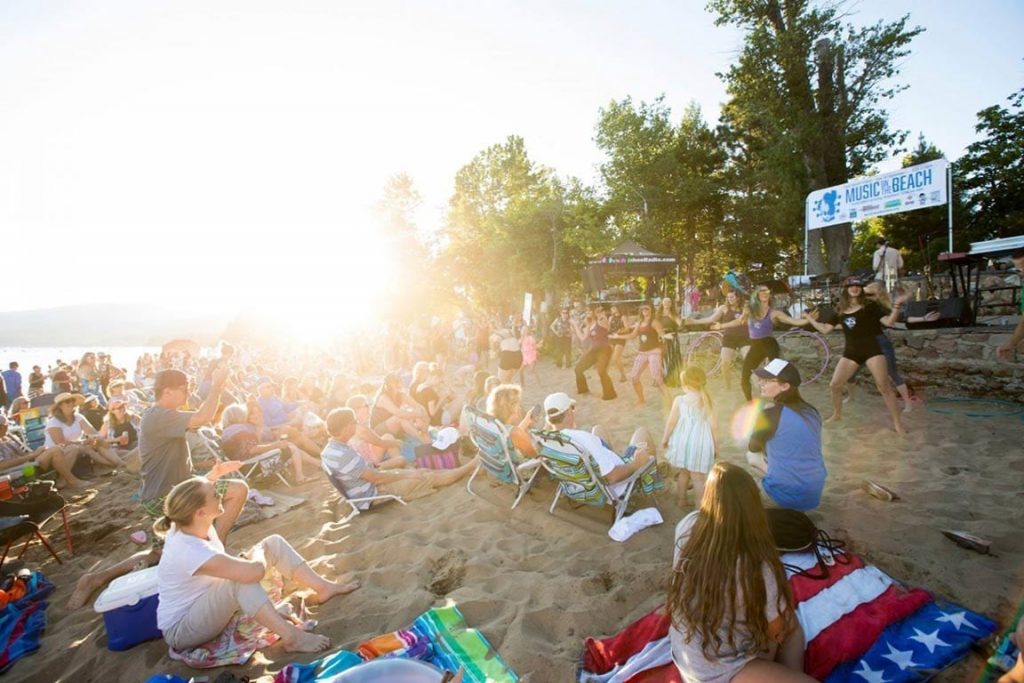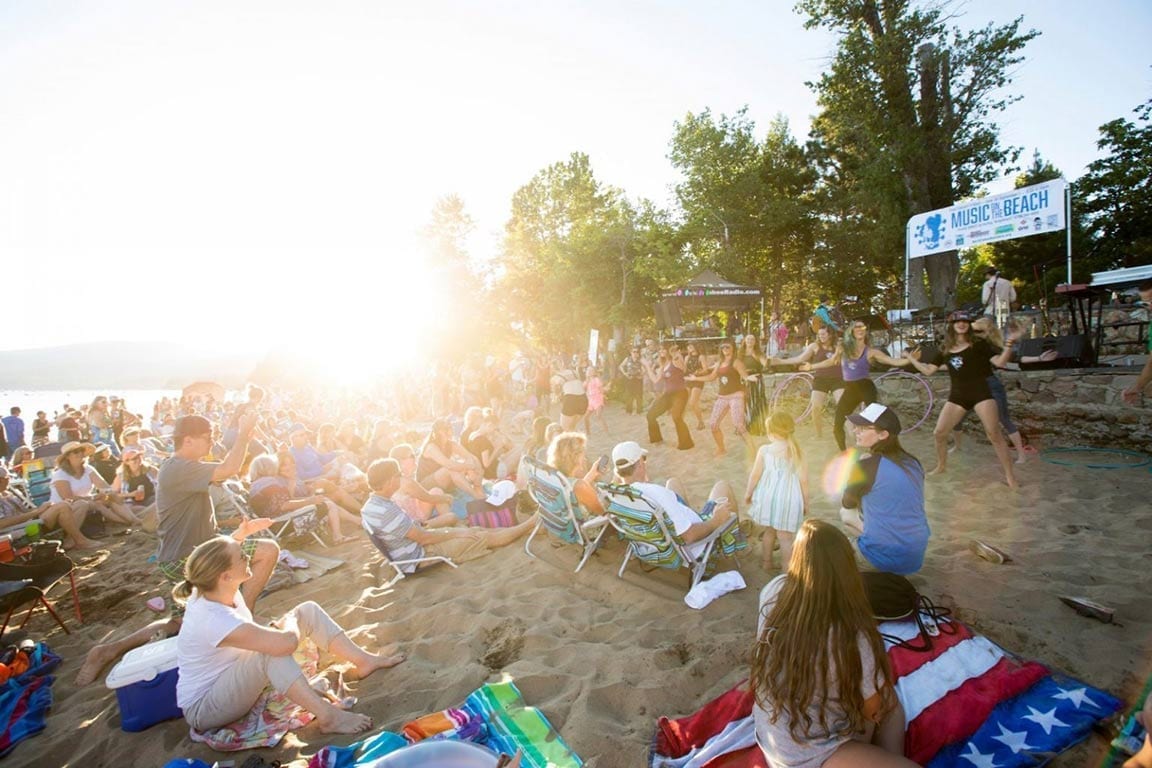 Concerts at Commons Beach are a great family-friendly way to spend time together at the beach. Image credit: Ryan Salm Photography
For the Whole Family
Summers are for families North Lake Tahoe, and we've got just what you need for the kiddos! Coordinating a beach day for the whole family is never easy, but we're here to give you the inside scoop on family-friendly beaches.
Sand Harbor is hands-down one of the best spots to post-up with the fam. (Insider tip: This beach fills up fast! Arrive when the gates open at 8 a.m. to reserve some lakeside real estate.) Sand Harbor's iconic boulders are great for climbing and craw-dad fishing! By evening, Sand Harbor is host of the annual Summer Shakespeare Festival, where guests can enjoy wine and cheese boards in a stunning outdoor amphitheater.  
Kings Beach State Recreation Area is another popular spot for kids, with slides, a jungle gym and public bathrooms. As one of the largest beaches in North Lake Tahoe, the shoreline is shallow and gradual, making it slightly warmer than most, and safe for new swimmers! 
When it comes to entertaining the kids on summer break, it's hard to beat a volleyball court with a view. This is why we love North Tahoe Beach for its family-friendly atmosphere and large shaded area.
Commons Beach says it in the name. It's for everyone! Just across the street from downtown Tahoe City, this 4-acre beach has a playground, picnic benches and grassy area. It's also one of several venues for North Lake Tahoe's Summerlong Music! After your day in the sun, enjoy weekly live music from an outdoor stage. (Insider tip: Don't let the sunburn fool you. Your skin may be hot, but the weather gets chilly at night. Bring sweatshirts!)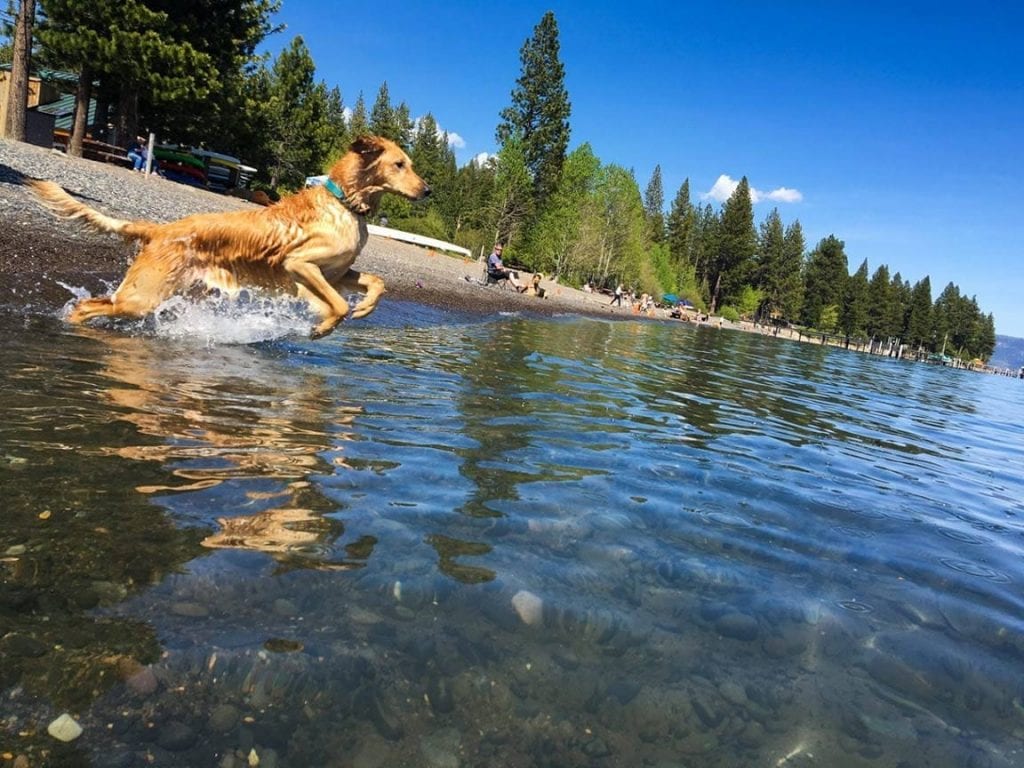 A day at the beach isn't just for humans. We've got several dog-friendly beaches for your pup like at Waterman's Landing! Image credit: Jen Schmidt Photography
For You and Your Furry Friend
The dog days of summer aren't complete without a trip to the beach with your fur-baby. North Lake Tahoe is home to a few dog-friendly beaches, so both you and your dog can have the best summer ever!
At the Coon Street Picnic Area and Beach, dogs are allowed to jump into the water and play fetch along the beach and nearby wooded area. (Insider tip: Beware of the rocky area when you and your pup are playing to avoid an injury) 
Secret Harbor and Chambers Landing Beach both make for a fun playdate with your pup. Just be sure to bring a doggy bag and a leash, and you and your dog can enjoy a long romantic walk on the beach!
(Insider tip: We know you love fluffy, but some people are cat lovers. Please be respectful of those around you, and follow signs indicating where dogs are allowed.)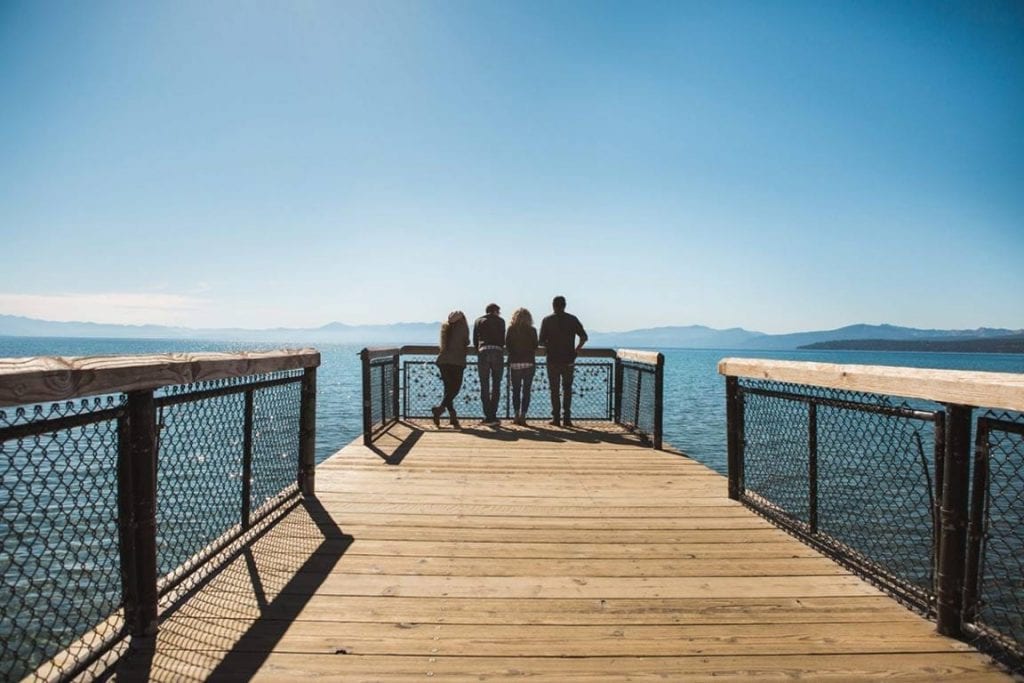 As the weather heats up, it's important to take time to chill with some of the most relaxing beaches around Lake Tahoe, like hanging out at the pier at Kings Beach. Image credit: Augustine Agency
For Taking it Easy
Not the rock-jumping type? Destress and recenter at one of our tranquil, quiet beaches. Maybe your perfect beach day involves bronze tanner and a juicy read, or maybe a peaceful float on your new blow-up flamingo. 
For tucked away nooks, Secret Cove and Hidden Beach didn't earn their discreet names for nothing. These boutique beaches may require a short hike, but offer a serene day to yourself. (Insider Tip: Secret Cove is well-known for visitors that like to "bare it all," so be warned!) 
For Caribbean white sand and a tropical vibe, Moon Dunes Beach, is the place to bring your favorite big-rimmed hat. And though it is a fairly popular beach, the beautiful scenery, cleanliness and easy access to Meeks Bay Beach is the perfect recipe for a lakeside getaway.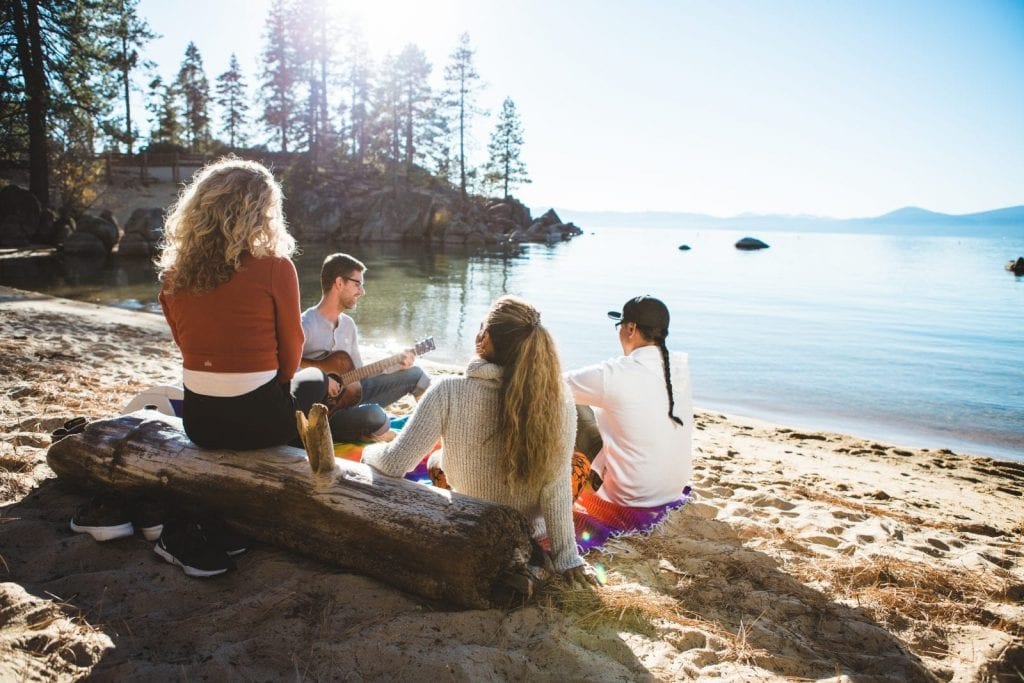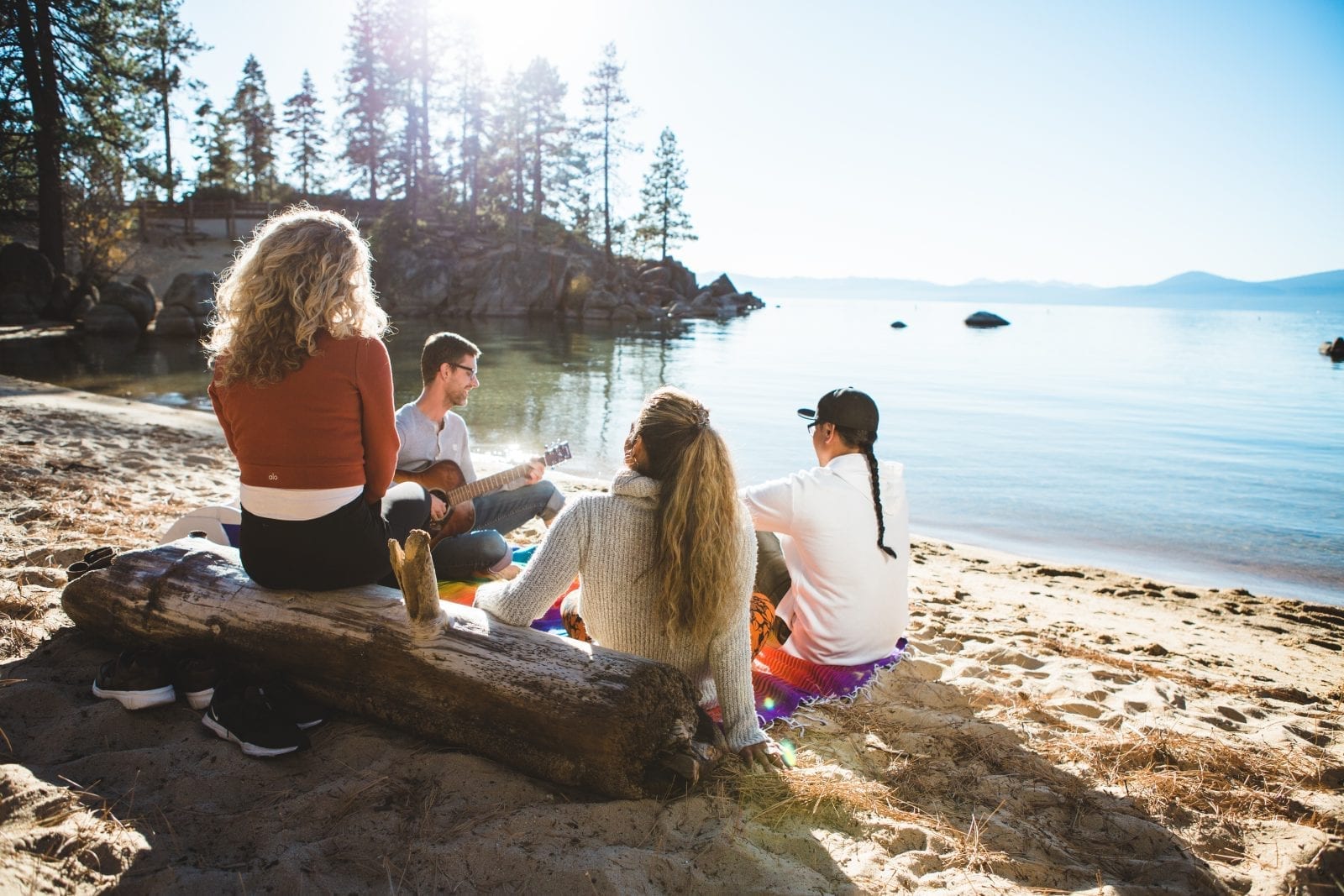 Get-togethers have never been so beautiful than with a picnic at Sand Harbor. Image credit: Augustine Agency
For a Nice Day for a Picnic
Pack the cooler and bring your appetite, because several beaches are ideal for a picnic. 
64 Acres Beach is a popular and scenic that includes picnic tables and barbecues for lunch on the lake, along with a paved walkway for hiking and biking. 
For a little bit of nature in the middle of town, you can't beat picnics at Secline Beach, complete with lots of shade for staying cool on warm days. And situated in a wooded setting, William Kent Shoreline Beach offers picnic tables and grills, with stunning views of the eastern shoreline for a little bit of eye candy. 
(Insider tip: Minimize plastic baggies, paper and packaging. Opt for a sustainable summer to Keep Tahoe Blue and preserve this unique destination for future generations. Please pick up all of your garbage and dispose of it properly!)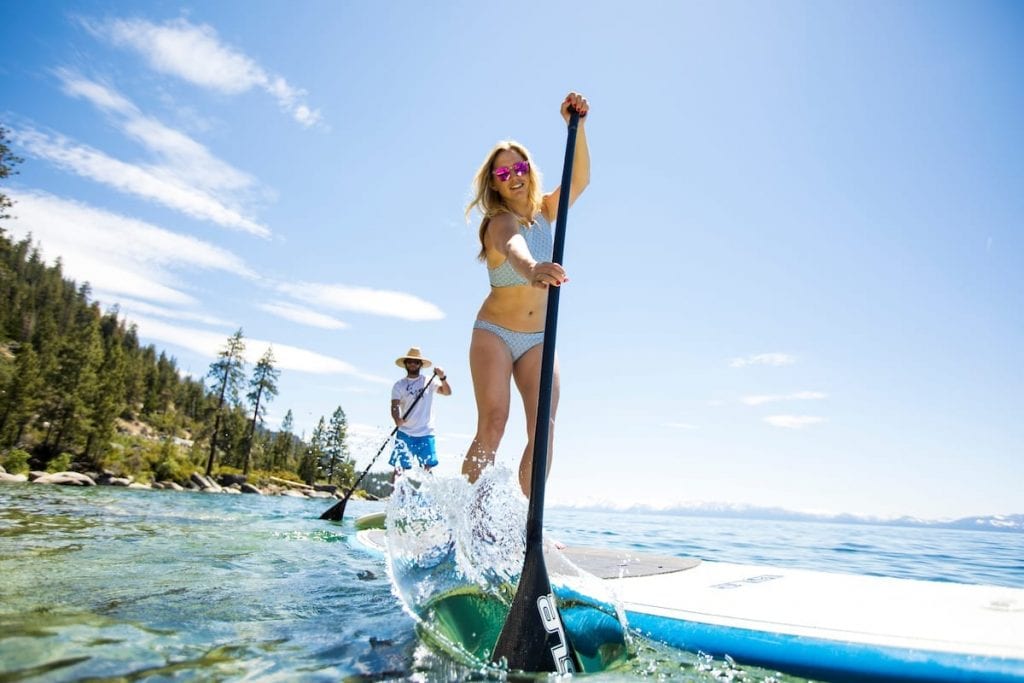 On land or lake, the beach is the place to be for summertime sports. Image credit: Ryan Salm Photography
For Working Up a Sweat
Looking for a heart-pump? Many of North Lake Tahoe's best beaches can only be found at the end of an epic hike. Skunk Harbor, Sugar Pine Point State Park, and Skylandia State Park and Beach all feature trails for hiking and biking, and will reward those who venture forth with a beautiful beach to rest and catch your breath. (Insider Tip: Bring extra water! The heat and high elevation takes a toll, especially when hiking!)
The brand new East Shore Trail now makes it easier than ever to hike and bike along the lake, heading from one beach to the next! This 3-mile long path between Incline Village and Sand Harbor State Park is open to non-motorized bicycles and foot traffic, so you can keep the party going from beach to beach.
For lakefront sporting, there's plenty of beaches that make for the perfect spot to launch your kayak or paddleboard. Patton Landing and Speedboat Beach are both great for this! Wherever you go, make sure to adhere to all boating and recreation notices before you head out!