In many ways, North Lake Tahoe is the perfect training ground. With its high elevation, varied terrain and endless opportunity for human-powered sports, athletes of every fitness level can improve their overall physical fitness at the heart of the Sierra.
For triathletes and obstacle racers—especially those participating in the Spartan Race World Championship Weekend, taking place September 28 through the 29—North Lake Tahoe provides no shortage of opportunities for the immersive, full-body training you'll need to compete. Access to open-water swim, rigorous trails, plus an array of both indoor and outdoor recreational facilities provide the perfect simulation for Spartan and races like it.
So whether you're arriving a week ahead of the Spartan Race World Championships to acclimatize, or hoping to stay in top shape as you visit the region, we've rounded up the seven best high-altitude training opportunities in North Lake Tahoe.
Focus on Fitness Fundamentals Along the Incline Fitness Trail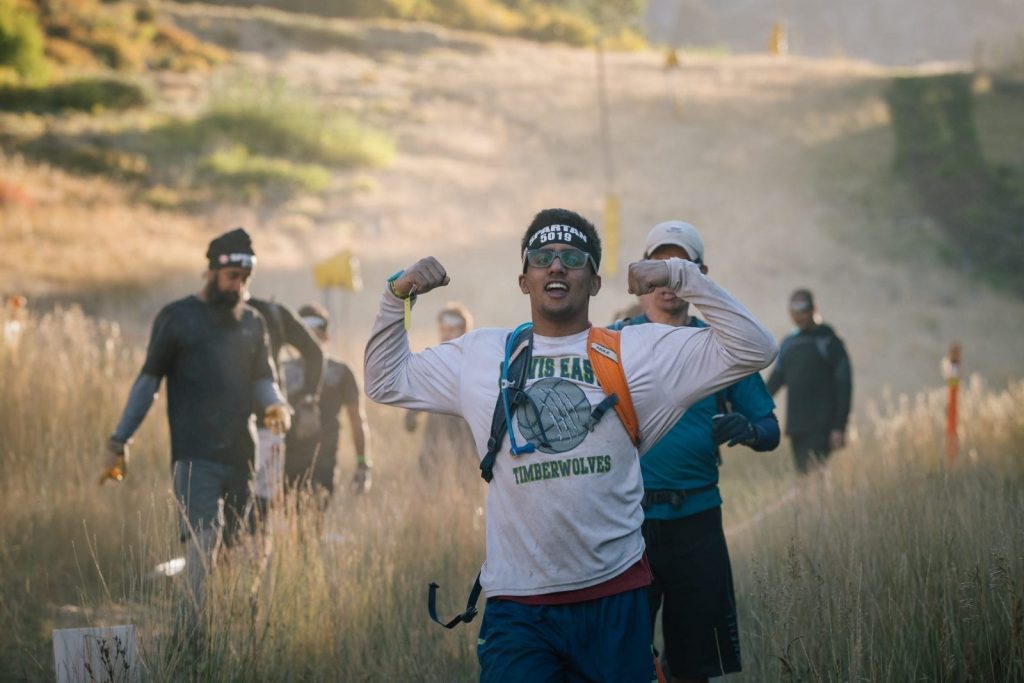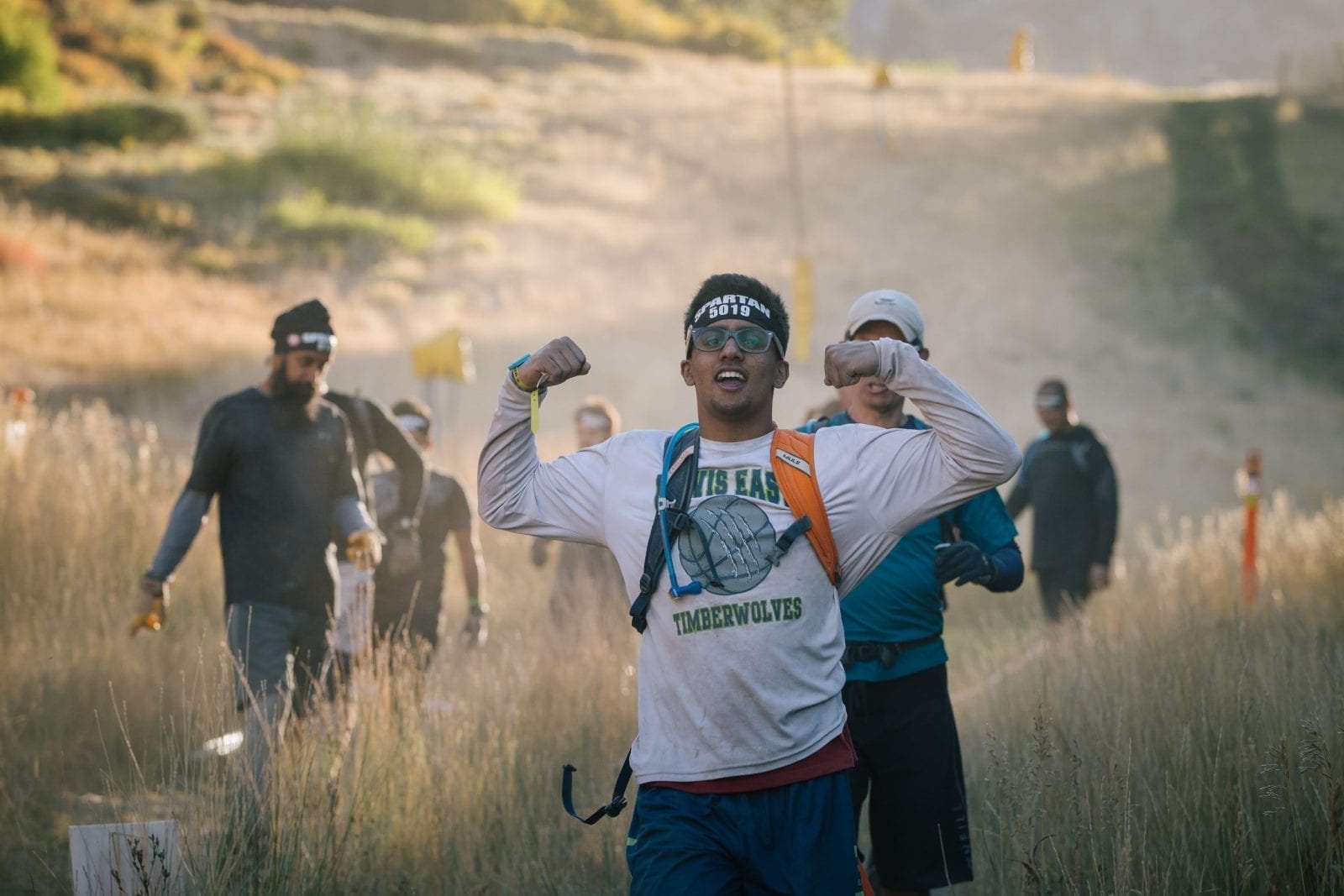 In North Lake Tahoe, it isn't hard to cover all of your fitness bases. You'll have to if you want to be competitive in the various mud runs and other physical challenges hosted in the region.
Fitness begins with the fundamentals: aerobic endurance, muscular strength, muscular endurance, flexibility and body composition. Each of these fundamentals come together to form a person's overall fitness level, and at the Spartan Races, you'll need to be at your best across each of these dimensions to keep pace.
The Incline Village Fitness Trail, located by Incline Creek, is an 18-station exercise course that runs for eight-tenths of a mile and contains walking, running, snowshoeing and cycling trails. Each station holds instructions and outdoor fitness equipment that will help you break up your trail run, combining resistance and grip-strength training exercises for an interval workout you won't find anywhere else in the world.
Swing from One Treetop to the Next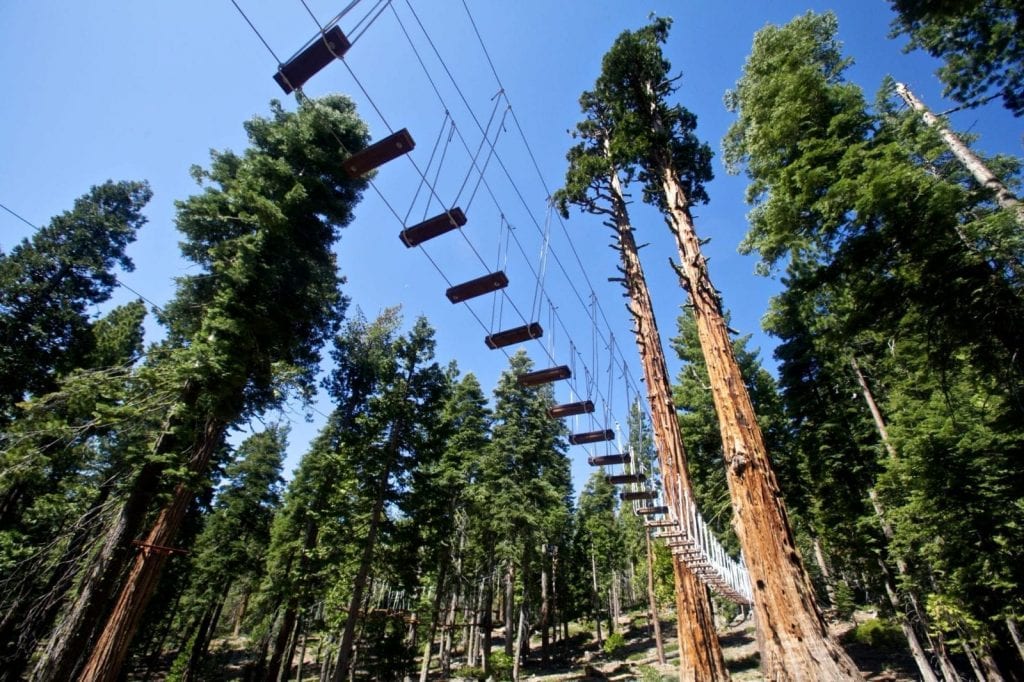 Tahoe offers unique fitness and adventure opportunities. Where else can you swing from one tree to the next? Photo courtesy of Granlibakken Tahoe.
The Spartan Race World Championship course at Squaw Valley is considered one of the world's most challenging obstacle courses. That means athletes will be partaking in lots of hanging, climbing, swinging, jumping and sticking high-impact landings. While you could technically train for these sorts of things by swinging from tree to tree, local athlete Miles Heapes of Alpenglow Sports recommends checking out the Treetop Adventure Parks at Granlibakken, Tahoe Vista and Squaw Valley.
Treetop Adventure Park offers three different aerial adventure experiences that let trainees navigate from one treetop platform to the next using bridges, vertical climbs, wobbly bridges, monkey bars and the occasional zipline. All of this adds up to an aerobic and anaerobic experience that will improve grip strength and prepare high-altitude trainees for much of what they can expect at Spartan.
Dive Into Crystal Waters Like a True Triathlete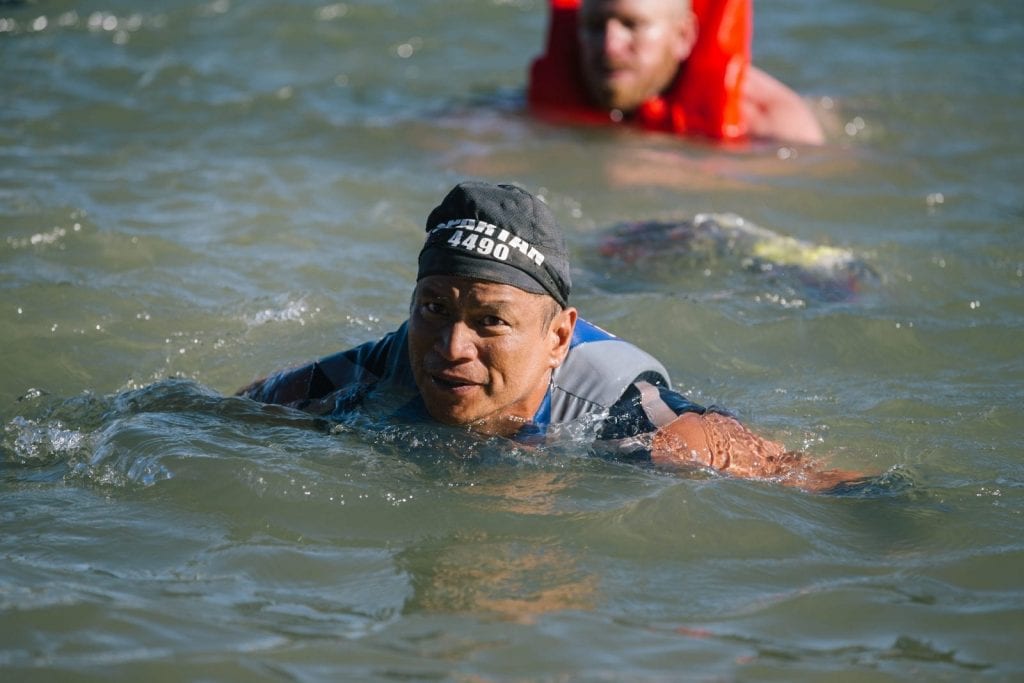 It's going to take swimming prowess to truly make a splash in the Spartan Championship rankings. Luckily, North Lake Tahoe gives you plenty of room to practice, since it is North America's largest alpine lake. 
Swimming is a common component of triathlons and rigorous obstacle courses. Besides that, swimming makes for excellent low-impact, full-body exercise that will work out all of the major muscles while minimizing potential damage to the joints.
While indoor swim may provide an adequate training experience for most, we recommend that Spartan racers consider swimming outdoors for maximum authenticity. Many of Tahoe's beaches offer opportunities for outdoor swimming, but we recommend taking a dive into Lake Forest Beach. Especially ambitious swimmers can make the underwater trek from here to Dollar Point, but as always we recommend swimming smart by sticking close to a friend in a kayak or SUP, staying out of motorized watercraft zones, observing water temperatures, and never swimming alone.
Tackle Tahoe's Tough Terrain First-Hand With a Trail Run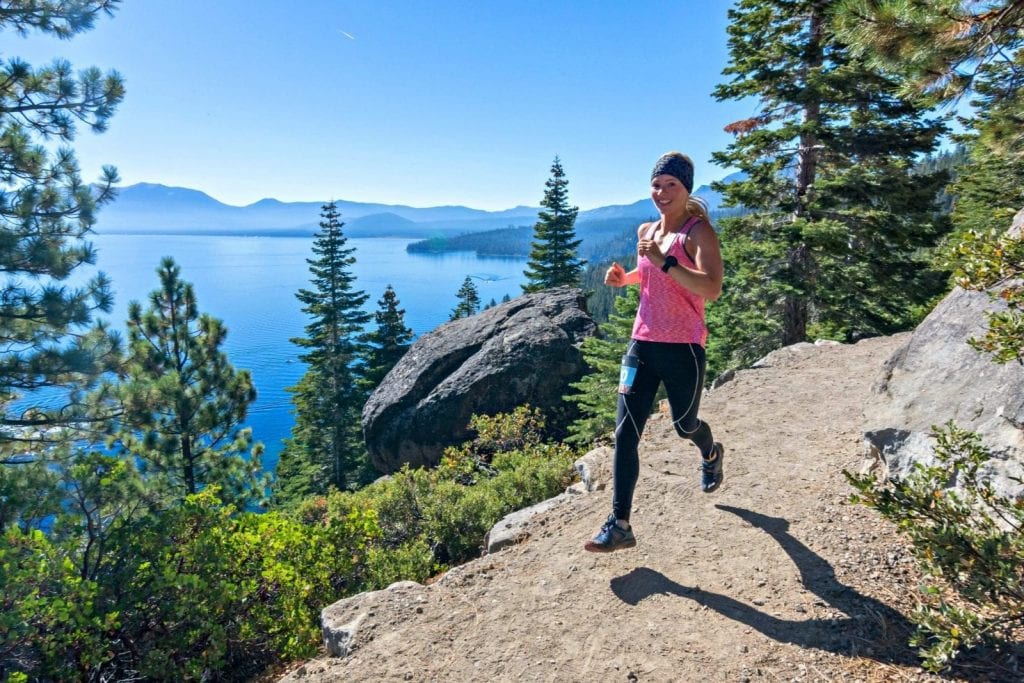 North Lake Tahoe's varying terrain makes for the perfect training ground to build up your endurance and ensure you're in peak condition year-round. Photo courtesy of Lefrak Photography.
Outdoor obstacle runs like the Spartan Race Championship Weekend are rigorous trail runs with tough terrain, gains and losses in elevations, and more than a few miles from start to end. It's important that trainees get a real feel for what this experience will be like before race day, so we recommend embarking on a test run on one of Squaw Valley's tougher trails.
We recommend running the Thunder Mountain Trail, over which you'll hike 3.2 miles and experience 2000 foot elevation gains and losses. Besides the trail's toughness, you'll enjoy incredible views of Squaw Valley from the Village base to High Camp. A fun bonus? Hiking Squaw will prepare you for more than one race—since the Broken Arrow Skyrace, Squaw Mountain Run, and Western States 100 Mile Endurance Run take place here as well.
While you're at it, don't forget to check out other trail running spots with epic lake views, including Rubicon Trail from Emerald Bay to D.L. Bliss State Park, Tahoe Rim Trail, and Burton Creek State Park.
Take on Tahoe's Vistas and Mountain Bike the East and West Shores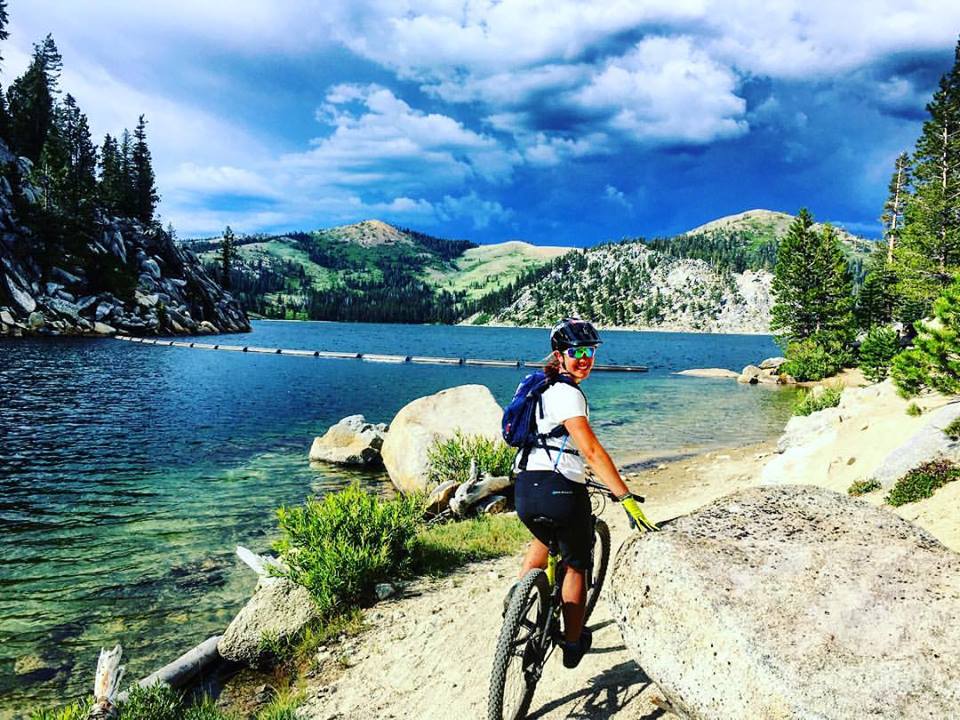 Spartans aren't the only athletes who train in North Lake Tahoe. Pictured above is Olympian hopeful and Local Luminary Lila Lapanja, who calls North Lake Tahoe her home—and training ground. Photo courtesy of Lila Lapanja.
The benefits of cycling are plenty. Elevated mood, increased cardiovascular fitness, better joint mobility, and strengthened bones are just some of the improvements Spartans can derive from getting on the saddle and hitting the road.
On the east shore, trainees can rent a mountain bike and zip along the Flume Trail Mountain Bike Ride, which is a moderately difficult one way trip of about 14 miles at 7000 to 8100 feet and 1000 of climbing. Cyclists along this route will be challenged by a steep climb and rewarded with one of the most incredible vista views in the region.
On the west shore, you can take the Stanford Rock Loop. This expansive, sometimes punishing mountain ride will give you the workout of a lifetime, filled with intense technical descents, sparkling lake views and plenty of forest shade.
Rip the Road and Cycle from Blackwood Canyon to Barker Pass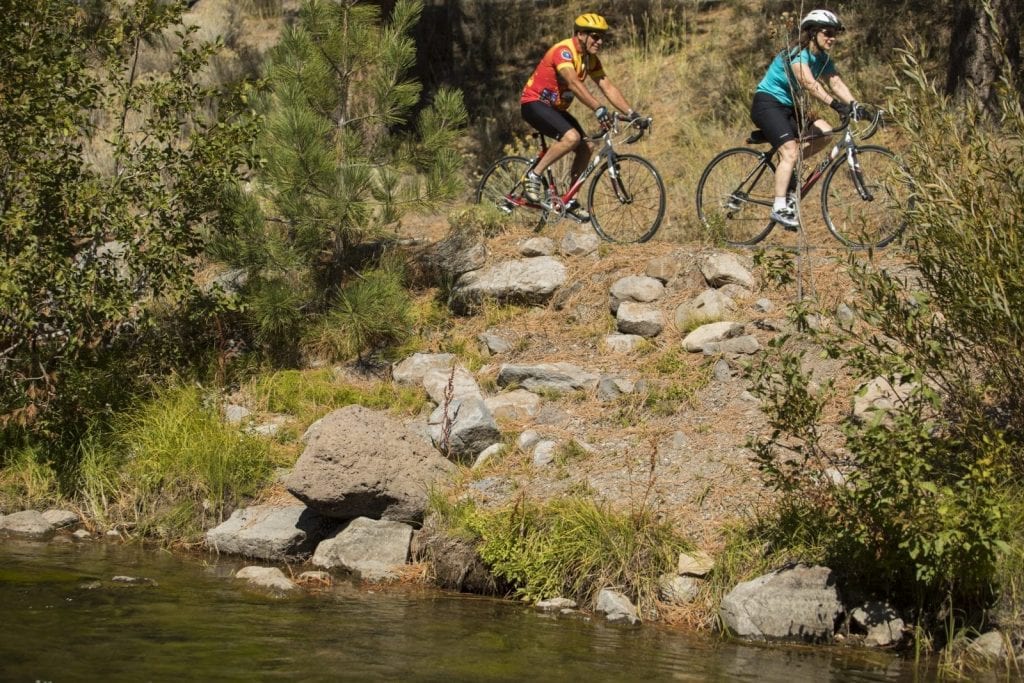 Tahoe's varying elevations and terrain make for the perfect bicycle training sequence. Photo courtesy of Ryan Salm Photography.
For trainees who want to enjoy the benefits of cycling without navigating rough mountainous terrain, the Blackwood Canyon to Barker Pass offers a seven-mile ride across a varying landscape that includes stony creeks, hanging trees and a ride that graduates slowly in its rigor.
For the first few miles, this particular trail is gentle enough to give you a low-impact but aerobically satisfying workout. Around mile five, the road gets steeper, leading to a rougher ride that will get your muscles pumping and your heart racing. At trail's end, you'll have to stow the bike and hike the rest of the way, giving you the variant trail running experience obstacle racers should prepare with.
Don't Be Afraid to Mix It Up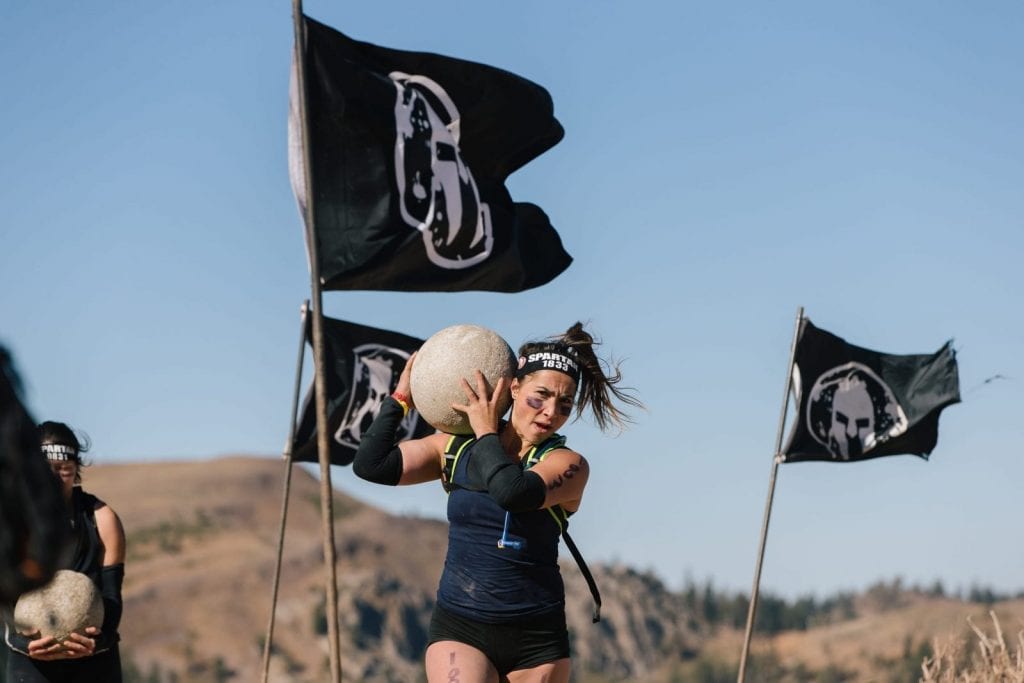 North Lake Tahoe offers endless opportunities to engage in human-powered sports. That means great body-wide conditioning, which you'll need for races like the Spartan.
An obstacle race combines pretty much all sports, or at least all muscles. So one of the best ways to train is to mix a few sports together, which will not only give you a great workout but multiple ways to experience the high Sierras.
We asked Bryan Rickards, Director of Operations of Big Blue Adventure, Lake Tahoe's preeminent triathlon and race host how he prepares for the big day. One of his favorites is a mix of paddling, running and biking. He recommends a paddle or swim from Lake Forest Beach to Commons Beach, followed road cycling from Tahoe City to Squaw Valley. After that, he likes running along Squaw's Western States road, then cycling back to Commons Beach for a celebratory dip in the water. For an extra kick and to feel the burn of Spartan day, he suggests you add 30 Spartan Burpees to each leg of the journey. No sweat… right?
Feeling inspired? Share this list with your fellow trainees so you can team up and take on Tahoe's tough terrain ahead of this September's World Championship Races with the links below.