Each August, Burning Man transports attendees to an experience unlike anything else in the world—and oftentimes upon returning, people feel they need to "decompress" and re-acclimate to the "real world".
Only four hours away from Black Rock City, there's a mountain paradise that's perfect for just that: North Lake Tahoe. Here, you'll find epic beauty, spirited locals, and everything you'll need to renew yourself after a week on the playa. Here are some ways to do just that.
Connect with Nature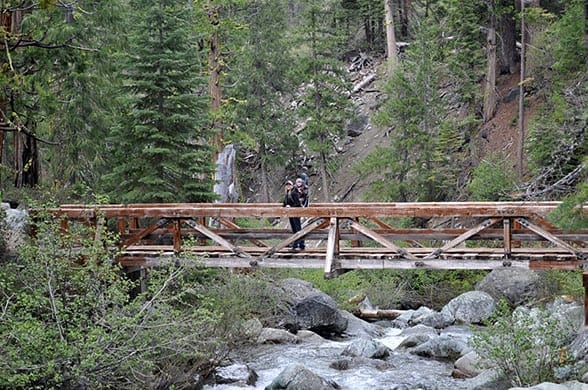 Find yourself surrounded by lush greenery and texturally rich landscapes as you explore Tahoe's trails on foot, bicycle—or take to the lake by kayak or paddleboard. Photo courtesy of Nadia Guerriero.
Having spent several sunny days and starry nights on the playa, you might want to spend a little bit more time communing with nature. In our mountain paradise, which is home to the largest alpine lake in North America, there are all sorts of ways to do that. Find peace of mind and admire the beauty of the region with a leisurely hike along the region's many trails; feel the breeze as you zip down Tahoe's unique terrain on a mountain bike; or experience the serenity of the "blue mind" phenomenon as you zen out on a stand-up paddleboard.
Connect with Yourself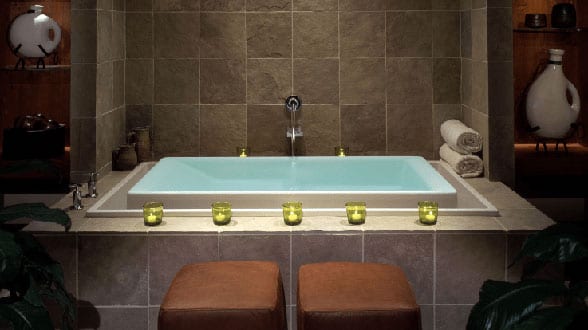 North Lake Tahoe is home to a number of spas as well as various other health, beauty and wellness activities to keep you feeling your very best in body, mind and spirit. Photo courtesy of The Stillwater Spa at The Hyatt Regency Lake Tahoe Resort.
After a week of activity in the desert, you may be on the hunt for some quality "me time"—with plenty of rest and relaxation on the agenda. If so, consider visiting North Lake Tahoe's various spas, like the Stillwater Spa & Salon at the Hyatt Regency Lake Tahoe Resort (where you can also rest your head) or The Lighthouse at Granlibakken.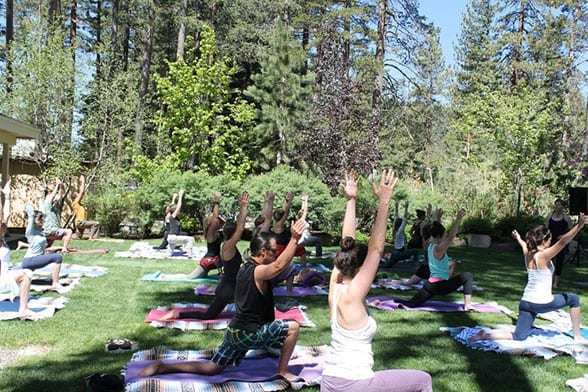 Yoga represents an excellent opportunity for "active rest", and there are plenty of studios where you can find just that. Photo courtesy of Tahoe Flow Arts Studio.
If you prefer a more active form of centering yourself, North Lake Tahoe is home to a number of yoga and flow arts studios. Here, you can find a sense of balance and ground yourself in one of the most beautiful environments in the world. And, of course, if you'd rather just relax and take in the scenery, there are plenty of breathtaking spots, both mountainside and lakeside, to be found throughout the region.
Connect with Culture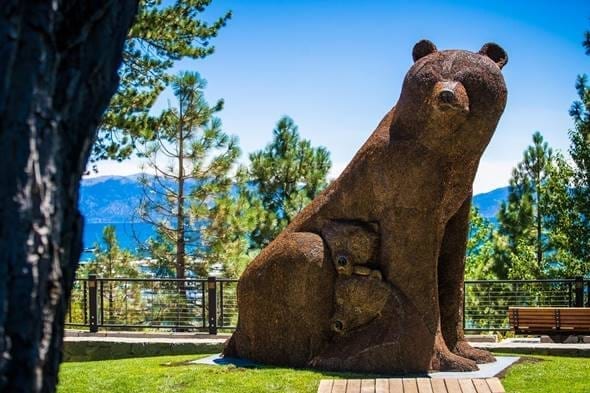 Ursa Mater, also known as the Penny Bear, is just one of several installations you'll find as you stroll North Lake Tahoe's Public Art Trail.
Just like the playa, North Lake Tahoe is a welcoming and inclusive community made up of unique individuals, many of which are artists, writers, actors and culinarians. Take some time to soak in the personality of the region by patronizing its various cultural offerings.
For those who love live events, you'll find that as you return from the playa, you'll be back just in time to catch the final events of the region's Summerlong Music Series. Those in search of more visual inspiration will be thrilled by the cinematic, theatrical and other offerings at Tahoe City's Art Haus and Cinema—and are sure to get a kick out of public installations like the Ursa Mater "Penny Bear" sculpture along Tahoe's Public Art Trail.
Connect with History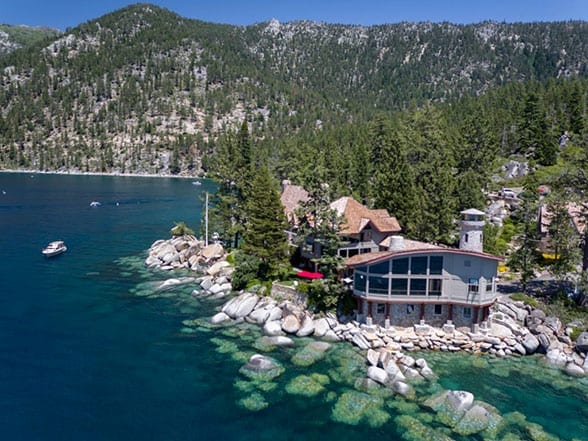 The breathtaking Thunderbird Lodge is one of many "living" artifacts of history to be found in Tahoe today.
As you navigate North Lake Tahoe's gorgeous peaks and valleys, don't miss out on the opportunity to enrich your mind with the region's rich history. Just beneath the surface of Tahoe's beauty, there lie a number of stories—and figures—that contribute to the character of the region, like the famed Thunderbird Lodge and countless other historical sites. Did you know that the 1960 Winter Olympic Games were held in Squaw Valley? There's even a whole museum dedicated to the occasion, putting the people of today into contact with the excitement of a bygone era.
However you choose to decompress, we welcome you to do it here in North Lake Tahoe. Why not book your stay today, and cool off after the annual burn.