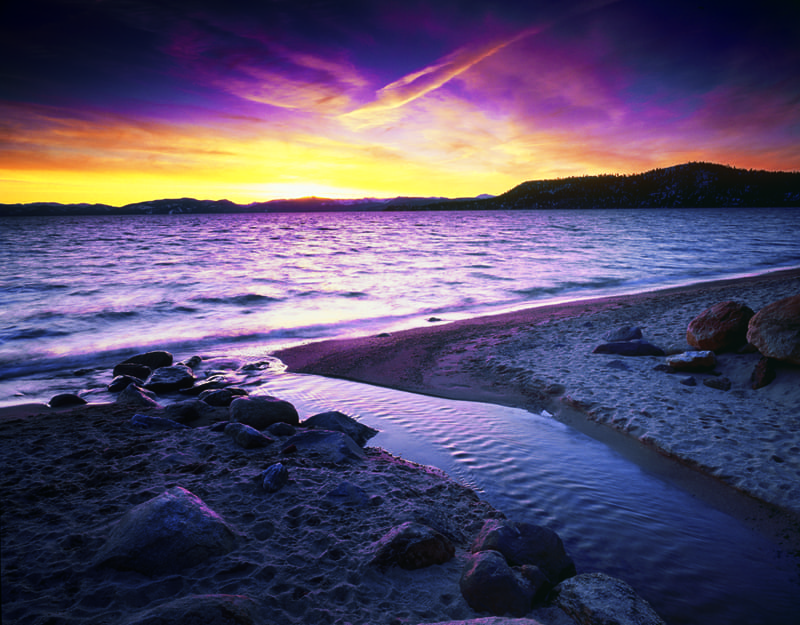 Travelers who seek out North Lake Tahoe during the autumn months come for adventure beyond the ordinary. They hang back to dive in the lake, still warm for water sports. They seek out brilliantly colored aspen groves that quietly chatter in hues of red and gold. And they set out on chilly mornings to summit mountains and survey the landscape below.
With typically mild temperatures, and thinning summer break visitors, North Lake Tahoe is the ideal escape during the fall for hiking, biking and lake life – some maybe even say the secret season.
Peep at Aspen Groves
These graceful trees are landmark residents in Tahoe, and can be spotted in bright groves around Emerald Bay, Marlette Lake, and Spooner Lake during the fall.
Nestled in the crook of Emerald Bay sits Vikingsholm, a castle that is renown for its Scandinavian architecture. This Tahoe icon can be reached by a moderate one mile hike from a trailhead off Highway 89. Along the way, hikers are rewarded with fall colors from aspens and a cottonwood, or two, framing the trail.
Opposite Tahoe, Marlette Lake and Spooner Lake also present brilliant peeping opportunities for travelers closer to the eastern side of the lake. Moderately difficult, adventurers seek out Marlette during the season for the opportunity to come across autumn colors in peaceful solitude. Alternatively, Spooner Lake offers some of the easiest access around the lake to leaf peeping – ideal for visitors with a busy agenda.
Tips:
Find a 360 Degree View
Climb to unusual heights to take in all there is to see of North Lake Tahoe in the middle of autumn. Whether it's by bike, foot or even tram, you're going to be glad you brought a camera.
The Squaw Valley Tram will take you on a 10 minute ride to High Camp, which is at 8,200 ft of elevation. Once there, it's your choice how you want to take in the view – from hot tub, pool, or even ice rink.
Seek out panoramic views from the peaks of trails around resorts in the area. Quail Point at Homewood Mountain Resort is a relatively short destination, that offers fabulous views of both Lake Tahoe and Lake Louise. Or take advantage of the cool fall weather and break a sweat riding the mountain at The Northstar California Bike and Hike Park, home to Northern California's largest bike park.
Tips:
Research weather conditions prior to hitting a trail. Cold weather can appear suddenly in the Tahoe region.

Check out

Lake Tahoe Biking Resources

for bike shop and trail locations.
Test out the Warm Waters
Tahoe's waters are actually at their peak in warmth in September at 68 degrees on the surface, making Tahoe ideal for the water lover, as beaches are less crowded and fewer boats are in the lake.
Rental a paddleboard or kayak and catch autumn fog drifting across the lake. Or take a short hike down to Chimney Beach to play in the water with your friends or pup. Get your adrenaline pumping with a parasailing adventure that will send you flying high above the lake in all of its beauty.
Book a cruise to spend a relaxing autumn day on the lake, drinking in the warm rays of sunshine as you sip on a seasonal brew or wine. However you choose to enjoy Tahoe's warm fall waters, a great time is promised for all.