North Lake Tahoe is rightly celebrated for its glorious snow-capped mountaintops in the winter and its pristine in the summer. While lesser-known, fall in North Lake Tahoe has its own kind of magic. With a range of fall-friendly sports, a thriving food and beverage scene, and no shortage of seasonal events, autumn is a prime time to explore the region.
In fact, some might even argue that fall is one of North Lake Tahoe's best-kept secrets, referring to the season as "locals' summer." Lucky for you, we've partnered with a few locals willing to let you in on what you won't want to miss.
Take Advantage of Cool Temps and Smaller Crowds for a Day of Intense Sports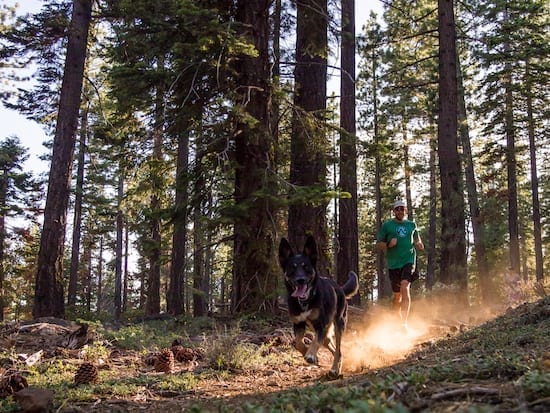 Excitement awaits during the autumnal equinox in North Lake Tahoe—you just have to know where to look. Photo courtesy of Jeff Dostie.
Jeff Dostie of Alpenglow Sports knows that fall is the ideal time to take advantage of the cooler temperatures and smaller crowds. The dropping degrees allow you to spend more time outside without risking dehydration. He says that fall is the perfect time to push yourself and recommends attempting multiple trails in a day.
"If we can put twelve hours out there and not just three, well, then that's an epic day to remember. Get rid of any limitations and just go for it," says Jeff.
If you're looking to increase your endurance, try a trail run from Echo Lake to Donner Pass, linking 7-8 classic trails and what is typically a multi-day backpacking excursion into one intense and satisfying day.
Ease Into the Season With Zen-Inducing Lake Views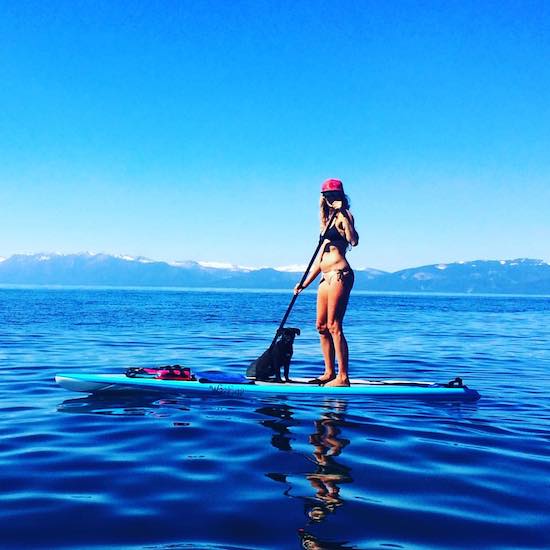 Though temperatures are gradually falling, there will be a few precious weeks of fall wherein the lake will remain a viable option for paddleboarding, kayaking, swimming, or simply enjoying the view. Photo courtesy of Kelly Smiley.
If you're looking for a more relaxing way to soak up the fall season, Kelly Smiley, a long-time local, recommends an overlooked place to explore during fall: the lake itself.
As a yoga instructor, Tahoe Flow Arts Studio owner and natural healing aficionado, Smiley knows a thing or two about maximizing the seasons for well-being. She says the quiet lake is the perfect Zen-inducing scene.
"In the fall, you pretty much have the lake to yourself. The water is calm, the sun's still shining, and you can easily paddle to the secluded east shore beaches and have your own little private oasis," Kelly explains.  
As boating season ends so does the choppy wake and the lake is left glassy and calm. While it may be too cold to take a dip in the lake, fall is the perfect time to kayak or cut across the lake's surface on a paddleboard.
Play in a Picture-Perfect Leaf Peeping Paradise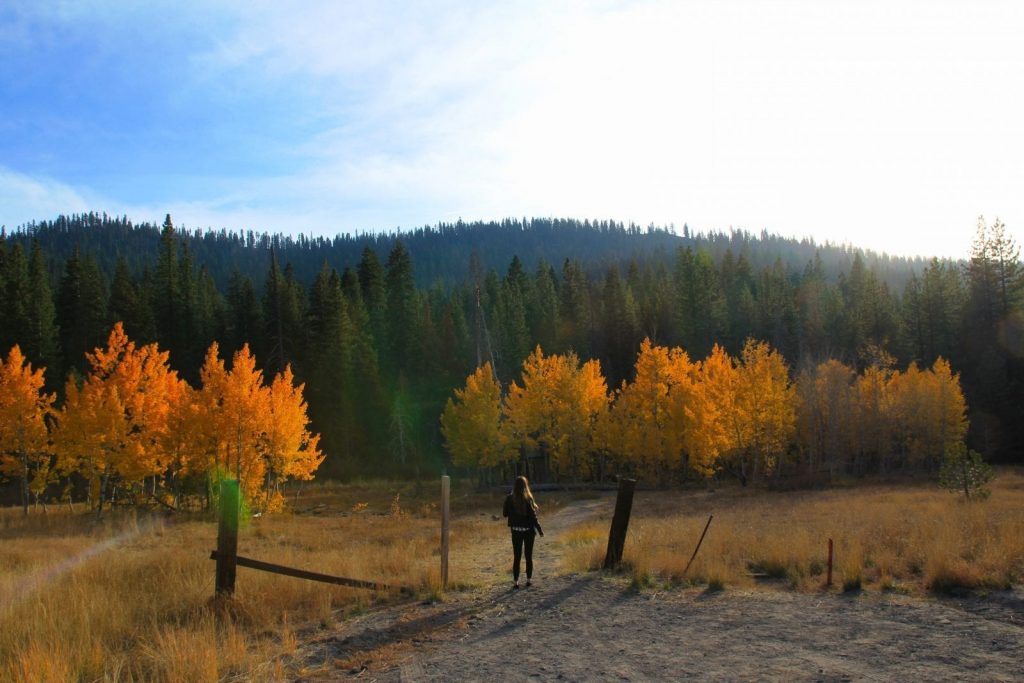 Though Tahoe is well-known for its evergreen alpines, aspen groves throughout the region make for top-tier leaf peeping in the fall. 
Usually, when people think of foliage in North Lake Tahoe, they think of alpine trees—which famously remain evergreen, season after season. Less-known is the incredible beauty of foliage and the changing leaves in the aspen groves and surrounding areas. As a local outdoor and adventure photographer, Ryan Salm is always on the lookout for new experiences to capture.
"I tend to be a pretty busy guy in the fall mixing and matching various sports, music and road trips… With cooler, crisper temperatures and the potential for wetter dirt, the Tahoe Rim Trail to Marlette Lake provides great riding, epic views, and a gorgeous aspen grove for all that crave the foliage during this time of year," said Ryan.
Hit the Hills (and Valleys) With a Fall Hike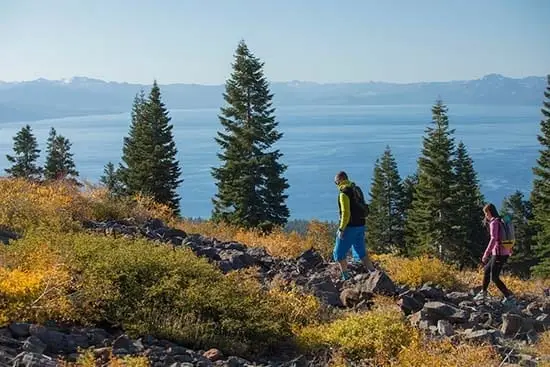 Year-round, North Lake Tahoe is an ideal hiking destination. In the fall, hiking is especially ideal thanks to cooling temps and rare, beautiful visuals found only during the Secret Season. Photo courtesy of Ryan Salm Photography.
For Suzie Dundas, local explorer, Marketing Manager at the Hyatt Regency Lake Tahoe and travel blogger, hiking season is alive and well in fall. She suggests hopping on the trail as traffic from visitors starts to slow down. When she isn't backpacking through Vietnam or checking out ghost towns, she's exploring the wilderness that surrounds North Lake Tahoe.
"This fall, I'm looking forward to heading back to the lakes and trails of Desolation Wilderness, at least for a little while. However, Emerald Bay and Eagle Falls can be so crowded year-round, so I like to enter through another area closer to the north shore: Meeks Bay. In Meeks Bay, the desolation wilderness trailhead is easy to access and always has ample parking in the fall."
Though many anxiously await winter's heavy snowfall, Tahoe insiders know that there's plenty to be enjoyed right now. So grab a camera, a paddleboard, and your backpack and come to explore North Lake Tahoe's Secret Season.