With breathtaking views from any vantage point, to cozy cabins, to eclectic local bites, human-powered sports, and everything else in between, a trip to North Lake Tahoe is a gift in and of itself. But for the holidays, there are endless ways to give the gift of North Lake Tahoe, whether you're visiting in-person or sharing mementos from your time here.
Our mountain paradise plays host to a cornucopia of talented local merchants and artisans who—each in their unique way—capture the beauty and culture of Tahoe through their works. Between their offerings and the endless giftable experiences, events, and getaways you can find the perfect piece of North Lake Tahoe to share with your loved ones this holiday season. We've rounded up 5  ways for you to do just that.
Take A Piece Tahoe By Shopping Local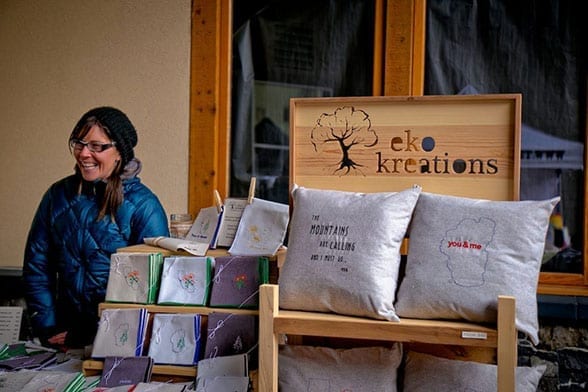 Buying local allows you to take a piece of Tahoe with you into the holidays. Photo courtesy of Silent A photography.
North Lake Tahoe is home to a number of talented craftsmen and artisans. Shopping local in North Lake Tahoe means your holiday gifts will have the authentic flair of our mountain paradise, and lets you bring a true piece of the Sierra Nevada home with you. North Lake Tahoe's 5 Shopping Districts offer a wide variety of shopping opportunities.
For more art-centric gifts, take advantage of events like the season-long Holly Arts (October 31–December 31)—an annual gift-oriented art exhibit that puts local art on sales and benefits both local artists and Tahoe City's North Tahoe Arts, which offers space and opportunities to artists throughout the region.
If you're looking for more art gift options, North Lake Tahoe is home to a range of galleries where you can purchase art, including Gallery Keoki and The Eadington Gallery.
For those who are little more inclined toward wearable art—like clothing and jewels—vendors such as Incline Village's Potlatch and Tahoe City's Trunk Show offer gorgeous options that are sure to dazzle your lucky loved ones.
Give the Gift of a Great Time on the Slopes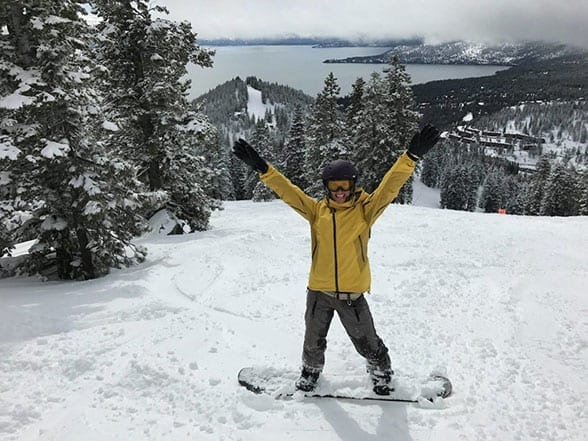 For slope lovers, one of the best gifts you can give is a lift pass. Photo courtesy of Diamond Peak North Lake Tahoe.
For many, skiing and snowboarding represent the pièce de résistance of North Lake Tahoe's offerings—and with good reason! The region's 12 downhill resorts provide outdoor adventurers with an array of exciting options to zip speedily across the region's powdery snow.
With resorts opening for the winter season, lift tickets or season passes are perfect for treasured family and friends who love to shred. This is a great option for mountain veterans and beginners alike, especially since January marks Learn to Ski and Ride month. Whether you're helping long-time shredders experience their fun in the Sierra Nevada or putting young skiers on the pathway to learning a lifelong skill, this gift is sure to attract smiles of gratitude.
Present the Perfect Getaway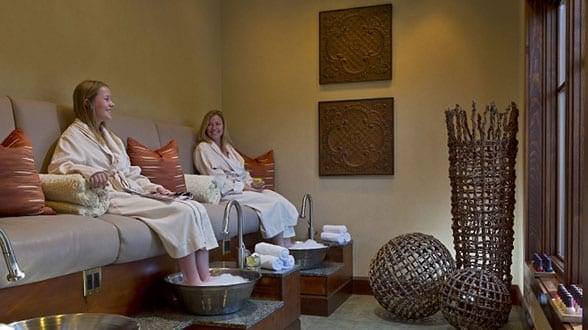 Holidays don't have to be stressful—especially when you focus on wellness at Tahoe's spas and salons. Photo courtesy of Hyatt Regency Lake Tahoe Resort, Casino & Spa.
Sometimes, you just want to get away from it all. This can be especially true after a long year of work, family obligations, travel, or other meaningful-but-draining expenditures of time and energy.
Thankfully, North Lake Tahoe's resorts, cabins, and other lodging options offer a range of amenities that make for the perfect site to shed life's pressures and reinvigorate. From on-site relief like the Hyatt Regency Lake Tahoe's Stillwater Spa and Salon to romantic excursions complete with dining and massages at Squaw Valley Lodge, a reservation on behalf of a loved one in need of relaxation will go a long way toward keeping them in good spirits. For the loved one who could really use a realignment of mind, body and spirit, Granlibakken's third annual Restorative Arts and Yoga Festival might just do the trick.
However you choose to spread the holiday cheer this season, North Lake Tahoe will provide. Of course, while you're shopping, you shouldn't forget yourself… So why not book your stay with us while you're at it?