With the stunning blue expanse of Lake Tahoe as a backdrop and 50 golf courses within one hour's drive, North Lake Tahoe is one of the most majestic and diverse golf destinations on the planet.
The variety of golfing options from North Lake Tahoe is truly world class. Whether you are looking for mountainous, pine-studded fairways or open, desert-fringed doglegs; whether you want to tee off in front one of the world's most majestic alpine lakes, play 18 at the home of the 1960 Winter Olympics or explore the hidden gems north of Truckee, you can do it all from North Lake Tahoe.
This year, celebrate golfing history at the Tahoe City Golf Course which proudly rings in their 100th year in business. Since opening the course in 1917, the club became a favorite in the 1950s for the likes of Bob Hope and Sammy Davis Jr. These days the course appeals to both beginners and seasoned golfers, offering one of the most affordable rounds in the area.
Want more history? Try the Old Brockway Golf Course, a 1920s, lakeside course that hosted the first Bing Crosby Annual, and has been visited by celebrities including Frank Sinatra, Dean Martin and President Dwight D. Eisenhower. A family-owned course with more than 3,400 yards of quality golfing experience provides guests with a proshop and the Spindleshanks restaurant. Check out their bocce court after-hours.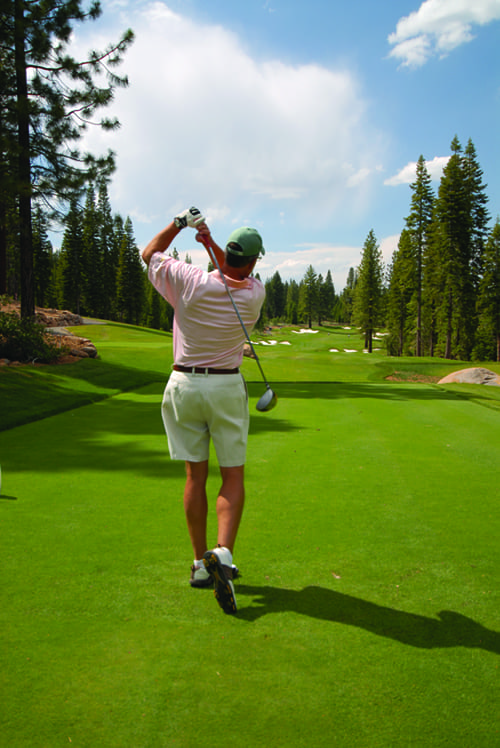 Want 18 holes of lakefront golfing? Try the championship course in Incline Village, a Robert Trent Jones Sr.-designed, meticulously maintained masterpiece. There are two distinct courses called the Championship Course, opening May 26th and the Mountain Course slated for opening in early June of 2017. Also, there are beautiful venues to hold weddings and meetings. One of these venues is The Chateau, located on the Champion Golf Course which offers the ultimate trifecta of views: mountain, lake and manicured green golf course vistas.
Want to golf with an Olympic mountain as a backdrop? Head up the road, past the Olympic torch of Squaw Valley and golf the Resort at Squaw Creek's championship course. The narrow and challenging 18 holes feature nine holes on the meadow of Squaw Creek and nine holes in the rolling forest at the edge of the Squaw Valley ski resort that hosted the 1960 Winter Olympics. There are six delicious restaurants to indulge in, along with a spa, after a day well spent on the greens.
How about teeing off in the majestic Martis Valley? Northstar's par 72 course, designed by John Muir, serves up big views of Mt. Rose and nine holes of mountainous, wooded fairways and open, meadow-side holes.
Photo Credit – North Lake TahoeUp the road in Truckee, you will find a number of renowned golf courses, including Coyote Moon, Gray's Crossing, Old Greenwood and Tahoe Donner. Want to venture even further? Within an hour, you can golf the links of Nevada, where immaculate courses abound, such as the Montreux Golf and Country Club course, which is host to the PGA's Reno-Tahoe Open each year. Or head north, where up-and-coming courses at Gray Eagle showcase the natural beauty of the Northern Sierra.
By staying in North Lake Tahoe, you can lodge in lakefront accommodations, dine at world-class restaurants, experience the nightlife at lakefront casinos, and make your golf vacation much more than 18 holes.
For more information visit our page dedicated to Lake Tahoe golf.