There are plenty of ways to enjoy our beautiful mountain paradise. From epic panoramic views to a breathtaking lakeside, and everything in between, there are many reasons North Lake Tahoe is a special place.
One of those reasons? North Lake Tahoe offers a plethora of Human-Powered Sports that get visitors out of their comfort zones and into a world of excitement all year-round. Here, you don't have to rely on anything to get your dose of outdoor recreation; simply grab a paddleboard, a pair of snowshoes, or a kayak and hit Tahoe's mountain and lakeside yourself!
If you're up for exploration off the beaten path and ready to break a sweat, check out our guide to North Lake Tahoe's Human-Powered Sports. It's sure to get your heart racing.
Stand-Up Paddleboarding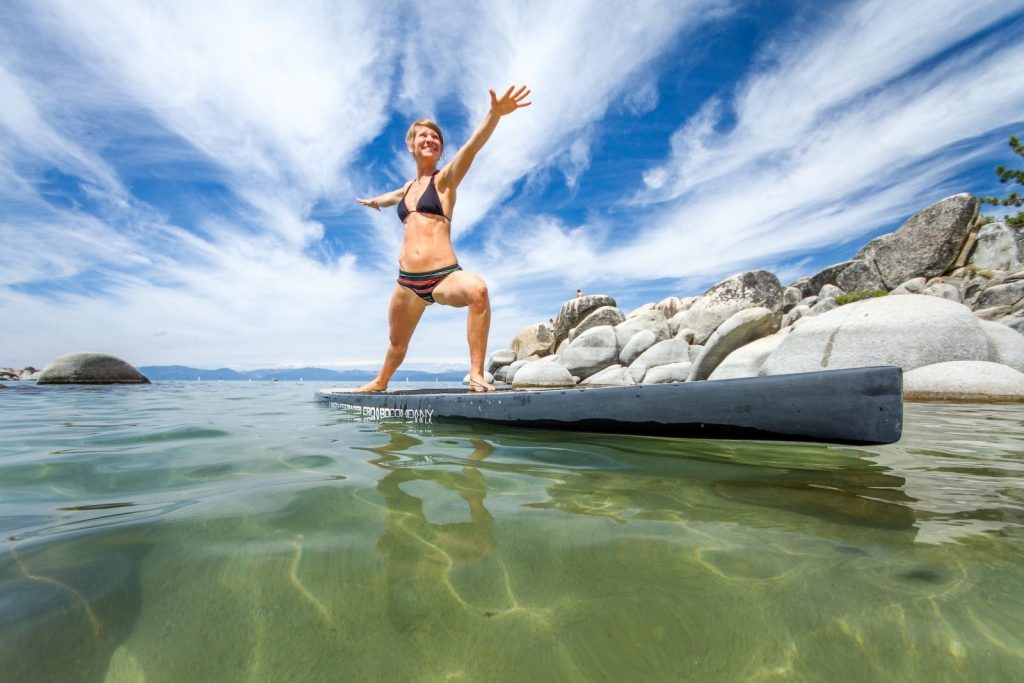 Stand-up paddleboarding is a unique and exciting way to get on the water in North Lake Tahoe. Photo courtesy of Chris Bartkowski.
Few sights are as majestic as the massive geological formations beneath North Lake Tahoe's undulating surface—and it's a visual that you can only really get up close atop a stand-up paddleboard.
Stand-up paddleboarding is an undertaking which requires patience, a strong sense of balance and a little bit of body-wide strength. For their efforts, stand-up paddleboarders are rewarded with one of the most serene experiences that the region has to offer in terms of Human-Powered Sports. You'll coast along Tahoe's epic waterscape and feel the peaceful "blue mind" effect—that sense of serenity we feel when we're next to water—all while enjoying the sounds of Tahoe's waves lapping against the sandy shore. Best of all? Thanks to the fact that Tahoe is sunny throughout the majority of the year, visitors can enjoy this particular activity throughout the spring, summer, and fall.
If you're just getting started, it's a good idea to rent a paddleboard as you find your footing. Vendors like Waterman's Landing in Carnelian Bay and Tahoe Paddle & Oar in Kings Beach allow you to do that, so you can learn to paddle with poise before committing to a board of your own.
Ready to paddleboard? Learn how here:
Kayaking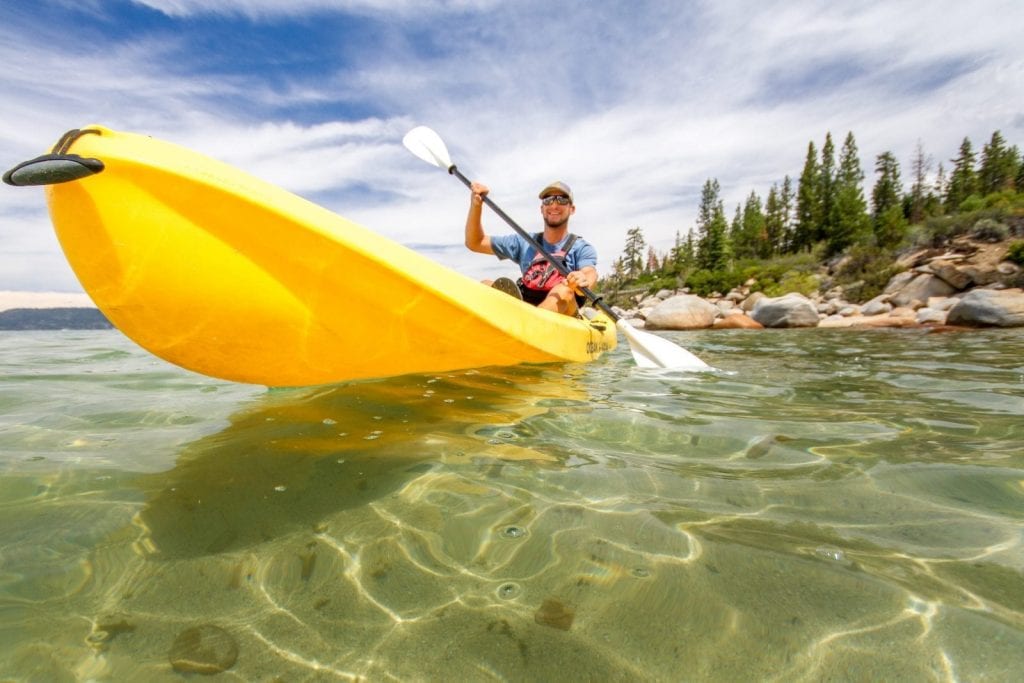 Kayaking, canoeing and river rafting can take you to points in Tahoe you've never seen before. Photo courtesy of Chris Bartkowski.
Taking to the lake's surface in a kayak, canoe or on river raft offers visitors the opportunity to explore North Lake Tahoe's waterscapes with greater freedom than swimming or even stand-up paddleboarding. Suspended atop the lake on a watercraft powered by your own strength (and that of your friends—as it's a best safety practice to travel with a buddy), you'll be able to travel to various locations that many Tahoe visitors haven't seen and can only imagine.
Before you head out, make sure to check out Sierra Business Council's Tahoe Water Trail Map, which can guide you through the region's waterways and provide you with critical safety advisories as well as other tips to make sure your watery journey is a successful one. While you're at it, don't miss your chance to check out Wild Society—a kayak and paddleboard vendor whose clear-bottomed watercraft fleet makes for a breathtaking experience not easily found elsewhere.
Make a splash on your kayaking adventure with our how-to guide:
Mountain, Road & Fat Tire Biking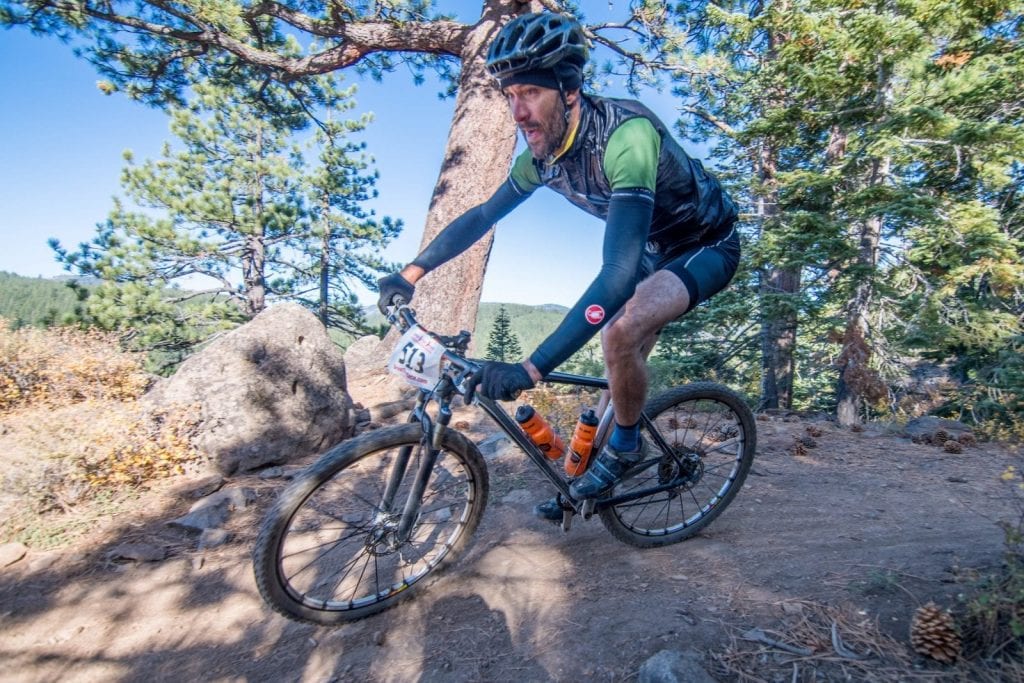 North Lake Tahoe's variant terrain and mixed-use roads mean plenty of opportunities for road and mountain biking. Photo courtesy of Harry Lefrak.
Hit the road—or the mountainside—all year-round in cyclist-friendly North Lake Tahoe!
Mountain, road & fat tire biking each grant visitors the opportunity to get around Tahoe's multifaceted terrain while getting plenty of aerobic exercise and minimizing their carbon footprint. The region offers several miles of paved bikeways for exploration so you can cruise around North Lake Tahoe on two wheels—including the forthcoming bike path between Incline Village and Sand Harbor, set to make its debut in spring 2019.
Other trails require mountain bikes to experience the region's sometimes rugged terrain, like the famed 14-mile stretch of the Flume Trail and Northstar California's massive bike park.
In North Lake Tahoe, biking is a year-round affair – unique to the region is the availability "fat tire" snow biking during the winter season. This special type of Tahoe bicycling relies on the increased surface area of an extra-large tire—essentially the bike's version of a snowshoe—to carry cyclists over powdery terrain for a biking experience that is as fun as it is offbeat.
Both private vendors and resorts offer a variety of options for bike rentals throughout the year—and even if you have a bike of your own, it's always a good idea to stop in at these shops to make sure you've got the latest gear, are up to date on all safety considerations, and good to go.
Now's your chance to zoom through Tahoe's unique terrain—here's how:
Hiking & Snowshoeing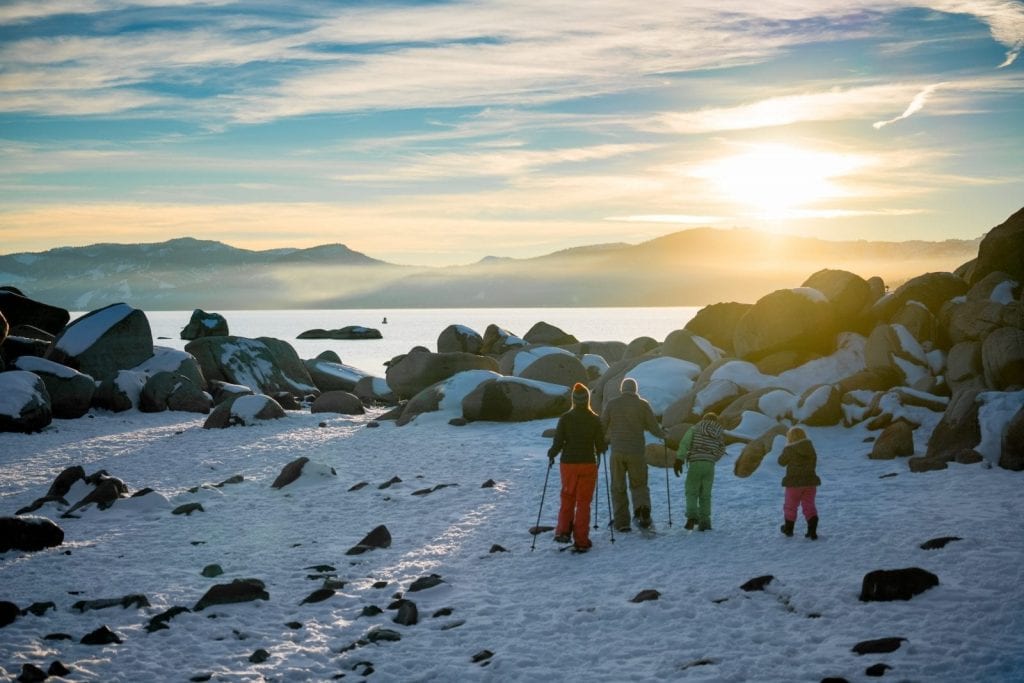 Year-round, you can hike the expanse of North Lake Tahoe's trails—and shifting weather means exciting, new dynamics with every season. Photo courtesy of Chris Bartkowski.
In a place with as much beautiful flora, fauna, geological structures and stunning views like North Lake Tahoe, you might just be remiss if you didn't take advantage of the region's seemingly endless stretch of hiking paths—the dynamics of which change with the seasons, meaning that there's always something exciting and new to enjoy.
Leaf peepers seeking a peek at the golden hues of the aspen groves will love hiking Tahoe's trails in the fall, while wintertime adventurers will find excitement trekking Tahoe's powdery wintertime landscape on a pair of handy snowshoes—with the readily available help of local vendors and tour guides, like those at the Tahoe Adventure Company. When a day of hiking is done, adventurers can enjoy a little aprés at any of the stops along North Lake Tahoe's famed Ale Trail.
With miles and miles of hiking to be done and much to be considered in the way of safety and preparation, eager travelers are wise to check out our guide to hiking the region, to adventure with trusted companions and, most of all, to have fun!
Ready to stroll through Tahoe's peaks and valleys? Learn more here:
With so many ways to get into the great outdoors to experience the unique adrenaline rush associated with Tahoe's Human-Powered Sports, you'll need more than one day to experience it all. Why not plan a longer excursion and book your stay?