If you're starting to plan your wintertime vacation and want to try something new, consider North Lake Tahoe. Home to 11 downhill resorts – the largest concentration of ski resorts in North America – there are ample opportunities to learn to ski/snowboard at your own pace when resorts open in November or December. Even better is the amazing choice of runs to conquer, and you can choose to take private or group lessons or start with beginner slopes and work your way to those for the more experienced.
START WITH THE BUNNY SLOPES
At Granlibakken Tahoe in Tahoe City, California, you can ski or ride right out your back door, making it the perfect destination for families learning to ride. Take advantage of the resort's beginner lesson package and some of the most affordable skiing and sledding options around. Stay at Granlibakken and take advantage of half-priced skiing and sledding day tickets.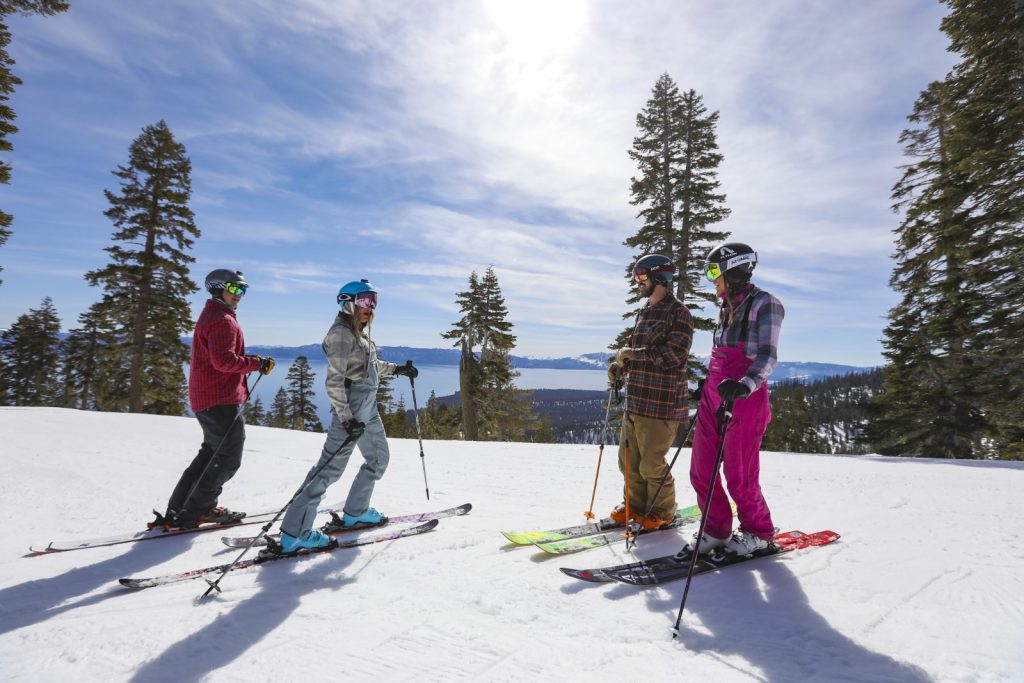 Homewood Mountain Resort is an ideal spot for families to relax, enjoy the beautiful surroundings and learn to ski. Instructors are available seven days a week, although booking classes in advance is recommended. Homewood's Happy Park is perfect for first-time skiers, who can then head to Madden Ridge Terrain Park to put what they learned into practice, as well as checking out the amazing view of Lake Tahoe and the snow-covered mountains.
Soda Springs may be one of the best locations for families new to snow. In addition to group and private skiing and snowboarding lessons, Soda Springs offers all-inclusive access to Mountain Adventure. The winter wonderland includes Planet Kids, a snowy play area filled with interactive features for the whole family, Woodward Start Park for the really young beginners, and Tube Town, offering some of the best snow tubing in Lake Tahoe.
Donner Ski Ranch is perfect for those looking for a down-to-earth vibe. This family-owned resort offers wide, open slopes and is an ideal beginner terrain option. Located in Norden, California, the resort is loved for its traditional atmosphere that focuses on keeping things simple. You'll find newer skiers, which is perfect for families who are just starting out. Ski and snowboard instructors are revered for their patience with beginners, so there's no pressure.
LARGER SKI RESORTS TRY OUT LARGER TERRAIN
Whether you're a first-time skier or haven't set your sights on the slopes in a couple of years (or decades) and want to keep up with your experienced buddies, we recommend checking out Palisades Tahoe in Olympic Valley. The largest ski resort in the region and known for serving as host of the 1960 Winter Olympics, Palisades Tahoe offers both morning and afternoon lessons for any skill level at both their Alpine Lodge and The Village at Palisades Tahoe bases. Adult first-timers learning to ski and/or snowboard may qualify for a Learn to Ski Afternoon special (at Alpine only).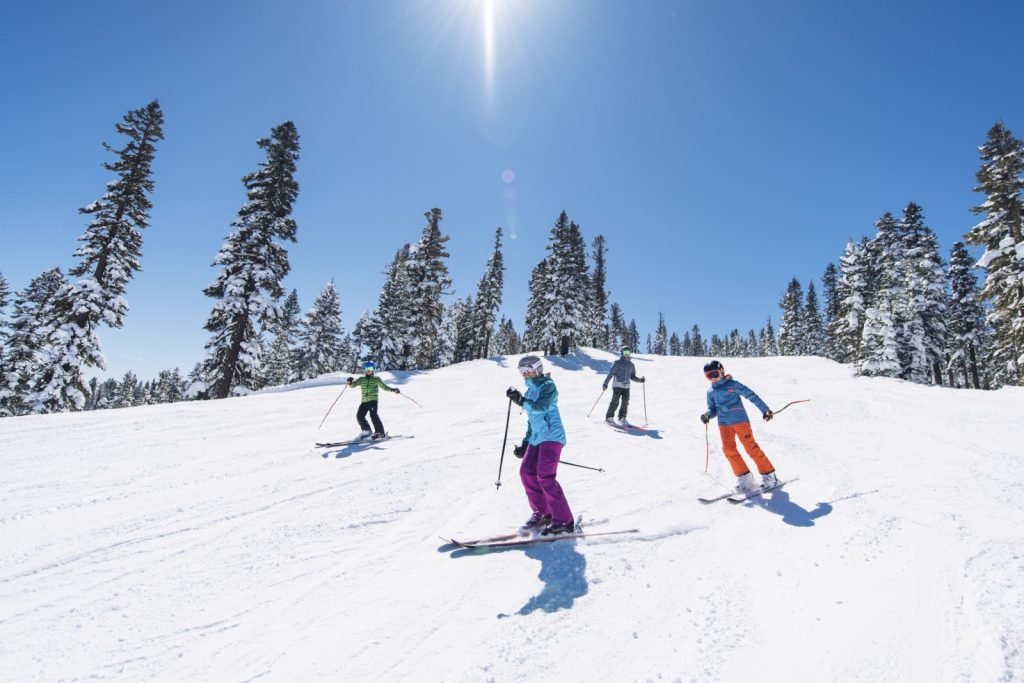 Northstar California is a treasure in the Martis Valley. Start your day with a private or group ski lesson by resort instructors, then tackle one or more of the 83-plus trails. Later, visit the Village at Northstar, featuring fantastic restaurants, shopping and a 9,000-square-foot skating rink. Gather with friends and go for an après ski (social activities and entertainment after a day of skiing), including dining, drinking and dancing, or relax by a warm fire pit and enjoy the view.
Boreal Ski Resort, located in Soda Springs, California, reserves one-third of its terrain for beginners. The 380-acre resort features specially trained ski and snowboard instructors who will have you gliding and riding in no time. Private and group classes are available, with groups split into age and skill levels.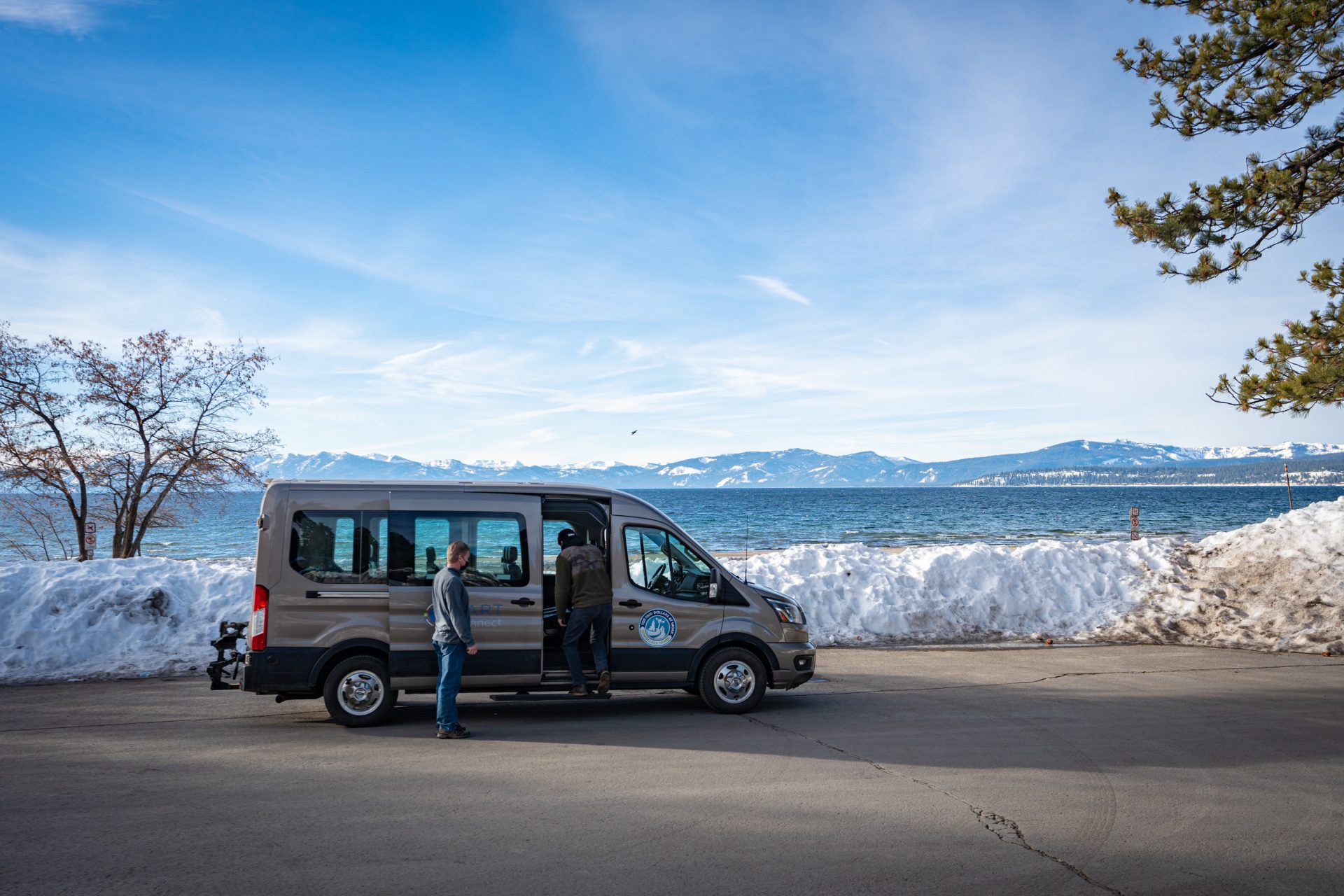 GETTING TO SKI RESORTS
Getting around North Lake Tahoe while being respectful of the environment and enjoying its natural wonders is possible with services such as TART Connect. A free curb-to-curb, on-demand transportation system, TART Connect helps you travel throughout the region and ease traffic conditions.
Additionally, a number of ski resorts also offer shuttle services to make transportation easy.
STAY JUST A LITTLE BIT LONGER
The area's winter seasons definitely revolve around the snowy conditions at North Lake Tahoe, and with all the region has to offer, it's easy to see why. Fortunately, many of the hotels and other lodging options offer special deals during the winter where you can save by extending your stay.
The Parkside Inn at Incline in Nevada is a cozy getaway with ski vacation packages available. The Incline Village mountain lodge is a perfect retreat to sit back and enjoy the scenery, or try your luck at a nearby casino. In Tahoe City the River Ranch Lodge, situated along the banks of the lovely Truckee River, which also has a restaurant on site. Make a stop at the Tahoe City Winter Sports Park while you're here and enjoy more skiing plus sledding, snowshoeing, ice skating and more.
The 12 unique towns that make up North Lake Tahoe are full of adventure, beauty and creativity, and you don't want to miss out. That's why it's important to book your stay into the week to get the full North Lake Tahoe experience.
No matter where you stay, first-timers will realize just what they've been missing: the winter wonderland that is North Lake Tahoe.