July 2022
Challenges can forge new pathways in the brain, increase resilience and inspire creativity. Plus, they are quite rewarding to complete, so get ready to be challenged. Whether you love the active outdoors, actively pursue the latest scenic restaurants or just want to make the world a better place, North Lake Tahoe has a challenge just for you.
The new North Lake Tahoe Challenge is free and available for all types of outdoor lovers. You can choose one, two or all three distinctly different challenges and yes, there is an award of recognition at stake. First, choose from Active Traveler, Conscious Traveler, Scenic Traveler or all three. Once you complete any challenge, you can enter to win a special prize including a $250 gift card and two-night hotel stay at Mourelatos Lakeside Resort, receive an exclusive digital badge and you might just be featured on North Lake Tahoe's social channels. Submit your information at gotahoenorth.com/challenge to complete your challenge.
We've rounded up information on all three challenges below so that you can choose your own adventure and start earning those badges.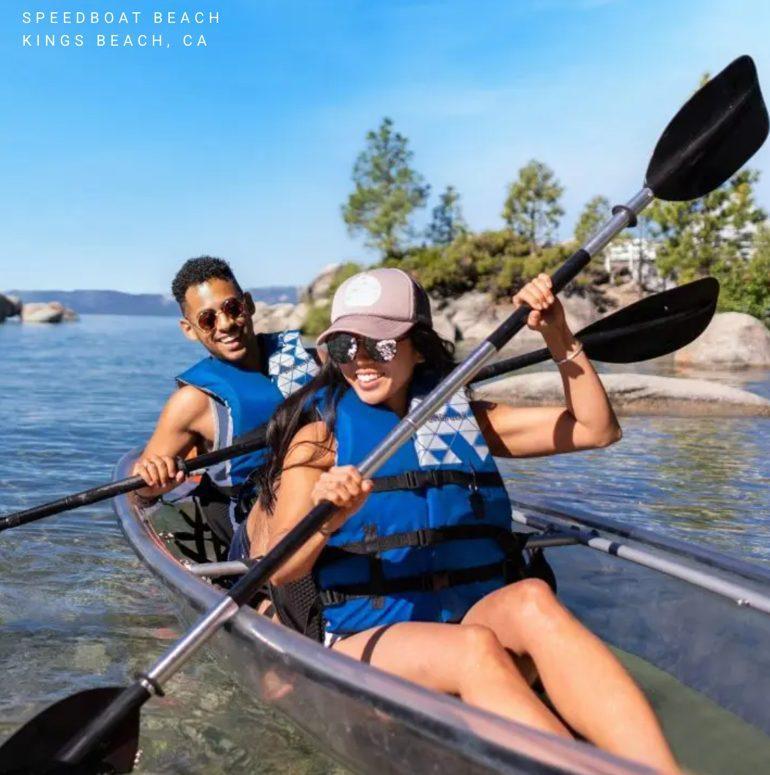 NORTH LAKE TAHOE CHALLENGE 1: ACTIVE TRAVELER
Complete any outdoor activity and then fill out the form on our North Lake Tahoe Challenge page to earn a badge for active outdoor lovers. Below are some popular ways to get you started.
Hike the Tunnel Creek Trail
The Tunnel Creek Trail is a 4.7-mile out-and-back hike located near Incline Village on the Tahoe Flume Trail. This moderate hike is known as the home of Monkey Rock, a rock formation resembling a gorilla's head watching over the lake. It's a short hike with a steep challenge at the end, but this trail rewards its visitors with an awe-inspiring, panoramic view of Lake Tahoe.
Kayak to Bonsai Rock
Dive into Lake Tahoe's crystal-clear water and kayak to Bonsai Rock, a unique stone formation that resembles the artful bonsai the landmark is named after. Standing proudly at the midpoint between Sand Harbor and Hidden Beach, a photo of Bonsai Rock is sure to light up your Instagram feed and stay in your memory forever.
Follow the Tahoe Rim Trail
The Tahoe Rim Trail is made up of many trails totaling 165 miles of challenge while passing through two states, six counties and three national forests. This long-distance hiking trail circumnavigates Lake Tahoe in the Sierra Nevada and Carson ranges of California and Nevada. The trail ranges in elevation from 6,240 feet (1,900 m) at the outlet of Lake Tahoe to 10,338 feet (3,151 m) at Relay Peak in Nevada — and offers timelessly scenic lakefront views.
Climb Tahoe Via Ferrata
Discover Palisades Tahoe's newest outdoor activity – climb and hike the Tahoe Via Ferrata. Where else can you ascend an 800-foot vertical cliff without any specialized climbing skills? Here, participants can explore the previously inaccessible terrain of Tram Face, high above Olympic Valley's floor.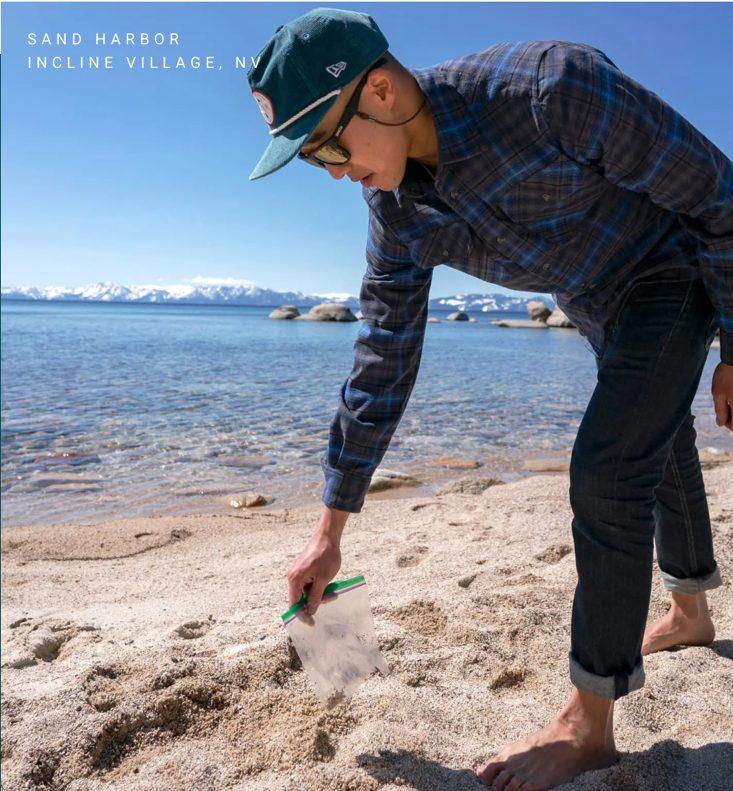 NORTH LAKE TAHOE CHALLENGE 2: CONSCIOUS TRAVELER
The magic of Lake Tahoe lies in the culture of our communities and its natural beauty. When you take the Traveler Responsibility Pledge you are committing to preserving the natural wonders of the High Sierra. Take the pledge, fill out the form on the North Lake Tahoe Challenge page and you'll be well on your way toward earning your Conscious Traveler badge along with a $250 gift card and a 2-night hotel stay.
Here are a few examples of how you can implement North Lake Tahoe's Traveler Responsibility Pledge.
Become A Steward of Lake Tahoe
As we all traverse the terrain and enjoy all our area has to offer, our primary focus is to leave those spaces better than we found them. Consider ditching the car and biking to your next stop or taking advantage of TART Connect, a complimentary shuttle service available throughout North Lake Tahoe. Or, plan a visit midweek to help manage traffic, mitigate pollution and help retain the quality of life our North Lake Tahoe community enjoys.
Respect The Environment
Help preserve North Lake Tahoe's natural beauty by avoiding plastic bottles and utensils as well as disposing of trash in designated receptacles to reduce your ecological footprint. Try carrying a reusable water bottle and loading it up at the many Tahoe Tap refill stations throughout the community.  If you forgot your reusable water bottle, consider supporting Tahoe Fund by purchasing a "Drink Tahoe Tap" water bottle at any of the region's Raley's Grocery stores.
Stay Educated
Prepare in advance for your visit to the area by consulting one of our many guides like Know Before You Go. This will help keep you updated with the current weather conditions and stay safe during your visit. When you arrive, the Visitor Information Centers located in Tahoe City and Incline Village are a great way to get expert advice about what to expect when in the area.
Keep Wildlife Wild
Wildlife are an essential component of North Lake Tahoe's ecosystem and culture. Watching them from a distance and refraining from feeding them will ensure their safety and yours. And make sure you're "bear aware" especially before and after hibernation, so make sure you do your part by storing uneaten food in specific bear boxes and removing all trash from your vehicle.
Be Fire Safe
When planning to grill, start a campfire or burning anything outdoors, consult fire restrictions and know the permitting rules ahead of time and know what to do in the event of any emergency – wildfires can break out quickly and they're unpredictable. Make sure you're aware of Red Flag Warnings too as fires are not permitted during this time. Learn more about how to be fire safe in this blog.
Demonstrate Mindful Travel
Keeping visitors and locals happy and healthy lays the foundation for a positive experience for all. Support the community and local businesses by taking home some fresh produce from special places such as the Tahoe City Farmer's Market, review or recommend local businesses online or purchase a North Lake Tahoe gift card, which is accepted at multiple local retailers, restaurants, services and entertainment providers.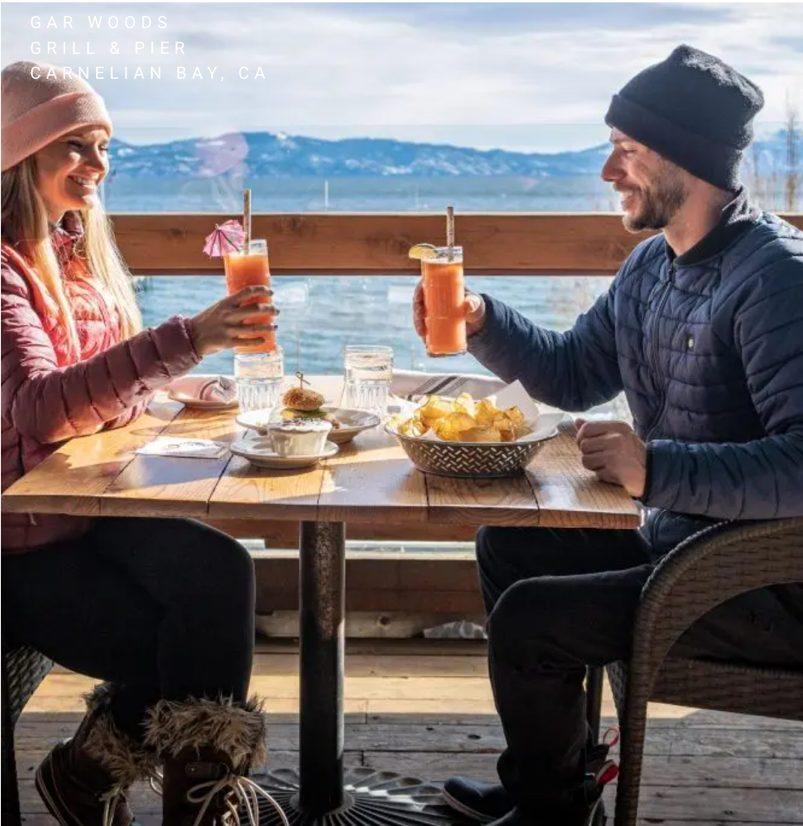 NORTH LAKE TAHOE CHALLENGE 3: SCENIC TRAVELER
North Lake Tahoe has 12 wonderful towns to explore, each offering experiences and treats perfectly fit for a Scenic Traveler. From the vibrant downtown community of Tahoe City to the lively gaming activity in Crystal Bay, each town has a unique personality. Visit a town, fill out the form on the North Lake Tahoe Challenge page and you've earned your first challenge en route to your Scenic Traveler badge.
Go for the Chairlift & Tram
Hop on a scenic tram ride to the top of the mountain on a Palisades Tahoe adventure. Or, enjoy the view from a chairlift at Northstar. Picnic, hike, or look for wildlife once you're at the top.
Dive into our local culture
One of the hidden treasures of North Lake Tahoe is its performing and visual arts culture. Make it a rewarding challenge and a rewarding day by visiting an art gallery in Tahoe City or Palisades Tahoe.
Make it a Wellness Day
It's easy in North Lake Tahoe to find an activity to engage your body, ease your mind or enrich your soul. Plan and complete a day of wellness. Visit a secluded mountain spa, find a unique yoga experience or dine in a restaurant serving local and organic ingredients.
Shop with a purpose.
North Lake Tahoe is home to several talented craftsmen and artisans. Shop to treat yourself or thank a friend with a unique gift of any size, found at a unique North Lake Tahoe boutique.
Snap a sunset photo from the shoreline
Activities come in all shapes and sizes. To complete your challenge as well as days of enjoyment, watch the sunset from the shoreline of North Lake Tahoe and share a photo on social.
STAY TO COMPLETE EVERY CHALLENGE
Hopefully, you're feeling very challenged by now. Three temping challenges can only mean one thing – you need the right accommodations to rest up for that next badge and bragging rights. North Lake Tahoe has lodging for every need and budget here.