September 2022
Few places compare to the outdoor sporting scene in North Lake Tahoe. When it comes to endless adventure, one sport in particular comes to mind: biking.
From the sandy shores of Kings Beach to the crisp alpine air in the Sierra Nevada Mountains, you can discover it all on Tahoe's trails. From fat tire biking in the winter to mountain and road biking in spring, summer and fall; this is truly your year-round course.
Home to Incline Village—the Mountain Biking Capital of Nevada and takes its place among top U.S. mountain biking destinations — North Lake Tahoe puts the pedal to the medal, offering dozens of easy rental options and trails for all skill levels.
With bluebird skies above you and 400+ miles of trails beneath your tires, consider adding North Lake Tahoe to your coveted list of biking destinations. Read on for everything you need to start planning your two-wheeled trip.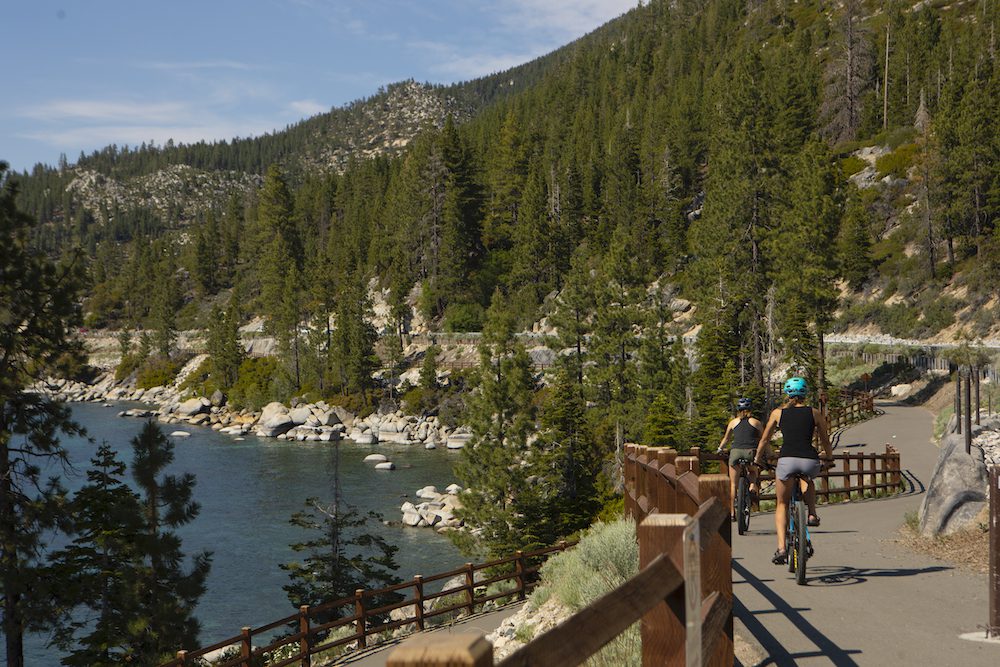 NO BIKE? NO PROBLEM!
Throughout North Lake Tahoe there are plenty of vendors who are willing to loan their wheels to you. Check out our database of local bike shops and rentals around the area. Plus, if you're lucky, some will even provide insider information into navigating the breathtaking (and breathless) trails.
Spots like Olympic Bike Shop and Flume Trail Mountain Bikes can outfit you with the right bike for your agenda, recommend cycling locations for all ability levels and provide tune-ups and repairs. E-bikes are available for rent as well, just make sure you embark on an approved trail, as some aren't suitable for e-bikes.
For biking beginners, tours are a great idea to familiarize yourself with the region in a safe, expertly-managed way. Check out guides Tahoe Adventure Company in Truckee for customized tours. Cyclepaths Mountain Bike Adventures in Tahoe City offers bike demo days, bike repairs and have trail maps in stock.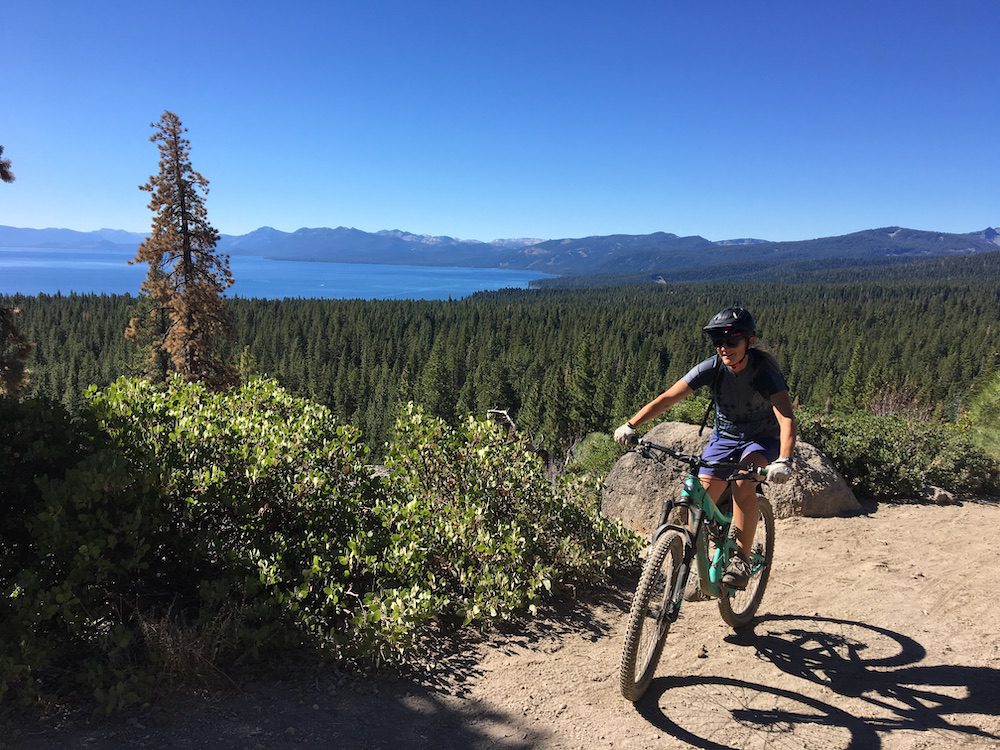 FIRST THINGS FIRST: PARKING
Before heading out on two wheels, it's a good idea to find safe parking for your vehicle. If you're staying at one of North Lake Tahoe's lodging properties and biking directly from there, you're probably good to go. However, for those of you bikers not cycling directly from home base, make sure you pinpoint where to stow your vehicle as you zip around the Sierra.
To manage demand and ensure community safety, North Lake Tahoe has a number of both free and paid parking spaces. We ask you stick to those rather than creating a parking spot of your own—like the shoulder of a busy road—to avoid dangerous driving conditions and traffic collisions.
Spare yourself the stress and guesswork that frequently comes with parking with the Tahoe Rim Trail Parking Locator and Trail Link. We also always encourage following the signage at your trailhead. Once you've got this part down, you'll be on your way in no time.
EAT UP, DRINK DOWN
Depending on the season you're visiting in, temperatures can rise pretty quickly here. Even when it's not summer, biking can surely be a strenuous activity, which serves as a great reminder to be mindful about nutrition and hydration.
At least an hour before hitting the road, eat a substantial meal from any one of Tahoe's scenic restaurants. May we recommend a pre-bike breakfast at Mountain High Sandwich Company? Or perhaps some espresso from Coffee Connexion in Tahoe City? Most restaurants offer bites on the go, making chow time just that much more convenient.
We can't forget about water. We're surrounded by it, why not load up with it? When you're traversing one of the world's most epic mountain ranges, staying hydrated is key. Bring a refillable water bottle and refill from our delicious region's Tahoe Tap.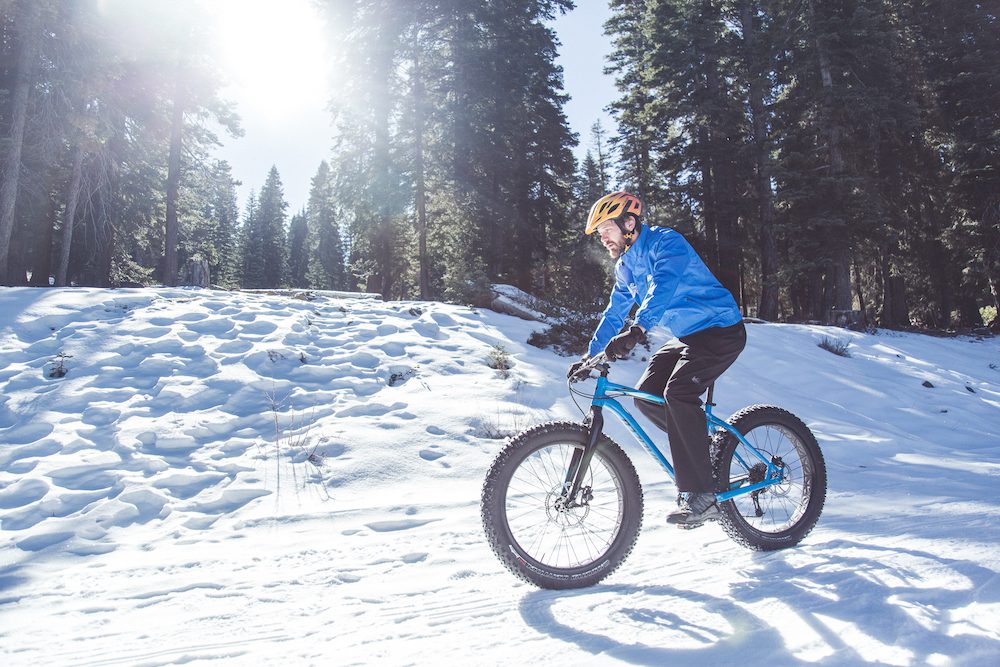 PICK A TRAIL, ANY TRAIL
North Lake Tahoe is home to many trails of varying length, topography and difficulty. You can learn more about these trails by consulting local experts (like the ones you'll find at bike shops), as well as online communities like AllTrails, for perspectives from others who have explored the region.
When you're exploring Tahoe's trails—like the Tahoe Rim Trail and the Tahoe East Shore Trail—we urge you to be mindful and courteous of your fellow Tahoe adventurers. Make sure to provide sufficient space to other hikers and bikers, maintain a reasonably cautious speed and know how to contact emergency services should the need arise. Your caution and courtesy will make a world of difference for you and your fellow Tahoe community members, so we thank you in advance for practicing both.  
TAKE SAFETY FOR A SPIN
Remembering the fundamentals is paramount for an epic biking experience. As you explore North Lake Tahoe, please take the following safety guidelines to heart:
When there is a bike path available, please utilize it.  
Be aware of the nearest repair shops before you go on a ride, in case of an emergency. 
Bring a cell phone. 
Use proper hand signals and always follow road traffic rules. 
Do not mountain bike alone. 
Always bring extra clothing, water and food. 
Bring tools and an extra tire in your vehicle as a backup. 
Leave no trace and respect wildlife. 
Ride only on designated open trails and roads. 
Refrain from operating a bicycle while under the influence of alcohol or other substances. 
You can also find these tips on our Lake Tahoe Biking Resources page. Pro tip: Bookmark it before you bike!
Just like the bike vendors and lodging properties around North Lake Tahoe, we're excited to host your next biking adventure. Before you visit, make sure to take our Traveler Responsibility Pledge—it's up to us as bikers to preserve the beauty of our region. In the meantime, we'll see you on the trails. Get ready for a wheely, wheely great time.