Already home to North America's largest cross country resort and 11 cross country skiing locations scattered across the north shore of Lake Tahoe, the region known as the capital of North American Cross country skiing continues to upgrade its offerings to its dedicated and new skiers equally.
Royal Gorge Cross Country Resort, now under the management of Sugar Bowl Resort for the second year, has upgraded its grooming, remodeled its Summit Station lodge and improved way finding signage. Now it is introducing fat tire snowbiking and bringing back California's only resort-based snowkiting school for its second year.
But the foundation of Royal Gorge's success — the 200 kilometers of groomed trails and 6,000 acres of stunning High Sierra terrain — still makes it the largest, and clearly one of the most impressive places in the world to strap on skinny skis.
While Royal Gorge headlines North Tahoe's cross country ski offerings, 10 more cross country skiing locations dot the north shore of Lake Tahoe, offering quiet, secluded trails with expansive views of Lake Tahoe, heart-pounding climbs to mountain-tops or perfectly groomed trails through silent meadows.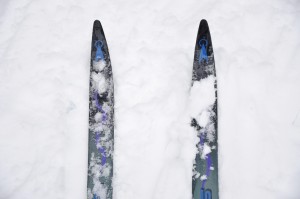 And that is what separates North Tahoe from other winter destinations — the diversity of skiing options that it offers. Just like downhill skiers could choose to ski the legendary, Olympic steeps of Squaw Valley, cruise lakeview groomers at Homewood or spend a day at any of the 11 downhill ski resorts in North Tahoe, cross country skiers can find the trails that suit them.  Or they can spend a week exploring the entire range of ski trails in a location with the highest concentration of cross country skiing terrain on the continent.
Three more resorts that have marked North Tahoe as one of the most diverse and extensive cross country skiing destinations in the world are Tahoe Donner Cross Country, Tahoe XC and the Auburn Ski Club at Boreal Mountain Resort on Donner Summit. Tahoe Donner Cross Country Ski Center in Truckee offers 52 groomed trails and 100 kilometers of varied terrain that includes climbs to stunning views at Hawk's Peak, to the secluded Euer Valley. Tahoe XC's 23 groomed trails out of Tahoe City offer expansive views of Lake Tahoe and a renowned teaching program. The Auburn Ski Club is a renowned training ground for competitive skiers and an affordable skiing location for recreational skiers on 20 kilometers of trails.
Cross-country trails at Northstar, the Resort at Squaw Creek and Granlibakken allow lodging guests to ski right from their hotel room or condo. And state park trails like Sugar Pine Point offer free cross-country skiing (although a $10 parking fee is charged) on trails that were used for the 1960 Olympics.
The Incline Village Championship Golf Course and the Tahoe City Winter Sports Park at the Tahoe City Golf Course are two more free cross country skiing options. The Incline Village location offers spectacular views of Lake Tahoe, and the Tahoe City Winter Sports Park is ideal for the whole family including kids and dogs. Tahoe City visitors can both cross country ski and snowshoe at the winter sports park, and enjoy a small sledding hill on property for powdery days.
Along with its world-class Cross Country ski terrain, North Tahoe puts on the largest cross country ski race west of the Mississippi. The Great Ski Race is an annual fundraiser for Tahoe Cross Country Search and Rescue, an all-volunteer non-profit. Over 800 participants, including some of the world's best Cross Country skiers and costume-wearing locals, ski the 18 miles from Tahoe City to Truckee, finishing in a harrowing downhill, followed by a legendary party. The 38th annual Great Ski Race is scheduled for Sunday, March 2, 2014.