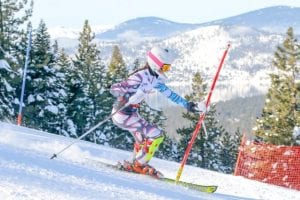 Anika
Age: 12
School: Sierra Expeditionary Learning School
Skiing since? Age 2
When did you decide to get serious about ski racing? When I was about 8 or 9, I decided it was my sport. I love the speed and the exhilaration.
Who was your first ski mentor? I would say all the women in ski racing. They are all super strong, hardworking women who inspire me to work hard.
Who is your biggest role model? For sure my dad. He is a business owner and I sometimes overhear him talking to people in his business. It's taught me a lot about how to treat other people and how to handle yourself around people. He has a lot of respect for people and is a great leader. And he taught me how to ski!
What character traits do you see the most in the girls coming up through the Squaw Valley | Alpine Meadows ski team? We're all very competitive, but we're also good friends who are genuinely good people. We're all serious about skiing, but can have fun at the same time. We're not worried about what other people think. I also like that there's not a big separation between the girls and the boys, we're all friends and mingle together.
"Giving Back" was a big theme of the selection What do you do to give back? This summer, I put together a four-day sewing workshop and recruited some local girls to get involved. We made personal hygiene kits for girls in Africa through a group called Days for Girls. We sewed something like 100 bags, 306 reusable pads and more than 90 washable guards. It was hard work, but knowing we helped these girls we'd never even meet felt great. We'll be doing it again this summer!
What do you love most about living in North Lake Tahoe? I love the change of seasons. I love to ski in the winter and experience all the different terrain, but I also enjoy mountain biking, swimming in the lake, wake surfing, hiking, camping, and tennis. I also love our community.
What are you looking forward to most about World Cup weekend? I'm excited to have such a big event coming to my home resort. I'm excited to get a jacket and be part of the whole thing.
Who are you rooting for this weekend? Definitely the Americans! Mikaela (Shiffrin), Julia (Mancuso) and Lindsey (Vonn).