Happy New Year! It's a new year and a new decade that's buzzing with possibilities. North Lake Tahoe invites you to make 2020 the best year yet! Whether that's learning a new skill, trying a delectable new dish, or just exploring new places, there's a ton of memories to be made this year in North Lake Tahoe.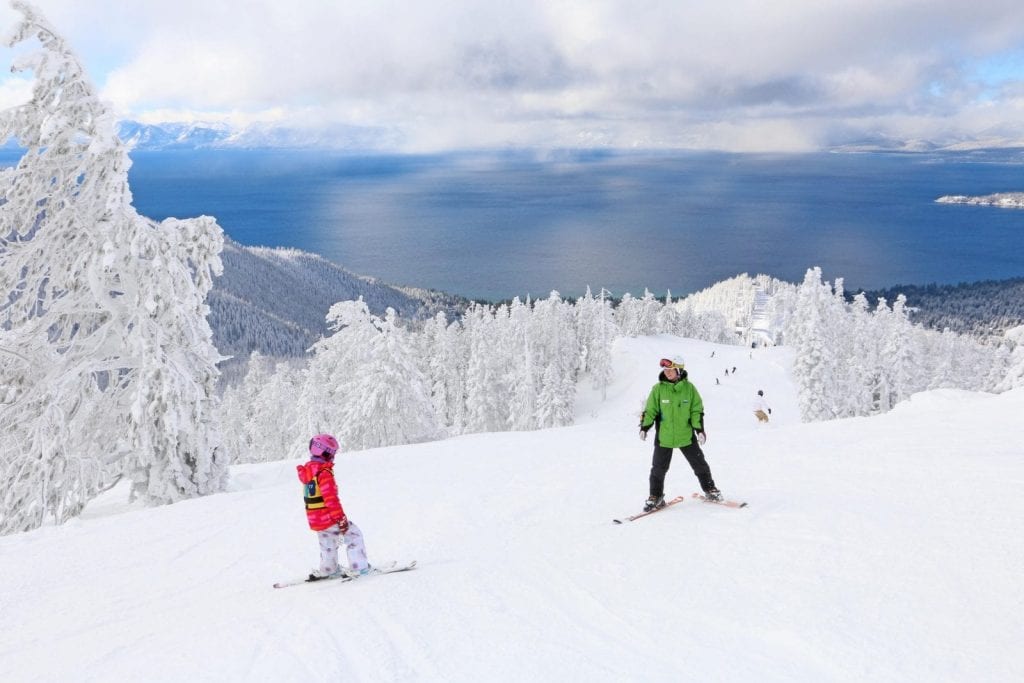 Start 2020 off on the right foot with Learn to Ski and Ride Month at your favorite resorts, like at Diamond Peak.
Learn to Ski and Ride Month
If learning to ski or snowboard is one of your New Year's resolutions – fantastic! (If not, you may want to reconsider…) January is National Learn to Ski and Ride Month. New riders are invited to pick up a pair of skis or a snowboard and hit the slopes, which are in optimal conditions right now. Several of North Lake Tahoe's ski resorts are offering special deals and classes to help first-timers get their shred on. 
Diamond Peak recently regraded their beginner-friendly School Yard run to make the terrain more welcoming to first-time and beginner skiers and snowboarders. Already known as one of the best runs to start with, the new and improved School Yard run offers more usable space for first-timers to practice their first turns without worrying about running into others.
Mt. Rose offers a First Timer Package, the perfect way to introduce you and your crew to the sport. Participants receive a two-hour group lesson, lift ticket to beginner terrain and all the rental equipment. And for those looking to continue to build the skills they've learned, the Next Step Package will give new skiers and snowboarders more time and training on the slopes.
During January 6-9 and 13-16, the team at Tahoe Donner is offering discounted $39 packages to learn to ski or snowboard during Learn to Ski and Ride Month. These packages are exclusive to first-timers and include an all-day lift ticket, rental equipment, and a 1.75-hour group lesson for ages 7 and up.
The skilled shredders at Northstar California Resort are so confident in their ability to turn any beginner into a pro, they're offering a wager you simply cannot refuge! Book three consecutive days of Child Ski Group or Ultimate 4 lessons, and Northstar guarantees  your child will be skiing safely and competently or the fourth lesson is free of charge. What is there to lose?
Learning to ski has never been easier than at Homewood -Mountain  Resort, almost as easy as 1-2-3! Skiers and boarders aged 13+ can pre-purchase a 3 Pack of Ski/Snowboard Lessons and be automatically enrolled in the Easy as 1-2-3 Program. You'll be rewarded with a Season Pass upon completion of the program (that's a big deal)!
Finally, Squaw Valley Alpine Meadows is offering first-time skiers and riders with access to the Perfect Progression Program. The Perfect Progression Program is a comprehensive path for teens and adults to make a one-season transition from first-timer to intermediate skier or snowboarder. The Perfect Progression Program has limited availability. For more details and to sign up ($499 per person) visit online.
Check out more deals and classes for Learn to Ski and Ride Month and start your 2020 off on the right foot, preferably with a ski attached to it!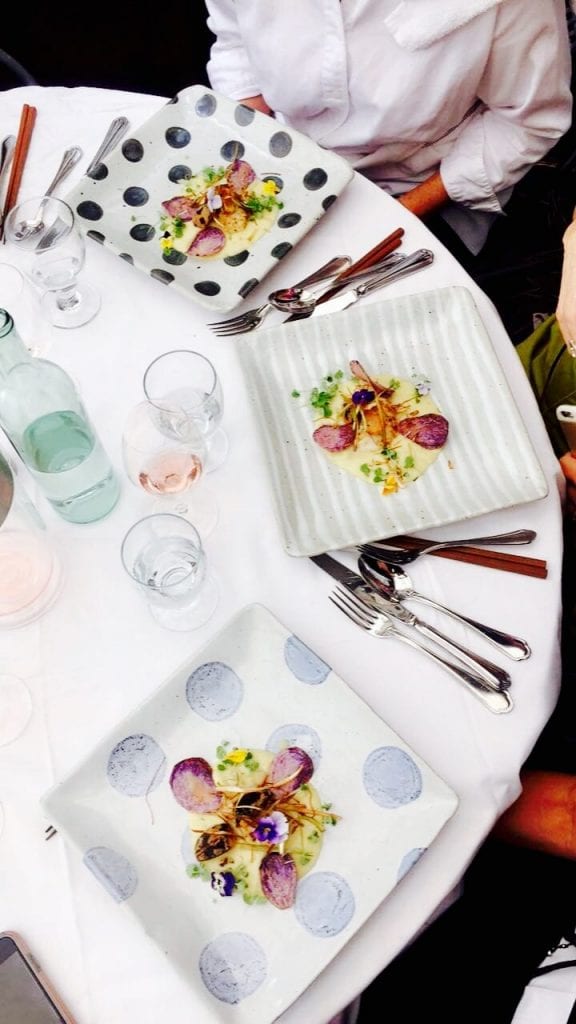 January is California Restaurant Month, meaning that you can try all of the delicious food found around the north shore this month, like at Wolfdale's Cuisine Unique! Photo credit: Shea Evans – Wolfdale's
California Restaurant Month
January is also California Restaurant Month, celebrating the best cuisine that the Golden State has to offer. If your New Year's resolution is to be more adventurous in your dining, North Lake Tahoe makes for a great culinary playground to expand your palette.
Using local ingredients that are grown fresh and prepared special for your plate, North Lake Tahoe is home to some of California's most acclaimed restaurants. Wolfdale's Cuisine Unique in Tahoe City is the home of celebrated chef Douglas Dale, who specializes in transforming simple ingredients into creative and unconventional cuisine that needs to be tasted to be believed. North Lake Tahoe is also home to Manzanita at The Ritz-Carlton, Lake Tahoe in Northstar California, which boasts a menu full of delicacies prepared with diverse flavors.
Of course, dining on the lake is the premier North Lake Tahoe food experience, and California Restaurant Month is the perfect time to enjoy a great meal with beautiful Lake Tahoe as the backdrop. Check out Sunnyside Restaurant & Lodge in Tahoe City and enjoy one of their signature Hula Pies to go along with a gorgeous lakeside view. Or, head to Carnelian Bay and savor the iconic Wet Woody at Gar Woods Grill & Pier. Or taste fresh, local cuisine at Lone Eagle Grille at the Hyatt Regency Lake Tahoe, then take a walk on their private beach for the perfect after-dinner treat. Pairing your meal with scenic views of the lake is the best way to celebrate the best that North Lake Tahoe dining has to offer this January.
There's no shortage of great places to eat around the north shore to celebrate California Food Month, so be sure to visit our dining page for more options!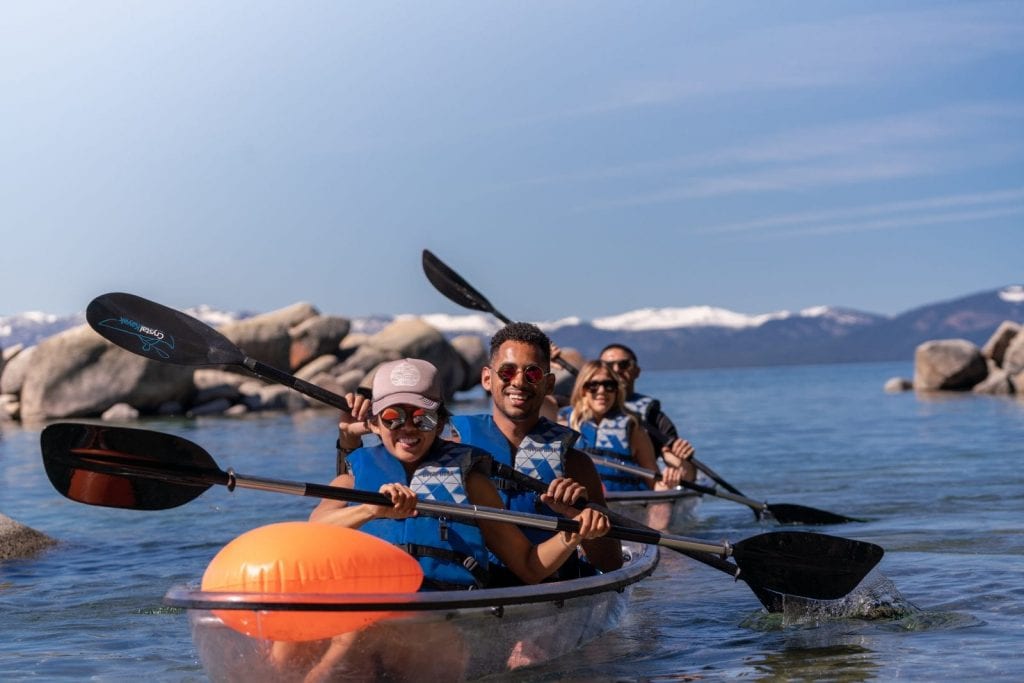 Now's the time to start planning ahead, as adventure can be found at any time of the year! Photo credit: Augustine Agency
Start Planning Ahead for 2020
Between learning to ski and enjoying fabulous food, 2020 is off to a great start so far. But what is there to do the other 11 months of this year? After all, we can't just abandon our resolutions to doing new and exciting things after January is over!
Perhaps you're excited about spring in North Lake Tahoe, where dual days mean that you can experience the best of the mountains and the best of the lake, often on the same day! Or maybe a summer day by the lake or on a sunny hike is more your speed. Or maybe crowds aren't your speed, and you'd much prefer the quieter and colorful feel of autumn in the Sierra.
What we're trying to say is that there's no wrong time for a trip to North Lake Tahoe, as there's something to do and experience every week of the year! If you're looking to plan ahead, check out our list of activities for experiencing 52 Weeks in Tahoe. From snowy adventures in the winter to the sun and surf of summer, there's something for everyone to do this year in North Lake Tahoe.